Tokyo 2020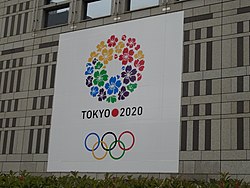 The Tokyo article provides a more comprehensive guide to those visiting the city.
The Games of the XXXII Olympiad, the
2020 Summer Olympics
, will be based in
Tokyo
, with selected events held throughout
Japan
.
Tokyo will be the only Asian city to have hosted two summer Olympics, having hosted the games in 1964.
With the Opening Ceremony on July 24, the official 16 days of the games will end on August 9. A few soccer games be held as early as the 22nd.
The Opening Ceremony for the Paralympics is on August 25, with the Closing Ceremony on September 6.
For the first time, climbing, karate, skateboarding and surfing will feature at the Olympics, while baseball and softball make their return after being dropped from the 2012 Olympics.
Prepare
Tickets
Residents of Japan can register on the
online platform
to get a "Tokyo 2020 ID", which they can use to apply for tickets in spring 2019 before they go on sale to residents of other countries. In true Japanese style, tickets will also be available for purchase at vending machines.
Non-residents have to buy tickets through an agent in their home country; a list of agents will be available on the ticket sales site in spring 2019.
It's expected that most event tickets will cost between ¥2,500 and ¥130,000, with typical tickets costing around ¥7,000. Tickets to the opening ceremony will cost ¥15,000–300,000. At previous recent Olympics Games cheaper seat categories were heavily oversubscribed.
Accommodation
Book your hotel room as soon as possible. As of late 2018, at least one hotel (the Hotel Okura Tokyo) is
already
fully booked. There is also concern that government restrictions on Airbnb, introduced in 2018, may lead to a shortage of lodging options.
It's best to be within easy reach of
Minato
or
Odaiba
for the Olympic Park, but the cheaper hostels area at
Asakusa
is not far either. Cheap and plentiful accommodation can be found in prefectures surrounding Tokyo, so if you don't mind the trade-off of 30–60 minutes of commute, you can still plan an Olympics trip even if accommodation seems to be otherwise prohibitively expensive or hard to find. Examples can include looking at hotels near stations on a single train line into Tokyo, such as in central
Saitama (prefecture)
, southern
Ibaraki
, or the area in
Chiba (prefecture)
between Tokyo and
Narita
. Southern Chiba and western
Kanagawa
would likely be too far to consider for most people as a daily commute to the games.
Get in
General information about traveling to Tokyo appears in the
Tokyo
article. Most travellers will arrive by plane at
Haneda Airport
from cities with heavy business traffic, or the less convenient
Narita Airport
from other international cities.
Get around
General information about getting around Tokyo appears in the
Tokyo
article.
Driving in Tokyo is usually a bad idea, and during the Olympics it will probably be impossible to find any parking vacancy in the whole city. Just use the train/metro system, which is used to huge crowds. The train/metro system is the most efficient way to travel in Tokyo. It is also good fun planning the routes.
See
==Where==
Most events will take place in Tokyo or close to it, with three further cities holding some football games and a fourth hosting some baseball and softball games:
Most sites are not built yet.
Venues in Tokyo, near Yoyogi:
New National StadiumOpening ceremony, track and field, soccer.

Tokyo Metropolitan GymnasiumTable tennis.

Yoyogi National StadiumHandball.
Venues in Tokyo, near the Imperial Palace: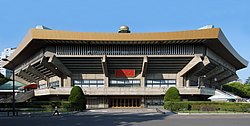 Nippon BudokanJudo.

Imperial Palace GardenStart of the bicycle road race.

Tokyo International ForumWeight lifting.

Kokugikan ArenaBoxing, in Japan's most famous sumo wrestling place.
Venues in Tokyo, around Ariake:
Ariake ArenaIndoor volleyball.

Olympic BMX CourseBMX.

Olympic VelodromeCycling track.

Olympic Gymnastic CentreGymnastics.

Ariake Tennis ParkTennis.

Odaiba Marine ParkTriathlon, marathon swimming.

Shiokaze ParkBeach volleyball.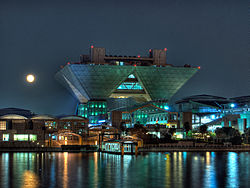 Tokyo Big Sight Hall AWrestling.

Tokyo Big Sight Hall BFencing, taekwondo.

Seaside Park Hockey StadiumHockey. Nice park nearby, including a bird sanctuary with an observation deck with free binoculars and a small museum.

Olympic VillageTrain hard enough and you might get your accommodation here. Only athletes, trainers and officials are allowed.
Venues in Tokyo, around Sea Forest (海の森)
Sea Forest Cross-Country CourseEquestrian eventing cross-country.

Sea Forest WaterwayRowing, Canoe-Kayak.

Sea Forest Mountain Bike CourseMountain bike.

Wakasu Olympic MarinaSailing.

Kasai Slalom CourseCanoe-Kayak slalom.
Venues in Tokyo, around Dream Island (夢の島):
Youth Plaza Arena ABadminton.

Youth Plaza Arena BBasketball.

Dream Island Archery FieldArchery.

Olympic Aquatics CentreSwimming, synchronised swimming, diving.

Waterpolo ArenaWaterpolo.
Venues in
Musashino
, one hour from the Tokyo center:
Musashino Forest Sport CentreModern pentathlon: fencing.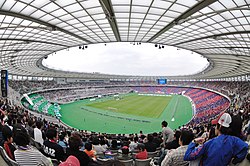 Tokyo StadiumFootball, modern pentathlon (swimming, riding, running, shooting), and rugby sevens. The stadium will be renamed from "Ajinomoto Stadium".

Musashino Forest ParkFinish of the bicycle road race.
Other venues one hour from the Tokyo center:
Asaka shooting RangeShooting.

Kasumigaseki Country ClubGolf.

Saitama StadiumFootball.

Saitama Super ArenaBasketball.

International Stadium YokohamaFootball.

Yokohama StadiumBaseball and softball.
Venues in further cities:
Fukushima Azuma Baseball StadiumBaseball and softball.

Kashima Soccer StadiumFootball.

Miyagi StadiumFootball.

Sapporo DomeFootball.
Calendar

Do

Tokyo has many other attractions, which are worth checking between the two games.

Eat
If you want a break from the food available at the Olympic Park, head for the neighbouring
Odaiba
,
Shinbashi
, Daimon, where plenty of Japanese, and other, options are available.
Go next