Tokyo Narita Airport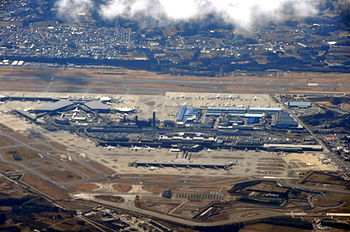 Narita International Airport
(成田国際空港
Narita Kokusai Kūkō
) (
NRT
) is the primary international airport serving Tokyo, in Japan.

Understand
The airport is in
Narita
, nearly 70 km northeast of Tokyo, in
Chiba prefecture
. It is Japan's main international airport. The airport is generally modern and efficient, but sometimes overcrowded, particularly at immigration. Security has been rather heavy, especially when coming in, due to continuing controversy over land expropriated for the airport. CCTV security cameras and facial recognition systems for departing passengers and airport visitors have replaced manned ID checks.
Narita should not be confused with
Tokyo International Airport
(Haneda), which is much closer to downtown Tokyo, serves the vast majority of domestic flights, and which serves an increasing array of international flights. If you need to transfer between airports, ensure that you give yourself at least 5-6 hours of connection time so you have ample time to make the transfer.
Flights
The airport has three terminals connected by train and bus.
Terminal 1 houses All Nippon Airways (ANA) and most other airlines in the Star Alliance in the South Wing, while most Skyteam carriers (Air France, China Southern, Delta, KLM, Korean Air) operate from the North Wing.
Terminal 2 serves Japan Airlines (JAL) and most other Oneworld airlines (e.g. American, British Airways, Finnair, Qantas).
Terminal 3, opened April 2014, serves most, but not all, domestic and international low-cost carriers: Jetstar, Spring Japan, Jeju Air and Vanilla Air.
Check the airport's website just prior to your departure to determine at which terminal you will arrive. On the way to the airport, there are also lists (in English) posted near the doors of trains going to Narita.
Ground transportation
Although the airport is quite distant from the city there are many options to get from Narita to Tokyo. The most common methods are express trains to major train stations in Tokyo, and Airport Limousine buses that go directly to major hotels. The table below summarizes the easiest ways of travel.
Narita to Tokyo in a nutshell

By rail — overview
There are
three train lines
from Narita and all will get you into
Tokyo
. If coming to the airport, the terminals have their own stations and it is imperative that you get off at the right one. The stations are clearly marked in English: and . The stops are referred to in Japanese as
Narita Airport
() and
Airport Terminal 2
(), pronounced
kūkō dai-ni biru
, respectively. Lists of airlines and their terminals are posted inside the trains.
Note that Terminal 3 is
not
served directly by train; it's a covered 500-meter walk or a short free shuttle bus ride away from Terminal 2.
The two premier reserved-seat train services that operate out of Narita Airport are the
Skyliner
and the
Narita Express
. As a general rule of thumb, Skyliner trains offer the fastest ride into Tokyo (36 minutes), while Narita Express trains offer direct one-seat connections to the bullet trains and most of Tokyo's major train stations, albeit at a slower pace (61 minutes).
If you are on a budget and plan to use any of the various commuter train services that run out of Narita Airport, using a
stored fare card
(Suica or PASMO) will prove to be convenient.
Smoking on any of these trains is prohibited.
JR line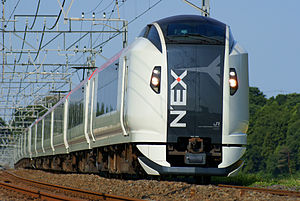 From Narita Airport, arguably the most convenient train service into Tokyo is the Japan Railways (JR)
Narita Express
(
N'EX
) into central
Tokyo Station
and onward. The ride takes 55 minutes and offers the easiest connections to
Shinkansen
(bullet train) services. Trains usually depart Terminal 1 at around 15 and 45 minutes past the hour; there is one hourly departure between noon and 1PM, and after 8PM. Smoking is not permitted on board the Narita Express. All seats are reserved, but reservations can be purchased at any time.
The N'EX is
free
for users of a
Japan Rail Pass
or JR East Pass. Seats can be reserved when you change your exchange order for a Rail Pass at the JR Travel Service Center (or at the regular JR counter when the Service Center is closed). Foreigners without a Rail Pass can purchase a special
round trip ticket
for
¥4,000
. The round trip must be completed within 14 days. The
regular fare
starts at
¥3,020
for trips from Narita Airport to Tokyo Station in standard class, with higher fares for green car (first class) seats.
After the Tokyo stop, the train splits in two with the front half heading south to
Shinagawa
, Musashi-Kosugi,
Yokohama
and
Ofuna
, while the rear cars go west to
Shibuya
,
Shinjuku
and
Ikebukuro
. Trains run to
Hachioji
, Takao and
Omiya
in the evening, with service from these stations to Narita Airport during morning hours. If you're immediately heading south on the Shinkansen, you might want to change at Shinagawa rather than Tokyo, as the Tokyo stop is four levels underground and on the other side of the station to Shinkansen platforms, compared to Shinagawa where it is only 2 or 3 platforms across. In the unlikely event that all seats are full, JR will sell standing tickets for ¥500 less.
Non-express trains
JR also operates Rapid trains on the Sobu/Narita line, leaving once per hour and stopping at various points along the way, including
Chiba
. These are normal, non-smoking commuter trains and often get crowded during rush hour, especially if you are boarding in Yokohama or Tokyo. From Narita Airport to Tokyo, the trip is approximately 82 minutes for ¥1,320 (compare with ¥1,240 to ride the Keisei Access Express to Ueno). The Rapid service train also has a couple of green cars; a green car seat can be obtained for ¥980 (¥780 on a holiday) if reserved beforehand, with higher fares charged on board. Fares charged before boarding are deducted from an IC card such as Suica.
Keisei Railway
The private
Keisei
(京成) Railway offers trains to central and southern Tokyo, as well as direct commuter trains to
Haneda
airport. Keisei trains run on two routes: the faster, more-direct
Narita Sky Access Line
and the slower, less-direct
Keisei Main Line
. The two lines branch off separately between Narita Airport and Takasago Station. Both lines reach Tokyo's Keisei Ueno and Nippori stations. Nippori offers the easiest connection to the JR Yamanote and Joban Lines, and to the Nippori-Toneri Liner for Tokyo's Adachi Ward. At Keisei Ueno you can walk over to JR Ueno station in 4 minutes to connect to the JR Yamanote, Tohoku and Takasaki lines and northbound Shinkansen trains, as well as the Ginza and Hanzomon subway lines.
Because the Sky Access and Keisei Main Lines operate on different fare structures, separate ticket gates and platforms are used at Narita Airport's two train stations. Sky Access Line passengers only have to pass through one ticket gate, while Keisei Main Line passengers must pass through two ticket gates. Taking a train through the Sky Access route between the Airport and Nippori/Ueno is ¥1,240, while the Keisei Main Line route is ¥1,030. The whole fare can be paid using a Suica card.
Sky Access Line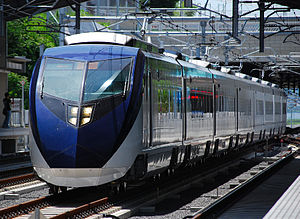 Keisei's premier service is the
Skyliner
, which operates on the Sky Access Line 2-3 times per hour. The
Skyliner
is the fastest train connecting Narita Airport to Tokyo, with trains running into and out of Keisei Ueno and Nippori stations. The new Skyliner trains offer comfortable seating and a maximum speed of 160 km/h (100 mph). The full run from Terminal 1 to Ueno takes 44 minutes, with the train traveling nonstop between Nippori and Terminal 2·3 in 36 minutes. All seats are reserved and the regular fare is ¥2,470 each way, though foreign tourists can take advantage of a discount using the
Skyliner eTicket
. Using this service you can purchase Skyliner ticket vouchers in advance for only ¥2,200, and print your vouchers to be exchanged for tickets in Japan at a manned Keisei or Skyliner ticket counter. When exchanging your voucher you must present your passport and will be asked for your desired departure time.
The budget option along the Sky Access Line is the commuter train service known as Access Express, or Access Tokkyu (アクセス特急). Access Tokkyu trains depart every 40 minutes, and most daytime trains run into the Toei Asakusa Subway Line. Making limited stops, the Access Tokkyu offers the best ride to
Asakusa
(65 minutes, ¥1,280) and Nihombashi (70 minutes, ¥1,320). Shimbashi (75 minutes, ¥1,320) puts you within easy reach of the Yurikamome light rail line to
Odaiba
. A change of trains at Nihombashi will allow you to make a quick hop into the Ginza district (Higashi-Ginza Station, 80 minutes, ¥1,320). Many services also continue onto the Keikyu Line for
Shinagawa
(85 minutes, ¥1,510) and
Haneda
Airport (105 minutes, ¥1,790).
After 4PM (5PM on weekends), Access Tokkyu trains run directly into Nippori and Keisei Ueno in 60 minutes at a cost of ¥1,240. Other times, you will be required to transfer at Aoto; the connecting train a local service; this increases travel time to 80-90 minutes. During these hours, it is better to take the Mainline Limited Express directly to Ueno (81 minutes), and save ¥210.
From the Access Tokkyu trains you can transfer at Imba-Nihon-Idai station - two stations after Terminal 2 - to local
Hokuso Railway
services. One place of interest is Chiba New Town Chuo (Central Chiba New Town), where malls and shopping venues are on the plenty. At Shin-Kamagaya station you can change to the
Shin-Keisei Railway
and
Tobu Noda Line
, which make for inexpensive trips to
Matsudo
(65 minutes, ¥1,110) and
Omiya
(130 minutes, ¥1,630), respectively. At Higashi-Matsudo station you can change to the
JR Musashino Line
for
Saitama
's Minami Ward (80-110 minutes to Musashi-Urawa depending on connection, ¥1,490).
The
Keisei Skyliner and Metro Pass
includes a trip on the Keisei Skyliner and either a one or two-day open ticket valid for unlimited travel on all lines of the
Tokyo Metro
subway. A
one-way
Skyliner trip combined with a one-day Tokyo Metro open ticket costs ¥2600; with a two-day pass ¥2980. A
round trip
on the Skyliner with a one-day Tokyo Metro open ticket costs ¥4500; with a two-day pass ¥4880. Note that the Tokyo Metro open ticket
does not
allow travel on any
JR Line
.
Keisei Main Line
Regular Tokkyu (特急) commuter trains - those that do not carry the "Access" designation - depart from Narita Airport every 20 minutes, reaching Keisei Ueno in 81 minutes at a cost of ¥1,030. During the morning and early afternoon hours, you should use these Tokkyu services over Sky Access trains as they offer a one-seat, cheaper ride. (Taking the Access train will require you to transfer at Aoto, the only connection being a "Local" service to Ueno, hence losing any time-savings you made previously on the Access line). After 4PM (5PM on weekends), Sky Access trains offer a one-seat ride from Narita Airport directly to Nippori and Ueno; the 20 minutes you'll save on the Sky Access train is worth paying the extra ¥210.
Reserved-seat services that are cheaper than the
Skyliner
include the
Morning Liner
which operates from the airport to Ueno twice in the morning, and the
Evening Liner
which operates from Ueno to the airport six times at night after the final Skyliner service has run. Morning and Evening liner trains cost ¥1,440, but you can only make a seat reservation on the day of departure from a special ticket vending machine. The vending machine will sell liner tickets for ¥410 which are to be used on top of the regular ¥1,030 fare.
From the Keisei Main Line you have the option of transferring at Funabashi station to the
JR Chūō-Sobu line
or at Katsutadai station to the Tōyō Rapid with through service to the
Tōzai subway line
, both of which go right through the middle of Tokyo. The Chūō-Sobu line goes through
Akihabara
,
Ochanomizu
, Yotsuya and
Shinjuku
and facilitates an easy transfer to the regular JR Chūō express, which goes as far west as Tachikawa, Ōme, Takao and other destinations beyond. The Tōzai line takes a slight southern approach with stops including Kiba,
Nihonbashi
,
Iidabashi
and
Takadanobaba
.
Note that none of the subway or elevated lines are specifically prepared for travelers with big luggage and tend to get crowded once inside the Yamanote ring; the exchanges at Katsutadai and Funabashi are usually rather pleasant though.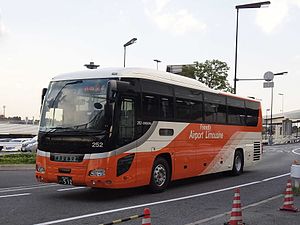 By bus
All of the buses listed below make four pickup stops (Terminal 1 North Wing, Terminal 1 South Wing, Terminal 2, Terminal 3) and either three or four dropoff stops.
Airport Limousine Bus
There is a network of
Airport Limousine
shuttle buses that serve most major hubs within Tokyo, stopping at major hotels as well as some suburbs. Prices are comparable to the Narita Express train services, but are convenient for the first-time traveler as they take you directly to your hotel. The Airport Limousine is also one way to transfer to
Tokyo Haneda Airport
; Access Tokkyu trains are cheaper, but Airport Limousines are much more frequent. The journey to most points in central Tokyo takes 90-120 minutes and costs ¥3100 per person, but watch out in rush hour (especially on the way to the airport) as there may be traffic jams.
The Airport Limousine's flagship service is to/from the
Tokyo City Air Terminal (T-CAT)
in Hakozaki section of Tokyo's Chuo Ward. There are approximately 4-5 departures per hour, and travel times are usually (but not always) one hour since the buses can access T-CAT from several highways. The regular fare is ¥2800, but foreign tourists can purchase tickets for only ¥1900 by asking for the "T-CAT Special". T-CAT is directly connected to the Hanzomon Line of the Tokyo Metro subway, which runs to Shibuya and to Tokyo SkyTree with plenty of other connections in between. A taxi can bring you from T-CAT to Tokyo Station for about ¥1000.
Foreign tourists can also purchase a discounted round-trip on the Limousine Bus between Narita Airport and anywhere in Tokyo's 23 wards for ¥4500. The return voucher to Narita Airport must be used within 14 days after the first date of travel.
There is also a ¥1000 night special for all buses to Narita Airport departing T-CAT after 17:00.
Airport Limousine buses allow two pieces of luggage per passenger in the hold, each weighing a maximum of 30 kg.
Access Narita Bus
The Access Narita
is a low-cost bus operated by the company Heiwa Kotsu (also known as the Be-Transse Group) and JR Bus, with trips costing ¥1000. Buses stop at two locations: Tokyo Station at the Yaesu Exit, and in the Ginza district at Sukiyabashi intersection next to the police Koban, close to the Ginza, Hibiya and Marunouchi subway lines.
The Access Narita only allows one piece of checked luggage per passenger in the hold weighing up to 20 kg.
Tokyo Shuttle
The
Tokyo Shuttle
is a low-cost bus operated by Keisei Bus between Narita Airport and Tokyo Station (across the street from the Yaesu North Exit). The trip costs ¥1000 each way, with a discounted fare of ¥900 if purchased at least two days in advance. Round-trip tickets from the airport are sold for ¥1900. Most trips start and end at the Shinonome Bus Service Office, which is a 10 minute walk from Shinonome Station on the Rinkai Line. A small number of buses also serve
Ginza
and Oedo Onsen Monogatari. A discounted entrance plan is available for those who use the Tokyo Shuttle and the onsen facility.
Combination tickets with an unlimited pass for all subways in Tokyo (Tokyo Metro and Toei Subway) are available, starting from ¥1700 for a 24 hour pass.
The Tokyo Shuttle only allows one piece of checked luggage per passenger in the hold.
In nearby Yokohama there is, appropriately, the
Yokohama City Air Terminal (Y-CAT)
which is only a few minutes' walk from the Yokohama train station. Buses operate between Yokohama and Narita Airport 3-4 times per hour and cost ¥3600, with travel times estimated at 85 minutes.
If you land at Narita Airport late enough, or decide to hang around, there is an overnight bus that will take you directly to
Kyoto
and
Osaka
. The service is operated by Nankai Bus and Chiba Kotsu, and departs from Narita Airport Terminals 1 and 2 at around 9:30PM, with arrival in Kyoto and Osaka the following day at 6:20AM and 7:30AM, respectively. It costs ¥8740 to Kyoto and ¥9260 to Osaka. The return trip leaves Osaka at 9:05PM and Kyoto at 10:15PM, arriving at Narita Airport the following morning at around 7AM.
By taxi
A taxi to central Tokyo is
extremely
expensive - a trip from Narita to Tokyo Station will run approximately ¥25,000 (or more depending on traffic and routing) if you hail a cab directly by yourself. This is equivalent to a few nights in a typical Tokyo business hotel and you are more likely to get stuck in a traffic jam than save any time.
Flat fare taxi cabs to Tokyo go for around ¥17,000-19,000 from special taxi ranks, but even so, it will be easier and cheaper to take public transit into Tokyo (i.e. Narita Express, Skyliner, Airport Limousine Bus) and change to a taxi to reach your final destination. Use the train if you're in a hurry, or the bus if you're not.
Tokyo MK Taxi
and
Cab Station Ltd
offer advanced bookings for taxis in English. Their prices are more or less equivalent to the flat-fare prices noted above, once additional fees are figured in. UberBlack offers flat-rate service from Narita to any of Tokyo's 23 wards for ¥27,000 through their smartphone app.
Keisei also offers a
Skyliner & Taxi Ticket
that combines a one-way trip on the
Skyliner
train with a taxi ride from Keisei Ueno station to any destination within 11 wards in Tokyo. The taxi will pass two or three of Tokyo's major attractions on the way to your destination. The fare is ¥5000-6500 for one person; the price per person is reduced for groups of two or three. Up to two large suitcases per party are allowed.
Remember that licensed cabs in Japan have green license plates. Unlicensed cabs will have standard white or yellow license plates and should be avoided.
Get around
There are free shuttle buses every ten minutes or so between Terminals 1, 2 and 3, both for airside passengers (who have not passed through Immigration) and landside passengers (who have).
Terminals 2 and 3 are also connected by a 500-meter-long covered corridor (10-15 min walk), for landside passengers only.

Wait
If you have young children, the excellent Playrooms in both terminals are a godsend. The one in T2 is equipped with a tatami mat area for babies and playground equipment for preschoolers. Inexplicably, it's not listed on the official web site, but you can find it by following the signs for "Nursery" after passing through Immigration, just walk
past
the escalators down to the satellite and turn right.
Lounges
Japan Airlines has its flagship lounge in Terminal 2, which is accessible to those travelling on full-fare Economy, Premium Economy, Business or First class, as well as those with JAL frequent flyer status of sapphire or higher. Also accessible to travellers on other OneWorld airlines in Business or First Class, as well as those with OneWorld sapphire status or higher. Has a separate section exclusively for First class passengers. Hot food and alcohol, including sake are provided in the lounge.
All Nippon Airways has two lounges in Terminal 1, which is accessible to those travelling on Premium Economy, Business or First class, as well as those with Platinum status or higher on ANA's frequent flyer programme. Also accessible to those travelling in Business or First class on other Star Alliance airlines, as well as those with Star Alliance gold status. Both lounges have a separate section exclusively for First class passengers. Hot food and alcohol, including sake, are served in the lounge. Also features a noodle bar where you can order rice and noodle dishes, including their signature chicken curry rice.
Several independent lounges also exist in the airport, which are accessible to those with membership in Priority Pass and other lounge access programmes. These lounges are generally of much lower quality than the JAL and ANA lounges.

United Lounges

address: Terminal 1, Satellite 3
Eat and drink
Narita has a wide range of eating options before security, but only a few token restaurants on the other side. Ordering take-away is a good option for bridging the gap, the sushi at
Ganso
(T2) is quite respectable.
Chain restaurants can only be found at Terminal 3.
Buy
Once you have arrived at Narita, you can access cash machines operated by Japan Post, 7-Eleven and AEON that accept international ATM cards and credit cards.
Most visitors with a Maestro EMV ATM chip card (i.e. IC, chip-and-pin) can only use the 7-Eleven and AEON machines.
When departing Narita, the better shops and restaurants are in the check-in area: after passing security and immigration, all that's really available is expensive duty-free and some convenience store sundries. But remember that Japan restricts liquids in carry-on baggage, and plan to buy drinks for the plane after security.
As T-3 terminal is served by budget airlines, you may find good currency exchange rates here. There are few exchange stores right after passing through customs.
Tip: Departing passengers usually leave umbrella hanging near the garbage bins at airport entrance. You may pick it up for free if its rainy season in Tokyo.

Connect
Free WiFi access is available throughout the airport (SSID: FreeWifi-Narita); paid access to WiFi through NTT and Softbank hotspots is also available. There are several charging stations in both terminals with desks, 100-volt power ports and desk lamps.

Sleep
If you're at Narita for a connecting flight, you may wish to use the dayrooms and showers inside the terminal, past security. Dayrooms are paid for by the hour; ¥1000 for the first hour and ¥500 for each additional hour. The dayroom consists of a bed and a bathroom with a shower. It's a great way to refresh yourself before your next flight. If you just want to take a shower, you can get a shower room for ¥500 for a half hour. Soap and shampoo are provided, but not things like toothbrushes, toothpaste, shavers, and deodorant, so bring them in your carry-on with your change of clothes. Twin dayrooms are available for ¥1600 for the first hour and ¥800 for each additional hour. Dayroom reservations can be made up to a month in advance.
Narita is
not
a 24-hour airport, and is closed between 11PM and 6AM. However, sleeping overnight on the benches is tolerated by security, just come prepared since nothing except some vending machines will be open at night.
Hotels
For early departures or late arrivals it is convenient to have a hotel close to the airport. Some of them provide free shuttle from/to the airport.
phone: +81 476-93-1234

address: 286-0221 Chiba, Tokyo Narita Airport, Nanae 650-35

A comfortable western style hotel with swimming pools, restaurants and bars and free Wi-fi in rooms. It can be easily reached by a frequent shuttle bus from both Narita Airport terminals between 7AM and 10PM, the ride takes about 20 minutes.

9 hours Narita AirportSpend a layover in Narita in Japanese style in a capsule hotel, with showers, lockers and a pod to sleep in. Separate male and female sections. Open 24 hours, and can be rented for as short as one hour. Opened July 2014.
Go next