Toledo (Spain)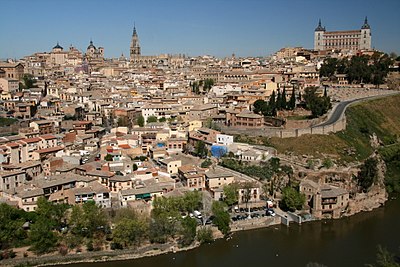 Toledo
is a historic city in
Castilla La Mancha
, sitting majestically above the Tagus River and denoted a
UNESCO
heritage site in 1986. It is a very worthwhile day-trip from
Madrid
, only half an hour by train.
Understand
The history of Toledo dates back to Roman occupation (Toletum) circa 192BC. The ruins of the Roman circus are still visible just outside the walls of the city. Roman occupation was followed by Visigoth rule, Muslim rule and finally the Reconquest of Toledo in 1085AD. Toledo was the capital of the Spanish empire until the mid-1500s when the royal court moved to Madrid. The winding, cobbled streets of the old town are often crowded with locals and tourists, as well as a surprisingly large number of cars and vans. Don't miss the 13th century cathedral or the Alcázar which sits atop the town and dates back to Roman times.
As a visitor to Toledo, you are not allowed to pick or collect anything off the street because the entire city is a gazetted monument. However, there are souvenir shops where one can buy mementos. You get a better view of the ancient city as you enjoy local meals in one of the hotels across at the banks of Tagus River.

Get in
By train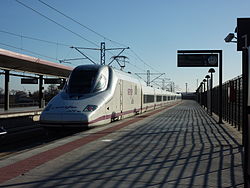 The AVE high-speed train takes 33 minutes from Madrid's Atocha station to and costs €10.60 + €8.50 = €19.10 for a same day round trip, and you have to specify your return time at time of purchase. Boarding starts 20–30 minutes prior to departure and the gate will close 5 minutes before schedule.
In Madrid, you will find vending machines for railway tickets. However, be careful with the red vending machines signed "Cercanias." For foreigners it will be easier still to use the
Renfe
website to purchase tickets or to use a manned ticket booth. If you chose to buy at the booth, be careful with timing - perhaps go the day before - because you may not be guaranteed a seat or the time you want.
From Toledo station, urban buses numbers 5, 22, 61, or 62 stop on the street in front of the train station and take you to Plaza de Zocodover, the city center. The buses are €1.40 (pay the driver). All passengers must exit at Zocodover as it is the last stop on the route. It's a pleasant 30 minute downhill walk back to the train station. City buses are blue; a private company operates red buses that wait outside the train station and charge €2.50 for the same route as number 5.
By car
From Madrid, Toledo is about 70 km southwest on the
A-42
freeway, which is marked "Toledo" on all road signs. This used to be labelled the
N-401
, and old maps or signs may still refer to that, although almost all road signage appears to have been updated. There is often spot congestion during peak hours, sometimes as far out as Parla (25 km).
Parking on the narrow cobbled streets of inner Toledo is virtually impossible except for short loading/unloading stops, but there's a big garage in Calle de Santa Úrsula, right in the centre.
By bus
Buses run between Toledo and Madrid's Plaza Elíptica bus station (on the grey Circular metro line) every half hour until 21:30. The company is Alsa (old Continental-Auto). The trip takes about one hour and a return ticket costs €9.75. From the Toledo bus terminal it is a steep but picturesque 20-minute walk up to the old town. A local bus service is also available. To catch a local bus from the Toledo bus station to the center of town, head out of the station for a bit and you will see a bus stand, catch a bus going to Plaza Zocodover. Among other buses you can also catch Line 5 from the same stop which runs every 15 minutes and will drop you off right in front of Plaza Zocodover.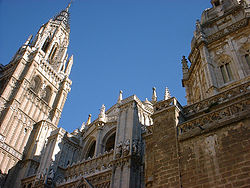 See
Arm yourself with a map to avoid getting completely lost!
CathedralIt is the centrepiece of Toledo. It sits on top of the hill and is deceptively large. When you enter you will be confronted by sparkling gold reliefs, huge oil paintings and portraits of all of the Toledo Cardinals going back at least 500 years. The baroque Transparente, behind the main altar, is like nothing you have ever seen. The Cathedral also has a great art gallery with works by Raphael, Rubens, Goya, Titian, and one of El Greco's major works, The Disrobing of Christ.

Iglesia de los JesuitasIt offers great views of Toledo and the surrounding region from its twin spires. It is set in the highest location in the city. (Oct-Mar 10:00-17:45, Apr-Sep 10:00-18:45)

Mosque of Cristo de la LuzIt was built 1000 years ago as a small mosque, but 200 years later was converted to a church. The building itself is a mix of the two styles, with a primarily Mudejar architecture, and early Christian paintings on the walls. (mid Oct-Feb 10:00-17:45, Mar-mid Oct 10:00-18:45, closed on weekdays from 14:00-15:30)

Iglesia del SalvadorIt was like the Mezquita Cristo de la Luz converted from a mosque into a church, though in this case the architecture of the building is more varied, combining Mudejar, Visigoth, and Roman-style architecture. (mid Oct-Feb 10:00-17:45, Mar-mid Oct 10:00-18:45, closed on Fridays from 14:45-16:00).

The Burial of the Count of OrgazOne of El Greco's most famous and recognized works, it's housed in Iglesia de Santo Tomé. (Mid Oct-Feb 10:00-17:45, Mar-Mid Oct 10:00-18:45)

Synagogue of Santa María la BlancaIt's one of the three synagogues that remain in Spain from before the expulsion of the Jews in the 16th century, two of which are in Toledo (the third is in Córdoba). (mid Oct-Feb 10:00-17:45, Mar-mid Oct 10:00-18:45)

Monastery of San Juan de los ReyesIt's a beautiful 16th century church in the Jewish quarter that was built by Ferdinand and Isabella to house their tombs. Upon the conquest of Granada, they decided to be buried there instead, but it is still easily worth the visit. (mid Oct-Feb 10:00-17:45, Mar-mid Oct 10:00-18:45).

Synagogue of El TránsitoThe second of Toledo's remaining pre-16th century synagogues, it hosts the Sefardi Museum.

The AlcazarA large square building on the outskirts of the old city. It looks across the river at Franco's old military barracks. The origin of the building dates back to the presence of a Roman camp in the 3rd century. The Muslims built there a keep transformed later by Alfonso VI and Alfonso X, which was the first Alcazar.

The Museo Victorio Macho is a small museum dedicated to the local sculptor, Victorio Macho, split between an interior gallery, and exterior gardens. Admission also includes a short film describing the history of Toledo (M-Sa 10:00-19:00, Su 10:00-15:00, closed Christmas Day and New Year's Day, €3).
The Military barracks. There is a tourist pass available for €9 that allows entrance to 7 sites around the city (normally €2.5 each); but does not include the cathedral or other major sites so It would be of questionable value.
Do
You may actually want to get lost in Toledo. Take some time to lose yourself in Toledo's medieval streets. The city is surrounded by the River Tagus on three sides and two medieval walls on the fourth side. The old city is relatively small and can be crossed in 45 minutes, so you are never too far from the center. When you want to head back, just head uphill and you are virtually guaranteed to end up at the main plaza, Plaza de Zocodover.

Buy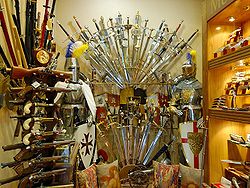 The gold and black enamel work by local artisans is known throughout Spain. Many shops in Toledo sell decorated plates, shields, spoons and key rings.
Sword
- Toledo is well known for its swords, so be sure to look for a conquistador sword, which should set you back around US$300. As you can't bring it on a plane, you'll need to send it. Fortunately, many shops will ship it for you for a reasonable price.
Ceramics
- Talavera de la Reina (outside of Toledo) has a centuries-old tradition of glazed ceramics. Toledo is filled with handpainted ceramics of varying degrees of quality (upscale shops and boutiques are pricier, but generally carry higher-quality pieces).
Damascene
- Another famous handicraft of Toledo is damascene, from the ancient Moorish art of interlacing gold on iron or steel, then firing it so the underlying material oxidizes and becomes black, with the gold in sharp relief. Every shop in Toledo will carry some form of damascene work, most frequently as small decorative plates and jewellery. Damascene also tends to be on the expensive side, so be sure to comparison shop around Toledo. The traditional manufacturing process consists of several steps, as it is shown in
MadeInToledo.com
.
Eat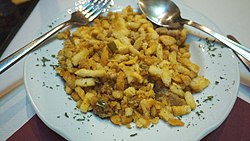 If you want authentic paella, Toledo is not your best option because it is so far inland.
Sweets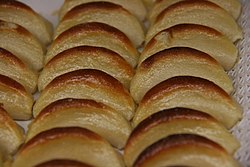 The region around Toledo and southward in Castilla La Mancha produces typical almond sweets known as
Mazapán
, which is not to be confused with the Scandinavian almond paste called "marzipan". Mazapán is glazed, and sometimes decorated with pine nuts (
piñones
). The most famous bakery making this sweet in all of Spain is arguably the
Confiteria Santo Tomé
, which is particularly crowded just before Christmas when shoppers from all over Spain come to Toledo to buy some Mazapán for their Christmas parties.
Budget
Bar La Boveda

address: Plaza Solarejo, 3
Mid-range
phone: +34 925 223 011

address: Calle de Descalzos, 5

Great food, great service, not so cheap, but it is worthy. Dishes include; lomo de orza, pork tenderloin; migas, a traditional Spanish breadcrumb dish served with lamb sweetbreads; roast suckling lamb and pig; partridge on arroz meloso; and vanilla-infused fried milk pudding. Wine list of 100 wines.
Splurge
Vegetarian and Vegan
phone: +34 925223571

address: Bajada de la Tripería, 2, 5001 TOLEDO - ESPAÑA

All organic food with vegan and vegetarian offerings, smoothies, and an organic wine list.
Drink
Try
Picaro
or
Circulo de Arte
for a hip night scene, Circulo de Arte is in a renovated church and plays good dance music. It also has some of the best
batidos
(milkshakes) in town!
O´Brian's
serves good tap beer, and boasts a strong tourist and student crowd most nights.
O'Brien

phone: +34 925 21 26 65

address: C/ Armas, 12

Try Domas beer. Made in Toledo. IPA is a fusion & quite good.
Sleep
Budget
Youth Hostel Los Pascuales

phone: +34 925282422

address: Cuesta de los Pascuales 8

New, clean, safe and very central

phone: +34 925 227 650, +34 671 069 414 (WhatsApp)

address: Calle Cadenas, 5

Upmarket hostel with kitchen and fantastic terrace, 12.5 euro peak season
Mid-range
phone: +34 25 282 052

address: C/ Armas, 12

Clean and classy hotel. Priced quite reasonably. Located on the river for impressive views but an up hill climb to through the city. Park on the street if available or on site garage. Incredible breakfast is included. Wifi works great.
Hotel Imperio, Cadenas 7 - situated close to Plaza Zocodover. (
**)
address: Marqués de Mendigorría, 8 -12

this newly refurbished hotel offers comfortable rooms and is located a short distance from the city centre. Many famous tourist attractions are in walking distance.

phone: +34 925 60 00 04

address: Carretera de Toledo a Piedrabuena Km. 12, 45123, Layos - Toledo

4-star hotel 10 km from Toledo. The complex has a golf course and swimming pools.
Splurge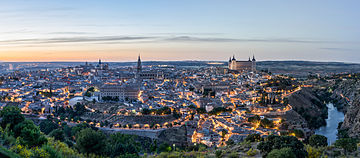 Stay safe
Toledo is a relatively small town, and so is rather safe. Toledo's medieval streets are labyrinthine, so the biggest danger is getting lost, especially at night.

Cope
Due to the location of Toledo upon the top of a hill, the city is exposed to quite a bit of sunshine in comparison to Madrid. Therefore the average temperature you sense may be considerably higher than what you would expect from the forecast. Temperatures can be in the high 30s C (100°F) as late as nine in the evening. Be sure to bring plenty of water or get some refreshments in Toledo to support the local shopkeepers. Do not forget to put on sufficient sunblock on a hot summer day or try to stay in the shades of buildings and trees.
The historic center of Toledo is rather steep and hilly and most streets are cobblestone, so sensible shoes are a must. Those with wheeled luggage might also struggle

Go next
Oropesa is a picturesque hill-top town with a huge castle on the way to Extremadura
Los Gredos has a variety of scenic 1,000+ meter hill tops and provides a good route up to Avila if you have your own car.