Tongariro National Park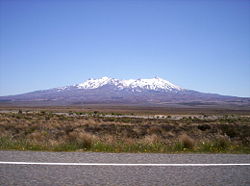 Tongariro National Park
, in the
central North Island
of
New Zealand
, contains the three active volcanoes of Mount Ruapehu (the island's highest peak), Mount Tongariro and Mount Ngauruhoe. It is one of the North Island's most popular areas for day
tramping
, multi-day tramping and snow sports. The island's two main skifields are on Ruapehu. The park was New Zealand's first national park and is a
World Heritage site
.
Understand
Established in 1887, Tongariro National Park was the first national park in New Zealand and the fourth in the world. It began with 250 km 2 , and has been expanded twice (in 1922 and 1975) to today cover nearly 800 km 2 . It is also a dual
World Heritage area
, a status which recognises the park's important Maori cultural and spiritual associations as well as its outstanding volcanic features. In 1993 it became the first property to be inscribed on the World Heritage List under the revised criteria describing cultural landscapes. The mountains at the heart of the park have cultural and religious significance for the Maori people and symbolize the spiritual links between this community and its environment. The park has a diverse range of ecosystems and some spectacular landscapes.
Dominating the landscape are the three volcanoes of Ruapehu (2797 m), Ngauruhoe (2291 m) and Tongariro (1967 m). Geologically, Ngauruhoe is a secondary vent of Tongariro but is otherwise universally accepted as a separate mountain. All are active, with Tongariro last erupting in November 2012, Ruapehu in 2007 and Ngauruhoe in 1977. Ruapehu also has a crater lake which can occasionally overflow into nearby rivers and create lahars; on Christmas Eve 1953, 151 people were killed when one such overflow wiped out the Tangiwai rail bridge moments before an overnight Wellington to Auckland express was due. There are also a large number of dormant and extinct volcanoes dotted across the landscape.
It is a place of extremes and surprises, a place to explore and remember. From herb fields to forests, from tranquil lakes to desert-like plateau and active volcanoes. The landscape has served as a backdrop for many New Zealand films, most notably serving as Mordor (with the help of computer graphics) in Peter Jackson's
The Lord of the Rings
trilogy.
Get in
The nearest towns to the park are
National Park Village
,
Ohakune
,
Raetihi
,
Turangi
, and Waiouru. These can be easily reached by car, as they lie on the four highways encircling the park. State Highway 1 (SH 1) goes through Turangi and Waiouru, over the Desert Road in between to the east of the park. State Highway 4 passes west of the park through National Park village and Raetihi. State Highway 49 forms the southern link, connecting SH 4 several kilometres north of Raetihi with SH 1 at Waiouru via Ohakune. State Highway 47 forms the northern link, from SH 4 at National Park to SH 41 at Turangi, with a short section of SH 41 through Turangi to SH 1. There is also SH 46, which forms a shortcut between SH 47 and SH 1 south of Lake Rotoaira. Whakapapa village is 6 km up SH 48, a spur branching off SH 47.
National Park village and Ohakune can also be reached by train, on the main trunk line between Wellington and Auckland.
The nearest airport is at
Taupo
, 50 km north of Turangi.
Get around

The Department of Conservation (DOC) no longer likes people to leave their cars at the Mangatepopo end of the Tongariro Crossing due to a high number of thefts, so the shuttles from Ketetahi at the end of the day do not drop people off at the Mangatepopo carpark. They will only drop you on the main road which is 7 km from the carpark. Instead DOC is trying to encourage people to leave their cars at Whakapapa Village and get a shuttle to the start of the track and the shuttles from the end drop you back to Whakapapa village for $15.

See
phone: +64 7-892 3729

address: Whakapapa Village

Get current info on tracks, ski fields, weather and avalanches. See displays on the volcanoes, flora and fauna, and history of the park. Buy maps, souvenirs, postcards, books and clothing. Get hut tickets, hunting and fishing permits, and book Great Walks. Foyer is open 24 hours with public telephone, weather and track information.
Do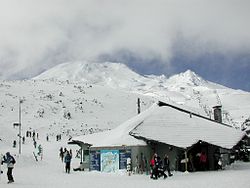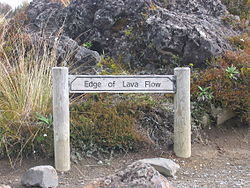 Tongariro Alpine Crossing
The
Tongariro Alpine Crossing
is a 19.4-km walk across the volcanic landscape of Mount Tongariro, taking 6 to 8 hours. It has steep climbs, great views and colourful lakes, and some say it is the best one-day walk in the world.
Mount Tongariro is at high altitude, the weather is very changeable all year round, and there is no shelter on most of the walk. Summer days can start warm, sunny and calm, then turn cold, wet and windy. From autumn through to spring (Apr–Nov) it can be snowy and icy. Check the weather forecast before departing. Take warm clothing, even in summer. At all times of the year, you may need clothing for wet weather and cold biting wind. Much of the track is rocky and uneven, so wear hiking shoes or boots. Don't be one of the people who get hypothermia and have to be rescued by emergency services because you didn't take enough clothing.
The walk is usually done from the Mangatepopo Road end to the Ketetahi Road, as the Ketetahi end is at a lower elevation (760 m vs 1120 m) and therefore requires less uphill walking. The walk is crowded in summer, with up to 2000 people a day. The only water en route is at two huts; one at the start of the track and the other at the end.
A side trip to the summit and crater of Ngauruhoe adds two hours of mostly hard, steep climbing, and provides excellent views on a good day. You can run down the scree slopes on the way back, but the scree is sharp and may cut if you hit it with bare skin.
A short and easy side trip (one hour return from Red Crater) can be made to the much less spectacular summit of Tongariro. Red Crater can be entered from near the Emerald Lakes by walking up the steaming slope south of the lakes. Frodo and Sam walked up this slope during their vacation in Mordor. Blue Lake is sacred to Maori and is tapu, so treat it with respect. A short scramble off-track to the left leads to North Crater. A sidle around the massif to the right from near Ketetahi takes you to the Te Maari craters.
The crossing can be done in winter, but alpine skills, ice axe and crampons are essential. In winter, a high standard of navigational skill may be required as the poles marking the track may be buried in snow and mist may reduce visibility to 10 m or less. Several companies provide guided walks and these are particularly useful in winter if you are not an experienced alpine trekker.
Mount Tongariro is an active volcano and, although eruptions are infrequent, they can occur without warning. The track reopened in May 2013 after being closed by eruptions in 2012.
Tongariro Northern Circuit
The
Tongariro Northern Circuit
is a 43.1 km hike that takes 3 or 4 days and can be walked in either direction. The clockwise walk usually begins at Whakapapa and heads to Mangatepopo. From there it follows the Alpine Crossing as far as Emerald Lakes. Camping is possible in the north end of South Crater; there is usually water flowing from a spring here, though not in very dry weather. A short side-walk can be made to Blue Lake. The Circuit leaves the Crossing and goes down to Oturere Hut. Lava formations make Oturere Valley fantastic in miserable weather. Oturere Hut has a great waterfall nearby.
From Oturere head across desert, then through beech forest to Waihohonu Hut. Another side trip leads to the stunning Ohinepango cold springs (15 minutes from the hut), then the track heads over the gentle Tama Saddle and back to Whakapapa. A side trip on this section leads to two deep explosion craters which form Tama Lakes.

There are camping spots by the stream or cold springs (to the north of Waihohonu Hut, not Ohinepango Springs, which are to the south) in Waihohonu Valley, and beside Upper Tama Lake (a bit hard to get to).
If hitch-hiking, the easiest way to the circuit is from the Desert Road (State Highway 1, the main Auckland-Wellington road), taking the track to Waihohonu Hut (1 to 2 hours). The start of the track is just south of the Rangipo Intake Road intersection, 30 km north of Waiouru (SH49 turnoff) and 22 km south of Rangipo (SH46 turnoff).
Sleep
There are several ski lodges on Mount Ruapehu, and the Department of Conservation operates a number of back country huts in the park. The nearby towns also make good bases, with
National Park Village
and Turangi being the closest to the Tongariro Crossing.
phone: +64 7 386-8062

address: State Highway 47

An excellent place from which to do the Crossing without spending ages on a bus, as it is half way between the start and finish points. Has tent sites, powered sites for campervans, cabins ranging from basic to en suite, and two self-contained units with TV, shower, queen bed and cooking facilities. Site facilities include hot showers, laundry, communal kitchen with oven, hobs, TV and games room and a spa.
Stay safe
The weather in the Tongariro National Park can change very quickly. Don't take any weather warnings lightly; in 2008, six Auckland high school students and their teacher died in a flash flood after they didn't heed a heavy rain warning.
MetService
publishes regular weather updates for Tongariro on their website.
Be very careful drinking water in the park. All of the huts have tanks to store rain water but in some, this is contaminated with giardia. Stream water can contain heavy metals from the volcanoes. The positive of this is that the stream beds can have spectacular colours.
Go next