Toodyay
Toodyay
is a small rural town of about 1,000 people located 85 km east of Perth in the Avon valley. The town was founded in 1836 and its shire (also named Toodyay) is part of the Wheatbelt region and the Avon region of Western Australia.
Understand
Toodyay is one of three towns east of the Darling Scarp which were established very early in the development of Western Australia. Toodyay,
Northam
and York are all on the Avon River, the upper portion of the same river that flows through metropolitan Perth - the Swan River. Each town is the location of 'old' pioneering families who were (and some cases still are) landholders and early farmers of the region. All three towns thrived in the era of small scale agriculture; however, with many changes in agricultural methods, and agriculture in general, the towns have suffered. Each town has adjusted accordingly. Because of its location on the current railway line to Perth, there are people who commute by train from Toodyay to Perth, despite the distance.
Get in

The usual way of getting in is by train or car.
The more adventurous can arrive by horse or bicycle, but these require access to the bicycle or horse in the first place. To ride by bike from Perth is an adventure for the fit, as the hills are long and steep, and the passing cars are not usually prepared to see bicycles on their narrow race track.
A train can be taken from Perth to Toodyay and there are three choices of services: AvonLink, MerredinLink and Prospector.
Travelling by car is probably the easiest way, as Toodyay can be only an hour's drive from the Perth metropolitan area. The most direct route to Toodyay from Perth would be along Toodyay Road.

Get around
It's easy enough to walk around town if you wish to see most of the sights, parks, cafes, restaurants, pubs and accommodation. However, it is advisable that you have a car if you wish to visit any of the farms around Toodyay.

See
Toodyay was one of WA's earliest settlements. Sight-seeing can involve visiting some of the town's old (heritage-listed) buildings, and a range of other places can be seen in the surrounding countryside, too.
phone: +61 8 9574 2435

address: 7 Piesse Street

The museum educates visitors about Toodyay's agricultural history and the history of the mill. It also provides insight into the milling process.

phone: +61 8 9574 2436

address: Clinton Street

The museum educates visitors about Toodyay's and WA's convict history and the history of the Newcastle Gaol.

phone: +61 8 9622 2100

address: Duke Street

This lookout, although not on a very high hill, provides a good enough view of Toodyay. There is also a memorial and native garden planted in honour of James Drummond, the colony's first botanist. The reserve also has picnic sites and toilet facilities. Free.
Do
address: 1027 Clackline Road

Australia's first and only dedicated public archery park.
Events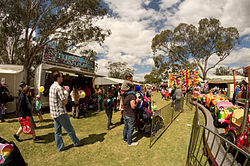 For updated information on events refer to the
Toodyay Visitors Centre
.
Inclusive Community Program (January)
Australia Day BBQ Breakfast (January)
Avon Valley Black Dog Ride (March)
Toodyay Music Festival (March)
Lions Jumbo Auction (April)
Toodyay Family Cycle (April)
Toodyay Community Program (April)
Anzac Day (April)
Moondyne Festival (May) - Held on the first Sunday of May, celebrates the life of Moondyne Joe
Toodyay Farmers Market (March through December)
Thank A Volunteer Day (May)
Toodyay Fibre Festival (June)
Toodyay Community Program (July)
Northam to Toodyay Paddle (July)
Arts Trail (July)
Toodyay International Food Festival (August)
Avon Descent (August) - An annual white water event held over two days, Toodyay has a number of viewing areas and the overnight camp site for competitors.
Make Smoking History Targa West Rally (August) - An annual motor sport event held on public roads.
Earth Sculptures—Montage in the Garden (September)
Toodyay Recycled Regatta (September)
Toodyay Picnic Race Day (September) - An annual thoroughbred horse racing event held at the Toodyay Race Course.
Vino Art Exhibition—Coorinja Winery (September)
Toodyay Community Program (October)
Toodyay Agricultural Show (October) - The Toodyay Agricultural Show has been running for over 160 years.
Bush Poetry Festival (November)
Remembrance Day (November)
Car & Motorcycle Show (November)
Christmas Street Party (December)
Carols in the Park (December)
Buy
Local arts and crafts are what you can buy in Toodyay. There are a couple of potteries around the town. There are also alpaca farms, olive farms and lavender farms. Most products are based off what is grown in surrounding farms (e.g. alpaca wool, lavender ice cream, olive oil, etc.)
One of the local shops is in the old Post Office building in the main street, called "Uniquely Toodyay".

Eat
Most restaurants, cafes and pubs are situated on the main street in town, Stirling Terrace.
Pecan Hill Bed & BreakfastDuck Duck Goose

phone: +61 8 9574 2636

address: 99 Beaufort Street, West Toodyay

Delicious food, friendly service and a great view. They serve a varied cuisine and have an ice cream shop.

Toodyay Bakery

phone: +61 8 9574 2617

address: 123 Stirling Terrace

The best homemade pies pastry's, bread all bakesited fresh everyday.

phone: +61 8 9574 4407

address: 128 Stirling Terrace

There's not really much of a museum but there is a lot of Coca-Cola memorabilia around. There is a very '50s milk bar ambience to the place though. $15-16.50(mains).
Drink
Freemasons Hotel

phone: +61 8 9574 2201

address: 125 Stirling Terrace

Hotel with public bar, with counter meals and accommodation
Sleep
There are two operating hotels in Toodyay, as well as several farmstay and B&Bs to choose from.
Freemasons Hotel, 125 Stirling Terrace, Toodyay, +61 8 9574 2201

The Limes Orchard & Farm Stay

address: 57 Clarkson St Toodyay

Farm stay accommodation

phone: +61 8 9574 2612

address: 122 Railway Road

The closer of the two caravan parks in Toodyay, about 1.5 km from town downstream on the bank of the Avon River. A fairly standard caravan park with powered and unpowered caravan and camping sites and a few cabins. The facilities are well-maintained. There's a path back along the river towards town (about 20 minutes' walk). Canoes can be launched from the park's slipway, but note that there's often not enough water in the river for canoeing.
Connect
Go next