Topeka
Topeka
is the capital of
Kansas
.
Understand
Topeka, located in Shawnee County, serves as the capital of Kansas. The metropolitan area is rich in history and highly favored by nature. It lies on rich sandy loam river bottomland where Indians lived for many years using the excellent fords on the Kansas (Kaw) River. Among the first permanent settlers were three French-Canadian (Pappan) brothers. They married three Kanza (Kansas) Indian sisters and established a ferry over the river in 1842. A grandson from one of the marriages was Charles Curtis, the only Vice-President of the United States to be of Indian descent. (Charles Curtis served with President Herbert C. Hoover from 1929 to 1933.) In the 1800s, Topeka served as a gateway west for pioneers traveling on the
Oregon Trail
or by railroad.
Topeka is home to the highly acclaimed Kansas Museum of History where you'll step back in time and learn all about the land that is Kansas. Relive the history of Kansas through exhibits, videos, and programs.
Old Prairie Town at Ward-Meade Historic Site overlooks the Oregon Trail's ferry site across the Kansas River and includes the original Atchison, Topeka & Santa Fe Railroad depot from Pauline as well as a turn of the century town, botanical gardens, and dinners served by hosts in period dress.
Topeka has been an active participant in the modern-day Civil Rights Movement. The Monroe School is the Brown v. Board of Education National Historic site where visitors gain an understanding and appreciation for the role of this decision in the Civil Rights Movement.
Gage Park houses the Topeka Zoo, Renisch Rose Gardens with over 6,500 plants, offering 400 varieties, and a 1908 Carousel that houses a 1909 Wurlitzer organ. Tour the Combat Air Museum, the Capitol Building, and the Governor's home - Cedar Crest. First Presbyterian Church, built over 112 years ago, is the site of a unique presentation of Tiffany windows. Louis C. Tiffany came to Topeka in 1911 and produced these windows. First Presbyterian Church is the only church west of the Mississippi River to have all Tiffany windows. Visit Heartland Park, a state-of-the-art motor sports complex. The Topeka area has an abundance of campgrounds and lakes, as well as hiking and biking trails.
Get in
By plane
By train
Amtrak
has a stop in Topeka which is served by the daily
Chicago
-
Los Angeles
Southwest Chief
line. Be aware that trains from Chicago and Kansas City, MO arrive at around 12:30AM and trains from Los Angeles arrive at around 5:20AM.
address: 500 SE Holliday Place
By taxi
Yellow Cab Taxi has the phone number +1 785 357-4444, they operate 24 hours, a ticket from north topeka to the train station will cost you between $7 and $10, it is located at 302 SE 21st St, Topeka, KS 66607
Capitol City Taxi has the phone number +1 785 267-3777, 2050 Se 30th St, Topeka, KS 66605 (corner of SE Swygart St and SE California Ave) Fare is $2.50 and $1.8/mile
By car
Travelling by car is the easiest way to enter, exit and move around in Topeka.
Highways include:
Highway 24 gives four lane access from the east and two lane entry from the west.
I-70 gives controlled access from the west.
Highway 75 gives two lane access from the south and controlled four lane access from the north.
I-335 (Toll) gives controlled access from the southwest.
I-70 (Toll) gives controlled access from the east.
By bus
Get around
By car
Most of the streets in Topeka are laid out in a grid pattern. North/South Streets are named and most East/West streets are numbered. South of the river the street numbers increase as you travel southwardly, and the opposite on the north side of the river. Popular streets running through the city are Wanamaker, Topeka Boulevard, 21st Street and 6th Street (6th Street turns into Highway 40).
Topeka has a controlled access bypass, I-470, travelling through the southwest side of town. This makes for easy access to shopping centers and connects the major highways going into and out of Topeka.
By bus
Topeka Metro
is the public bus system that runs through most of the main streets. Their phone number is: +1 785 783-7000. The bus fare costs $2 per trip. A card that is good for 10 rides costs $18. A pass that is good for 31 days costs $50.00. Buy cards and passes at the Quincy Street Station at 820 SE Quincy Street or at any Dillons store. You can catch or transfer to most buses at this station too.
See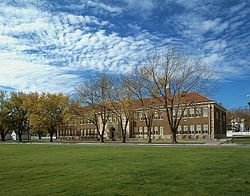 Do
Lake ShawneeWatersports and camping. There is a small waterpark at the beach.

Bowling alleys are popular in Topeka. There is a bowling alley in most areas of the town.

phone: +1 785 354-8591

address: 421 SW Van Buren St

Has four facilities for exercise and sports.

phone: +1 785 234-2787

address: 214 SE 8th Avenue

Regularly hosts concerts, plays and performances.
Movie Theaters are located at Westridge mall and on the north terminus of Wanamaker Road

address: One Expocentre Drive

Hosts major events and conventions

phone: +1 785 861-7899

address: 7530 Topeka Blvd

Has drag, dirt and road racing events.

phone: +1 785 251-5990

address: 700 SW Zoo Pkwy

A quaint community blackbox theatre, regularly puts on plays and musicals, and specializes in children's camps.

Gage ParkFeatures a fun outdoor aquatic center (Blaisdell Pool), a small train, a rose garden, walking trails, baseball diamonds, playgrounds, a greenhouse, a dog park, and an amphitheatre with occasional music performances.

phone: +1 785 357-5211

address: 3028 SW 8th Ave

Fegularly puts on musicals, plays, and comedy acts featuring talented local performers.

Topeka and Shawnee County Public Library

phone: +1 785 580-4400

address: 1515 SW 10th Ave

This 183,000 square foot building may be one of the greatest libraries around, and is popular with people from across Kansas and out of state. There's a great selections of all media types including books, movies, music and periodicals. It also houses local art and screens classic movies for free.

Shunga ParkWalking and biking trails, a pool, and baseball diamonds, as well as a BMX track.
Buy
phone: +1 785 272-5119

Features more than 115 stores including Old Navy, Gap, and Macy's.

phone: +1 785 272-1555

address: 2114 SW Chelsea Drive

Featuring over 50 unique shops and restaurants including The Classic Bean.
Eat
Topeka has the variety of chain restaurants like most modern American cities. Locally owned restaurants are scattered through town. Most small shopping centers will have one or two small, locally owned restaurants. Wanamaker is the popular street for most chain restaurants.
Recommended Locally Owned or Small Chain Restaurants:
Bobo's Drive In

address: 2300 SW 10th Ave

Globe Indian Cuisine

address: 117 SE 10th Ave

Kiku Japanese Steak House

address: 5331 SW 22nd Pl

Tacos El Mexicano

address: 2002 SE California Ave

phone: +1 785 266-2299

address: 220 SW 29th Street

phone: +1 785 273-0848

address: 4014 SW Gage Center Dr

phone: +1 785-234-5400

address: 420 SE 6th

phone: +1 785 267-2739

address: 417 SW 37th St

phone: +1 785 354-8880

address: 1100 NW 25th St

Reservations recommended.

phone: +1 785 228-2001

address: 110 SE 8th Ave.

A popular destination for breakfast and lunch.
Drink
Topeka has a few locally owned coffeehouses, but several coffeehouses in the area buy their coffee from a medal-winning local roaster,
PT's Coffee Co
. PT's also has a coffeehouse of their own.
Recommended Locally Owned or Small Chain Barristas:
PT's Coffee Roasting Co.

address: 5660 SW 29th St

phone: +1 785 232-1001

address: 722 S Kansas Ave

Classic Bean

address: 2125 SW Fairlawn Plaza Dr

Lazio's Coffee Bar & Roasterie

phone: +1 785 273-3550

address: 2111 SW Belle Ave

phone: +1 785 215-6633

address: 911 S. Kansas Ave

phone: +1 785-234-5400

address: 420 SE 6th St
Sleep
Go next
Lawrence is thirty minutes east of Topeka along I-70 (Toll). A scenic (and cheaper) route to Lawrence from Topeka is along US Highway 40. The Amtrak train system connects Topeka to Lawrence. Lawrence is home to University of Kansas. Lawrence is a small college town with a vibrant social scene located around Massachusetts Street. Massachusetts Street is also the site where John Brown fought during the Bleeding Kansas battles.
Perry Lake is 30 minutes north east of Topeka along US Highway 24. It is the third largest lake in Kansas. Perry Lake features watersports, hiking and camping opportunities.
Manhattan is an hour and a half west of Topeka. Take I-70 West to KS-177 North. Manhattan is home to Kansas State University. Near to Manhattan is Tuttle Creek Reservoir.