Torgau
Torgau
is in the north of the German state of
Saxony
.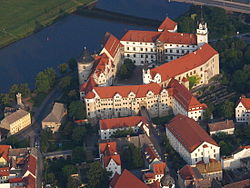 Understand
Torgau was first mentioned in a document dating from 973. By 1267 it had received the privileges of a town.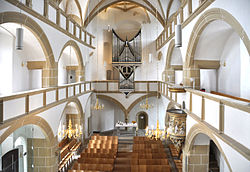 After the brothers Ernest and Albert had divided the possessions of the House of Wettin in 1485, Prince-Elector Ernest made Torgau his residence. His successor Frederick III (called "Frederick the Wise") was an avid proponent of
Protestant Reformation
and one of the most important supporters of Martin Luther. The church of Torgau castle was the first newly constructed Lutheran church. Torgau was therefore called the "nurse of Reformation" (while
Wittenberg
was considered its "mother"). Luther, Melanchthon, Justus Jonas Sr. and Johannes Bugenhagen drafted the Torgau Confession in 1530, some articles of which were later adopted into the Augsburg Confession (the Lutheran Church's primary confession of faith). Luther's wife Katharina von Bora died in Torgau in 1552.
The Kingdom of Saxony lost its northern territories, including Torgau, to
Prussia
in 1815.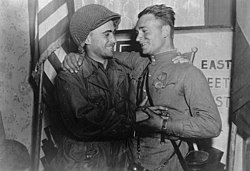 During the last two years of
World War II
, Torgau was the seat of the Reich's military court where more than 1000 draft dodgers, resistance fighters and prisoners of war (mostly Americans) were executed. In 1944, 45,223 prisoners of war were registered at the Torgau POW camp (Stalag IV D), though most of them did not live at the camp but were detached to various labour battalions in the region. At the end of the war, on 25 April 1945, Torgau received international prominence as the place where Soviet troops from the east and US troops from the west first met (more accurately, the meeting took place in Strehla, 30 km south of Torgau), marking the merger of Western and Eastern front and the imminent collapse of German defense. The anniversary of the historic event is celebrated as
Elbe Day
.
After the war, Torgau became part of the state of Saxony-Anhalt, but the East German authorities dissolved all states a few years later, assigning Torgau to the Leipzig district. Since German unification, the town of some 20,000 inhabitants again belongs to the state of Saxony.
Get in
The closest airport is
Leipzig/Halle
(
LEJ
), about 60 km west of Torgau. Trains take you to Torgau in one and a half hour (change at Leipzig main station), a taxi costs about 100 €.
Torgau is reached by half-hourly local trains from Leipzig in 50 minutes and by two-hourly regional trains from Cottbus in 65 minutes. Travellers arriving from further-away places have to transfer either in Leipzig or in Falkenberg (Elster). From Wittenberg you will need a good hour by train, from Dresden or Berlin more than two hours.
Torgau is located on the Elbe Radweg (River Elbe cycle route), so a convenient way to get here is by bike.

See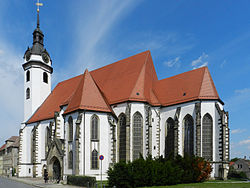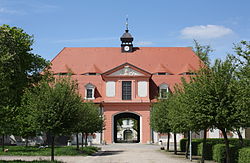 Schloss HartenfelsFormer residence of the Prince-Electors of Saxony

SchlosskircheFirst Protestant church built after the Reformation.

Stadtkirche Sankt MarienLate-Gothic hall church. Contains the grave of Luther's wife Katharina von Bora

Market placeWith the imposing Renaissance town hall, historical pharmacy and several proud bourgeois houses.

Gestüt Graditz

address: Gestütsstraße 54-56

Restored Baroque-style stud farm that still breeds both thoroughbreds and hybrids.
Eat
Ricard

phone: +49 3421 715176

address: Markt 9

Small bistro, serving freshly made, mostly Italian dishes.

phone: +49 3421 7732690

address: Schloßstraße 14/16

Upscale restaurant, mainly serving high-quality steaks

phone: +49 3421 904525

address: Werdau 12

Long-standing restaurant and brewery, using regional products.
Sleep
phone: +49 3421 711379

address: Bäckerstraße 12

Centrally located, small and family-owned hotel (22 rooms), particularly ready to host cyclists traveling on the Elbe route and bikers. There are also three appartments.
Nearby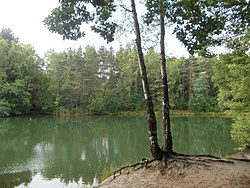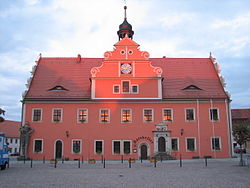 Torgau is located between
Düben
(west of the town) and
Dahlen heath
(to the south), both are close-to-nature areas for recreation, with light forests, popular for hiking.
Schloss Triestewitz

address: Arzberg

Belgern town hall

address: Belgern

Beautiful Renaissance town hall with a 6 metre high Roland statue

Museum der Schildbürger

address: Schildau

There is a traditional series of humorous stories about the seemingly stupid citizens of Schilda (Schildbürger) who have become proverbial (especially cited if local authorities take impractical descisions or enact silly regulations), comparable to the Wise Men of Gotham stories in England.

JägereicheDecoratively carved oak pole; landmark in the middle of the Dahlen heath.

Schmannewitz church

address: Schmannewitz

Beautiful Baroque village church, designed by George Bähr (who was also the architect of the Dresden Frauenkirche).

Dahlen town hall

address: Dahlen

Imposing 19th-century town hall. Monument illustrating a local legend.

Strehla Castle

address: Strehla

Well-preserved late-Gothic to Renaissance castle.
Go next