Torngat Mountains National Park
Torngat Mountains National Park
, on the Labrador Peninsula in
Nunatsiavut
, occupies the northernmost tip of
Labrador
,
Canada
.
Understand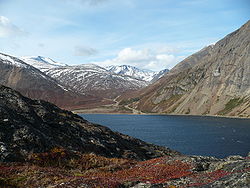 The Torngat Mountains are named for the Inuktitut word
torngait
, meaning "place of spirits". The largest and most remote national park in
Atlantic Canada
, Torngat covers 9,700 km² (3,700 sq mi) of Arctic Cordillera from Cape Chidley south to Saglek Fjord.
Park office

phone: +1 709-922-1290
History
This is native country, as it has been for thousands of years. While the status of national park is recent (part of a
Nunavik Inuit Land Claims Agreement
which came into effect in 2008), native hunting, fishing and trapping continues within the park boundaries.
Landscape
Torngat is the southernmost part of the Arctic Cordillera, a mountain range which extends northward across
Baffin Island
and
Nunavut
. Terrain is rugged, with mountains and fjords.
Flora and fauna
The park protects wildlife including caribou, polar bears, peregrine falcon, and golden eagle.
Climate
The Arctic Cordillera represents one of Canada's most inhospitable climates, with temperatures in the -35°C range commonplace during dark, long Arctic winters.
Get in
Nunatsiavut
itself is remote, accessible only by small aircraft or coastal ferries. The park, as the northernmost point in
Labrador
, is even further from the beaten path; access is by boat or chartered aircraft only.
The park borders
Nunavik
on
Quebec
's Ungava Peninsula - which is just as inaccessible. Nain, a tiny community in northern Nunatsiavut, Labrador is the usual jumping-off point to reach Torngat Park.
By air
By boat
Fees and permits
Visitors must obtain permits, register and undergo an orientation before setting off on treks or boat trips.
As of March 2018, fees have not been imposed for park admission.

Get around
There are no roads or infrastructure in the park. Access is primarily by boat or on foot; hikers are advised to travel with an Inuit bear guard.
Speedboats, longliners, polar bear guards, helicopter and fixed wing charters may be obtained through the base camp (+1-855-TORNGAT, fax +1 709 896-5834).

See
The Torngats are the highest mountains in Canada east of the Rockies. Mt Caubvick/D'Iberville is the tallest at 1652m (5437 feet); a few other peaks reach above 1538 metres (5000 ft).
There are hundreds of
archaeological sites
in the park, some dating back almost 7,000 years. More recent remains include Moravian Mission sites, as well as Hudson Bay Company trading posts in Saglek and Nachvak fjords.
As the park is remote and remains in its natural state, it is well suited to wildlife watching - including birds, caribou and bears.
Do
Wilderness-oriented recreational activities include hiking, scrambling, kayaking and day or multi-day cultural and natural excursions, often with Inuit guides.

Hiking
There are no roads, trails, or signs in Torngat Mountains National Park. There are, however, unmarked hiking routes and traditional Inuit travel routes marked by inuksuit (stone markers). Visitors can explore the park on guided or unguided day hikes and interpretive walks, overnight camping trips, multiday backpacking treks, and technical rock-climbing excursions.
With help and logistical support from Torngat Mountains Base Camp and Research Station, Parks Canada offers a range of day trips and overnight hiking opportunities in Torngat Mountains National Park.
There are many opportunities for backpacking in the vast and diverse terrain of Torngat Mountains National Park. Visitors can explore established hiking routes or map out their own route through different areas.
Parks Canada has prepared multi-day and shorter single-day hiking route descriptions for visitors. These outline known routes and offer some interpretation of the area. These route descriptions are reliable for describing the area that you are hiking in, but you must carry your own map, compass, and GPS. Do not use the route description as your only means of navigation.
Parks Canada also sets up satellite camps each summer to provide support for visitors that are looking for an overnight hiking experience. These satellite camps are big enough to hold 5-6 pup tents enclosed by a temporary bear fence. Visitors can do day hikes to and from these camps to areas of interest, ideally in the company of an Inuit bear guard.
For more information about hiking in the park, and the level of skill required for different routes, contact Torngat Mountains National Park or Torngats Base Camp and Research Station.

Buy
This is Arctic wilderness; there are no amenities within the park. The most basic provisions (groceries, equipment rental, accommodations, police and medical assistance) are available on a very limited basis in Nain and Kangiqsualujjuaq. If you need supplies, bring them with you.

Eat
Bring what you need and
leave no trace
when you leave. Be bear aware; stored or cached foodstuffs may require bear-resistant containers.
Drink
While there are many fresh water streams and ponds in the Torngat Mountains. this untested water should be boiled, treated (iodine or chlorine in warm water) or filtered (
Sleep
phone: +1-855-TORNGAT

address: On Saglek Fjord, outside the park

Tent-style camping accommodations at the park's southern end, enclosed by bear fences. Seasonal, mid-July to end-August.
Stay safe
The mountains of northern Nunatsiavut are very much for the experienced, independent voyager. This is the Arctic, polar bear country where distances are vast (the park covers twice the area of
Prince Edward Island
, Canada's smallest province) and assistance is not always close at hand. Unless one is experienced with this region, it's best to rely on an Inuit guide when venturing far beyond the base camp. Native guides are permitted to carry firearms (where visitors are not) and know the area well.
Bring warm clothing and extra provisions, as adverse (unpredictable and bitterly cold) weather, sometimes even in summer, may substantially delay your transport out of the park. Under adverse conditions, outside assistance may be days away even in an emergency.
Carry bear repellent and keep food out of reach of
dangerous animals
. Polar bears, black bears, foxes and wolves are all present in the area.
Leave a copy of your plans with friends or family, so that they may contact police in an emergency (Nain's RCMP detachment is +1 709 922-2862; Parks Canada is +1 709 922-1290 in Nain and operates 24-hour emergency dispatch from faraway
Jasper
,
Alberta
at +1 780-852-3100 or +1-877-852-3100).
Connect
A
satellite phone
may be the only means of limited (and expensive) communication in this remote location. There are no satellite phones for rent or sale in Nain; the closest vendor is in Goose Bay.
Go next