Toronto/North York
North York
is one of the cities that in the 1997 City of Toronto Act became a part of the Toronto mega-city. North York has a unique charm being its own brand of multiculuralism. There are many aspects of North York that make up the vast proportion of Toronto living, from its university, historical sites, and various unique neighbourhoods, North York has become a city within a city.
Understand
The area of the former city of North York is demographically, ethnically and culturally diverse and can be classified into many areas or districts depending on one's perspective. Some examples appear below but many are largely generalizations that provide an incomplete perspective. Its name can be somewhat confusing as North York is located south of York Region but north of the former city of York which amalgamated along with North York to form the current city of Toronto.
North York has the following districts:
The Peanut. Don Mills Road, between Sheppard and Finch Ave, this community has a significant public housing population, immigrants and refugees, sole-support families and youth. It has been an area with a notable level of criminal activity.
York Mills. Yonge St and Leslie St, Lawrence Ave to Highway 401. Home to the famous Bridle Path, lined with multi-million dollar estates and mansions, this area boasts the highest household incomes in Canada. Also home to Glendon College, part of York University.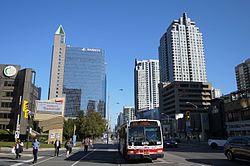 Central North York. Yonge St, from Highway 401 to Finch. Rural in character until after World War II, this is the central business and cultural district. Home to a performing arts centre, movie theatres, shopping centres and other amenities, the area boasts a significant concentration of highrise condo buildings and an impressive skyline.
Lawrence Manor. Allen Rd to Avenue Rd, Briar Hill Ave to Highway 401. Developed in the 1950s, this is the heart of Jewish Toronto, when many Toronto Jews moved out of the city core. Many orthodox Jews live on the residential streets off Bathurst, which is lined with synagogues, Hebrew schools, bookstores, delis and kosher markets.
Little Moscow. Bathurst from Sheppard to Steeles and Steeles from Dufferin to Yonge. Known for its Russian populace, with a large Russian Jewish population, one will find various stores with Russian signs. As in its multi-ethnic namesake city, there are Russians, Ukrainians, Georgians, and other ethnic groups from the former USSR. It has grown significantly since the breakup of the USSR and has swollen into Thornhill and Richmond Hill.
Koreatown North. Yonge St between Churchill Ave and Steeles Ave. Second largest population of Koreans in Toronto next to the downtown Koreatown, it is one of the largest congregation of Koreans outside of their native land. Developed starting in the early 1990s, this new Koreatown has many retail stores, Korean grocery stores (some quite large), karaoke bars (especially active Fridays) and family restaurants catering to younger Koreans and those living in the north part of Toronto. Large numbers of Chinese live here as well. You'll find the Persian section bleeds into the Korean strip to the south.
Persian Section. Yonge St between Finch and Steeles. Many Persian grocers and restaurants line this section of Yonge Street, while the residential streets house a large Persian population. Some of the cheapest and best Shish Kebabs, Halva, and Baklava can be purchased here. You'll find the Korean strip bleeds into the Persian Section to the north.
Downsview. Downsview was a farm in the 1870s near the present-day intersection of Keele Street and Wilson Avenue. It now extends beyond the intersection of Sheppard Avenue and Dufferin Street, in the former City of North York. The area includes several large post-World War II subdivisions. It includes Downsview Airport, the former site of Canadian Forces Base Downsview, which has been largely converted into Downsview Park. The airport is still used as a manufacturing and testing facility for Bombardier Aerospace.
Jane and Finch Corridor. The area is roughly bounded by Highway 400 to the west, Black Creek Ravine to the east, Grandravine Drive to the south, and Shoreham Drive to the north within Downsview. The Jane-Finch community has long been a media darling, with attention focussed on crime and gang activities. While there is little doubt that Jane-Finch has crime, there are other areas of North York and Toronto which have similar challenges. It also has one of the highest proportions of youth, sole-supported families, refugees and immigrants, low-income earners and public housing tenants of any community in Toronto. In January 2009, there was an effort to return to its original community name of University Heights to get rid of its notorious tag.
Flemingdon Park is bordered on the north by Eglinton Avenue East, on the west by the Don River (west branch), and on the east and south by the Don River (east branch). The 2 branches of the Don join at the neighbourhood's southwest corner. The south border is a parkland access road that used to be known as Old Lawrence Avenue. The community derives its name from its first European owner, Robert John Fleming, the mayor of Toronto in 1892-1893 and 1896-1897, and the nearby Don River. This is another community with a significant crime rate as well as highest proportions of immigrant, low income and sole-support families.
Get in
Public transit
Line 1 Yonge-University runs in a 'U' shape, travelling from North York south along Yonge Street, through the downtown area to Union Station, then travelling north through North York to the City of
Vaughan
, just north of Toronto.
Using the eastern arm of Line 1 from south of Finch station, Central North York is easily accessible by transit to and from downtown from stations Sheppard-Yonge, North York Centre and Finch stations. York Mills station also serves North York, but is south of the North York city centre. Finch subway station is also a regional hub hosting Viva express buses from
York Region
, GO commuter buses and a large number of TTC buses.
The western arm of Line 1, south from Vaughan Metropolitan Centre, has a number of stations serving North York: Pioneer Village (on Toronto's and North York's northern boundary), York University, Finch West, Downsview Park, Sheppard West, Wilson, Yorkdale, Lawrence West and Glencairn stations. Yorkdale Station has a GO bus terminal and a pedestrian link to Yorkdale Shopping Centre.
The street levels of the northern six subway stations on the western arm of Line 1 from Downsview Park to Vaughan Metropolitan Centre are architecturally interesting. You must exit the station at ground level to appreciate them: to do this, you should have a day pass. If time is short, York University and Pioneer Village are recommended, and these two stations are within walking distance of each other.
Subway Line 4 Sheppard is entirely within North York. It connects with Line 1 Yonge-University at Sheppard-Yonge Station and travels east to Don Mills stations. Bayview Village Mall is next door to Bayview Station, and Fairview Mall is adjacent to Don Mills Station.
Other areas of North York are not served by rapid transit (subways). Some areas are well served by bus, with waiting times as little as 5 minutes between buses, while other areas are less well served, resulting in times as long as 20 to 30 minutes between buses, particularly outside rush hours.
See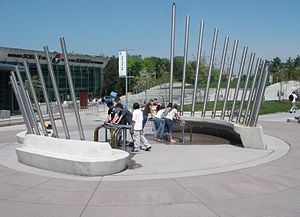 address: 77 Wynford Dr

Museum of Islamic art, Iranian (Persian) art and Muslim culture housing collections of Islamic art and heritage, including artefacts from the private collections of His Highness the Aga Khan, the Institute of Ismaili Studies in London, and Prince and Princess Sadruddin Aga Khan.
phone: +1 416 667-6295

address: 1000 Murray Ross Pkwy

To visit Black Creek Pioneer Village is to journey back in time to discover life in early Ontario. The Village is an example of a typical crossroads community found in the Toronto area during the 1800s. Here you will do much more than just learn about history. You will taste it, smell it, touch it, hear it and walk through it. As you explore 40 carefully restored heritage homes, shops & gardens, history will come alive as interpreters and artisans in period dress help you discover how settlers lived, worked and played. A good time to visit is weekdays during the autumn as there are comparatively few visitors.

Toronto International Aerospace (Canadian Air & Space Museum)

phone: +1 416 638-6078

address: 65 Carl Hall Road

The Canadian Air and Space Museum is closed pending finding a new location. At the Malton Airport Gallery at Pearson International Airport, T1 Domestic terminal (second floor), a selection of space-related artifacts is on display.

address: 250 Beecroft Rd

Dempsey Store was a hardware store built in 1860 at the northwest corner of Yonge Street and Sheppard Avenue. The historic store was moved and restored as a historic site further north to Dempsey Park in 1996. Today, the building is used as a centre for autistic children.

Edwards Gardens and the Toronto Botanical Gardens

phone: +1 416 392-8188

address: 777 Lawrence Ave E

35 acres of 20th-century naturalistic parkland famous for rhododendrons, seasonal perennials, roses and wildflowers on the uplands.

address: 5172 Yonge St

Built in 1851, Gibson House was the home of Scottish immigrant David Gibson and his family. He was a land surveyor who helped map early Toronto. Wanted by the government for participating in the Upper Canada Rebellion of 1837, Gibson was forced to flee to the United States where he and his family remained for 11 years. On their return to York County, the Gibsons built this beautiful home and once again became active members of their rural community. This elegant farmhouse has a serene Georgian-style exterior, period furnishings in the interior and staff in period costumes.

Hose tower for North York Fire Department Station 1

address: Princess Park, 214 Doris Ave

The fire hall is gone, but its hose tower and archway entrance remain. The colonial revival structure was built in 1942 by Murray Brown on the site of a former municipal building. The station was torn down in 1989, but the hose tower was preserved and the stone entrance incorporated with the rear exit at the Empress Walk shopping mall.
phone: +1 416 696-1000

address: 770 Don Mills Rd

Explore science (For all ages but some of the activities are mainly aimed towards children 8-14) in a fun and exciting way. The Centre has several hundred exhibits, featuring geology, the science of nature (in the west wing), astronomical science, how to play music and technology in the south wing, human anatomy, communication and bias, and some miscellaneous artifacts of science. It also contains Ontario's only Omnimax (full wrap around) movie theatre.

York Cemetery (entrance)

address: 160 Beecroft Rd

The first burial in this large park-like cemetery occurred in 1946, although the official opening was in 1948. The park, divided into eastern and western sections by Senlac Road, has several points of interest for visitors.

Military artilleryThe northeast quadrant of the eastern section of the cemetery has military graves where old artillery pieces and a Sherman tank are displayed.

Grave of the last Grand Duchess of RussiaGrand Duchess Olga Alexandrovna was the younger sister of Tsar Nicholas II, the last tzar of Russia. After World War II, she lived in Canada and died in Toronto in 1960.

Garden of RemembranceThis attractive flower garden contains a fountain, stream, gazebo and a small footbridge.

Shepard farmhouseThe property of York Cemetery was farmed by Joseph Shepard who bought the property in 1805. The brick farm house on the property was constructed by Joseph's son, Michael in 1837.

Pond and FountainThere are goldfish in the pond. The path on the south side passes through a rustic cluster of trees.

Graves of Chinese CanadiansMany of the grave monuments carry a Chinese theme including a grave with 2 pagoda-style gazebos.
Do
address: 5100 Yonge Street

The Square is a beautiful park featuring of open space, a garden court, an outdoor amphitheatre, fountains, and reflecting pool. Planters, trees, shrubs and wooden benches surround the area. An artificial stream runs from a fountain under a large sign at Yonge Street down into a large concrete square. A large pool is located in the centre of the square that serves as a relaxing focal point in the summer and a skating rink in the winter. The Square hosts special events in warmer weather such as showcase music, art, dancing, theatre and farmers market. Check the events calendar on the website.

address: 5040 Yonge St

Contemporary arts complex showcasing Broadway musicals, plays & live orchestras on 3 diverse stages.
Learn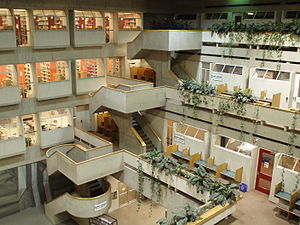 York University founded in 1959 as an offspring of the University of Toronto, is one of three universities in Toronto and is quite excellent in its education offerings. Some would say that its northerly location in the suburbs of the city give it a homey feel while its structure and landscape are breathtaking. Others feel that it is remote and lacking in architectural distinction. Visiting the university is easy as it has its own on-campus subway station on Line 1 Yonge–University.
Glendon College, part of York University, but located on its own, very green and historic campus, is home to a bilingual faculty of liberal arts along with a few graduate programmes. It also has links with College Boreal, the French-language community college serving southern Ontario. It can easily be reached by bus routes 124 and 162 from Lawrence station on Line 1 Yonge–University.
Seneca College is the main community college serving North York (though Humber College Institute of Technology & Advanced Learning attracts many students from the western part of North York especially). Seneca has several campuses, the largest in the eastern section.
Buy
Shopping centres
Other stores
phone: +1 647-351-3511

address: 900 Don Mills Rd

Canadian-made travel wear for men & women including quick-drying washable clothing and Tilley hats. If a trip to Don Mills is inconvenient, there are other "retail partner stores" listed on the website including one at the CN Tower and another at the Eaton Centre.
Eat
There are dozens of plazas and strip malls in North York that beg for exploration. Don't be dissuaded by visions of suburban purgatory! If you have your own transportation, you can explore and sample tasty authentic Persian, Middle Eastern, Korean, Japanese, Russian, Jewish, Chinese, Caribbean, Indian, Latin American or classic diners and more. Often at better prices and greater quality than downtown strips. When multiculturalism is talked about in Toronto, it is the areas of North York, Scarborough and Etobicoke.
Asahi Sushi

phone: +1 905-760-1294

address: 7000 Bathurst St, Vaughan

A great place to grab a dinner if you aren't in the mood for anything too fancy and very reasonably priced. Staff are also exceptionally friendly.

phone: +1 416-443-8880

address: 900 Don Mills Rd

Northern Chinese cuisine including northern-style dim sum, distinctly different from Cantonese dim sum. Dim sum for 2 people: pork potstickers, rolled onion pancake with sliced beef, sesame biscuit stuffed with egg & pork floss, pan-fried green onion pancake.

phone: +1 416-756-9388

address: 125 Ravel Rd

Northern Chinese cuisine including northern-style dim sum.

phone: +1 416-916-0338

address: 895 Lawrence Ave E

Chinese BBQ & stir-fry dishes plus congee (rice porridge)

phone: +1 416-385-8822

address: 900 Don Mills Rd

Cantonese cuisine.

phone: +1 416-490-8893

address: 3600 Victoria Park Ave

Elegant Chinese restaurant resembling a European-style ballroom with Cantonese cuisine including dim sum. Discount for dining before 11AM but expect lineups on weekends if you don't arrive early.

Emerald Park

address: 9 Bogert Ave

The lower floors of this multi-story condominium building contains a small shopping centre with a food court with mostly Asian-themed eateries. There appears to be no chains.

Europe Bar and Restaurant

phone: +1 647 436-9739

address: 3030 Bathurst St, North York

Hungarian cuisine.

Lloyd's Foodmart

phone: +1 416-242-2436

address: 1710 Jane Street

Soul food, Caribbean cuisine. Chicken and rice plates at most affordable prices.

phone: +1 416-322-5544

address: 3885 Yonge St

Located in Hogg's Hollow overlooking a park, this restaurant is in a heritage building, with a big patio & enclosed veranda.

phone: +1 416-222-5487

address: 865 York Mills Rd

Italian restaurant offering pasta, pizza, sandwiches & seafood.

phone: +1 416-490-8828

address: 5505 Leslie St

Chinese restaurant serving dim sum & classic dishes such as Peking Duck.

phone: +1 647-352-9333

address: 1090 Don Mills Rd

Middle Eastern Restaurant

phone: +1 416-223-5151

address: 1108 Sheppard Ave E

Northern Chinese cuisine including Peking duck.

Pho 88 Restaurant

phone: +1 416-225-8899

address: 5197 Yonge St

Vietnamese cuisine.

Shawarma Max

phone: +1 647-351-7629

address: 5171 Yonge St

The chicken shawarma sandwich is loaded with vegetables and is very nicely moist. This fast-food restaurant usually offer mamoul, a date-filled shortbread cookie.

Sun Star Chinese Cuisine

phone: +1 416-229-0866

address: 636 Finch Ave E, North York

Cantonese cuisine.

phone: +1 416-650-9800

address: 5982 Bathurst St

Kosher restaurant specializing in vegetarian & Mediterranean food. Tovli's serves traditional Israeli Middle Eastern foods, no pork allowed!

phone: +1 416-784-9900

address: 3519 Bathurst St

Kosher restaurant specializing in vegetarian & Mediterranean food.

phone: +1 416-730-1100

address: 4771 Yonge St

This grocery store is also a restaurant with many tables plus seasonal patio seating. Hot meals can be ordered and paid at a counter to the left of the entrance. The place can be busy at noon on workdays as office workers arrive. Also beyond the grocery store cash registers, you will find a salad bar, sandwich bar and a gelato counter.
Sleep
Hotel Novotel Toronto North York

phone: +1 416 733-2929

address: 3 Park Home Avenue

Clean, corporate hotel tower, within 30 minutes of the city centre by public transport. A number of nearby restaurants. Indoor access to the North York Centre and (via the TTC lobby) Empress Walk shopping centres. Underground parking available at an additional cost.
Stay safe
Like any major city, North York (as part of Toronto) has its share of crime, though far less than the rate found in American cities of equal (and even smaller) size. While it is easy to name specific areas (Jane and Finch, Don Mills and Finch) these are based as much on local legend as police data. Additionally, they tend to be out of the way and purely residential areas and so most tourists will have little reason to venture to them. A lot of the crime is gang-on-gang and in the wee hours. Practice good safety routines, keep your wits and you'll be fine. Plan your route ahead of time as best you can, stay in well-lit areas and avoid walking alone at night in deserted areas. Feel free to enjoy late night events, sights, sounds and smells in areas with lots of people. All said, North York is generally one of the safer areas of Toronto, and there is little to fear. If you seem lost or confused, simply ask someone!