Toronto Pearson International Airport
Toronto Pearson International Airport
(
YYZ
) is in Mississauga near Toronto. As Canada's busiest airport, it handled 38.6 million passengers in 2014. Toronto is also served by the small Billy Bishop Airport, near the city centre, which handles only short-haul flights in central Canada and the northeastern U.S.

Understand
Malton Airport
, built on what were farmers' fields in the 1930s, hosted its first scheduled passenger flight (a Trans-Canada Airlines DC-3 landing) on August 29, 1939. From 1940-1942, Malton hosted a World War II British Commonwealth Air Training Plan flight school. Malton Airport became Toronto International Airport in 1960. Various terminal buildings have been constructed and demolished over the years as the airport expanded; Aeroquay One (1964) was demolished in 2004 and replaced with a new Terminal 1, while Terminal 2 (1972) was demolished in 2007.
As Toronto surpassed Montreal to become Canada's largest city in the 1970s, traffic through Pearson has been steadily increasing. While Air Canada's corporate headquarters remain in Montreal, Toronto Pearson is now the airline's largest hub.
While Montreal traffic was split for many years with the construction of an awkward outlying airport at Mirabel, a second major Toronto-area airport proposed for
Pickering
met with strong local opposition since the mid-1970s and was never constructed. While some short-range flights to destinations like Montreal, New York and Chicago operate from Toronto Islands airport, the bulk of Toronto's passenger volume by necessity goes through Pearson, the second-busiest airport for international traffic (behind
John F. Kennedy International Airport
in
New York City
) in
North America
.
Flights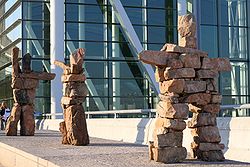 There are two terminals at the airport: 1 and 3 (2 was demolished due to new development). Flights are arranged in this way:
Terminal 1
Air Canada, Air Canada Rouge, Air China, Austrian Airlines, Avianca, Brussels Airlines, Copa Airlines, Egyptair, Emirates, Ethiopian, Etihad Airways, EVA Air, LOT Polish Airlines, Lufthansa, Sunwing, Swiss, TAP Portugal, Turkish Airlines, United
Terminal 3
Air France, Aeroméxico, Air Transat, Alitalia, American Airlines, Azores Airlines, British Airways, Carribean Airlines, Cathay Pacific, China Southern, China Eastern, Condor, Cubana, Delta, Etihad, Flair, Hainan, Icelandair, KLM, Korean Air, LAN Airlines, Pakistan International, Philippines Airlines, Ukraine International Airlines, WestJet
Departures
For flights to the USA, you go through US border preclearance for customs and immigration after check-in. This is generally a quick process and saves any queuing in the States. It also allows airlines to fly into US destinations which do not have the capacity to handle customs and immigration since passengers who went through border preclearance are treated as domestic passengers on arrival to the US. At peak times the lines at security can be very long so allow plenty of time to get through the system.
Arrivals
For both Terminals 1 and 3, the international arrivals are located on the eastern side of the terminals and the domestic arrivals are located on the western side.
Ground transportation
The
Union Pearson Express
train goes to downtown
Toronto
:
phone: +1 416-869-3600

UP Express trains operate between the airport and Union Station providing connections to the Toronto subway at Bloor Station (near Dundas West Station on Line 2) and Union Station (Line 1). (UP Express also has an intermediate stop at Weston station on Lawrence Avenue West.) A trip takes 25 minutes and trains depart every 15 minutes. The station provides airline check-in kiosks, luggage racks, onboard Wi-Fi and up-to-the-minute flight information. UP Express station is at Terminal 1; the airport's Link train connects Terminal 3 to the UP Express station. Tickets and Presto cards can be purchased at the UP Express station.
Presto card
can be purchased at the UP Express station for $16 each ($6 for the card plus a $10 minimum balance); higher balances can be purchased. Besides the UP Express, Presto is supported by many transit operators in the
Greater Toronto Area
. Seniors (65+) should have their cards set for reduced senior fares. UP Express passengers must tap their Presto card on a UP Express platform reader before boarding the train, and should tap off after arrival. If you use the intermediate stops at Bloor or Weston station, use only the UP Express Presto readers to tap on/off. Presto cardholders may receive a discount on TTC fare when transfering between the UP Express and TTC services to complete the trip.
By bus
Toronto Pearson provides a
webpage
indicating where to board the various bus services at Terminal 1 and 3 often indicating the column (pillar) where buses stop.
Local buses
Airport Express routes
Both Brampton Transit and TTC name their express route to/from the airport as "Airport Express" even though they go to different cities (in opposite direction!) Brampton Transit buses are blue and white while TTC buses are red and white. Be sure to check the route number (route 115 for Brampton Transit; route 900 for TTC) before you board the bus.
Various local buses serve Pearson airport. All accept the
Presto card
(see also
previous section
) for fare payment.
Brampton Transit (website) runs the Airport Express (route 115) bus from the airport to Bramalea City Centre in Brampton, a suburb directly north of Mississauga. Brampton Transit stops only in Terminal 1. Fares are payable in exact cash or by Presto card.
GO Transit (website) is the Greater Toronto and Hamilton Area's commuter and regional bus system. It offers two airport service routes operating from Terminal 1 on the ground floor. Both GO routes run 24/7 with a frequency of every 30 minutes in rush hours, every 60 minutes at other times. Most GO buses have under-floor compartments for luggage. Fares can be paid in cash with the driver providing change for bills up to $20. The fare can also be paid by Presto card, but remember to tap both on and off at the beginning and end of trip respectively.
Route 34 – Pearson Airport/North York Express GO Bus runs by four Toronto subway stations (Yorkdale, Sheppard-Yonge, North York Centre and Finch) in North York.
Route 40 – Airport Express GO Bus runs eastbound to Richmond Hill Centre Terminal via Highway 407 or westbound to Square One Terminal in Mississauga and Hamilton GO Centre in Hamilton.
MiWay (website) operates two bus routes connecting the airport with Square One (City Centre Transit Terminal) within the city of Mississauga. MiWay buses stop at both Terminal 1 and Terminal 3. Fares are payable in exact cash or by Presto card.
Route 7 Airport runs via the airport from Square One mall (Cooksville) and Westwood Mall (Malton).
Route 100 Airport Express runs weekdays only between the airport and Winston Churchill station stopping at Square 1.
Toronto Transit Commission operates bus service from the subway to the airport at the standard fare. TTC stops at both Terminal 1 and Terminal 3. Fare is by Presto card, Presto ticket (see sidebar) or by exact change. If paying by cash, get a transfer from the driver to make connections to other TTC vehicles.
Route 900 Airport Express runs every 10 minutes or better to/from Kipling Station on Line 2, making the journey in 20–25 minutes.
Route 52/52A Lawrence West is a local bus connecting to Lawrence and Lawrence West stations, both on subway Line 1. Running every 10 minutes or better, this is a slow route making frequent stops. The route number is 52 from the airport and 52A to the airport. Do not take routes 52B or 52D as these bypass the airport despite their tempting sign saying "extra fare required west of airport".
Route 952 Lawrence West Express is a rush-hour service following the 52A route but with fewer stops.
The following are night bus routes running when the subway is shut down between 1:30AM and 5:30AM (8AM on Sundays):
Route 300A Bloor-Danforth night bus provides service along Line 2 of the subway and goes directly to the airport.
Route 332 Eglinton West night bus runs from the airport to Yonge Street.
Route 352 Lawrence West night bus runs from the airport to Yonge Street.
Route 320 Yonge does not go to the airport, but it does provide a night connection downtown for riders coming from routes 300A, 332 and 352.
Intercity buses
A few intercity buses serve the airport directly.
Megabus (Coach Canada) runs to Port Hope, Trenton, Belleville, Napanee and Kingston (including a stop at Queen's University), serving various points along Ontario Highway 401. The journey from the airport to Kingston takes 3:45. Pickups are at Terminal 1 Post P5 and Terminal 3 Post C8.
Greyhound Canada' has 20 daily trips between the Toronto Coach Terminal and Terminal 1. These trips continue to various destinations in south-western Ontario such as Hamilton, London and Windsor among others.
Shuttle and van services are available to other destinations in southern Ontario (e.g. Waterloo, London, Niagara Falls)
By taxi
Airport taxi fares range from $19-78 (east) and $19-65 (west). Limousine fares are $21-86 (east) and $21-72 (west). Fares out of town are typically $1.55/km (taxi) and $1.45/km (limousine).
Taxis to downtown Toronto run a flat rate of $53 (other areas of the city vary but are also flat rate,) while airport limousines go slightly higher ($58 to downtown Toronto). Limousines are generally slightly larger (though not stretched), most are dark-blue Lincoln Town Cars and a bit more comfortable than taxis. As the airport is not in Toronto, regular Toronto city cabs do not pick up fares at the Pearson air terminals. Government approved rates can be found online.
Fake taxis (also called "Gypsy Cabs" by the locals) are frequently found congregating around Pearson Airport. If a driver approaches you inside the arrivals hall and asks if you need a ride, and you didn't arrange a car in advance, they are definitely unlicensed (legitimate cab drivers are prohibited by law from entering the terminal building to look for passengers.) While the risk of being a victim of crime as an unlicensed taxi passenger is very low, drivers and their vehicles are not held to the same safety and maintenance standards as their licensed counterparts. If you decide to patronize a Gypsy Cab, proceed at your own risk and be sure to agree on a fare in advance!
Uber and Lyft cars provide transport to and from the airport. UberX, Uber Black and Uber SUV services are available. The latter two sometimes using the same vehicles as the existing limo service but at a premium price (UberBlack for $88 to $115, UberSUV $100 to $128, of which $15 per ride goes to the Greater Toronto Airports Authority). UberX costs about $35 to $40 to downtown Toronto, and Greater Toronto Airports Authority charges $4.50 pickup fee and $4 drop-off fee. For arrivals, Uber and Lyft passengers are picked up on Ground Level at Door Q or P in Terminal 1 and Arrivals Level at Door D in Terminal 3. The locations are marked with directional signs for "Ride App Pickup".
Get around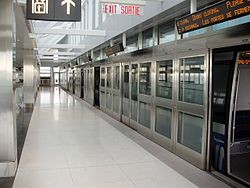 Terminal Link train runs every 4-8 minutes between Terminal 1, Terminal 3 (including Sheraton Gateway Hotel) and Viscount Road (Value Park Garage, Value Park Lot and Alt Hotel). Free.
Wait
There are various temporary or permanent art exhibitions scattered through Terminal 1, and eight permanent sculpture installations. The Royal Ontario Museum operates a small display of dinosaurs; other partners for temporary exhibitions include Canada's Sports Hall of Fame, the CONTACT Photography Festival, Design Exchange, Ontario Crafts Council and Open Studio.
Lounges
American Admirals Club

Air Canada Maple Leaf Lounge

Plaza Premium Lounge
Eat and drink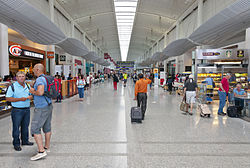 This is a partial listing, see https://torontopearson.com/foodanddrink/ for a full directory. There is also a pre-security food court in Terminal 1 on Level G Ground Transportation. Intended for airport staff but open to everyone, they are easy to walk pass but provide more affordable food options (e.g. $4 for rice with pulled pork).
A & W

phone: +1 647-479-7879

address: Terminal 1, domestic airside

Inexpensive fast food, hamburgers, root beer.

Apropos

address: Terminal 1, US airside

Brew pub.

Caplansky's

phone: +1 416-776-3100

address: Terminal 1, Level 3, streetside

Snack bar and deli.

Corso

address: Terminal 3, domestic airside

Trattoria featuring traditional Italian cuisine, rustic Italian flavours, fresh-made pastas, pizzas, salads and antipasti.

Fetta Panini Bar

address: Terminal 1, international airside

Heirloom Bakery Café

address: Terminal 1 and 3, international airside

Soups, salads, sandwiches and baked goods.

Nobel Burger Bar

address: Terminal 3, US airside

Chef-inspired gourmet burgers. Open kitchen in the centre of the restaurant, build your own burger or choose from a menu.

Starbucks

phone: +1 416-776-3100

address: Terminal 1, streetside

Coffee shop, multiple locations.

Subway

phone: +1 905-672-6980

address: Terminals 1 and 3, streetside

Submarine sandwiches.

Swiss Chalet Rotisserie & Grill

phone: +1 416-776-9758

address: Terminal 1, Level 3 streetside, 6301 Silver Dart Drive

Chicken. Moderately-priced sit-down restaurant.

Tim Horton's

address: Terminal 1 and 3, streetside

Coffee, doughnuts and sandwiches. Several locations in both terminals.

Vinifera

address: Terminals 1 and 3, international airside

Wine bar, menu features small plates, salads and paninis with fresh ingredients.
Recently, the airport has partnered with Uber Eats to deliver foods from restaurants at the airport to the waiting area at the gates. This is offered in the international and domestic sections of terminal 3.
Buy
7-Eleven

phone: +1 905-671-2875

address: Terminal 1, streetside

Convenience store, two locations.

Best Buy Express

address: Terminals 1 and 3, streetside and airside

Consumer electronics.

Canadian Imperial Bank of Commerce (CIBC)

phone: +1 905-672-5305

address: Terminals 1 and 3

Major domestic chartered bank with currency exchange and banking service. Located in Terminals 1 and 3 at departures level spread out in pre and post security.

Maclean's

phone: +1 905-694-8479

address: Terminals 1 and 3, streetside

News stand.

Relay

phone: +1 905-694-9513

address: Terminals 1 and 3, multiple locations

News stand.

Samsonite

phone: +1 416-776-1313

address: Terminals 1 and 3, streetside

Travel luggage.

Toronto Marketplace

phone: +1 905-612-8596

address: Terminal 3, streetside

Souvenir shop on Terminal 3 departure level.

phone: +1 905-612-6677

address: Terminal 3, streetside

Travel accessories, luggage, travel backpacks and bags, leather goods, jewellery, watches, umbrellas and belts. Luggage storage service.

International Currency Exchange (ICE)

phone: +1 416-776-1311

address: Terminal 1 and 3, streetside

Foreign currency exchange, multiple locations in both terminals. Rates are poor compared to exchange offices in the city: in Sep 2018, the buy rate for USD was $1.15, and the sell rate was $1.50.
Connect
Free Wi-Fi is available in both terminals. Select "Toronto Pearson Wi-Fi" from the network list, launch a web browser and click "connect" on the Boingo landing page. Note that the landing page asks you to enter your email but you are not obligated to enter anything. Just click on the checkbox and agree to the terms and conditions to be granted with internet access.
After security, the airport has renovated many of the waiting areas near the gates to accommodate more food vendors, many of them have table service. These areas are outfitted with iPads, power outlets and restaurant-quality tables and chairs. You do not need to make a purchase from the food vendors to sit in these areas.

Cope
Luggage storage is available at any of the Samsonite stores.

address: Interfaith centres in Terminals 1 and 3

One set of daily religious services in each terminal. Interdenominational Christian worship service weekdays, Toronto Airport Catholic Chaplaincy holy mass seven days a week. Pastoral care to guests, airport and airline employees and their families.

phone: +1 905-671-3721

Work out and get a show while you wait in the airport.
Sleep
There is one hotel in the airport, and another nearby:
phone: +1 905-672-7000

address: Terminal 3 · Malton Airport (YYZ)

Only hotel in the airport terminal.

phone: +1 905-362-4337

address: 6080 Viscount Road, Mississauga

On airport grounds, near Link Train station and value car park lots.
The main hotel strip serving Pearson airport is Airport Road (Mississauga), which continues into Toronto as Dixon Road (Etobicoke). The municipal boundary is Highway 427, a busy freeway.
See
Mississauga#Sleep
and
Toronto/Etobicoke#Sleep
for additional options.
Nearby
Malton (Mississauga):
phone: +1 905-678-1400

address: 6257 Airport Road

500 m from airport, shuttle bus to terminals, 24-hour business centre, fitness, on-site restaurant.

Hilton Toronto Airport Hotel & Suites

address: 5875 Airport Road, L4V 1N1

Complimentary airport shuttle,overnight parking, meeting and banquet facilities, outdoor heated pool, squash, sauna, suites available.
Etobicoke (Toronto):
There are also a few restaurants on the Airport Road/Dixon Road hotel strip, either as part of various hotels or operated stand-alone.