Torrent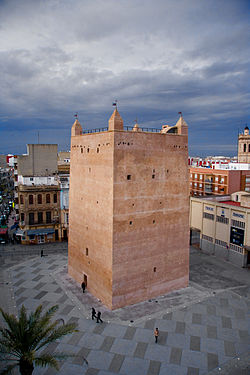 Torrent
(Spanish:
Torrente
) is the second largest city in
Valencia province
, located 9 km southwest of the capital city of Valencia.
Understand
Torrent (from Latin
torrens
) was formally established by the Romans, although the area has been inhabited since a much earlier period. The street layout of the old city centre, with its narrow and winding alleys, dates from the Arab period, and in the early 13th century the town was taken by the Christian Reconquista. Today it is known primarily as a bedroom community of
Valencia
.
Get in
Valencia's metro lines and stop at the in the town centre, and the , with a nearby taxi stand. Both stations are in Zone B.
The yellow
MetroBus
Línea 170
runs from in Valencia to about every 20 minutes, also stopping in nearby Alaquàs. The trip takes about 30 minutes and costs €1.50.
Get around
The centre of the old town is easily navigable by foot.
By bus
TorrentBus
(single ride €1.25, no transfers, M-Sa) serves four routes in the city, and MetroBus line
170
(single ride €1.50, M-Sa) also makes multiple stops between Torrent and Valencia. A list of bus routes with schedules is available
here
, and a comprehensive route map is available for download
here
.
By taxi
phone: +34 961 551 055

A is located in front of the Caixa Rural Bank (Avinguda al Vedat, 1), and another is in front of the Torrent Avinguda metro station. Credit cards are accepted.
See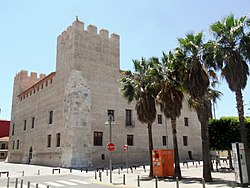 Torre del Castell de Torrent

phone: +34 961 111 111 x1121

address: Plaça Major, s/n

Built in the early 11th century, this is the main tower and the only surviving remnant of a Moorish castle which was part of a network of outer fortification circling the city of Valencia. The tower was used as a prison during much of its history, and was restored in 1973 and 2009. Today it is used as a venue for temporary exhibitions.

phone: +34 961 588 221

address: C/ Verge del Oliver, 30

Housed in an old farmhouse, this museum is devoted to cultural history and traditions of the region. A permanent exhibit recreates a traditional pre-industrial farmhouse, and the museum also hosts temporary special exhibits.

Església de l'Assumpció

address: Carrer de l'Esglesia

Built in the 16th century atop the site of an earlier 13th-century church, the church was enlarged in following centuries and remodeled in the churrigueresque style.

L'Hort de Trenor

phone: +34 961 111 111

address: Av Padre Prudencio

The former monastic complex is now a public garden.
Alaquàs
The neighbouring village of Alaquàs has a couple of interesting sights for visitors who happen to be in the area. It is most easily reached by Metrobus line 106 from Torrent, or by Metrobus lines 161 or 170 from Valencia. Alternatively, Renfe regional train line
C3
departs every ½ hour from
Estació de València Nord
and stops at the (
Estación de Aldaia
, tel. +34 963 357 365), with a travel time of about 30 minutes.
phone: +34 961 122 828

address: Carrer del Pare Guillem, 2

A 15th-century noble manor, listed as a 'National Historic Artistic Monument'. Despite the demolition (and subsequent reconstruction) of one of its four defensive towers in the early 20th century, it has some noteworthy coffered ceilings, Renaissanace-era tilework, and other architectural ornaments. The building has been fully restored and today is used as a cultural centre.

Església de l'AssumpcióBuilt in the 16th and 17th centuries on a site previously occupied by the town mosque. Originally in the Churrigueresque style, it was heavily modified in the 19th century.
Do
phone: +34 961 581 077

address: Carrer de Vicent Pallardó, 25

A venue for musicals, light operas, and plays, and hosts an annual flamenco festival in November. Tickets can be purchased online.
Festivals
FallesAs in neighbouring Valencia, this annual celebration is dedicated to San Josep (San José / St. Joseph), and includes the burning of falla monuments as well as mascletàs (gunpowder demonstrations).

Semana SantaThe city of Torrent has been celebrating Semana Santa for over 100 years.
Hiking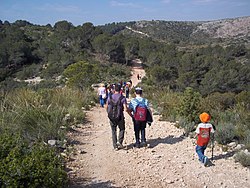 Serra PerenxisaThe mountain park has a couple peaks over 300m and is accessible via the hiking trail PR-V 162.
Buy
phone: +34 961 566 671

address: Avinguda al Vedat, 180

A modern shopping centre with brand-name shops and restaurants.
Markets
Antic Mercat

address: Carrer de Cervantes, 1
Mercadillo Central

address: Carrer de Cervantes

The weekly street market has a number of stalls selling clothing and other odds and ends, and has a few snack bars.
Mercat de Sant Gregori
phone: +34 961 552 471
address: Carrer Pintor Renau
Mercadillo de Sant Gregori

address: Carrer del 25 d'Abril

The better of the two weekly street markets, it is a good place for local fresh produce and other food items, as well as various household goods.
Eat
phone: +34 961 830 321

address: Camino Florentina, 2

Located in an old farmhouse seemingly in the middle of nowhere, the highly-regarded restaurant specializes in traditional Valencian rice dishes – the paella especially is recommended. Reservations can be made online, at least 24 hrs beforehand, with a required minimum party of 4.
Sleep
phone: +34 659 512 520

address: Autovía A-7, Km 345

Has nonsmoking rooms and free Wi-Fi. Pets permitted on request.

phone: +34 669 455 101

address: Carrer Riu Millars, 4
Go next