Torroella de Montgrí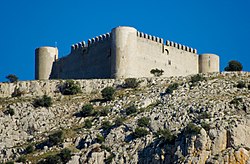 Torroella de Montgrí
is a city in
Catalonia
,
Spain
.
Understand

The town was originally the Royal Port for the Kings of Aragon before a new port was founded at Palamós. It still bears a regal centrality in the region and sits at the crossroads to many smaller towns around. While the town is pleasant and typical of the region, it is the Montgrí Castle, an unfinished 13th century fortress that looms above the town on the hill and provides the main tourist attraction.

Get in
By plane
The closest airport is in
Girona
(
GRO
) almost exclusively served by Ryanair and marketed somewhat misleadingly as "Barcelona"-Girona or more accurately as Girona Costa Brava. During the summer season a lot of campsites in the area run shuttle buses.

By bus
Buses to/from Girona and other towns in the region are run by AMPSA and a single trip costs around 6€ with slightly higher rates on weekends and holidays.

By train
Torroella itself does not have a train station, but Girona is served by the AVE high speed train and other towns in the area see some regional train service.

Get around

You should be able to easily walk everywhere. Biking is also a good way to get around and many campsites rent bikes.

See
Make the hike up to Montgrí Castle. The hike up will take around 1-2 hours. The most common route on the town side of the mountain is the faster in terms sheer distance. The less common route on the back site of the mountain is an easier walk. It is definitely a workout with a rise from 0 to 300m above sea level in short time and strong athletic shoes or hiking boots are recommended. It's also recommended to take care on the town side trail as while the path is marked, it is easy to get lost at points and the mountain is very sheer and dangerous in spots. Also bring plenty of water as there are no facilities along the way.
Eat

There is a special bread made in the town which looks like a series of muffins stuck together. It's an excellent bread and well worth buying all or part of any found on offer.

Sleep