Tottori
Tottori
(鳥取) and its sand dunes are among the best reasons to visit western
Japan
. There's more to do than climbing and collecting seashells — hang-gliders, sandboards, and even camels await.
Understand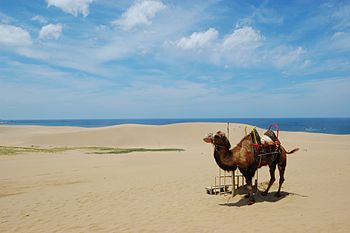 "It's useless. The sand can swallow up cities and countries, if it wants to."
Kobo Abe's existential meditation on sand and work,
The Woman in the Dunes
, was published in 1964. Although the novel does not mention Tottori by name, it was a natural choice for the film adaptation of Abe's book. "There has never been sand photography like this (no, not even in
Lawrence of Arabia
)," said Roger Ebert, of the Oscar-nominated film.
You will, almost certainly, have a better visit than did the story's protagonist, Niki Junpei; come to collect insects, Junpei was fascinated by the patterns and movement of the sand, and missed the last train. Locals offered him lodging for the night, but the next morning, Junpei discovered that he was a prisoner at the bottom of a sandpit, which he and an unnamed woman must shovel out every day in order to keep the house and village from being swallowed in the endless, enigmatic movement of the sand.
The city is the industrial center of the prefecture, with several big electronics factories for companies like Sanyo. The fishing industry is also quite lively. There are also two universities, which attract agricultural students and researchers from other parts of Japan and a small number of foreign students. Although the number of foreign residents in Tottori is low, compared to other major cities in Japan, its 190,000 locals are certainly friendly — and thoroughly unlikely to strand you at the bottom of a sand pit.
Tourist information
Get in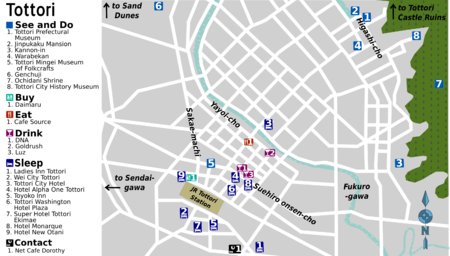 By plane
phone: +81 120-029-222, +81 857-23-3038

Served mainly by flights from Tokyo Haneda.
Buses
connect to flights, running to Tottori Station in 20 minutes for ¥460. On weekends and holidays, there are also three buses a day between the airport and the Sand Dunes (via Tottori Port), taking 20 minutes and ¥500.
The nearest JR station is Tottori-Daigaku-mae, which is 20 minutes walk or 5 minutes drive south of the airport. From there it is about 10 minutes and ¥190 to Tottori, with local or rapid trains usually once or twice per hour.
The nearest airports with regular international flights are
Yonago
and
Okayama
; however, travellers should also consider using Osaka-
Kansai
.
By train
While Tottori Station is on the
San'in Main Line
, the main way in is on the
Chizu Express Line
, which takes you through the mountains of
Chūgoku
at up to 130 km/h (80 mph).
There are 7
Super Hakuto
Limited Expresses a day to the
Kansai
region. Times and prices are as follows:
From
Tokyo
, allow at least 5 hours and ¥19,150 (5 hours 45 minutes and ¥18,630 if avoiding
Nozomi
trains).
Super Hakuto
trains connect to the Shinkansen at Himeji, though changing at Shin-Osaka or Kyoto is also an option.
There are also 6
Super Inaba
Limited Express trains a day to
Okayama
, taking 2 hours and ¥5010.
The biggest catch to taking these trains is that
the Chizu Express Line is not a JR Line
. Those using Japan Rail Passes must pay ¥1820 to use the Limited Express between Kamigōri and Chizu (¥2340 if they are using the Green Car).
Those who wish to avoid the Chizu Express Line (and the bus) have several options:
Tottori is served by one Hamakaze Limited Express round-trip a day, which runs via Kinosaki-Onsen and Toyooka to Himeji, Kobe and Osaka (but not Shin-Osaka or Kyoto). This takes 4 hours and ¥7330. The train to Osaka leaves Tottori at 06:0/, while the train from Osaka arrives in Tottori at 22:30. Two other Hamakaze trains stop short of Tottori.
An alternative to the Hamakaze for travel between Tottori and Kyoto or Osaka is to take a Limited Express (Kinosaki from Kyoto, Kōnotori from Shin-Osaka or Osaka) to Toyooka or Kinosaki-Onsen, and change there to a local or rapid train. You may have to change trains again, probably at Hamasaka. This should take roughly 5 hours and ¥6680 from Osaka (¥5920 from Kyoto).
From Okayama, it is possible to reach Tottori in roughly 4 hours and ¥2590 using the Tsuyama and Imbi Lines. The weakest link is between Tsuyama and Chizu, where there are only seven trains a day.
There is a fairly good service on the San'in Main Line heading west:
Limited Expresses (Super Hakuto from Kurayoshi, Super Matsukaze from Yonago or Masuda, Super Oki from Shin-Yamaguchi):
There are 6 Tottori Liner Rapid trains per day, which will take you to Kurayoshi in about 50 minutes for ¥670 and Yonago in 1 hour 40 minutes for ¥1660.
Local trains cost the same, but take about 1 hour 10 minutes to Kurayoshi and 2 hours 20 minutes to Yonago, and may be overtaken by a faster train on the way.
Changing at Yonago might be a good idea for travel to and from destinations as far as Izumoshi.
As a cheaper alternative to the Japan Rail Pass, JR West offers several regional passes to Temporary Visitors with foreign passports:
By bus
Tottori is served by several long-distance bus services:
Nihon Kōtsū, Hinomaru Bus and Keikyū Bus run the Camel (Tottori-Kurayoshi Line) overnight bus from Shinagawa, Hamamatsuchō and Shibuya Mark City bus terminals in Tokyo, taking 10 hours and costing ¥10,500. (Shinagawa Bus Terminal is is a seven-minute walk from either Shinagawa station Takanawa exit or Sengakuji subway station, along the Daiichi Keihin road.) Confusingly, the night bus to Yonago is also called the Camel, so check the destination (the Yonago bus leaves Tokyo first).
Nihon Kōtsū and West JR Bus run 3 buses a day from Kyoto Station Karasuma Exit, taking 3 hours 30 minutes and costing ¥4000 (¥7200 return, valid for 10 days).
Nihon Kōtsū run several routes from Osaka and Kobe:
5 buses a day from Osaka Umeda (Hankyū Sanbangai) and Senri-Momoyamadai, taking 3 hours and costing ¥3700.
14 buses a day from Osaka Namba (OCAT), taking between 3 hours and 3 hours 30 minutes and costing ¥3700, of which 6 run via Kobe (Sannomiya Bus Terminal), 4 run via Itami Airport, and 4 run via Takarazuka Interchange and Nishinomiya-Kita Interchange (which is 15 minutes walk from Taoji Station on the Shintetsu Sanda Line.)
A night bus from Namba and Sannomiya, taking 4 hours and costing the same as the day buses. Note that the bus from Kansai arrives at Tottori before 01:30, and the bus from Tottori arrives at both Sannomiya and Namba before 5am.
Hinomaru Bus and Shinki Bus run 4 Princess Bird buses a day from Himeji (Station and Castle), taking 2 hours 30 minutes and costing ¥2400.
Hinomaru Bus run 2 Merry Bird (Tottori Line) buses a day from Hiroshima Bus Center and Ōzuka Station, taking 5 hours 30 minutes and costing ¥4500 (¥8000 return). Not to be confused with the much more frequent Merry Bird service to Yonago.
Nihon Kōtsū and Hinomaru Bus run the Daisen overnight bus from Kitakyūshū and Fukuoka (Tenjin and Hakata), taking 10 hours and costing ¥9700 (¥17,400 return, valid for 10 days).
Get around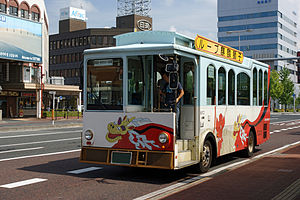 By bus
There are two buses in Tottori: the
Loop Kirinjishi
and the
¥100 Bus Kururi
. For the sand dunes and port, take the Loop Kirinjishi bus. A special
sakyū
bus runs from the train and central bus station — it plays the sand dunes' theme song as it goes by.
The ¥100 Bus has three routes: Red, Green and Blue. The buses depart every 20 minutes from JR Tottori Station. As the name suggests, trips of any distance are ¥100.
On foot
The city center, between the train station and Mt. Kyusho, is easily navigable on foot. From downtown, a wide and pleasant greenbelt leads to the beach. Starting from JR Tottori Station, walk west about 5 blocks to find the river, Sendai-gawa. Head right when you find the path. The walk takes about 45 minutes. To get to the sand dunes, it is best to take the bus. Walking is possible, but it will take a few hours to get there.
See
The White Rabbit of Inaba
Just offshore at Hakuto Beach is a small island that is part of a local folktale. The story goes that a rabbit was trapped on the island, longing to return to his family on the mainland. He tricked a family of sharks into lining up so he could hop on their backs to the shore, but as he reached the last shark, he sneered that he had deceived them; enraged, the sharks tore off all the rabbit's fur. To make matters worse, some cruel gods told the rabbit he would be cured if he bathed in the sea, which he did, only to find that the salt stung his wounds quite badly. The youngest brother of the gods, Okuninushi no Mikoto, felt sorry for the crying rabbit, and told him to bathe in fresh water and dry off with cattails. The rabbit was cured and predicted that the god would become the ruler of the Inaba region, which came true. Reminders of this story abound in the Tottori area, and you will see the white rabbit on everything from bridges to sewer grates to flower arrangements, sometimes accompanied by a rather fat god carrying a big sack.
phone: +81 857-26-7238

16 km from east to west, the Tottori Sand Dunes are a favorite target for climbing, exploring, and more. The main portion of the dunes are much smaller than 16km (about 2 km, east to west), but they can still be impressive. If you arrive very early in the morning, you can see the unique patterns carved by the wind before they get trampled by the scores of people who come to climb the biggest dune. If you'd prefer not to get sand in your shoes, a cable car ride (¥200 one way) leads to the Dune Observatory Center. After heavy rains, the oasis below the uma no se (the largest dune) forms into a beautiful lake. The ¥200 loop bus is the cheapest way of getting to the dunes from Tottori Station; the local bus will cost ¥360, or ¥310 if you stop at "kodomo no kuni" stop, where you can walk right away on the dunes from the west side.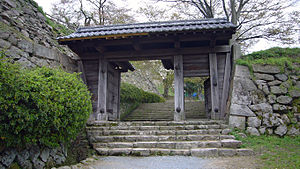 Tottori Castle Ruins

phone: +81 857-22-3318

address: Higashi-cho

Built in 1545, Tottori Castle was destroyed in a massive siege in the 19th century, and only the foundations remain. The surrounding park is the perfect place to go during cherry-blossom season. The site offers a nice view of the city below from the lower reaches of Mt. Kyusho, or you can climb to the top for a view of the whole valley. Some locals say that the mountaintop is haunted by ghosts of people who were forced to resort to cannibalism during the siege of the castle.

phone: +81 857-26-8042

address: 2-124 Higashi-cho

A two-story museum that displays the flora and fauna of Tottori, regional rocks and minerals, historical artifacts, festival and local cultural artifacts, and a variety of art produced in the city. (Most of the prehistoric artifacts are reproductions; most of the other displays are real, though.) Some of the standouts are the largest preserved squid in Japan and a live giant salamander.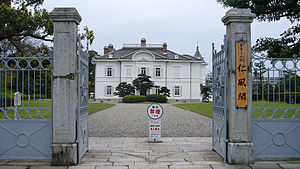 Jinpukaku Mansion

phone: +81 857-26-3595

address: 2-121 Higashi-cho

This French-style mansion was home to the remnants of the Edo-era feudal clan, Ikeda. It's about 10 minutes on the green bus from JR Tottori Station.

phone: +81 857-24-5641

Constructed in 1632, this is the 32nd temple along the Chugoku 33 Kannon Temple Pilgrimage. While the temple does not look particularly special, the garden inside is what makes this such a great place to visit. The temple doors are removed upon entering so that you can sit and enjoy the beautiful pond garden from inside. The garden is quite peaceful, as the only sounds you can hear are the birds in the trees. It's easy to forget you're in a city.

Ochidani Shrine

phone: +81 857-22-3318

address: 87 Uemachi

Built in 1650 by Mitsunaka Ikeda, the first lord of Tottori. The god worshipped here is the same worshipped at Toshogu Shrine in Nikko. It's a popular place to watch fireflies at night in the late summer.

phone: +81 857-22-7070

address: 3-202 Nishimachi

This museum features a re-creation of an old school building and many interesting tin toys. It's about 5 minutes on the blue bus from JR Tottori Station.

Tottori Mingei Museum of Folkcrafts

phone: +81 857-26-2367

address: 651 Sakae-machi

Despite the name, this small, two story museum displays mainly pottery and glass, but also has some textiles, woodwork, and bamboo work. The Ushinotoyaki pottery is the highlight of the collection. Just outside the museum, there is a place (the hexagonal structure) to pray for and make offerings to deceased orphans. With the stained-glass, it has an interesting Christian-Buddhist fusion feel. It's about 25 minutes on the blue bus from JR Tottori Station.

Genchū-ji

phone: +81 857-22-5294

address: 176 Shinhonji-cho

This temple is the site of the grave of Araki Mataemon, a legendary swordsman. In a famous story, he came to the aid of a man who was seeking in vengeance; the actual sword he used is displayed on the temple grounds. Rakan (paintings of high ranking Buddhists) are painted on the fusuma (screen doors) inside the temple by Keitaro Takagi. While traditional priest paintings are stoic, these paintings are quite candid, with rather comical appearances.

phone: +81 857-23-2140

address: 88 Uemachi

Interactive multimedia and digital displays about the city's history and culture. It's about 15 minutes on the red bus from JR Tottori Station.
Outside the city center
phone: +81 857-85-0841

address: 4064 Aoya, Aoya-cho

One of Japan's most famous archaeological sites. Thousands of Yayoi Period relics were excavated here, including human remains, and even tissue from 3 brains (out of only 6 in the world). The artifacts indicate that the settlement here was involved in trade with much of Western Japan, Korea, and even China.

Hakuto Shrine

address: 603 Hakuto

Hakuto Shrine is the shrine of the Inaba rabbit. The rabbit is said to have washed itself in the shrine's pond.

phone: +81 857-26-1780

address: 726 Machiya, Kokufu-cho

Located in Kokufu-cho, this museum houses many Inaba-area artifacts from the Nara and Heian eras.

phone: +81 858-85-0046

address: 1011 Tanihitotsugi, Kawahara-cho

About 12 km south of central Tottori, near where the Hatto River joins the Sendai River, the castle offers a spectacular view. It is said that Toyotomi Hideyoshi stopped here and dreamed about a peaceful, united Japan prior to uniting the nation himself. The current observation tower (based on Inuyama Castle in Aichi Prefecture) was opened in 1994, and houses a modest museum.

phone: +81 858-87-3222

address: 32-1 Mochigase-chō Befu

Displays hina dolls (for girls) throughout history, mostly from the Edo-period. The museum is named after the 'doll floating' which takes place every spring on the Sendai River outside as part of Hina-matsuri (but using the old lunisolar calendar, so not March 3).

phone: +81 858-89-1011

address: 1017-1 Takayama, Saji-cho

Houses a planetarium and the largest telescope in Japan.
Shikano Castle Ruins

phone: +81 857-84-2099

address: 1517 Shikano-cho, Shikano

Although none of the original castle remains, the inner and outer moats and stone columns can still be seen. It's most popular during cherry blossom season with approximately 500 trees scattered throughout the castle grounds.

phone: +81 857-22-3318

address: 651 Miyanoshita, Kokufu-cho

The first shrine to be built in the Inaba area, which consists of the entire eastern half of modern Tottori Prefecture. Praying at this shrine is believed to bestow fertility, long life, and wealth.

phone: +81 857-24-1152

address: 1-55-1 Tsutsumishita, Kakuji

Opened in 1978 by the late Hajime Watanabe, a local doctor who began his collection when he was working in Taiwan in the 1940s. This museum houses a wild display of samurai armor and artifacts, as well as a selection of other things such as musical instruments and ukiyo-e woodblock prints.
Do
Sand dunes
There's a lot to do at the sand dunes. Pay close attention to operating days/seasons and make reservations before getting your heart set on a specific activity, though.
Camel Rides

phone: +81 857-23-1735

address: 2164-449 Yuyama, Fukube-cho

Anyone who knows anything about sand dunes knows that they're meant to be traveled atop a camel. You'll find the camels by the main entrance (east), in front of the lift. The actual riding time is quite brief. You may want to watch other riders make the short (less than 10-minute) circuit before paying for a ride.

Horse-drawn Carriage RidesWhile it may not be as much of a Lawrence of Arabia experience, the horse-drawn carriages are still fun. The ride lasts approximately 15 minutes. Board next to the camels.

Hang Gliding

phone: +81 857-75-2282

address: 283-6 Yuyama, Fukube-cho

Full day courses suitable for beginners, offered by professional hang-gliders from Kyoto Air Sports. Because you need to be there for the entire course to get airborne, you must make a reservation. Walk-ins are not accepted.

Paragliding

phone: +81 857-29-9098

address: 1-1155-36 Hamasaka

Half-day courses suitable for beginners, operated by professionals from Zero Paragliding Sports. If you've never tried paragliding, these sandy surfaces are a good place to start. Reservations required.

Sandboarding

phone: +81 857-23-1749

This is by far the best place in Japan to experience sandboarding. Each course lasts 2 hours, reservations required. There must also be at least 10 people signed up for that day, or the course will be cancelled.
Beaches
With the Sea of Japan as its northern border, Tottori has some excellent beaches.
Hakuto Beach

phone: +81 857-26-0756

Famous for its association with the White Rabbit of Inaba; in fact, the name of the beach means "white rabbit". This beach was the rabbit's destination after his shark-hop.

Idegahama Beach

phone: +81 857-85-0015

So nice the sand will sing to you (narisuna). The sand at Idegahama is made of silica, and when you walk on it, it makes a pleasant sound. The sand at Idegahama was even worshipped long ago because of the melodies that rang from the sand. To hear the sand at its best, come when it is hot.

Natsudomari Beach

phone: +81 857-22-3318

For more than 400 years, these waters have been worked by female divers with their own special method of fish-catching. If you are lucky, you may even see them today.

Uradome Beach

phone: +81 857-72-3481

Designated as a national park, the coast just east of the sand dunes is rugged and magnificent. Contact the Iwami-cho Tourist Association.
Others
Mt. KyushoStarting from the castle ruins, climbing takes around half an hour and offers a great view of the city and surrounding area, all the way out to the sand dunes. But watch out for the ghosts of those who starved at the top during the castle siege.

Hot SpringsRelax in hot springs, for example in one of these two below whose brochures are available at the information desk in the train station.
Tottori Hot Spring

Yoshioka Hot Spring
Festivals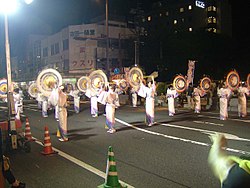 Shan-Shan FestivalMore than 4,000 people participate in the parades of the "Inaba Umbrella Dance", using ornate umbrellas covered in bells and colorful strips of paper. Snap a photo of the over-sized one hanging year-round in the train station, as it is a symbol of this area.

Kirin Lion DanceA traditional lion dance held at Ube Shrine, dedicated to the shrine's patron deities.

Tottori Sand Dune IlluminationsAt the end of each year, the sand dunes are lit up at night, and on New Years Eve, there is a countdown to the New Year.
Buy
Walking east from the station, you will find a string of small shops lining the main street to the right.
phone: +81 857-25-2111

address: 2-151 Imamachi

Five story department store just east of the station. Aside from the usual fashion, there's a food court in the basement and a rooftop family beer garden in the summer, with a tent for the rainy season.
At the southeast corner of Sakaemachi, you will find a large two-story store in which everything for sale was made locally, including pottery, paper, clothing, dolls, and food.

phone: +81 857-38-3300

West of the river, near the coast, sits this shopping area anchored by a large Aeon store, with some restaurants and specialty shops around as well. Buses run from JR Tottori Station (about 40 minutes).

phone: +81 857 23 1221

address: Sakae-machi, 609

The second floor of this otherwise ordinary stationery shop has a wonderful array of locally-produced washi (Japanese artisanal paper) in a variety of fibers, texture, colors, and prints.
Eat
Tottori is most famous for its pears; cookies, cakes, and other sweets are made from them. Have a look at the
omiyage
shop in the train station, at the local handcraft shop two blocks up the main street, or in the basement floor of Daimaru. Another local specialty is shallots, grown in huge fields out near the sand dunes and pickled for appetizers.
Crab and white squid are the best of the local catch.
There is a reasonable
kaitenzushi
(conveyor-belt sushi) restaurant, as well as other restaurants inside the Shamine department store in JR Tottori Station. A number of popular chain restaurants can be found in the city center, such as
Wara Wara
(笑笑),
Doma Doma
(どまどま), and
Shirokiya
(白木屋).
phone: +81 857-21-3457

address: 227 Yayoi-cho

Classy atmosphere and tasty selections from an eclectic menu. If you're not up for a full meal, stop in for the drinks and desserts.

phone: +81 857-38-8866

address: 3-27-1 Nishi-cho

A large seafood market with a view of the coast. Among the several restaurants, Wakabayashi Sushi is good and cheap — an eight piece nigiri set is ¥700. It's inside the market near the right entrance.
Drink
To find the main drinking district, which is an area about 2 blocks by 3 blocks, walk about two blocks up the main street from the train station, take a right and go down about a block. There are plenty of
izakaya
and small pubs.
Big Apple

phone: +81 857-28-2413

address: 3-24-2 Koyama-cho higashi

By day, Big Apple is a diner for the neighborhood's factory workers, but on weekend nights they often bring in DJs and clear the tables from the dance floor. It's a short walk north from JR Koyama Station, just off Route 9.

phone: +81 857-22-7005

address: 753 Suehiro Onsen-cho

Located in the heart of the entertainment area, DNA is the nightclub in Tottori. They have 3 rooms (main hall, dining & a VIP room) that can hold up to 250 people. Major events are held at the weekend, with international artists, while their mid-week schedule includes lower key events such as quiz nights, dance lessons, and fashion shows, with imported beers to enjoy. The owners are an English guy and an Israeli guy who have lived in Tottori for a decade, so they have good local info.

Goldrush

phone: +81 857-20-2461

address: 178 Yayoi-cho (Okumura Building, 2nd floor)

Country-western-style saloon in the backstreets of the drinking district. They are rumored to serve reasonable tacos.

Luz

phone: +81 857-21-7567

address: 271-1 Suehiro-onsen-cho

This place has nice African decor. Try the mamushi-shu, which is sake with a drowned viper snake inside. The Israelis who sell jewelry in front of the place can sometimes be a very valuable source of information. It's across from the Lawson.
Sleep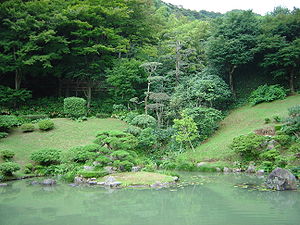 Budget
Yanagijaya CampgroundCampsite right next to Kids' Land (こどもの国 Kodomo no kuni), west of the sand dunes. There are free showers in the Cycling Terminal building next door.

phone: +81 857-23-0227

address: 2083 Yuyama, Fukube-cho

A nice hotel just five minutes from the sand dunes.

Ladies Inn Tottori

phone: +81 857-23-8161

address: 102-5 Eirakuonsen-cho

As the name says, this hotel is for women only. Coin laundry and Internet available.

phone: +81 857-24-7511

address: 159 Eirakuonsenchō

nice clean business hotel just a few steps away from the station, rooms are comfortable, internet by LAN cable; staff is very friendly, breakfast for &yen300, this hotel has two buildings, one being cheaper than the other, but even there the room are large with aircon, bath and washlet
Mid-range
Splurge
phone: +81 857-23-1111

address: 2-153 Ima-machi

Good business hotel with friendly, patient staff, but the meals are a bit overpriced.
Connect
phone: +81 857-27-7775

address: 2-72 Tomiyasu

Internet cafe with private booths and comfortable chairs for long computer sessions or a long nap — pillows, blankets, and showers available for the latter purpose. Complimentary grub includes soda, coffee ice cream, popcorn, and miso soup.

Shop Tottori Coffee & Internet Cafe

phone: +81 857-32-2381

address: 5-206 Koyama-machi higashi

Also offers private booths, free drinks, and shower rooms; also karaoke, pool, darts, and even tatami "family rooms". It's a short walk to the right after exiting JR Koyama Station.
Go next
Iwami - Famous for the picturesque Uradome Beach
Misasa - Home to the mysterious cliff temple, Mitokusan Nageiredo and a nice hot spring.
Kurayoshi Home to a well-preserved historic district.
Daisen A great place for hiking in the warm months and skiing in the winter.
Wakasa A nearby town with a nice ski resort.
Tsuyama One of the best places in the entire Chugoku region to view cherry blossoms in the spring and autumn leaves in the fall.
Okayama Famous for its historic Kibi region, Momotaro, and Korakuen Garden, of Japan's top three gardens.
Many of Tottori prefecture's famous hot springs are easily accessible as day trips: Togo Hot Spring in Togo-cho, Shikano Hot Spring in Shikano-cho, Iwami Hot Spring, Hamamura Hot Spring in Ketaka-cho, Sekigane Hot Spring in Sekigane-cho, Hawai Hot Spring in Hawai-cho