Toulon
Toulon
is a medium-sized city (15th town of France) between
Marseille
and
Nice
. It is in the west of
French Riviera
and in the southeast of
Provence
.
Understand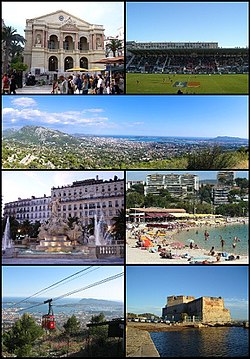 phone: +33 4 94 18 53 00

address: 12 place Louis Blanc

Tourist information counter
Climate
Climate is typical of the South of France. The summers are relatively hot, with temperatures usually higher than 30 °C. June is a hot month but a sudden storm may occur every once in a while. July usually features hot temperatures and blue sky. August may be even hotter, but storms may begin to occur especially after the 15th of the month. Autumns are rainy. Storms
will
occur. Winters are dry. Temperatures don't usually drop sharply under 0 °C, but the wind factor causes a loss in Celsius degrees equal to one less degree per 10 km wind speed, thus with a wind blowing at 50 km/H O°C will feel like minus 5°C.
Unlike many other towns of France, there is no a big river which crosses this city. As a matter of fact, there are no big rivers in the whole department of Var. A few smaller ones in the city are:
Rivière neuve
,
Le Las
,
L'Égoutyer
also known as
Rivière des amoureux
(lover's river for a no apparent reason). All the other rivers are in tunnels under the town, and not visible.
Economy
The economy relies on the presence of a big French naval base that creates thousands of direct and indirect jobs. Tourism is also important. the town has up to 167,400 tourists every year
History
The history of Toulon dates back 3000 years. The Ligures settled here because of exceptional conditions:
a hill protects the center of the town from the Mistral, a strong wind which blows in the southeast of France (you will experience wind almost everyday).
on the south face of the hill, several sources gush out, which is exceptional in the so dry Provence. The name Toulon is linked to Telona, an ancient Ligurian goddess of sources.
the hill (named Faron, about 500 m high) enables one to view boats arriving from very far away, specially enemy boats. The name Faron cames from the Greek pharos (English: lighthouse) for this reason. At the top of Faron, there still is a military camp dedicated to communications with submarines.
the water of the port is very calm, because it is protected by a peninsula (Saint-Mandrier) that nearly closes the port as a lagoon. It was possible to watch boats entering the port from there.
For all these reasons, Toulon early became a town of military vocation. When the Romans invaded the
Provence
(Latin:
provincia romana
), they settled a military base and renamed the town Telo Martius, where martius recalls Mars, the Roman god of war.
During the Middle Ages, Provence was under the coup of lords, before being integrated into the French Kingdom in 1482. During the 18th century, Toulon became an important military port for France, were boats and sails were being built. A famous convict prison was built. During the French Revolution, Toulon gave support to the monarchy, but Bonaparte (later known as Napoleon I) took back the town. During World War II, Toulon was invaded on November 27, 1942. The seamen scuttled all the boats so that the Nazis couldn't use them. The town was freed by the Allied Forces on August 25, 1944.
Get in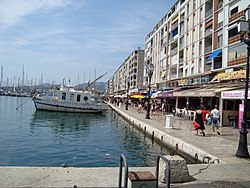 By plane
Toulon-Hyères regional airport

phone: +33 4 00 83 83

The airport mostly serves the flights to other French and European cities. Cityjet and FlyBe both fly between Toulon and the UK, to London and Southampton respectively. A bus runs from the train station to the airport 4 times a day (€1.40). The last bus leaves for the airport at 19:30. If you arrive on a late night flight into the airport, you'd need to take a taxi (around €60 to Toulon). Other airports are Marseille-Provence (100 km west of Toulon), and Nice-Côte d'Azur (150 km east of Toulon). There are two roads drive to Toulon from Toulon-Hyères airport. Either you follow the highway (free, fast, but not very interesting) (French: Toulon par autoroute) or you choose the road that follows the coast (French: Toulon par la côte). It may take a longer time, but this is nicer and on rush hour you may avoid traffic jam on the highway.
By train
phone: 3635

address: Place de l'Europe

Hourly links to Marseille (45 min, €12.60 full price one-way ticket), regular links to Nice (1hr 30min).
By bus
phone: +33 4 94 24 60 00

address: Boulevard Tessé

A regional bus network managed by Varlib.
By boat
Toulon is a large harbour and offers several ferries to the ports in
Corsica
:
Ajaccio
,
Bastia
and
L'Île-Rousse
. Among the international routes there is a service to
Civitavecchia
(close to
Rome
). An advance booking is advised in all cases.
By car
The main roads are from east to west (and the opposite). There are highways from
Nice
(A57) and
Marseille
(A50). You'll have to pay a toll to go outside the suburbs of the town on these highways.
Get around
See
Vieille Ville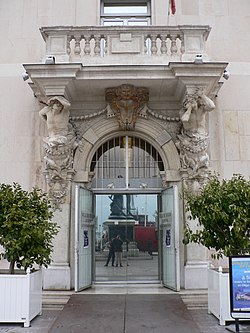 Vieille Ville
(old town) or
Basse Ville
(lower town) is a historical centre of the city. It is NE of the harbour. As it was built in the Middle Ages, it's a really a maze of narrow streets. A couple of bigger ones,
Rue d'Alger
and
Cours Lafayette
, are bordered by numerous shops and crowded every Saturday.
Vieux PortVisit the old harbour and its promenade. The folk of old Provence, the typical accent of locals, and some wooden boats on the still sea (the folk is better in smaller town along the coast, however). Numerous souvenir shops, coffee shops and fish restaurants. Also on the port square, you'll see the statue of the Spirit of Navigation pointing at the sea, locally known as "cul vers ville" for its buttocks are turned toward the city. The statue was hidden and thought lost, during World War II, until it was found by chance in a local carpenter's shop who returned it to the authorities.

Place PugetIn the historical center, it's the ancient center of the town. There is a fountain built in 1780 with a sculpture of three dolphins, now completely covered by ivy. You'll enjoy staying in the shade of this place, at a coffee shop, during a hot afternoon.

Cathedral Notre-Dame-de-la-Seds(aka Saint Marie de la Seds Cathedral) Built in the 11th century, it has never been finished, but widened in 1738. There are numerous paintings of the 18th century.

Tour de l'horloge(aka Tour Carrée), a monumental clock at the entry of the naval base (at the west of the port), formerly used to ring at the beginning and at the end of the working day.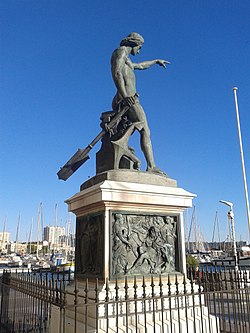 The Genius of NavigationBy Louis-Joseph Daumas, erected in 1847.

Church of Saint François de PauleJust between the harbour and the south of Cours Lafeyette. Built in the 18th century, it is of typical baroque style.
Haute Ville
Haute Ville
(upper town) is located on the north of the historical center. The most of the buildings and squares there are in splendor of the late XIXth century style. The major part of Haute Ville was built under the guidance of
Georges-Eugène Haussmann
(aka "Baron Haussmann", who was later called to build Paris).
Place de la Liberté(Liberty plaza in English) This is one of the town's main square with a fountain of "Monument de la Fédération", featuring a very idealized start of the journey of the Statue of Liberty from Toulon to New York on the frigate Isere. In winter, a skating rink is put up for children and there's a picturesque Christmas market featuring tasting of several specialties from around France during most of December. However this square may be noisy due to the main boulevard of the town running just along the square.

Opera of Toulon

phone: +33 4 94 93 03 76

address: place Victor Hugo

The railway station is 100 m northwest of the Place de la Liberté, also of 19th century style.
Museums and places of interest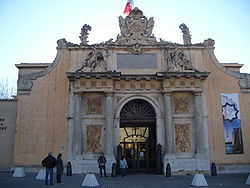 Musée de la Marine

phone: +33 4 94 02 02 01

address: place Monsergue

Collections relating the naval history of the town.

Museum d'Histoire Naturelle

address: Boulevard de Strasbourg

An interesting building per se, the museum features wild life collections. The same building also hosts Bibliothèque municipale (Municipal Library).

La Tour Royale

phone: +33 4 94 24 91 00

address: pointe de la Mitre

The Tour Royale, one of the numerous forts of Toulon, was built in 1514 by King Louis XII. Later, it was used as a prison, now opened for visits. It also features a naval exposition.
The Boat-Museum named La Dives, pointe de la Mitre (+33 4 94 02 06 96), opened May to October. Before being a museum, this boat was dedicated to the transportation of tanks for a landing.
Take the cable car (French: téléphérique) to go to the Mont-Faron Hill. Téléphérique du Mont-Faron, boulevard Amiral Vence (or bus 40, stop at téléphérique), +33 4 94 92 68 25. It gives direct access to the Memorial Museum of landing in Provence.
Memorial Museum of landing in Provence (French: Musée-Mémorial du débarquement), top of Mont-Faron, +33 4 94 88 08 09.
Mont-Faron zoo (French: Zoo du Mont-Faron), +33 4 94 88 07 89. It is a center for wild beast reproduction.
Parks
On the top of the Mont-Faron hill (500 m high), you'll be able to enjoy a birdseye view of the town . If you drive by car, the road is impressive. If you ride up by way of the cable car,the feeling is even more impressive. Several paths allow hikers to walk across the forest and go to/from the museums, the zoo, the cable car, etc.
Alexandre the 1st Garden (French: Jardin Alexandre Ier), at the west of the Municipal Library, garden opened with entertainment for young children, and a bandstand with casual concerts on Sundays.
Frédéric Mistral Garden (French: Jardin Frédéric Mistral), cours Frédéric Mistral, garden with collections of exotic species. Newlyweds often choose to go there to have their wedding photographs taken, on Saturday afternoons
Out of town
Fort de Brégançon
— a summer residence of the President of France, which is located near the town of
Bormes-les-Mimosas
. Now it can be visited by a prior reservation.
Do
Events
Jazz in Toulon, annual music festival.
On July 14th, Bastille Day is commemorated with a military march on the main boulevards. During the afternoon, there is usually an aircraft show that will be best seen from the beach and, at midnight, fireworks.
On August 15th, fireworks at the Saint Louis fort next to the beaches.
Beaches
The town features
several beaches
just south of the Mourillon quarter. They were set up in the 1950s to develop tourism. More beautiful beaches may be found elsewhere on the coast. In any location, you should be prepared to crowd on the beach. The beaches of Toulon are associated to a park with entertainment for children of all ages. At the east of the town, the Cap Brun and Anse Magaud beaches are more isolated, far less crowded, but more difficult to reach (need to climb a little).
Les Sablettes in la Seyne sur Mer.
L'Argentière, in the town of La Londe-les-Maures (30 km east of Toulon).
La Capte, near Hyères (15 km east of Toulon). The bottom is of pure sand (no seaweed) and the depth increases very very slowly.
St Cyr sur Mer some 20 km west of Toulon features a long sandy beach, perfect for families and kitesurfers. There too the seabed drops rather slowly, enabling one to reach way out into the water.
Sport
RC Toulon — A club with a proud history, the rouge et noir (red and black) are a major force in French and European rugby, thanks to a deep-pocketed owner (comic publisher and Toulon native Mourad Boudjellal). Toulon, who play at Stade Mayol in the heart of the city, have assembled an impressive array of international stars, and won an unprecedented three consecutive European club championship crowns from 2013 to 2015. Tickets may be hard to come by for some big matches, and the club has recently played one or two major matches a season at either Stade Vélodrome in Marseille or Allianz Riviera in Nice.
Learn
Buy
| name=Marché de Provence | alt=traditional market | url= | email=
| address=Cours Lafayette | lat=43.1198239 | long=5.9338698 | directions=
| phone= | tollfree= | fax=
| hours= every morning except on Mondays| price=
| lastedit=2015-05-20
| content= Perhaps the biggest market in the region. You'll find all local products of the region there.
}}
| name= Marché des Producteurs | alt=farmers' market | url= | email=
| address=Rue Paul Lendrin | lat=43.1229034 | long=5.9347039 | directions=just off Cours Lafayette
| phone= | tollfree= | fax=
| hours=Tuesday, Friday and Saturday | price=
| lastedit=2015-05-31
| content=
}}
Eat
| name=Le Pascalou | alt= | url= | email=
| address=3 Place À l'Huile | lat=43.1203642 | long=5.933167 | directions=
| phone=+33 4 94 62 87 02 | tollfree= | fax=
| hours= | price=
| lastedit=2015-05-31
| content=Fish restaurant in the centre.
}}
| name=Brasserie Le Saint Gabriel | alt= | url= | email=
| address= 334 Avenue de la République| lat=43.1199237 | long=5.932636 | directions=
| phone=+33 4 94 89 14 10 | tollfree= | fax=
| hours= | price=
| lastedit=2015-05-31
| content=Provençal cuisine.
}}
| name=Pizzeria La Flambée | alt= | url= | email=
| address= 518 Boulevard Bazeilles| lat= 43.1122819| long=5.9345645 | directions=
| phone= +33 4 94 42 12 07| tollfree= | fax=
| hours= | price=
| lastedit=2015-05-31
| content=Reasonable prices and good food.
}}
| name=Le Grand Café de la Rade | alt= | url= | email=
| address=224 Avenue République | lat= 43.1203838| long=5.931775 | directions=in the harbour, facing the statue of the spirit of navigation
| phone=+33 4 94 24 87 02 | tollfree= | fax=
| hours= | price=
| lastedit=2015-05-31
| content=Big coffee shop and restaurant, easy to find. There are really numerous coffee shops and restaurants on the harbour, this is only an example. Mixed reviews.
}}
| name=Lycée des Métiers de l'Hôtellerie et du Tourisme de Toulon | alt=Toulon's Catering and Tourism School | url=http://www.ac-nice.fr/lycee-hotellerie/edustlouis/index.php/nos-restaurants-2/restaurantpresentation | email=
| address=Rue César Vezzani | lat=43.1231129 | long=5.9313029 | directions=
| phone=+33 4 94 09 70 81 (09:00 - 16:00)| tollfree= | fax=
| hours= lunch Monday to Friday, arrivals 12:00-12:30, end 13:45; dinner Tuesday and Thursday, arrivals 19:00-19:30, end 22:30; closed during school holidays | price=
| lastedit=2015-05-31
| content=This is quite unusual venue, but they have 2 restaurants where their students are practising:
Le restaurant Provence
with
menu imposé
(fixed menu, approx €20) and
Le restaurant Cote d'Azur
with menu
a la carte
. Great prices and good reviews. There is also
Boutique Gourmande
(opened 09:00-15:00) on the ground floor where they sell ready meals, pastries and bakery.
}}
Drink
| name=Le Chantilly | alt= | url= | email=
| address= 15 place Pierre Puget | lat=43.1235318 | long=5.9331 | directions=
| phone= | tollfree= | fax=
| hours= | price=
| lastedit=2015-05-31
| content=A historic brasserie founded in 1907
}}
Stay safe
Public hospitals:
Sainte-Anne hospital, 2 boulevard Sainte-Anne, +33 4 94 09 90 00, fax. +33 4 94 09 92 16.
Chalucet Hospital, rue Chalucet, +33 4 94 22 77 78.
Avoid walking alone at night in the historical center of the town. Or remember to be nice to the people you may meet there. This is the "red" quarter of the town.
Go next
{{geo|43.13|5.92}}
{{isPartOf|Var}}