Tours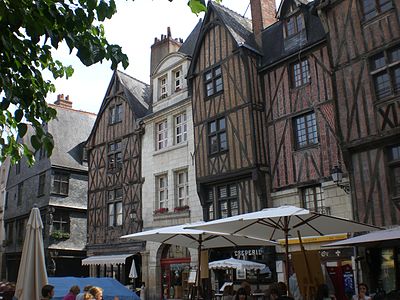 Tours
(with a silent
s
) is an important city located in the Loire Valley of west-central
France
. With a city population of 140,000, and 360,000 in the agglomeration, Tours is the largest city in
Centre-Val de Loire
, though the status of regional capital is held by
Orléans
. Tours sits on both the river Loire and its large tributary the Cher, with the city centre located between the two. The city has a number of attractions, including two cathedrals, a number of interesting museums and great local cuisine. Furthermore, Tours is excellently placed to serve as a base from which to explore the countless châteaux of the Loire Valley. The administrative
département
of Indre-et-Loire, of which Tours is the prefecture, is known almost exclusively to residents by its much older name of the
Touraine
, and is renowned for its wines and for the perfection of its local spoken French.
Get in
By plane
Tours Val de Loire Airportis the local international airport. The airport itself is small, though it receives regular year-round flights from London Stansted, Porto and Marrakech (all operated by RyanAir) and seasonal flights from Marseille, Dublin (both RyanAir) and Corsica (Figari, operated by Corsicatours). The airport is located 5km north of the city centre, and there are car-hire services and a taxi rank on-site (expect to pay €15-€20 to get to the city centre). The nearest tramway station (Vaucanson) is a not very convenient 20 minute walk away, though it claims to serve the airport. To save money, you could always hire a taxi to here from the airport and catch the tram the rest of the way (€1.50 for a journey time of 20 minutes).

Paris Charles de Gaulle Airport (CDG) receives by far the largest number of international flights into France. TGV trains run direct from the airport to Saint-Pierre-des-Corps (see below), from where you can pick up a shuttle train into central Tours. The journey time is approximately two hours. If you're hiring a car, the journey time via the A3, Paris ring road (boulevard Périphérique), A6B and A10 is about three hours in good traffic.
Paris Orly Airport (ORY

) is closer to Tours than CDG, but harder to get to using public transport. You will have to take a combination of local services to get to Paris Montparnasse railway station, in order to catch the TGV to Tours. Otherwise, by car, the journey is relatively straightforward once you pick up the A10 motorway, and should take between two and three hours in good traffic.
By train
From the United Kingdom
Eurostar
from
London
St Pancras,
Ebbsfleet
and
Ashford
takes around 6 hours to Tours, changing to the French national network in either Lille Europe (transfer to another train from this station or from Flandres station, depending on which service you're booked on - check your ticket) or Paris
(you'll need to catch the Metro from Nord - where the Eurostar terminates - to Montparnasse - from where the TGV to Tours departs. This journey can be made in around 30 mins via Line 4 of the Metro, and though not included in your train ticket, only costs centimes for a single fare).
From Paris
SNCF
is the French national rail operator. The high-speed
TGV
is the fastest way to get to Tours from
Paris
and costs about 50€ each way. The journey from Paris Montparnasse (to Tours central station) takes just over 1 hour, while you can reach Tours from
Paris Charles de Gaulle
airport in 2 hours (via Saint-Pierre-des-Corps). You could also take the slower
Intercités
train from Paris Austerlitz which passes
Orléans
and
Blois
too, taking a little over 2 hours. Tickets can be bought for about 25€ each way.
From elsewhere in France
Tours receives direct trains from
Blois
,
Bourges
,
Caen
,
Dijon
,
La Rochelle
,
Le Mans
,
Lyon
-Perrache,
Orléans
and
Poitiers
as well as numerous smaller regional destinations.
Saint-Pierre-des-Corps, located on the eastern edge of Tours, is a hub of the national railway network. The station is at the junction of the north-south LGV Atlantique high speed line, the east-west line along the Loire Valley, and several radial routes around the region. Visitors arriving from the directions of Angers, Bordeaux, Lille, Nantes and Strasbourg will need to change here for the fast and frequent shuttle train into Tours proper.
By car
Tours is situated at the centre of a highway crossroads: the A10 between
Paris
and
Bordeaux
(where it connects to the A63 from
Spain
), the A85 from
Nantes
and
Bourges
, and the A28 from
Le Mans
and
Normandy
, including the English Channel ports of
Cherbourg
,
Dieppe
and
Le Havre
. The A10 passes between Tours and Saint-Pierre-des-Corps, and Boulevard Heurteloup links junction 21 to the city centre.
Get around
By public transport: bus, tram, train
Fil Bleu
is the authority responsible for all public transport in Tours and the agglomeration. They operate:
A comprehensive network of buses throughout the urban area, including several high-frequency routes and one bus rapid transit line (Tempo 2), which connects the north and north-east of Tours and the airport with the city centre, the south of Tours and the suburban town of Chambray-lès-Tours. The most important routes operate at between every 2-to-5 and every 10-to-15 minutes, with less important routes following a significantly less frequent timetable
A single tram line (Tram A) which connects the north of Tours near the airport with the city centre, the L'Heure Tranquille shopping and entertainment complex and the suburban town of Joué-lès-Tours. Trams operate every 4-to-8 minutes during the day and early evening, and about every 10-to-20 minutes in the late evening
An SNCF / Fil Bleu shuttle train (Navette), which runs between Tours and Saint-Pierre-des-Corps railway stations at regular intervals throughout the day and evening. Its travel time of 5 minutes is considerably faster than the equivalent bus journey
Buses and trams generally operate between 05:00 and 01:00 every day of the week, though services are often reduced early mornings and late evenings, and on Sundays and bank holidays. The website offers
timetables for every route
and an electronic
journey planner
.
A single Fil Bleu fare costs 1€50 and can be used for up to an hour on any route, including changes. The fare for two journeys is 2€70 and a day pass costs 3€70. There are numerous other fares available for families, concessions, groups and other types of journey, the details of which can be reviewed
on their website
. Tickets can be purchased and recharged on board any bus (from the driver) and at every tram stop (using the machines on the platform), as well as at the Fil Bleu information centre on rue Charles Gille and in certain newsagents around Tours. You must validate your ticket or pass each time you board a bus or tram, even when making transfers, by pressing the ticket or pass to one of the blue touchscreens on board. There are frequent inspections on the network and if you are found to be travelling with a ticket or pass which hasn't been validated, you will be treated the same as a fare-evader and may be given an on-the-spot fine.
Maps of the Fil Bleu network can be downloaded from their website.
By bike
Cycling is one of the best ways to see the city; Tours lies at the heart of the
Loire à Vélo
project which has made the entire Loire Valley cyclable, and there are numerous bike rental stores.
Vélociti
is the municipal bike hire scheme provided by Fil Bleu. Customers may rent a bike for 7€ for up to one month from the Fil Bleu travel centre at 9, rue Michelet.
On foot
Central Tours is compact and very pedestrian friendly so walking is usually the easiest and most pleasant way to get around, particularly as many of the city centre streets are so narrow that the public transport network doesn't directly serve some of the major attractions. A visitors' guide with a recommended walking route can be picked up for free at the
tourist office
on the corner of rue Bernard Palissy / boulevard Heurteloup. In the
See
section of this article, you can read about interesting neighbourhoods that can be explored on foot.
By car
Tours is compact enough that you will generally not need your car to get around town. A car would, however, be useful if you plan on exploring the towns, châteaux and countryside outside of Tours, though many sites of interest can be reached by public transport and by bike.
Beware that although Tours is easily driveable and not often congested, the many pedestrianised and limited-access streets in the city centre may mean your desired address isn't directly accessible to cars, though there will always be nearby on- or off-street parking.
There are numerous underground car parks in the city, such as at place du Général Leclerc (underneath the large square in front of the railway station), place des Halles (underneath the Halles market hall, ideal for visiting the old town), and at place Anatole France (easy access to the shops on rue Nationale).
See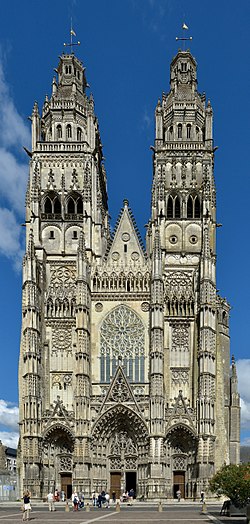 Visitor attractions
Museum buffs will want to invest in a
Carte Multi-visites
, which for €10 allows you access to the Fine Arts, Natural History and Compagnonnage Museums, as well as (from 2017) the Saint Martin Museum and the Olivier Debré Centre. This can be purchased from any of the participating museums, as well as from the city's tourist office.
Basilique de Saint Martin de Tours

phone: +33 2 47 05 63 87

address: Rue Baleschoux

Built between 1886 and 1924 on the site of a much earlier basilica (whose two remaining towers, the Tour d'Horloge and Tour Charlemagne still stand next to the current edifice), this Romanesque church's dome stands proudly on the city's skyline. The main attraction within is the crypt which houses the tomb of St Martin of Tours. The basilica's nuns can be stern but are generally very welcoming to respectful visitors.

address: Rue Lavoisier / Place de la Cathédrale

A Gothic cathedral with a monolithic façade, spectacular flying buttresses and plenty of gargoyles, some of which have some rather rude appendages. The interior is no less impressive and there is very detailed information available on boards all around the cathedral. Adjoining is the Cloître de la Psallette, which may or may not be worth the small entrance fee depending on your level of interest.

phone: +33 2 47 20 01 68

address: 2, rue du Petit Pré

This is the convent of the Ursulines of Tours, a sect of nuns, whose most famous sister, Sainte Marie de l'Incarnation, travelled to Quebec in 1639 to spread the order to Canada. She eventually founded the first catholic school in North America. Learn all about the life and travels of the saint in the centre's tiny museum, which is housed in a 15th century room, and take time for contemplation or prayer in the adjacent chapel.

phone: +33 2 47 21 61 95

address: 25 avenue André Malraux

Architecturally unimpressive by anybody's standards (especially if you've been spoilt by the likes of Chenonceau and Chambord), the castle nonetheless has an interesting history and hosts art exhibitions all year round.

Hôtel de Ville

address: Place Jean Jaurès

This grand 19th-century municipal building stands proudly in front of the ever changing fountains on Tours' central square. If you happen to be there on a day where there is an exhibition inside, it would be worth paying the entrance fee just to see the lavishly-decorated ball room.

phone: +33 2 47 21 62 67

address: 35 Boulevard Tonnellé

This large botanical garden holds year-round interest, with extensive borders dedicated to different climate zones, a magnolia walk and a section tracing the natural history of plants, as well as a large medicinal herb garden and a rockery. In the middle of the garden sits a beautiful 150 year old gingko tree. There are also tropical glasshouses, several animal enclosures, a children's petting farm and play area, and a lawn for picnicking. Each spring is the Printemps des Poètes, with poems displayed around the garden, and there are other events throughout the year.

phone: +33 2 47 05 68 82

address: 18 place François Sicard

Inside the former Palace of the Archbishops of Tours, the Musée des Beaux Arts possesses a sizable collection, including paintings by Debré, Degas, Delacroix, Monet, Roslin and Van Goyen, sculpture by Rodin as well as antiquities, objets d'art, tapestry and medieval religious artwork. There is equally a regular cycle of temporary exhibitions and events. The gardens are popular in the summer months and include an enormous Lebanese cedar and a life-sized model of Fritz the elephant, one of Tours' less welcome visitors who went on a rampage after escaping the circus.

phone: +33 2 47 21 62 20

address: 8 rue Nationale

A most unusual museum depicting artifacts of various guilds of master craftsmen, including many masterpieces of tools, sculpture, bells, clothing, shoes, decorated cakes and the exhibition hall of the museum itself, whose roof is supported by tree trunk-sized wood beams. The museum is especially welcoming to children, with quizzes available and friendly staff on hand to inform and educate. Conspiracy theorists can have fun seeing how many masonic symbols they can spot.

phone: +33 2 47 21 68 08

address: 3 rue du Président Merville

Spread across four floors. Level 4, where the visit starts, is the natural history library. Level 3 focuses on the natural history of the Touraine, including many taxidermied specimens and geological artefacts. Level 2 is global natural history, including taxidermied specimens from the 5 inhabited continents, as well as live insects, spiders, snakes, fish, amphibians and reptiles. Level 1 has the reception, shop and temporary exhibitions, recent examples of which being snakes of the world and mammoths.

phone: +33 2 47 37 32 70

address: rue Ronsard, 37520 La Riche

A tranquil corner of suburban La Riche, this ruined priory is most noted for being the home and final resting place of Pierre de Ronsard, celebrated poet of the 16th century. Recent renovations have seen the restoration of the gardens and some of the buildings, the erection of new information boards in English and the addition of an interactive feature whereby visitors can listen to readings of Ronsard's poems within the walls of his former residence.
Tours by night is just as spectacular as during the day, as most of the landmarks' façades, including the Basilica, Cathedral, City Hall and railway station are illuminated. The Pont Wilson looks especially brooding when the Loire is foggy.
Opening 2017
Centre de Création contemporaine Olivier DebréUnder construction, opens March 2017

Musée Saint MartinUnder refurbishment, re-opens 2017
Interesting neighbourhoods and parks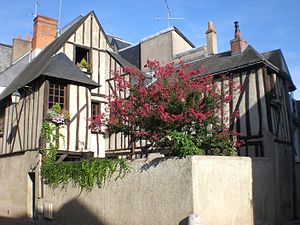 ====Vieux Tours (
the Old Town
)====
This is the neighbourhood of mainly-pedestrianised medieval streets centred on lively
Place Plumereau
. Known to the locals as
Place Plum
, this square is bounded by timber-framed
maisons à colombages
, cafés and bars, whose seats colonise the entire space when the weather is fine. The commercial thoroughfares of Vieux Tours hum with people day and night, but even in this most buzzing of neighbourhoods you can find many quieter
ruelles
(side streets), quaint alleys and peaceful squares.
West of Place Plum', on and around rue de la Monnaie is the
Quartier Artisanal
where you can spot craftsmen busy in their workshops. Look out for the former hostel at
7, rue des Cérisiers
, which was reportedly the inspiration for the Pension Vauquer in Tours native Honoré de Balzac's most celebrated work
Le Père Goriot
.
The
Quartier Lamartine
is in many ways a western continuation of the Old Town, albeit without the crowds (and, sadly, the pedestrianisation). As such there are many medieval buildings of note and traditional local businesses:
boucheries
,
boulangeries
and
floristes
. The Gothic church on rue Georges Courteline is worth a look.
Quartier de la Cathédrale
Unsurprisingly, the district around the cathedral. This well-heeled neighbourhood is mainly residential, with a mishmash of grand houses, and their frustratingly hidden gardens, from every century between the 13th and 19th. Particularly of note is
Rue Colbert
, as much for its brilliant restaurants as its interesting history. Joan of Arc's personal armourer and the site of public executions by guillotine are two highlights to look out for. A stroll down
Rue de la Scellerie
, stopping to browse its antiques shops and admire the imposing Grand Théâtre, will take you to the green oasis of Place François Sicard. Lined with handsome bourgeois homes, this is a pleasant park for picnics and is handy for the cathedral and fine arts museum.
East of the cathedral, you venture off the beaten track, meaning you usually get to walk in near-solitude. As you pass along rue des Ursulines, so named for the order of nuns occupying a convent here, listen out for the sound of young musicians perfecting their art in the Conservatoire de Musique. At the corner of rue des Ursulines and rue du Petit Cupidon, go through a walkway under an innocuous-looking block of flats; you'll find a hidden park! This is the
Jardin des Vikings
, which is something of a misnomer, since the park's main attraction is the last vestiges of the ancient Roman wall which once circled Tours. If you double back on yourself, the next left (rue François Clouet) will take you to the
Jardin des Ursulines
. Perhaps here you will bask under the mature trees, while your kids try the playground. Before you leave the area, don't miss the lovely Romanesque church at the top of rue de la Porte Rouline, or the tiny
Musée de Sainte Marie de l'Incarnation
(see above for listing) on rue du Petit Pré.
====Quartier des Prébendes====
Explore the quiet streets west of avenue de Grammont and you will be rewarded with elegant 19th century townhouses built in the typical Tourangeau style. Rue d'Entraigues and rue Roger Salengro are both good starting points from the main avenue, and the latter will take you directly to the main focus of the neighbourhood: the
Jardin des Prébendes d'Oé
. This much-loved municipal park dates from 1872, and was designed in the style of an English landscape garden. Among the park's admirers was Léopold Sédar Senghor, president of Senegal, and one of 20th century Africa's great intellectuals, who wrote a poem for the garden while teaching in Tours in the 1930s. There are plenty of flowers and mature trees, and the giant sequoias are especially prized by locals. You will also find two music bandstands, a large pond with bridges, and fountains and statues dedicated to famous Tourangeaux, among them Pierre de Ronsard. As with the Botanical Gardens, the lawns are set aside for picnics and there is a play area for children.
Do
Cycle, walk or jog along the Loire: Starting at Pont Wilson, on either bank of the river, you can walk or cycle for many miles up- or down-stream.
Visit La Gloriette , a public park south-west of the centre with an experimental vegetable garden and an adventure park, high in the trees. For Free!

phone: +33 6 63 18 45 68

A delightful little road train that follows a circular route through the city centre, passing by all the major landmarks on the way.

phone: +33 2 47 66 70 70

address: rue Bernard Palissy / place François Sicard

See Tours in style, for a very attractive price.
Learn

The Université Francois-Rabelais offers French courses for people of any level and from any country starting at the beginning of September and ending in May, costing between €1,000-€1,500. Classes are held at the Fromont campus west of the city centre in a quiet residential neighbourhood.

Buy
Brand shopping
There are several major shopping destinations in Tours.
Most people who work in these shops are young so there is a large possibility that they will speak English.
Never
start speaking English with someone before asking politely : "Parlez-vous anglais?" (pronouncation : par-lay voo on-glay). It is also polite to start with "Bonjour" or "Bonsoir", depending on the time of day, before you say anything else.
Rue Nationale is the beautifully-pedestrianised main shopping street in central Tours, where the only traffic is the occasional tram gliding past. Along with surrounding streets (west into the New Town around Place de la Résistance', and south past Place Jean Jaurès to Rue Bordeaux), this is home to many high street brand names including a large Galéries Lafayette department store and is especially busy in the early evening. There is also a small indoor shopping mall halfway along Rue Nationale called Galéries Nationale which complements the main street rather well without taking away its business.

L'Heure TranquilleA new shopping and leisure centre that has a good selection of shops, as well as eating and entertainment facilities (cinema, bowling, laser tag)

phone: +33 2 47 32 25 25

address: Avenue Jacques Duclos, 37700 Saint-Pierre-des-Corps

An out-of-town shopping centre with several large hypermarkets, notably Carrefour, IKEA and Toys 'R' Us, and lots of smaller chain stores.
Souvenirs and crafts
The Old Town particularly has many tourist-oriented shops and is also home to the Quartier Artisanal, where you can purchase locally-made arts, crafts and other handmade œuvres
Head to Rue de la Scellerie for the best collection of antiques stores in the Loire.
The vast majority of newsagents and tobacconists (identified by a red diamond "TABAC" sign) in central Tours stock postcards and basic souvenirs such as fridge magnets.
Food shopping
Apart from the Halles covered market hall (more about that below), there are a few food shops and supermarkets which may be useful for your stay. Note that almost everything of this genre is shut on Sundays.
Supermarkets
phone: +33 2 47 61 96 00

address: 63-65 Rue Nationale

The largest and best supermarket in the city centre, with a large clothing section at the front and a food hall at the back.

phone: +33 2 47 05 29 51 (Leclerc), +33 2 47 60 11 60 (Jaurès)

address: Two locations: Place du Général Leclerc / Place Jean Jaurès

Medium-sized and well-priced supermarkets

phone: +33 2 47 70 49 49

address: 13 bis - 17 Rue Charles Gille

The only central supermarket open on Sundays.

8 à Huit

address: 77 Rue Colbert

French version of a 7-11, albeit with shorter opening hours.

address: Rue Constantine

Small convenience store
A tiny off-licence on Rue Colbert simply signed Alimentation Générale ("general foodstuffs") has a surprisingly good selection of tinned foods, confectionery and some fresh fruit as well as plenty of alcohol. Best of all, it's open well into the early hours, far later than any of the supermarkets. Great for after-hours drinks and snacks!
Artisan food stores
Hardouin

phone: +33 2 47 05 12 87

address: Two locations: 70 Rue Bernard Palissy / Les Halles de Tours

"Charcuterie tourangelle de tradition" says it all really. Easily the best and most well-known charcutier (delicatessen) in the Touraine, serving dried and cured meats and saucisson, cheeses, and wonderful seasonal pastries, all using locally-sourced ingredients.
Any one of the dozens of boulangeries / patisseries around town. No directions needed, there's one on practically every corner. While all are of good quality and sell roughly the same mix of bread, pastries and desserts, different shops specialise in different products; you may find the place that does your favourite baguettes may not sell the tastiest croissants, the best place for a cheeky quiche or tartine may not have the nicest selection of cakes, etc. So shop around, explore and enjoy!
Markets
Eat
Place Plumereau and Rue Colbert are arguably the best 2 places to eat in Tours. Rue Colbert has cuisines from all over the world including Iranian, Turkish, Arab, Japanese, previous French colonies and Italian.
There are many Kebab (Shawerma) restaurants all over and the meal (Formule: Kebab, chips and a drink) costs around €5.
Drink
L'Academie de la Biere Bar at the end of Rue Colbert with about 200 types of beer, along with a tiny dance area.
Place Plumereau There are lots of places to drink in the old town around Place Plumereau. Many people go to the square at night and people just sit on chairs placed there belonging to restaurants surrounding the square, sometimes maybe not even knowing whose chairs they are.

The Pale

address: 18 Place Foire le Roi

An Irish pub popular with Erasmus and American exchange students, a great place to go if you are feeling lost and don't speak any French as the clientele is about 75% Anglophone and all the staff are Irish.

Le Café Chaud

address: 33 Rue Briconnet

A nightclub aimed at 18-30s, cool bar area on ground level and downstairs club area with cheesy music, a dancefloor and another bar. Try a cocktail, they are very large and reasonably priced, the 'Malmaison' is popular. Entry is free, though they require you to buy a cocktail. Open every night.

Le G.I

address: 13 Rue Lavoisier

Tours' main gay club. Mostly gay men (with female friends) and lesbians, although anybody is admitted on the weekends. Expect to pay about €10-15 entry, but that price includes a drink ticket that can be redeemed at the bar. You need to ring the doorbell to get in, a safety procedure, but don't be put off by this as the door staff are welcoming. Almost nobody arrives before 1am.
ZooStation - huge out of town club on the north end of Tours, free parking with a car, however to avoid getting lost on the way it is advisable to jump into a taxi and say "Zoostation s'il vous plait", the driver will know where you mean and will cost about €10 each way. Drinks are pricy but the entrance fee is low, the music is mostly American and French R&B. Best enjoyed if there is a group of you as Saturday nights are busy and, like any large club, there may be some people who are out to pick a fight.

L'Excalibur

address: 35 Rue Briconnet

It is very small but is the place to be for the "uber-cool" crowd.

Le PymsAnother large club located along the Avenue de Grammont to the south of the town center. A bit out of the way, but very popular with students. The club includes two dance floors and has many theme nights.
Sleep
AJ du Vieux Tours 5, Rue Bretonneau, is a cheap, safe and clean hostel with no curfew. Individual, long-stay rooms are ideal for international students in Tours as the staff speak English and is a great way to make friends quickly. Has communal bathroom facilities and meals are available to buy in the cafeteria area. Also has cooking facilities for making your own meals. Great location next to a couple of internet cafés and all the bars and pubs of Place Plumereau, and just across the road from the main campus of the Université Francois-Rabelais.
Stay safe

Tours is a very safe city in comparison to other French cities. But if you don't speak French, you might get intimidated by homeless people asking you something in French, most likely asking for spare change or a cigarette if they see you smoking.
The quartiers to the south east of the city are best avoided at night, and there are many high-rise low-rent apartment buildings, but any area in Tours is safe during the daytime.

Connect
Tours Val de Loire tourist office

phone: +33 2 47 70 37 37

address: 78/82 rue Bernard Palissy

Good selection of brochures and leaflets and English-speaking advisors on hand.
Go next