Trégor
Trégor
is one of the nicest provinces of Brittany, in
Côtes-d'Armor
.
Understand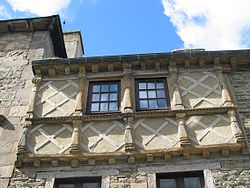 Trégor is famous for its cute beaches with huge pink granite rocks, and small cities with colourful traditional houses.
Its capital is Tréguier, a "Petite Cité de Caractère", this beautiful town offers a wealth of history, a beautiful cathedral, several places to eat and drink, a great market and seaside location. The patron Saint Yves is well known for his works with the poor and needy in times gone by, he was the patron of Brittany, lawyers and abandoned children.
Get in
TGV from Paris to Guingamp, Plouaret, Lannion or Morlaix.

Get around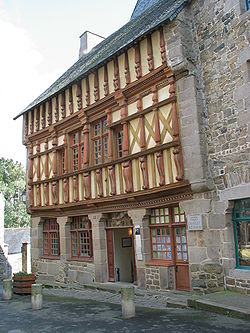 In
Tréguier
the beautiful cathedral is a must see, accessible to all, with lots of stained glass, beautiful organ, several crypts and the cloisters.
Another "Petite Cité de Caractère" locally is
La Roche Derrien
. A beautiful little town where the market square is lined with medieval wooden buildings. Famous for being where the 100 year war ended, you can visit the chapel where the English were camped out, walk along to the Castel Du where the Bretons were.
famous for the mills where flax was processed before being carded and spun to be exported throughout the world.
Lannion
has a cute city center.
Guigamp
has an impressive church, castle ruins, and is a very pleasant city to walk around.
Morlaix
has a small harbour at the bottom of a breathtaking valley opening to the sea.
Pleumeur-Bodou
is famous for its space and telecommunications museum and bronze-age gallery graves.
Perros-Guirec
,
Trébeurden
,
Trégastel
are all appreciated for their beaches and nautical activities.
The
islands
are a major attraction, there are hundreds but the most famous are the Sept Iles, where many birds can be seen. Boat tours are available from Trégastel and Trestraou.
Do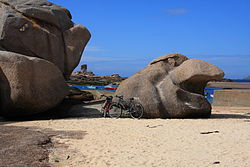 Visit the "Maison Musée Ernest Renan" museum in Tréguier
Rafting in Lannion
Walk along the seaside in Trégastel, it is such a fractal-like shape that during 2 hours of walk you will see many different landscapes, and arrive pretty much at the place where you started.
Swim, kayak or windsurf in Perros-Guirec or Trégastel.
Birds and ecology museum in Ile Grande
Eat
Crêpes and galettes
Seafood
Sleep
address: 21 rue St Jean, 22450, La Roche Derrien

A former cotton mill on the banks of the River Jaudy in La Roche Derrien. Converted in 2007 into six wheelchair accessible apartments, all have level access showers with wheeled shower chairs. Ideal for disabled travellers.