Traben-Trarbach

Traben-Trarbach
is one of the most charming wine towns along the Mosel River, in the
Rhineland-Palatinate
region of
Germany
. In addition to its vineyards, it is famous for its castle ruins and fine Jugendstil architecture.
Traben and Trarbach used to be separate villages on opposite sides of the Mosel River connected by a bridge. In 1904, the cities merged to become Traben-Trarbach. In 1969, the city annexed Wolf, a village 4½ km north of downtown Traben-Trarbach, also located on a bend in the Mosel River.
phone: +49 65 41 8 39 80

address: Am Bahnhof 5

The tourist office is very helpful, with lots of information available in English. It's also the go-to place for bookings of tours, and can arrange wine tastings and other activities. It can also book accommodation for you.
Get in
By plane
Mosel Flugplatz
is a tiny airstrip on Mont Royal that serves small private planes.
Frankfurt-Hahn Airport
(
HHN
) is east of Traben-Trarbach. Ryanair and Wizzair operate passenger service to/from Frankfurt-Hahn Airport. From the airport, a bus to Bullay operates every 2 hours and trains run regularly from Bullay to Traben-Trarbach.
Luxembourg Airport (LUX) is southwest of Traben-Trarbach
Frankfurt Airport (FRA) is east of Traben-Trarbach. Trains connect the airport to Traben-Trarbach. Buses (€16, 90 minutes) operate from Frankfurt Airport to Frankfurt-Hahn Airport, which is 20 km east of Traben-Trarbach.
Cologne/Bonn Airport (CGN) is north of Traben-Trarbach.
Metz-Nancy-Lorraine Airport (ETZ) is southwest of Traben-Trarbach and has a few seasonal flights.

By train
Traben-Trarbach is a stop on the Moselwein-Bahn train and a 20 minute ride from Bullay. From there, faster IC or RB trains will take you further to Koblenz (1 hour).

By car
from the directions of Trier or Koblenz, take the A1 to exit 125 Wittlich Mitte. From there, just follow the signs. Alternatively, take the more scenic B53 route along the Mosel River.

By bike
Mosel-Radweg (Mosel Bike Route) is a marked bike route that runs from Metz to Koblenz and passes through Traben-Trarbach. The route generally does not have slopes.

By boat
Get around

The dual town can easily be explored on foot. To get to the hill top ruins, or just to the hills above town to admire the view, it's quite a walk up though. The same goes if you want to head to Wolf. A bike or car can come in handy for that.

See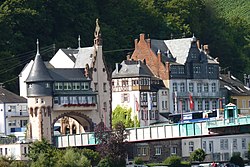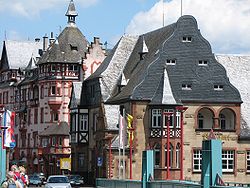 Both the Traben and Trarbach sides of town have a pleasant and typical old flair to it, with timbered houses and many Belle Epoque details all around. Although the origins of both places go back to the Middle Ages, mass fires destroyed most heritage from those days. In 1857, the last city fire left 1400 of all 1700 inhabitants of Trarbach without a roof over their heads. As the town (united since 1904) grew into a major wine trading city - at the turn of the century it was second in the world, after
Bordeaux
- it was splendidly rebuilt after the latest fashion. Many of the buildings were designed by the famous German architect Bruno Möhring, one of the most prominent Jugendstil architects in the country.
Ruins of the GrevenburgConstructed around the year 1350, the Grevenburg was originally the ancestral seat of the counts of Sponheim. Repeatedly besieged, damaged, occupied and rebuilt, it was conquered for the fourth and last time in 1734 by the French, during the War of the Polish Succession. The castle was blown up and large parts of it fell down into the river valley below. Only a few ruins are standing today, but much of the foundations remain. At the ruins, there's a small tavern and some gardens, and of course you get to enjoy some excellent panoramic views. The Mittelmosel-Museum has detailed documentation about the castle. It also provides further information about opening hours.

Underground Wine Vaults

phone: +49 65 41 8 39 80 (for bookings and more information)

As the city has long been a major wine trading centre, large parts of it have extensive vaults underneath. Up to 120 meters (!) long and sometimes multi-storied, these vaults make for a fun excursion. Unfortunately, tours are rare, taking place only at the last Friday of each month. You need to reserve ahead, via the tourist office. For groups, separate tours can however be booked.

Mont Royal Fortress ruinsStarting in 1687, the French "Sun King" Louis XIV engaged his brilliant architect and master builder Vauban to build a huge fortress on the peninsular mountain high above Traben. The massive fortress provided space for 12,000 soldiers and 3,000 horses, and became one of the key strongholds for the French Rhine army, protecting the French borders. The incredibly expensive fortress was however demolished by the French themselves, no more than eleven years after it was built, following the Peace of Ryswick. The Middle Mosel Museum has plans and archaeological finds on display. Guided tours take place regularly in season and can be booked ahead via the tourist office.

Brückentor (Bridge Gate)The bridge gate was designed by Bruno Möhring and established in 1899.

address: Casinostr. 2

The Mittel-Mosel Museum has displays on local and regional history.
Do
Sightseeing Boat Tours Along the Moselle River

address: Along the river banks

Sight seeing boat trips along the Moselle River are easily available from May to October and include from 1-hour return trips, trips to Bernkastel-Kues that stop at various towns along the river, and trips to Trier, Zell, and Cochem.

Canoe Tours Along the Moselle RiverRent a canoe and paddle your way down the river.

Hiking and biking - The tourist office has some maps. Easier paths are in the valley, but the vineyard hilltops have great views.
Wine tasting
Festivals and events
Mosel Wine Festival - annually on the second weekend of July
Buy
Even for those who are not typically wine enthusiasts, it will be difficult to leave Traben-Trarbach without a bottle or two. And why not; it's the obvious souvenir and if you don't plan on drinking it yourself, your friends will likely be grateful if you serve them your own import wine.

Eat
Restaurants are scattered all over town, with options varying from 5-course gourmet cuisine to traditional and filling schnitzel and fried potatoes for around €12.
Clauss-FeistThe restaurant of the famous Bellevue hotel has some of the best options for fine dining in town, in a nicely historic setting.

address: Wolfer Weg 11

Close to the Buddha museum, this place has great food in a rustique restaurant setting. Located in an old wine house, the wines served today are exclusively from the own vineyard.

address: Fährstraße 2

Located in Wolf, this friendly place on the river side is somewhat away from the large Traben-Trarbach crowds, but still very popular. It serves tasty dishes (many traditional meat and fish plates) and large portions for small prices. On weekends on summer, many dishes are served from the outdoor grill. They serve and sell good wines from their own vineyard as well as brandy and sweet liquors. There's also an apartment for rent.
Drink
This is wine country. Some of the river bank vineyards have the names of the "Weingut" (wine house) it belongs to indicated in huge white letters. In town, you can try samples at really every tiny restaurant or café, of which there are plenty. Look for signs indicating Weinprobe or Weinverkauf or anything of the kind. Prices differ, but you'll typically get about 6 samples for under €10. Several of the wine houses also have distilleries, producing brandy and sweet liquors.

Sleep
Traben-Trarbach has a broad scale of lodging options, from top end hotels to lovely cheap camping sites. There are also many bed & breakfast style "Gästezimmer" available. Booking in advance is advised; otherwise, look for signs that say "Zimmer Frei" (Room free).
Budget
phone: +49 6541 9174

Open from 15 April to 15 October. Quiet, family-run camping site with many spots directly on the water, overlooking the vineyards on the other side of the river. Many guests stay for the entire season, but this place is welcoming to short term visitors too, even for a night. Most of the free spots are usually at the far end of the camp side, a bit far from the bathrooms and the electricity division points. There's a small playground for children, but nothing special. The small store has basic needs and wine (of course!). There's no check in/out time but the office is open from 08:00-12:00 and from 14:30-22:00.
Mid-range
Splurge
phone: +49 6541 8320

address: An der Mosel 15
Go next