Trams in Melbourne
With the world's largest network,
trams
have become synonymous with the city of
Melbourne
in
Australia
. Rather than simply being a costly tourist attraction, trams actually form an integral part of Melbourne's day-to-day transport needs, with commuters regularly utilising trams to travel to work. Every tourist who visits Melbourne will often fit a tram ride into their itinerary; not only as a method of getting around, but also as a way of experiencing the character and history of the city.
Understand
History
Although trams were once an integral part of public transportation networks in cities worldwide, their presence was seen as an impediment to progress as private cars gained popularity following the second world war. Although other cities such as
Sydney
and
Los Angeles
once had much more extensive tram networks, their presence was eventually regarded as a hindrance that held up private automobile traffic, and these tram networks were eventually dismantled and replaced by buses. Although Melbourne's tram network was also considered for dismantling, the city eventually decided that the cost of tearing up the existing tram tracks was prohibitive. Eventually, as other cities which dismantled their tram networks became increasingly choked by exhaust from automobile traffic, Melbourne was convinced that its decision to retain its tram network was the right one. Today, Melburnians continue to value their tram network, and see it as an integral part of their city's character.
Fleet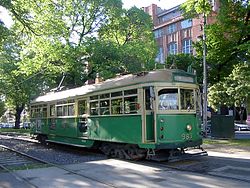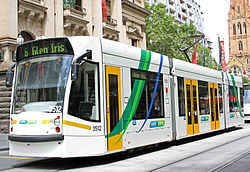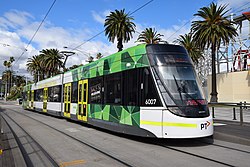 There are over 478 trams in the fleet. Seven different models of tram operate on the network, which are organised into different classes.
W-class — This is the old green and yellow tram that all the tourists come to see. Originally, over 720 were built for service, but only 26 remain in service. An additional 12 operate on the tourist City Circle route, while 3 also operate as part of the tramcar restaurant. They originally entered service in 1923, and were mass retired in the 1980s. After public outrage at their sale to overseas tourist tramways, the export of the trams was halted, and over 200 still sit unused in government warehouses. Many were leased out to small-scale museums around the country.
Z-class — Introduced in the 1970s, 50 years after the last design, with the aim of modernising the fleet and improving patronage. Based on a Swedish design, there are just under 150 in service.
A-class — Built in the 1980s, they are fairly similar to the Z-class, apart from some design changes, incorporating striking angles to reflect interpretations of modern art of the time.
B-class — Also introduced in the 1980s, the main difference was the bendy articulation in the middle of the tramcar, and the inclusion of air-conditioning, much to the relief of commuters in summer!
C-class — Alstom Citadis trams were added to the network in 2001 by new private operators who took over ownership from the government. They were a huge shift from previous designs, with a curvy shape and low floor that is accessible for wheelchairs at raised stops. Five, newer C2-class trams were leased from Mulhouse, France in 2008 that carry a distinctive yellow livery, giving them the nickname of the Bumblebees.
D-class — Also introduced by private operators in 2002, these low-floor trams (Siemens Combino) can be extended to very long lengths. The interior design is similar to what is found in "light rail"-style networks overseas, where more space is allocated for standing in peak period, rather than sitting.
E-class — Melbourne's newest and longest model of tram operates on Routes 96 and 11. To support the state's manufacturing industry, the trams were manufactured in Dandenong, a suburb in Melbourne's south-east, using local materials and labour.
Network
The network consists of 30 routes, which is made up of 1763 tram stops and over 250 km of track. This is the largest network of trams in the world.
See
There are two main museums that house Melbourne trams and other interesting items, along with various other attractions that relate to trams around the city.
Do
Eat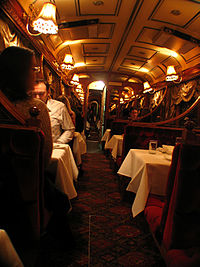 Yes, in Melbourne, you even have the opportunity to dine out on a moving tram! The
Colonial Tramcar Restaurant
operates up to three restaurants at any one time, slowly crawling their way about the city. The trams used are from the iconic W-class fleet; the inside layout has been converted into booths, complete with opulent lights and curtains.
The food is not cooked aboard the tram but prepared at a restaurant next to the pickup tram stop, and reheated for serving during the tram ride. There are two choices for each course. The main course serves chicken or beef, and the restaurant doesn't cater for vegetarians. Kangaroo is served as entrée in the lunch and late dinner periods. Alcohol and drinks are plentiful and free. See the
website
for full menu details.
The tramcar runs daily over three periods:
Lunch with 4 courses (1-3pm) — $82.50pp
Early dinner with 3 courses (5:45-7:15pm) — $77pp
Late dinner with 5 courses (8:35-11:35pm) — $121pp (Fridays and Saturdays cost $137.50pp)
The tram leaves from stop #125 at the corner of Clarendon St and Normanby Rd, South Melbourne. Bookings should be made well in advance, usually at least a month before. You must arrive at the departure point 15 minutes early.
phone: +613 9695 4000