Travemünde
Travemünde
is the closest of the boroughs of
Lübeck
to the Baltic Sea. As the name suggests, it is situated at the very mouth of the river Trave. For hundreds of years, Travemünde has been a popular seaside resort and harbour on the German Baltic coast of
Schleswig-Holstein
. Daily passenger and cargo ferries leave to
Scandinavia
and the
Baltic states
but the pristine white beach and the rich history encourages people to stay. The town is trying to build a new future as a tourist destination to avoid the fate of many faceless ports.
Understand
The town was founded in 1187 on the delta of the river Trave. Since 1329 Travemünde has been part of
Lübeck
but it always maintained its cultural independence. During the times of the medieval
Hanseatic League
in the Baltic Sea, Travemünde blossomed into a growing village for the first time. Travemünde lost its relative importance with the decline of the Hanse from the 15th to the 18th century. Since 1802 Travemünde has been allowed to label itself
Seebad
(literally seaside resort) and tourism has been its main source of income. Its fame as a major nightlife and flashy high society meeting point ended with the world wars.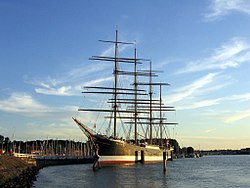 Unlike nearby Lübeck, Travemünde was spared the major destruction of World War II, but the town wound up directly on the front lines of the Cold War after the partition of Germany. Until 1989 the inter-German border was behind the Priwall (technically belonging to the East German state
Mecklenburg-Western Pomerania
) and most of the beach on the Priwall side was a military area and off-limits to the public. The Priwall was developed after the reunification but differences can still be witnessed today. Also ecologists prevented the complete development of the Priwall to allow nature to maintain its part of the area.
Today about 13,500 people live here and it is an important port town. Even during the German separation, Travemünde remained well known to most Germans, for its being part of the historic Hanse city pact, and for the novel "Buddenbrooks" which took place in parts in the town. To commemorate the local Mann family (Thomas Mann was Nobel laureate in 1929) there is still today a Buddenbrook house in Travemünde. The old town has maintained its sleepy character despite the fact that at weekends there are loads of tourists.
Tourist office
phone: +49 451 889-9700

address: Bertlingstraße 21

Lübeck and Travemünde have a joint tourist office but they run a separate website for Travemünde. Their office in Travemünde is inside the historic railway station, which is very convenient for day trippers, although quite far away from the port.
Get in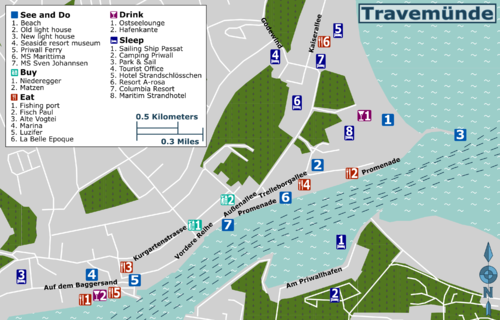 Travemünde is a port town, so traffic is always an issue when Ro-Ro vessels arrive in the harbour or when drivers are rushing to catch a ferry. Most visitors drive directly to Skandinavienkai to get on the ferry. Travemünde has two major stations and Autobahn exits to separate the traffic for the port and the town. Traffic control prohibits almost all ways between the town and the port. If you want to see the ships it is best to use a bike or the train as cars have to take a big detour around town.
By train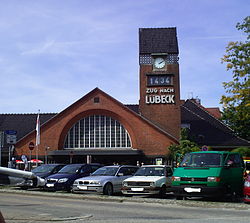 All trains travel from
Lübeck
's main station to Travemünde, operated by
Deutsche Bahn
. The schedule is based on peak/off-peak times and for special occasions e.g. Travemünder Woche, a special schedule will be displayed. As the train travel is organised by the state, the homepage of Deutsche Bahn (federal rail) will not display all trains (focus on federal & state service). Check online either at DB or SV Lübeck.
There are three railway stations in Travemünde.
By car
Use
Autobahn
A1 until you pass Bad Schwartau, then A226 or B76. Travemünde is directly connected to Lübeck (20 min) and
Hamburg
(1 hr).
By bus
By boat
To travel between Lübeck Hbf and Skandinavienkai Terminal, take buses ##30, 31, or 40. You can also take the local train to station Lübeck-Travemünde Skandinavienkai, then switch to bus 30 or 40, which runs every 15 minutes. Although the station is right next to the ferry terminal, it is not allowed to walk in. You have to take the bus one stop.
phone: +49 451 1507443

Operates ferries to Helsinki, Finland around the year. The trip's duration is a little more than a day. Also operates ferries to Malmö, Sweden, trip duration is about nine hours.

phone: +49 431 9099

Five times a week to Liepaja in Latvia

phone: +49 4502 80181

Operates up to three daily ferry trips between Travemünde and Trelleborg, Sweden. During the summer and on public holidays the ferries are very heavily booked. Make sure you have a reservation.
Several
ferries
and cargo ships travel to other ports in the Baltic Sea and, especially in the summer, they are willing to
take travellers on board
.
Get around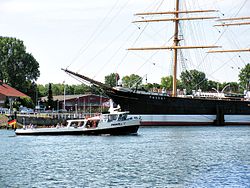 The main street,
Vorderreihe
, and the sea promenade of Travemünde are reserved for pedestrians and cyclists. There are buses that run to the town (every two hours) and the connection point is the train station. Riding a bike or walking is usually preferable as most of the streets are narrow and often get congested with cars driven by inexperienced drivers.
Foot Passenger Ferry NordermoleSmall passenger ferry commutes across the navigational channel from the Promenade to Priwall. During the summer, a smooth way for pedestrians to circumvent/short-cut the Priwall ferry.
See
The
old town
of Travemünde is almost unchanged over the centuries and gives an impression of how people on the German Baltic Sea shore built their communities in the past. It is structured like a ship (streets have names like "starboard" and "port side"), and it is best discovered on foot. It is bounded by the Kaiserallee and the Vorderreihe. Depending on your interests, Kurgartenstraße, Vogteistraße, Godewind, Fallrepp, Backbord und Steuerbord will probably be the most important streets for you. Most public buildings can be visited, and private buildings that are active in the tourism industry welcome visitors. Signs saying
Kein Eintritt, Privatgelände
(no entry, private property) indicate that you are not welcome. The area between Vogteistraße and Vorderreihe is focused on tourism with loads of shops, bars and restaurants while the area between Godewind and Kaiserallee in more residential/living oriented.
Kurabgabe
Germany is governed by law, and beaches are no exception. If you intend to spend a day at the beach between 15 May and 14 September, then you are obliged to pay a "resort tax" (German
Kurabgabe
). This resort tax is automatically collected by hotels and pensions from its guests (business travellers don't have to pay it). The tax is €2.60 for the city beach next to the promenade and one euro per day for the Priwall beach. The tax is €1.40 from 15 September to 14 May. Registered residents of Lübeck and Travemünde are exempted. In theory, you need to pay before you enter the beach at the tourism office, but in reality, checks are not frequent and non-German travellers will not have to pay a fine or cash on the spot.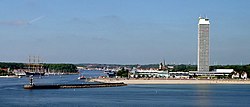 BeachThe 1.7km of white sand is the town's main attraction and the beach is, without a doubt, the place to be during the summer. The beach is the main reason why this town has been a popular seaside resort since 1800s.
phone: +49 4502 889180

address: Am Leuchtenfeld 1

Travemünde has two light houses. The old one was erected in 1539 and is one of the oldest light houses in Germany. The light house is 31 metres high and you need to climb 142 steps to the top. It was in service until 1972, when the new navigation light on top of the Maritim Hotel was erected. Today it houses a maritime museum that focuses on the history of the light house. During the summer season (May until October), the museum offers several walking tours to explain the history and development around the light house.

New light house

address: Nordermole

The new lighthouse is on the Mole, which delimits the passage for the ships, right on the summit of the navigation channel. The new lighthouse is not to be confused with the navigation light on top of the Hotel Maritim.

phone: +49 45 029-9980

address: Torstraße 1

The exhibition illustrates the development of Travemünde as a sea resort since 1802.

MövensteinGlacial erratic which legend says a seagull dropped. Basically a rock sticking out of the water but has a history regarding bathing local activities and in German literature.
Do
phone: +49 4502 2249

address: Vorderreihe 12 a

The Priwall ferry commutes over the navigation channel for the big boats and connects Travemünde with the Priwall Peninsula. It is a historic ferryboat and very popular during summer as it is the easiest mode of transport to the sailing ship Passat and the calmer beaches on the peninsula.

address: Am Priwallhafen 16a

This tall sailing ship was built in 1911 in Hamburg and sailed between South America and Europe. In 1957 it was taken out of service due to the wreck of its sister ship Pamir. Today it is a museum ship and popular for wedding receptions and youth groups.

Brodtner UferWalk along the steep cliff line of Brodtner Ufer from Travemünde to Niendorf. The four km walk can be done in 1-1.5 hrs and it offers great views along the coastline.

address: pier Überseebrücke 2,

60 minutes sea and harbour cruise.

phone: +49 4502 74545

address: pier Prinzenbrücke

Sea and harbour cruises, trips along Trave river to Lübeck or along the Baltic Sea to Grömitz or Boltenhagen.
Events
phone: +49 451 388-1329

The main event of the year is organised by the Yacht Club. Around 1,500 sailors compete and parade with their ships. The event takes place in July and lasts about ten days.
Buy
phone: +49 4502 2031

address: Vorderreihe 56

Founded in 1806, this shop and café is an institution in both Lübeck and Travemünde. A visit to buy some marzipan or drink a hot chocolate is a must.

phone: +49 4502 86660

address: Vorderreihe 63/64

Traditional department store.
Eat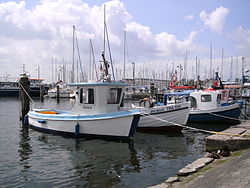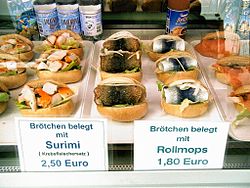 There are countless restaurants in summer but during the week and off season most places are closed. The best known cafe is Niederegger in the Vorderreihe with its street-level and 1st floor cafe.
Budget
Fishing port

address: Fischereihafen

Several fishermen set up huts or small shops where a variety of fish dishes are offered. These dishes are simple but good and offer good value for money. Popular with kids as they can see the fishing business in detail

Fisch Paul

phone: +49 4502 74200

address: Am Leuchtenfeld 8

An institution for fish sandwiches. Open only during the summer. No fixed closing time, but usually closes at sunset.
Mid-range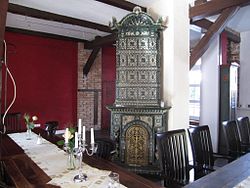 phone: +49 4502 77086

address: Vorderreihe 7

This house was built in 1551 as the bailiff's residence, served later as police station, then turned into a restaurant with fresh local kitchen. Brunch on Sundays.

phone: +49 4502 8896560

address: Trelleborgallee 2a

Yacht Club restaurant next to the harbour. The patio is very popular.

phone: +49 4502 307799

address: Auf dem Baggersand 3, 23570 Travemünde

Stylish restaurant with good roof-deck bar. Good view on the bypassing ships. During summer weekends reserve for dinner.
Splurge
phone: +49 4502 3080

address: Kaiserallee 2 D

3-star Michelin restaurant, the first in the state, and in itself a destination for gourmets. Reservations are essential!
Drink
The Casino was one of the oldest German casinos (founded in 1816) and rose to fame after the World War II, when Aristoteles Onassis was one of the guests and Josephine Baker sang in the night club. Since it closed in 2012, places to wear neat dresses are limited. The Hotel Maritim does have the Nightsailor bar but it caters primarily to the hotel's guests and is rather small. Nightlife is continuously changing and focussing more on parents/families and pensioners. If you want serious clubbing, bars or nightlife action, then you will need to travel to Lübeck or even Hamburg.
There are several small bars in the fishing port and the old town that are only open during the summer. So drink a cocktail and move to the next bar until you have found your preferred place but keep in mind that most places close latest by 01:00.
phone: +49 451 28032940

address: Strandpromenade 4

Lounge with live music next to the beach. Open during the summer and offers cocktails, et al.

phone: +49 4502 880-9851

address: Auf dem Baggersand 7

Restaurant and bar in the fishing harbour.
Sleep
There are a lot of holiday apartments for rent. During summer, the town is very busy and reservations are essential.
If you do not plan to stay for at least a week, hotels are another option.
Travemünde's tourist office is ready to help with finding accommodation, they have big list of options to stay, mostly at local's homes.
Budget
If you are on a tight budget, it is better stay in
Lübeck
because Travemünde isn't cheap and has fewer choices of accommodation. There are good and cheap youth hostels in the small village Brodten and in Lübeck. The regular youth hostel was closed in 2007.
Mid-range
phone: +49 4502 75035

address: Strandpromenade 7

Directly on the promenade and just several metres from the beach. 33 rooms for one to three people in art nouveau style and a good restaurant. Closed in January. Minimum three nights during high season.
Splurge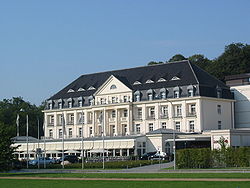 phone: +49 4502 307-0632

address: Außenallee 10

Traditional, but completely renovated grand old hotel in the centre of Travemünde, in the middle of a green garden. It's the former spa house of the town and has an amazing outdoor pool. 185 rooms and suites with sea view. Strong focus on spa and fine food.

Atlantic Grand Hotel Travemünde

phone: +49 4502 3080

address: Kaiserallee 2

Casino and hotel in one complex that opened in 1825. This art nouveau building houses several rooms and suites, most with outstanding sea views. Its casino closed in 2012, and today there is an excellent restaurant and bar on the premises.

Maritim Strandhotel Travemünde

phone: +49 4502 890

address: Trelleborgallee 2

Completed in 1974 and has 35 floors. The completion of this building was a milestone for the tourism industry, and it is still the tallest building on the German Baltic coastline at 119 m. This edifice houses the hotel, a pub and on its top floor a restaurant with wide views over the complete region. The spa area is completely renovated but the rooms are not. It is very popular for receptions and associations or company parties, so reserve in advance during holiday seasons.
Connect
Travemünde is very well covered by German GSM/3G/4G providers and, due to intensive tourism, the infrastructure is sufficient at all times. Most Germans with smartphones have flat rates for Internet on their smartphone due to the relatively cheap prices (starting from €10 per month). There are two internet cafés and the tourist office also offers public Internet access at low rates. Wi-Fi is not so widespread, due to legal limitations.
Play off

phone: +49 45 0288-8512

address: Kurgartenstraße 74

Playpoint

phone: +49 45 0284-4901

address: Rose 10-12
Cope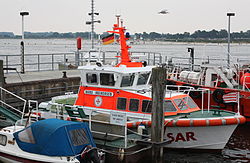 The hospital at Priwall closed in 2004 but there is still a medical centre in Travemünde and several General Practitioners are located in town. Lübeck has an extensive university clinical centre and all medical facilities. Being a port town, Travemünde has a police station, coast guard, sea rescue service and a customs office.
phone: +49 4502 800 1700

address: Dreilingsberg 7

phone: 112

Travemünde teams up with Lübeck to deliver emergency response services.
Go next