Trbovlje
Trbovlje
is a mining town in the heart of
Slovenia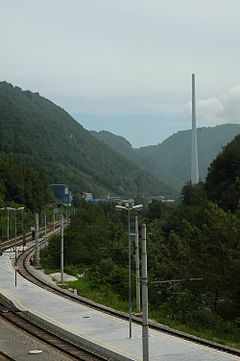 Understand
The archetypal East European mining town, Trbovlje's grim coal mines are best known for giving birth to
Laibach
, the Slovenian icon of industrial music. Still, the setting by the lovely Sava River makes it considerably less grim than you might expect, although the giant Lafarge cement mill doesn't exactly improve the view.
Get in
Trbovlje is just 50 minutes (€4) from
Ljubljana
by train, along the line to
Zidani Most
and
Zagreb
. Commuter services run hourly. The train station is about 5 km south of the center, but buses meet all incoming trains (310 SIT).
Get around
Trbovlje is rather stretched out along a north-south axis, the main road being called Trg revolucije to the south and Trg svobode to the north. You can either hike on foot or hop on the next bus that comes along (no signposted schedules, but they run every 30 min or so).

See
Mining Museum (Zasavski muzej), Ulica 1. junija. A provincial museum devoted to Trbovlje's raison d'etre, coal mining. The first floor showcases (mostly bad) art by local miners, the second has exhibits on Trbovlje's history and development (explanations only in Slovene, alas), and the third has some rather interesting mining-themed sculptures and etchings by Stojan Matič. Open 8 AM-1 PM Mon and Fri, 8 AM-6 PM Tue-Thu and 9 AM-noon Sat. Free entry.
Trbovlje Chimney (Trboveljski dimnik), 2 km east from the station. Trbovlje's main claim to statistical fame, at 360m this is the tallest chimney in Europe. (For comparison, New York's Empire State Building is 381m.) Operated by Trbovlje's coal-fired power plant , it serves to disperse the plant's pollution over a wider area. Not really open to visitors, but you can get a fairly good view from the bridge above the railway station.
Eat
Restavracija Dimnik, Obrtniška cesta 1. Local restaurant that serves up pizzas and horsemeat dishes. Closed Sundays.
Drink
Bar Vagonček, at the train station. Basic drinks and plastic-wrapped sandwiches to munch on while you wait for your train.