Treasure Coast
Treasure Coast
is a region on the east coast of
Florida
. It has beautiful beaches and many opportunities to see nature, and have fun. It is comprised of Indian River County, St. Lucie County, and Martin County.
Cities
Despite the Treasure Coast being a relatively small area, there are many historic cities for you to enjoy, some larger than others, but all retain a sort of small town feel.
— A sprawling tropical city; the hotspot and largest city of the Treasure Coast.
— Fort Pierce is the largest county seat in the area with its Spanish colonial buildings and the ever popular Sunrise Theatre; sister city of San Francisco, California
— This town is closest to the Jonathan Dickinson State Park.
— Small town adding to the charm of the region, with a booming downtown area and great spots for boating. The town is shown in the banner above.
— Largest town in Martin County, home to a large area known as Martin Downs, with an equestrian center and a golf course.
— A beautiful city with neat architecture in the thriving downtown.
— Home of Pelican Island, this small town will charm you with all of its friendly residents, except for the "six old grouches!"
— Original spring training home of the Los Angeles Dodgers.
— home of the annual Frog Leg Festival
Understand
The Treasure Coast is a booming coastal area that grew from a swamp of nothingness to a resort oasis of 600,000 for many hotels, the PGA, the St. Lucie Mets, and many beautiful natural habitats and preserves. The self-proclaimed capital of the region is
Port St. Lucie
, which is the Florida home of the New York Mets and the PGA. In the suburban cities of the region are historic downtown regions and boating ramps giving access to the Atlantic.
The Treasure Coast consists of two metropolitan areas, the Port St. Lucie MSA (St. Lucie and Martin Counties) and the Sebastian-Vero Beach MSA (Indian River County). The climate on the Treasure Coast retains a relatively warm climate throughout the year, about 60 degrees Fahrenheit in the winter to about 80-90 degrees Fahrenheit in the summertime.
You can't visit the Treasure Coast without the opportunity to find sunken treasure from the 1715 loss of 11 ships in a Spanish treasure fleet during a hurricane in the area. Treasure has been found off the coast of
Port St. Lucie
,
Fort Pierce
,
Sebastian
, and
Vero Beach
. Much treasure has not yet been recovered, so who knows what can be down at the ocean floor for you to dig up!
Talk
Due to the close location to the Miami metropolitan area, it is good to know at least some Spanish, just to get you through
Miami
if you plan to go there. Also, the Treasure Coast is a region built from scratch in the
South
, so Southern accents may be quite common, and it may be useful to know some of the Southern jargon.
It's not uncommon to hear these Southern slang words, even if some people don't speak with a Southern drawl/twang (
word
: definition):
Y'all: you all, all of you
Buggy: shopping cart
Yankee: Northerner
Pocketbook: purse, checkbook, wallet
Hit the road: leave
Spigot: faucet
Get in
By train
The closest Amtrak station is in West Palm Beach; within the next few years this region will get one. The Florida East Coast Railroad has plans to remake its historical passenger line and allow Amtrak trains; the FEC's main line hasn't heard the rumbling wheels of passenger trains since the 1970s by the consolidation of passenger lines to form Amtrak. The proposed stations are to be located in
Fort Pierce
,
Stuart
, and
Vero Beach
.
address: 209 South Tamarind Avenue, West Palm Beach, FL 33401

Two routes going two directions. They'll take you from Miami to Orlando or Jacksonville. The station itself is listed on the National Register of Historic Places.

address: 801 N Parrott Avenue, Okeechobee, FL 34972

Right now, Okeechobee is just a stop without a ticket booth or waiting area.

address: 1400 Sligh Boulevard, Orlando, FL 32806

Amtrak service and local commuter trains served at this station

address: 600 S Persimmon Avenue, Sanford, FL 32771

Served by Auto Train with service to Lorton, Virginia, a suburb of Washington, DC.
By car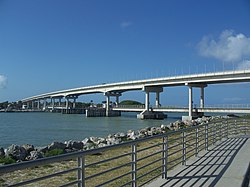 The Treasure Coast is served by Interstate 95, the Florida Turnpike, and
U.S. Highway 1
. Popular alternative routes include US A1A along Hutchinson Island, the barrier island bordering the ocean, and Indian River Drive, which runs the length of the Indian River Lagoon.
I-95 reaches the Treasure Coast from Bridge Road in
Hobe Sound
to Fellsmere Road in
Fellsmere
.
If you want to go here from or around Lorton, Virginia (or the Washington DC area), you can also take the Auto Train to
Sanford
and drive from there. (see above)
By plane
phone: +1 407-825-2001

address: 1 Jeff Fuqua Boulevard, Orlando, FL 32827

This airport is outside of the region, but is used to get into the region, serving almost all global US cities.

Melbourne International Airport

phone: +1 321-723-6227

address: 1 Air Terminal Pkwy, Melbourne, FL 32901

Serves Atlanta, Charlotte, and Washington DC at Dulles.

Palm Beach International Airport

phone: +1 561-471-7400

address: 1000 Turnage Blvd, West Palm Beach, FL 33406

Seasonal flights to and from Trenton, NJ, Toronto, and Boston.

phone: +1 305 876-7000

address: 2100 NW 42nd Ave, Miami, FL 33126

Serves all over the United States, South America, and Heathrow Airport in London.
Most of these airports are outside of the region, but they are the closest commercial hubs. Airports in the region are general use airports, so bring your own plane! General airports in the region are:
St. Lucie County International Airport
Martin County at Witham Field
Vero Beach Municipal Airport (VRB

)

Sebastian Municipal Airport
Get around
In the Downtown district of most cities, everything is walking distance, but otherwise it is good to have a car.
Public transportation is very limited, and most natives have their own vehicle. Visiting tourists and "snowbirds" from urban areas often express exasperation at the difference in distance between destinations on the Treasure Coast, and Florida in general. You pretty much need a car to get anywhere.
By bus/public transport
For the big cities of St. Lucie County (Fort Pierce and Port St. Lucie), there is a bus service. The Treasure Coast Connector serves the southern and central Treasure Coast from the Treasure Coast Square Mall in Jensen Beach to Downtown Fort Pierce. The routes of the TCC include: US-1 from Jensen Beach to Fort Pierce, PSL City Hall to Tradition, a downtown "trolley" in Port St. Lucie, two routes in Fort Pierce, a route through St. Lucie West, and a new route from Fort Pierce to south Vero Beach.
For Martin County (Stuart, Jensen Beach, Indiantown), there is a brand new bus service serving the major cities and communities of the county. The Marty transit system takes you from southern Port St. Lucie to south Stuart via the Treasure Coast Connector and two separate routes serving two cities; one route runs through Indiantown, and the other city route runs through Stuart, mostly in the downtown area.
For Indian River County (Sebastian and Vero Beach), serving almost the entire county with major hubs at the Vero Beach Airport, the two local malls, and another hub at US-1 and Oslo Road, the GoLine Indian River Transit system takes you from the Vero Beach Airport throughout Indian River County, even serving the IRSC Main Campus in Fort Pierce. The best part is no fares.
There are connections between each transit system at: the main Indian River State College campus in
Fort Pierce
, South Point Plaza in
Vero Beach
, and the Treasure Coast Square Mall in
Jensen Beach
. The Treasure Coast Connector is the system that links the GoLine IRT to the "Marty", from Indian River to Martin counties.
Websites
By car
In the major cities of the region, everything is within driving range, from the city hospitals to the local malls. Major highways in the area include: I-95, Florida's Turnpike, US-1 and State Roads A1A, 60, and 70. The Turnpike's rough paralleling of I-95 ends in Fort Pierce, after which it diverts northwest, eventually crossing I-4 and ending at I-75 in
Wildwood
. I-95 continues up the region, not exactly on the East Coast of Florida, but through flatlands.
By boat
On most of the Treasure Coast, you can get from town to town via the Intracoastal Waterway. This waterway can also be used to reach Hutchinson Island, on the other side. From one end of the coast to the other (Stuart to Sebastian), it should be 2 hours at the most. There are many marinas along the coast if you plan to launch a boat.
See
Martin County
Downtown Stuart - A beautiful downtown centered around a giant sailfish statue with several beautiful buildings, great food and lots of fun shops. Downtown holds great parades around Memorial Park for national holidays.
Downtown Jensen Beach - A fun artistic beachy downtown which used to be an old college town and still retains the college town feel.
Shepard Park - A boardwalk park in Stuart.
Elliott Museum - An interesting museum in Stuart on Hutchinson Island which has several antique cars and tells the history of Stuart and the Elliott inventors.
House of Refuge - last House of Refuge on Florida's East Coast, listed on the National Register of Historic Places.
St. Lucie County
Downtown Fort Pierce - This booming downtown is full of many beautiful "Spanish colonial" and "Mediterranean revival" style buildings for you to look at if you happen to get stuck in traffic; its close location to the coast makes great views from the sidewalks.
Port St. Lucie City Center - A soon to be downtown in PSL; there is the civic center building, a small amphitheater, a parking garage and a bus service. Plans are going into effect to build office buildings and hotels on the empty blocks around the civic center.
The Town of Tradition - main shopping center of Port St. Lucie, featuring the local Target, Kilwins, and the Taste of Little Italy Festival; Tradition Field is close by and is the spring Training home of the New York Mets. The stadium is in Port St. Lucie.
St. Lucie West is one of the best known neighborhoods in PSL, home to many "strip malls" and a wide variety of restaurants and food choices to suit anyone's taste, from barbecue to pizza and everything in between.
Indian River County
Vero Beach Museum of Art

Downtown Vero Beach - made up of varied businesses from eclectic shops like those in the Pueblo Arcade to Vero's government buildings. Enjoy a quiet breakfast at one of the many cafes or treat yourself to lunch or dinner at one of the many ethnic restaurants. Most downtown buildings are listed on the National Register of Historic Places.
State parks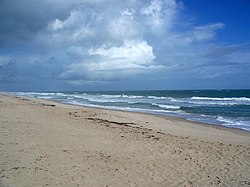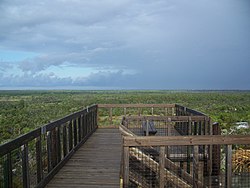 Do
Hit the Beach - This area has wonderful beaches for swimming surfing and more including:
Stuart Beach - with facilities and good waves this is a beautiful family beach
Bathtub Beach - enclosed in a reef this is a great place to find crabs and other small aquatic animals during low tide this; however it does not have facilities.
Jensen Beach - with more adventurous waters this beach is great and includes facilities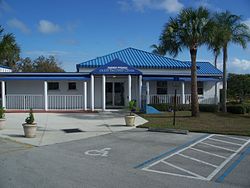 Oceanogaphic Center - stroll through this amazing park and learn about all and see ocean creatures and plants
Four species of sea turtle nest on Hutchinson Island, so Turtle Walks, in season, can be a spectacular sight. It is best to go with a group such as those offered by FPL through its Energy Encounter museum (see above). Be warned that it is both illegal and harmful to take a flashlight onto the beach. Turtles are easily distracted by bright lights and a flashlight may easily scare off a nesting adult or lead a hatchling away from the sea to its death.
Bathtub Reef and the Indian River are great places to learn to snorkel. Both are protected waters with a great deal of sealife. Ask at the Oceanographic Center or St. Lucie County Aquarium (at the north and south ends of Hutchinson island, respectively, for tips on conditions and locations.
Dive for sunken treasure. The Treasure Coast wouldn't be called such a place without the 1715 wreck off the middle of the coast. People have been hunting here since the 1900s, and much treasure has not yet been uncovered.
phone: +1 772 320-3100

address: 931 SE Ruhnke Street, Stuart

Sailfish Splash is a small water park, consisting of a 1,000 foot lazy river, two waterslides, a "playground" and two competitive-style pools.
Eat
Mulligan's
is a restaurant chain in Martin and Indian River counties, and further south in Lake Worth and Lauderdale by the Sea. Here, visitors can chow down on more than 50 dishes, including Mahi Mahi Sliders and any of their 7 lobster dishes; steak, ribs and jerk chicken are available as an alternative.
Mulligan's Beach House Bar and Grill

address: Jensen Beach: 2019 NE Jensen Beach Blvd.; Sebastian: 806 Indian River Dr.; Vero Beach: 1025 Beachland Blvd.; Stuart: 61 W Osceola St.

A One of the most popular "bar and grills" in Martin and Indian River counties. Try their exquisite Baja Fish Tacos or the BBOB, the Best Burger on Beach. Four locations on the home region on the Treasure Coast for you to enjoy.
Another locally-favorite chain of restaurants is
Duffy's
, which started out further south in Palm Beach County, and found considerably large business on the Treasure Coast with the three restaurants in the region. They've expanded far along South Florida, even owning a location in Orlando.
address: Port St. Lucie: 1608 NW Courtyard Cir.; Downtown Stuart: 1 SW Osceola St.; Stuart South: 6431 SE Federal Hwy

Almost 100 choices, including burgers, steak, ribs, wings, seafood.
Drink
Just about every restaurant on the Treasure Coast has a bar or an extensive liquor selection, mostly wine and beer and well-known cocktails, such as martinis, daiquiris, and Bloody Marys. The best restaurants to visit for cocktails and alcohol would be a sports bar or a "pub".

Stay safe
Florida's beaches are generally well maintained and guarded; they're reasonably safe. Nonetheless, rip currents and jellyfish can challenge even the best swimmer. Pay close attention to lifeguard instructions and warning signs. Never swim outside of marked zones. Wear shoes on the beach to protect your feet from glass and hot sand. When boating, monitor your weather radio frequently. Do not swim or operate a boat when under the influence of alcohol or drugs.
Florida's crime rate is slightly lower than the national average. Local authorities do an excellent job of patrolling the tourist areas. Use the same precautions that you would in any big city. Keep a close eye on your purse or backpack, especially when shopping or visiting attractions. Lock your car and stash valuables out of sight. Avoid walking alone at night in unfamiliar neighborhoods.
Although Florida's roads are frequently upgraded, traffic tends to be quite heavy through tourist areas. Try to avoid driving during morning and evening rush hours. Allow extra time to reach your destination; stay in the right lane except when passing. The roads can be confusing, so use a good GPS system or plan your route carefully on a map before leaving. Toll roads are well-maintained and lightly trafficked, making them an excellent alternative to the interstates.

Go next