Trebinje
Trebinje
is a town in the
Herzegovina
region.
Understand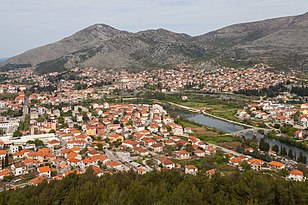 Trebinje is a small city in the Trebišnjica river valley in south eastern Herzegovina, about 30 km by road from Dubrovnik, Croatia, on the Adriatic coast. Despite its small size, there is plenty going on in this town in the way of live music, festivals, outdoor activities, and nightlife. It is one of the most beautiful cities in Bosnia and Herzegovina and is called "the city of sun and platan trees". The city is the economic and cultural centre of the region of Eastern Herzegovina.
Get in
By plane
Dubrovnik airport in Croatia is 30 km away from Trebinje, and maintains flights to many European destinations throughout the year. A taxi to/from the Dubrovnik airport to Trebinje should cost about €25 when arranged in Trebinje (through a taxi driver or local accommodation) and normally takes around 30 minutes. If you get a taxi from Dubrovnik airport without arranging in advance, the standard price is €60.
Tivat Airport is about 60 km away. The following airlines operate to Tivat Airport: Air Moldova (
Chiṣinǎu
, seasonal), Air Serbia (Belgrade), KrasAir (Moscow-Domodedovo), Montenegro Airlines (Belgrade, Copenhagen, London-Gatwick, Moscow-Domodedovo, Paris-Charles de Gaulle, Pristina, Rome-Fiumicino, Skopje, St Petersburg), Moskovia Airlines (Moscow-Domodedovo) Rossiya (St Petersburg), S7 Airlines (Moscow-Domodedovo), Transaero Airlines (Moscow-Domodedovo) There are also charter flights to Moscow, Helsinki and other cities.
Podgorica Airport is 125 km away and provides access to budget airlines like Ryanair and Wizz Air. When arranged in Trebinje, a taxi to/from the airport costs €50 and takes about 2 hours.
By bus
Trebinje is in close proximity to bigger, better known cities like Dubrovnik (in Croatia), Herceg Novi (in Montenegro), and Mostar, and has bus connections to these cities. There are also daily bus connections to other major cities in the region like Sarajevo, Podgorica, Kotor, Belgrade and Novi Sad. As of August 2016, the bus from Dubrovnik to Trebinje leaves M-Sa around 13:30-13:45, costs about €5, and takes 45 minutes to 1 hour. Be sure to wait for the bus to show up, as it is not uncommon for the Dubrovnik bus station to claim that the bus isn't running when it actually is. If you're coming from Kotor, consider taking a bus to Herceg Novi first, and then catch a bus from Herceg Novi to Trebinje (the last bus leaves at 20:00, costs €5, and lasts about 1 hour). This will save you at least €5 and several hours of transit time compared to the "direct" Kotor-Trebinje bus, which makes a detour through Podgorica.
Get around
Trebinje is a small city and is best experienced by foot. It is possible to rent bicycles from Adventure Trebinje or Hostel Polako. Contact Zoran from Adventure Trebinje at +38765545070. If you are visiting the city by bicycle, there is a bicycle repair shop called Sirena just across the river from Tropic Supermarket/Market 99 that is open from roughly 09:00-13:00 and 17:00-21:00.

See
Arslanagića mostBuilt in the 16th century, this Ottoman bridge used to connect the road between Dubrovnik and Istanbul. In the 1960s it was moved 5 km brick-by-brick to Trebinje to prevent being demolished for the building of a dam. Bring some beers from the shop and enjoy the sun setting over the hills.

Stari gradWhereas the old towns in many other nearby cities, such as Dubrovnik and Kotor, have become tourist traps, between the old city walls of Trebinje, people still go about their daily lives as normal. It is home to two beautiful old mosques, small alleyways, a museum, and tons of cafes that really get pumping on summer nights. Small, but very charming indeed.

Herzegovacka Gracanica MonasteryThe monastery was constructed in 2000 and is an exact copy of the Gracanica Monastery in Kosovo. This religious complex includes an impressive bell, icon gallery, parish's home, amphitheatre, fountain, church bookshop, museum and summer garden. The views of the city from the monastery are quite picturesque and can be seen from any point in Trebinje. Free.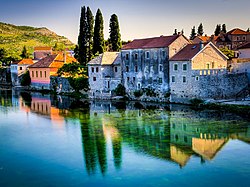 Do
Morning marketEvery day, women from the surrounding villages come to Trebinje to sell fruit & vegetables from their own garden at the market. Always fresh, cheap and by definition organic. Other items you can buy include homemade rakija, wine, cheese and clothing.

HikingTrebinje offers plenty of outdoor activities for those that enjoy hiking or adventure. The city is surrounded by 7 peaks, 5 of which have unique Austro-Hungarian era fortresses that can be hiked to and explored. Each peak offers hikes ranging in levels of difficulty from beginner to advanced, with hikes doable in 1.5-3.5 hours. Strac Fortress is one of the most famous and unique in the region, a modern facade that used to have over 365 rooms and provides fantastic views of the surrounding area. For those that wish to overnight in the mountains, contact Sinda Kunic at Walk With Me +387 (0) 65 645 224.

Paragliding

phone: +38765545070

Paragliding from Trebinje's highest peak, Mount Leotar, is also an experience that should not be missed for those who want to try the sport at a fraction of the cost that would be charged in most Western countries

River BeachStop by the city's river beach (bazen) to soak in some sun, cool off in the river, and enjoy a peaceful summer day. You can also grab a beer or other drink at the riverside bar during the summer.
Drink
Hercegovina is well known for its wine, and Trebinje is the perfect place to sample the local varieties for a fraction of what you would pay elsewhere. Family-run wineries dot the outskirts of Trebinje, and a degustations are available starting from €5 per person (including food). Zilavka is the local white wine, and Vranac is the local variety of red wine. You can find both of these wines, often from Trebinje's best winieries, at almost every cafe and bar in town. Likewise, various types of rakija purchased in a local cafe will be homemade. Be sure to stop by the local market located in the market square (piazza) every morning to find various types of homemade rakija being sold, as well as homemade wine. The best variety is on the Saturday market, when farmers come in from the villages surrounding Trebinje to sell their produce and alcohol.

Sleep
phone: +387 66 380 722

address: Vozda Karadorda 7

Staying in this small indie hostel is a no-brainer for backpackers, young couples, and the young-at-heart. Run by an American girl and Polish guy who are super passionate about the city and will give you all the info you need to get the most out of your experience in Trebinje. Includes a giant tasty pancake breakfast and friendly, relaxed atmosphere, right in the center of town.

phone: +387 59 280 114

address: Niksicki put 17

Choice of many dorms and an apartment too. 1.5 km from the Old Town.

phone: +387 (59) 274 050

Four-star hotel in the most beautiful part of town.
Go next