Trento
Trento
(Archaic English: Trent, German:
Trient
), is a bit of an upmarket town in the northeast of
Italy
.
Understand
History made it a proud town, with a number of large manors outside of the town, where bishops used to come for holidays. Nowadays it is one of the most expensive towns in Italy, due to farming, wine, and high-tech industries. At Easter the fields around Trento are in bloom with apple blossoms.
The town centre is more or less a pedestrian area, and walking around the historic centre you can see a number of outdoor frescos on historic buildings. In the past the river Adige flowed right outside the centre where now Torre Verde is.
The city is probably best known for the Council of Trent, which gathered in Trento in the sixteenth century for many periods of several years in buildings which dominate the town centre. The purpose of the council was to respond to the doctrinal challenge that the Protestant Reformation represented to the Catholic Church, with the results being known as the Counter-Reformation.
There is one other noteworthy historical event that took place in Trento, related to Judaism. A little boy named Simione died about five hundred years ago. The event was blamed on the Jews, with stories of Pagan rituals. Fictional scenes are depicted on two plaques on via Roma. In punishment for the alleged crime, all Jewish men in Trento were killed, while women and children were expelled. The Jews put a ban on Trento in return. In the 1990s, relations between Trento and the Jewish community improved when the Trentini stopped (officially) honouring Simione as a martyr, and the ban was lifted. A plaque in a little alley off via Roma commemorates this occasion.

Get in
By car
A22 / E45 highway connects Trento to Verona to the South, and Innsbruck via Bolzano/Bozen to the North.
SS47 highway connects Trento to Padova.
By train
Trento is on the main train line between Italy and Austria/Germany. There is a regional train line to Malè and to Bassano di Grappa, with two daily trips to Venice and Padova.
From Verona, it is a 50-80 minute train ride, depending on which regional train. Please beware that, while the ticket distributors may offer First Class tickets, there isn't actually any First Class section on any of the departing trains! Don't forget to validate your regional train ticket on the platform before boarding the train.
There are 5 daily trains to/from Munich and Innsbruck. The travel time between Trento and Munich with the direct inter-city is about 4.5-5 hours.
Bolzano, the capital of Alto-Adige/Südtyrol is 45-50min north and is served by an average of two trains per hours.
Get around
The best way to visit the city is on foot or by bike. The city centre is closed off to traffic and small and pleasant to walk.
By bus
The beautiful mountains surrounding Trento can be reached easily using public transport
(the blue buses)
. The bus station is between the train station and the hostel.
By bicycle
Rental bike companies offer some easy biking itineraries in the Trento region.
Mira, based in Venice (g.deconcilio@gmail.com) offers Trentino easy biking tours with guide services on roads with sparse traffic and quiet scenery. For a small fee they will deliver bikes to B&Bs, hotels and railway stations.
Bike RentalYou can rent bikes by registering for €15 in advance. Then, the first hour of each ride is for free. There are some stations in the city - one of them is in front of the tourist information on Piazza Dante.
See
Trento Cathedral

Piazza Duomo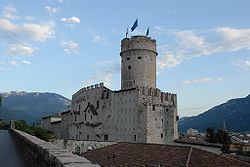 phone: +39 0461 233770

address: Via Bernardo Clesio, 5

Construction started in the 13th century and it became the seat of the prince-bishops from the 15th century onwards. 1528–36 saw the addition of a palace and an exhilaratingly Renaissance courtyard to the original fortifications. Features the renowned Torre Aquila.

Musoleo di Cesare BattistiA white circular structure that has a prominent position visible from the city centre on a hilltop (called Doss Trento and about 300m high).

Torre VangaExhibition space. In the basement you can see small streams of water emerging from the walls. It is not possible to visit the top of the tower.

phone: +39 0461 270311

address: Corso del Lavoro e della Scienza 3

phone: +39 461-944 888

address: Via Lidorno, 3

phone: +39 461 985511, +39 445 230315 (calls from abroad)

address: Via Belenzani 44

Museum of contemporary and modern art. It's main location is in Rovereto, but the Galleria Civica is in Trento.
The numerous Palazzi located throughout the city centre
Do
Trento offers a number of activities throughout the year:
Rent a bicycle and enjoy a tour of the city, going through the historical centre and take the opportunity to visit Castello di Buonconsiglio or the Duomo, as well as the various Palazzi located throughout the city. Don't miss the frescoes!
Visit small neighbouring communes on the Trento-Malè and Trento-Bassano di Grappa regional railway lines. A visit to Mezzocorona brings you even further off the beaten path.
Nearby Trento are Lago di Caldonazzo and Lago di Levico. Both can be reached by bus and by train (e.g. at the stations Calceranica, Caldonazzo or Levico Terme). There is possibility to go swimming at both lakes.
During the winter months, take advantage of the mountains and go skiing on one of the several ski hills located around Trento. Two options, reachable by bus, are Paganella and Monte Bondone.
Sit down at a café in Piazza Duomo and enjoy a good conversation and la dolce vitae.

Cable Car to SardagnaThe cable car brings you up to the village of Sardagna with great views over Trento. It is not always in service, so you might need to take the bus if you want to see the village.

Visit the neighbouring region of Südtirol. At the station of Trento there is the possibility to buy the "mobilcard Südtirol" which is a day-ticket for all public transport in Southern Tyrol. Cost: 15€ for 1 day.
Buy
Antiques, local traditional handicraft.
Wines, grappa and other spirits.
Eat
Located in the region where Italian and Austrian cultural influences intertwine, Trento has places to satisfy both the lovers of pizza and the amateurs of pork with sauerkraut. If you stop for coffee-and-cake, do not miss the local version of strudel with Melinda apples.
Budget
Trattoria PiedicastelloInexpensive local fare, on the other side of the river.
Mid-range
Ristorante Patelli

address: Via dietro le Mura A, 1

Pizzeria Chistè

address: Via delle Orne, 4

Rosa d'Oro

address: piazza Santa Maria Maggiore 21

If you are in the mood for Tyrolian food, then it's a good choice.
Golden Eagle Street Bar, Via Rodolfo Belenzani 74

phone: +39 0461 986255

address: Via Santa Croce, 15

Very good pizza and beer. Good choice of local dishes.

phone: +39 0461 816073

address: Via Sommarive 10, Povo

If you find yourself in the suburb of Povo, check out this cosy pizzeria with Tyrolean flavour, where pizza with chanterelles and speck is served alongside more traditional variants. This place is a favourite with students of the nearby faculty, so there is often a queue.
Gelato
Grom, Piazza del Duomo 27
Drink
Trento is famous for its local wines, relatively unknown outside of Italy, including the Teroldego (red) and Nosiola (white) wine. There are numerous wine bars that sell wine and small plates of cheese or ham. One good wine bar was 'La Sgeva' in Via Brennero, just north of the city centre (bit now there is a florist).
'Il simposio' is popular with university students.

Sleep
Ostello Giovenni di Europa, located on Via Torre Vangam. This is located right next to Piazza Dante, and in close proximity to the train station.
Hotel Venezia/ Albergo Garni. Best recognized by the name "Hotel Venezia", this hotel is located right in the historical centre, on Piazza Duomo.
America
Accademia
Grand Hotel Trento.

phone: +39 0464 505966

A hotel geared for sportsmen and women, some 30 km SW of Trento at Lago di Garda.
Go next
Lavarone Lake
Caldonazzo Lake — is about 20km from Trento. Take the train from the main station in Trento and get off at one of these stops: San Cristoforo al Lago-Ischia, Calceranica or Caldonazzo. The journey takes about 30min and costs €2.70 (one way).
Lake Garda — Go to the northern part of the lake which is about 45km away from Trento. There are some direct buses from Trento to e.g Riva del Garda or Torbole. Alternatively you can take the regional train from Trento to Rovereto and take a bus to the lake from there.