Treviso
Treviso
(Latin:
Tarvisium
) is a city in northeastern
Italy
, and the capital of the province of the same name. It is in the eastern part of the
Veneto
region, north of
Venezia
and south of
Belluno
. The city itself has 82,399 inhabitants (2001), with about 170,000 inhabitants in the wider metropolitan area, while the province has 795,264 inhabitants.
Get in
By train
Treviso is on the line connecting Venezia with
Udine
. A one way ticket to Venezia is €3.40 for the 30 km and half an hour trip (2017 August).
By plane
Treviso Airport
(
TSF
) is becoming increasingly busy as the main destination for Ryanair, Wizzair, and Transavia budget flights. There are flights to Treviso Airport from Barcelona, Bremen, Brussels. Bucharest, Charleroi, Chisinau, Cluj, Dublin, "Düsseldorf" Weeze, East Midlands, Eindhoven, "Frankfurt" Hahn, Iasi, Kiev, Leeds, London Stansted, Lwow, Malta, "Paris" Beauvais, Prague, Skopje, Stockholm Timisoara and Valencia as well as domestic flights from Alghero, Bari, Brindisi, Cagliari, Catania, Lamezia Terme and Palermo. Flights to and from Treviso Airport are operated by Ryanair, tel. 895 8958989 and Wizz Air tel. 895 895 3322.
In order to get from the airport to the Treviso Train Station (Treviso Centrale), take the line 6 bus, which stops on the main road outside the airport. Tickets can be purchased inside the terminal and cost €1.30.

By car
Treviso is connected through the national highway network

A4 - Torino-Milano-Venezia-Trieste
A13 - Bologna-Padova

Many national/regional roads originate in or pass through the city.
Treviso is also connected with Venice through the Terraglio SS13 main road characterized by a beautiful green landscape and ancient villas advisable for easy biking tours and itineraries for cycling holidays.

Get around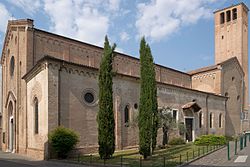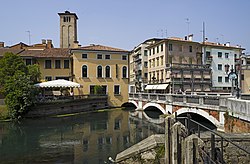 On foot
Discovering the city on foot is very easy. The historic center is actually quite small, so you can go around in the narrow streets.
By bus
The local buses are okay, but by nighttime the service becomes quite infrequent. The fares are €1 within the Treviso Comune and €1.50 outside.
By car
It is better to avoid driving your own car, as there are lots of one-way streets in Treviso and a one-way ring road around the walled city.
By bike
With the local rental bike shops you can make a good excursion at Palladian Villas. Ask locals for the Restera, a nice track all along Sile River. If you are brave, you can reach the Venetian Lagoon.
See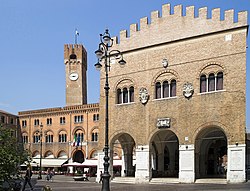 Antique Villas
On Treviso region you can make an antique villas easy biking tour (some to see only from outside), among the best are:
Villa Emo
Villa Maser
Villa Manfrin
Villa Avogadro degli Azzoni
Villa Passi
Villa Albrizzi-Franchetti
Villa Palazzi-Taverna
Villa Valier-Loredan
Villa de reali
Villa Cà Zenobio
Villa Minelli
Villa Casa Quaglia
Villa Lattes
Do
Seminario Vescovile di Treviso, in via S. Nicolò. Ask to go in the "Stanza affrescata" by Tommaso da Modena: on the wall, between others, there is the first monk painted with spectacles in the history of Painting.
Eat Tiramisu. It was 'created' in Treviso, at Ristorante le Beccherie in Piazza Ancillotto. Unfortunately today there is no special place to eat Tiramisu. A Pasticceria near the Railway station has tiramisù made with savoyard biscuits, the original recipe.
Buy
Local food like radicchio rosso and wine, but it is better to shop in the small towns in the countryside.
Clothes and shoes: outlets are everywhere, if you go to Montebelluna, you will find shoe outlets (Geox, Diadora and so on).

Eat
address: Via Postumia Castellana, 2

A restaurant characterised by typical local cuisine, an exclusive design, a lively and welcoming environment and a spectacular display of all wines, that simply astonishes lovers of good wine.

Muscoli's Osteria Trevigiana

address: Pescheria, 2

An ancient hosteria in a charming place: in front of The island of fishmarket, right in the historic centre of Treviso. Local food include cicchetti, it means finger food and local people drink spritz, a light cocktail with prosecco wine, campari or aperol.

Le Beccherie

phone: +39 0422 540871

address: Piazza Ancilotto,10

Al Bersagliere

phone: +39 0422 541988

address: via Barberia21

reguional cuisine
Drink
address: Via Postumia Castellana, 2

Trendy location with WiFi Internet connection, happy hour 6PM-9PM and lounge bar 9PM-midnight. Live music on Thursdays.

Osteria al Dazio

address: Via Cesare Battisti, 48

Nice place in an ancient tower of Dogana in Treviso town,in front of the Russian castle. The Osteria has a beautiful winter garden, and a terrced garden on the river Sile, if the weather is clement,you can seat at the charriot outside. Inside the tower, at the ceiling complete hams hung, waiting to be eaten! Good fingerfood, nice Prosecco and Raboso. Very interesting local place.

Basilico 13

phone: +39 0422549789

address: Basilico 13 (Centre), Piazza San Vito

Excellent little bar/restaurant in the centre of Treviso with a nice little seating area directly in front. It usually is packed for "aperitivo" Fridays and Saturdays from around 19 - 23. Dinner is also excellent with an emphasis on local Trevigian Cuisine.
Sleep
Mid-range
phone: +39 041 5901100

address: Hotel La Meridiana

Hotel Relais Monaco, Converted old Venetian villa.

phone: +39 0422542904

address: Viale Graziano Appiani 36

Homestay bed&breakfast at walking distance from the ancient walls of the historic centre of Treviso, free Wi-fi connection, very good cappuccino, 3 km from Treviso Airport, 1 km from railway station.

address: Via Postumia Castellana, 2

Four star business hotel close to Treviso airport, with free shuttle service to/from Treviso airport and Treviso centre.

Ca' Maffio Hotel

phone: +39 0422 780774

address: Via Principe, 70

14th century country house hotel in the nature park Fiume Sile, few kilometers away from Treviso and Venice.

phone: +39 041 5904528

address: Via Don Bosco, 47, IT 31021 Mogliano Veneto
Splurge
phone: +39 0423 523411

address: Via Canova, 298, IT 31011 Asolo
Go next