Triglav National Park
Triglav National Park
(
Triglavski Narodni Park
) covers nearly all of the
Slovenia
section of the
Julian Alps
, a total of nearly 85,000 hectares and is centered on
Mount Triglav
(2864m). It is popular for its outdoor adventure possibilities, numerous gorges and waterfalls, and the spectacular
Lake Bohinj
.
Understand
Triglav National Park borders
Italy
in the west and
Austria
in the north. It attracts over two million visitors annually. The park includes 25 settlements, with a total population of 2,352, most in the town of Ribčev Laz.
Tolmin Gorges
are the lowest and southernmost access point to Triglav National Park and an extraordinary natural feature.
History
The first proposal to protect the area around Triglav came from Prof. Albin Belar in 1906. However, it was not until 1924 that the Alpine Conservation Park was established in the valley of Triglav Lakes. In 1961, the Triglav National Park was founded and in 1981, the borders were expanded to their current locations. In 2003, Triglav National Park was included in the UNESCO MaB (Man and Biosphere) network.
The park is home to many plants and animals. The park's most revered animal is the chamois, of which only 2,000 exist. Legend tells of the
Zlatorog
, the golden-horned chamois that live on the mountains. Other wildlife includes ibex, marmot, golden eagles and the brown bear, although most animals stay away from humans and animal sightings are rare. Common plant life includes the Julian poppy and the purple Zois bellflower. Most plants are protected.
Tourist office
Tourist Office Dovje-Mojstrana in Mojstrana, tel/fax +386 45891 320 Tourist Office - Infos

phone: +386 5 380 04 90

In Kobarid, Tourist Office - Infos

phone: +386 5 380 04 80

In Tolmin, Tourist Office - Infos
Get in
By bus
Buses run hourly from
Ljubljana
to and Lake Bohinj (Bohinj Jezero), in the southeastern corner of the park . The buses stop in and . The 30-km journey from
Bled
takes 45 minutes. Schedules are available
online
.
By train
There are around 6 trains a day each way between Bohinj and other stations to
Nova Gorica
. From Nova Gorica there are onward connections to every city in Italy and other parts of Slovenia. The train is cheap and the stations along the way are very picturesque with flowers adorning the station platforms and most of the journey offers impressive views of the turquoise Soca (Isonzo) river.
On some weekends during the summer there is a steam train service between Nova Gorica and Bled. The tickets include a return journey and lunch at Bled Castle.
Many of the outdoor adventure agencies based in
Bled
run sports-based excursions to the park.
See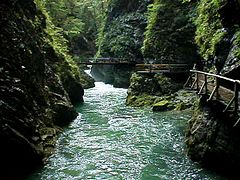 Vintgar GorgeA wooden footbridge path (dating to 1893) runs for 1600 m along the Radovna River, terminating at the Šum waterfall.

Lake Bohinj (Bohinjsko Jezero)Pronounced BAW-heen. Beautiful lake surrounded by the Julian Alps.

Pokljuka Ravine2-km long and 40-m deep, carved into limestone by water flowing from the Pokljuka glaciers, the only reminder of which is the Ribščica stream, a tributary of the Radovna River.

Savica Waterfall60-m high waterfall and a must-see. Climb up a series of zig-zagging steps to the top of the gorge. Very popular tourist attraction.

Peričnik Waterfall

The Source of the Soca River

Kluže FortressImposing picturesque fortification positioned above the deep gorge of the Koritnica River.

Mostnica GorgeThis smoothly carved ravine is 1-km long and 20-m deep, with hundreds of circular hollows known as river mills. Be careful if it is raining. The 21-m Mostnica Waterfall (Slap Mostnica) is an additional 40-minute walk through the fields to the north.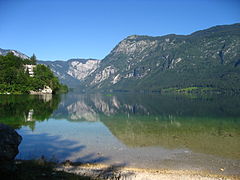 Church of St. John the Baptist

address: In Ribčev Laz

Tiny church, but includes some of the most brilliant frescoes in Slovenia, many painted by the Master of Bohinj. The exterior frescoes, however, are barely discernable. Dates to the 13th century. Wooden porch paved with river stones form the date 1639.

Migovec CavesA 24,900-m (82,000 ft) long and 975-m (3,200 ft) deep Alpine cave system within Mount Tolmin Migovec.

Boka Waterfall
Do
Climbing Mount TriglavMount Triglav is the 2864-m high "Three-Headed" mountain found on everything Slovenian ranging from the national flag to Laibach's LP Krst pod Triglavom (Baptism under Triglav). While you don't need any climbing skills to ascend it, you should have no fear of heights or steep parts and you should trust your grip. Starting from the nearest mountain hut, the easiest route to the peak will take less than a day. There are many steep parts but everywhere there are cables and metal handles to hold on to. As on all mountains, the weather can be viciously changeable, with temperatures alternating between +30 and -10°C, even in summer. The routes to the top are open only between June and October, and ascending with a guide is, while not legally mandated, very advisable due to the labyrinthine route. Most climbers spend two nights on the route, although fitness nuts have been known to complete it in a single day.

Vogel Cable Car RideRide up to the Ski Hotel at 1537m in 5 minutes. Offers great views of the lake and the reflections of the surrounding mountains, and possibly Mount Triglav. The optional walk down takes 2 hours. When at the top, spend some time to hike around the nearby ski slopes.

Other medium height mountains include:
JelovicaTalež

PokljukaGaletovec, Lipanca

MežaklaJerebikovec

KaravankeA 120 km long mountain range of the Southern Limestone Alps on the border between Slovenia and Austria. It is traversed by important trade routes and has a great tourist significance. Ajdna, Roblek under Begunjščica or Dobrča.
CanyoningTriglav National Park has several picturesque gorges.
RaftingPopular at the Soca River.
Festivals
Kravji Bal (Cows Ball)

address: near Hotel Zlatorog

Celebration of the return of the cattle from the pastures. Includes folklore events, live music, and a lot of drinking
Eat
Outside of the settlements, the mountain huts usually sell refreshments.
In Ribcev Laz, many of the hotels have restaurants.
MK Pizzeria

address: Ribcev Laz

Gostilna Rupa

address: Srednja Vas 87

One of the best restaurants in the park, specializing in pork and fish. Live music on Thursdays.

Gostilna Mihovc

address: Stara Fuzina 118
Sleep
Better accommodation options are located in the nearby towns of
Bled
,
Dovje-Mojstrana
,
Kranjska Gora
, and
Bovec
.
Mountain huts offering simple meals and accommodation are scattered about the national park. Reservations are strongly advised in peak season. Camping is prohibited in the park.
Stara Fužina
phone: +386 45 746 555

address: village of Stara Fužina

Two bedroom apartments with kitchens that can accommodate 4 or 6 people. There is a common room and free internet downstairs.
Penzion Bohinj
, Stara Fužina 12, +386 4 572 34 81 / +386 51 349 035 (penzion-bohinj@stip.si / www.penzion-bohinj.si). Hotel has 54 beds in 25 two- or. three-bedded rooms. B&B, half board, full board (price: 31-50,50 €).
Bohinjska Bistrica
phone: +386 8 200 41 40

address: 17 Triglavska cesta, Bohinjska Bistrica

All rooms are designed with warm natural materials and high standard equipment and offer a magnificent view towards Julian Alps.
Ribčev Laz
Hotel Bellevue

address: Ribcev Laz 65

Agatha Christie stayed here and commented that the lake is far too beautiful for a murder.

Hotel Jezero

address: Ribcev Laz 53

The most prominent hotel on the lake. Pool, sauna, and fitness center. Popular restaurant with great food.

Pension Kristal

address: Ribcev Laz 4

Hotel Pod Voglom

address: Ribcev Laz 60

The cheapest option around. Rooms in the main building have shared shower facilities.

Pension Rozic

address: Ribcev Laz 42

Rustic rooms but comfortable. Restaurant with good meat dishes.

Hotel Zlatorog

address: Ukanc 65

Dreary rooms but free use of the pool.
Cope
As in all of Slovenia people generally speak a high level of English. Knowledge of Italian and German is also common although locals always like to see foreigners try out some Slovene phrases.

Stay safe
When hiking, always check
weather conditions
. In case of storms, seek shelter in mountain huts. You should have proper equipment for hiking, including hiking shoes, helmets, clothes (with warmer clothes in backpack even in summer!) Use of ropes and belays is advisable for ferratas.
Snakes and bears can be found in Slovenia although it is very rare to encounter them.
In case of emergency, call 112 or contact nearest mountain hut.
Go next