Trikala
Trikala
(Population: 81,355 (2011)) is a city in
Thessaly
with a good cafe and nightlife scene. It is an agricultural town that is well placed for those going to
Meteora
15 km north or the Pindos Mountains to the west. It lies on the Litheos River that runs through the center of town.
Understand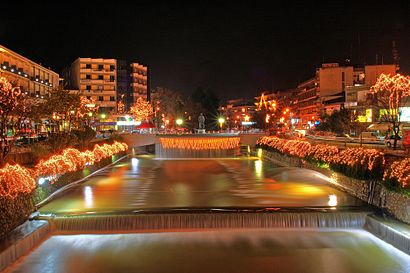 History
Homer mentioned the city as Trikala and is supposed to be the birthplace of the god of healing, Asclepius.
Get in
By plane
The closest airport is Volos airport (
VOL
), situated in (Nea Anchialos), about 130 km W from the city. Volos may be the nearest airfield but only offers service during the warm-weather months.
Ryanair operates flights from April to October to/from Hahn (Frankfurt), Bergamo (Milan), Rome and Charleroi (Brussels) airport.
Belle Air operate to/from Tirana.
Transavia operate to/from Amsterdam.
There is a bus connecting airport and Volos bus station. Buses are waiting to pick up travelers after a plane lands, the cost form the airport to Volos Bus station is €3. Then you have to get another bus or Train from Volos to Trikala. The bus station in Volos is about 1 km from the train station.
The nearest airport offering year-round international service is in Thessaloniki (SLG) about 3 hours away.

By regional coach

Interurban coaches ("KTEL" buses) (+30 24310 73131) are by far the most convenient way to travel around Greece, as well as for intra-regional travelling. There is frequent bus service from Athens Liossion Station to Trikala, as well as from Thessaloniki bus terminal "Macedonia" to Trikala. There are several KTEL bus stops in the city. The main bus station is about 4 km out of town.


address: Trikala Ring Road




KTEL Bus Stop and Ticket Office

address: Όθωνος Street



By train

Trains (OSE) (+30 24310 27214) connect Trikala to other cities in Greece. Travelling with ordinary trains can be cheaper, although a little bit slower, whereas choosing a fancy faster Intercity train will cost the same amount of money, or even more than a KTEL bus. There are direct trains to Athens and Larissa to Thessaloniki.


address: Ευριπίδου Street



Get around
Most of Trikala's sights are within walking distance. Also, you can rent a bicycle for free at the tourist information centre. Large streets have bike lanes and most areas in and directly around the city are quite flat. There are also intra-city buses however their routes and bus stops are not marked properly, making it hard to use for the outsider.

See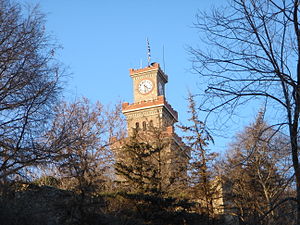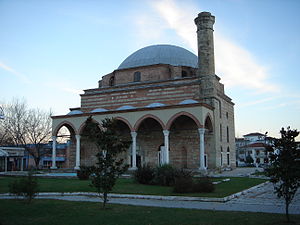 Koursoun TzamiThis Turkish mosque dates from the 16th century. It was built by Sinan Pasha who also designed the Blue Mosque in Istanbul.

Fortress of TrikalaThis Byzantine fort has a clock tower that provides an excellent view of the city as well as a small photo exhibition showing the history of Trikala.

Chapel of Profitis Ilias

Turkish QuarterA peaceful area of winding streets and old houses.

address: Klinou 10

Old flour mill and pasta factory turned industrial museum and park.
Do
Ski

address: Pertouli

Kayaking

address: Tria Potamia
Buy
phone: +30 2431027751

address: Kondili 50

Budget supermarket for groceries, with a large selection of non-food items on the second floor.

Street Market

address: 28 Oktober Street

Fresh local produce from small sellers, for lower prices than the shops.
Eat
address: Asklipiou 21

Modern gastropub with a daily menu. Greek and international cuisine, nice big portions.

phone: +30 2431077522

address: Ypsilantou 21

Traditional Greek restaurant with good fare, dinner is served until long after midnight. Try the Lathos, pork smothered in wine and apple sauce.

phone: +30 2431030302

address: 25is Martiou 3

A well-known spot for souflaki and gyros, right in the entertainment quarter. Big portions for around €2. Plates are available too but it's mostly a takeaway place.
Drink
address: Asklipiou 46

Cozy bar with drinks and food at reasonable prices. Locals come here to enjoy the traditional Greek rebetiko music.

address: Vasolissis Olgas 3

Get your morning brew here.
Sleep
Budget

(1 and 2 stars)


Mid-range

(3 and 4 stars)


Splurge
Koziakis Mountains
Connect
Tourist Information OfficeKiosk with information as well as free bicycle rental. Just leave your ID and you can take a bike for free for 3 hours.
Go next
Meteora
- The famous monasteries are 25 km northwest near the town of
Kalampaka
Koziakas Mountains
- A wide variety of outdoor activities are in the Koziakas Mountains, 20 km west of Trikala. The village of Pyli ("The Gate") stands at the entrance of one of Greece's most beautiful gorges. Right at the entrance of the gorge, 1.5 km past Pyli, is the 13th Century Church of Porto Panayia. The church has impressive mosaics and marble icons. Another 5 km past Pyli is the Mono Agios Vissariou, a 16th Century monastery. The ski area Pertouli is 30 km past Pyli. Tria Potamia offers kayaking in the Aheloos River.
Plastira Lake
- 30 km southwest of Trikala.