Tripoli
Tripoli
(
Arabic
: طرابلس Ṭarābulus) is the capital, largest city, principal harbour and biggest commercial and manufacturing centre of the
North Africa
country of
Libya
. Tripoli is in the north-west of Libya on the Mediterranean Sea. The city has a population of some 1.68 million people.
Understand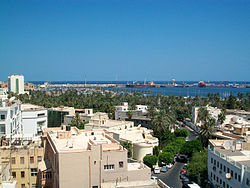 History
Tripoli was founded in the 7th century BCE by the Phoenicians, who named their settlement Oea—due to the city's long history, there are several sites of archaeological significance in the city and in its surroundings, not least from the period under the
Roman Empire
.
Climate
Tripoli's prevailing climate is typical Mediterranean, with hot dry summers, cool winters, and some modest rainfall.
Get in
Visas will be needed, and those can be attained via embassies or consulates. Roughly US$50–150, you should obtain the visa prior to arrival and be prepared for getting your hands on lots of information, best to ring first for the latest requirements as they change regularly. Business visitors or others with the right 'connections' may be able to arrange a visa on arrival. The cost is 100
dinar
, but the process can be slow. This must be paid in Libyan dinar. If you do not have dinar, you will have to go to the area after baggage reclaim to exchange some money (minus your passport). The security staff will allow you back in, but make sure they see you leave to be sure.
Leaving Libya requires the right stamps in your passport. Your hotel is required to present your passport to the authorities where your visa will be stamped. Make sure you confirm this with the hotel prior to checking out or else you are liable for a fine or worse when clearing immigration.
Make use of the business class lounge at Tripoli Airport (LYD 30 charge if you are not a first/business traveller) where the toilet facilities in there are clean while the same cannot be said for the ones in the general lounge.
By plane
As mentioned before,
both airports have been closed
following the latest offensive by the Tobruk-based faction to capture Tripoli from the Government of National Accord (GNA). Tripoli International was captured on 5 April 2019 and Mitiga was hit by airstrikes on 8 April.
Tripoli International AirportThe nation's largest airport. It is closed as of Apr 2019.
Mitiga International AirportIt is closed of Apr 2019.
The nearest functioning airport as of Apr 2019 is 200 km to the east in Misrata (
MRA
).

By train

There is no train network operating in Libya yet, although Libya is planning to introduce such a service between the east and west of the country. This is in the planning stages and a Chinese contractor has already been brought on board.

By car

Tourists travelling to Tripoli used to make their way there by road from Tunisia which is nearer than the other border from Egypt, the journey took approx three hours drive from the border with Tunisia. This journey should only be completed in daylight hours as its very dangerous at night, many sheep, camels, cows, and of course shepherds roam the roads in evening and are hard to spot.
There have been reported incidents of bandits operating on this route and it is therefor advisable to make others aware of travel plans.

By boat

Tripoli used to be connected with ferries from Malta and other parts of the Mediterranean. However, due to decades of isolation and the current turmoil there are as of 2017 no scheduled ferries to Tripoli or anywhere else in Libya. For those intent on travelling by ferry, an option might be to travel to neighboring Tunisia, a country that receives plenty of ferries from ports in Europe, and continue overland. Otherwise, the only remaining option is freighter travel or private boat.

Get around
The best way to see Tripoli is to walk, there are plenty of great guides out there (books) to help you out and also you may come across some half-useful Libyan versions. The people are friendly and very inquisitive. But be aware if you're a westerner, or stick out like a sore thumb compared to a local. Don't walk around at night alone. Taxis are also useful but can be pricey for westerners.

See
Assaraya Alhamra MuseumThe national museum of Libya, covering 5,000 years of history in a vast palace complex with numerous courtyards which dominates the city skyline and is located on the outskirts of the medina. There are several classical statues and fountains from the Ottoman period scattered around the castle.

Gurgi MosqueBuilt in 1834.

Karamanli Mosque

Arch of Marcus AureliusOnly surviving Roman monument in the city.
More and more palaces (especially from the Karamanli period) are also being restored and opened to the public. The basic street plan of the medina was laid down in the Roman period when the walls were constructed as protection against attacks from the interior of Tripolitania, and are considered well planned, possibly better than modern street plans. In the 8th century a wall on the sea-facing side of the city was added.
Three gates provided access to the old town:
Bab Zanata
in the west,
Bab Hawara
in the southeast and
Bab Al-Bahr
in the north wall.
The
city walls
are still standing and can be climbed for good views of the city. The
Bazaar
is also known for its traditional ware; fine jewellery and clothes can be found in the local markets. The
Museum
, a fine modern facility located in the Red Castle, is Libya's national museum. It houses many artefacts from the country's Roman and Greek periods, including treasures from the World Heritage sites at Leptis Magna and Sabratha, and politically motivated displays such as the Volkswagen Beetle car driven by Gadaffi in the 1960s.
Martyrs' SquareFormerly known as Green Square. This is a popular gathering place. It gives some good views of the old city walls. Some of the shopping streets also start here. The square is often used for demonstrations (against the Syrian regime typically) and as a place for motor cycle enthusiasts to show off. There is nothing in the square itself to see.
Do
Prior to the conflicts of 2011 the city had a reputation as a good place to escape from the pressures of today's modern life. It might pay to wait until things have returned to some sort of normality before venturing out and about but there are wonderful beaches within driving distance, and the Old City and the Museum are good for hours of exploration. Adventurous types might try the nightclub on the 3rd floor of the 3rd building in the downtown tower complex. Like any proper nightclub it only opens at 11PM. A non-alcoholic beer will set you back a small fortune, and, like in Italy and Paris, there is a charge to sit at a table.
Fitness
There are a few gyms scattered throughout Tripoli - there's one downtown off of Omar Mukhtar Street that has fairly comprehensive free weights and aerobics classes. Also, the Sultan Gym located off of Gorgi Road has an extensive free weights section, as well as a women-only section.
All the 5-star hotels in the city have gyms with membership options ranging from 200-300 dinar per month.
Ein Zara Physiotherapy CentreOffers massage and all the basic fitness equipment for a far cheaper price of basic 75 dinar/month or about 130 dinar/month including massage. There is also a rumour of a gym in the Imad Complex (the 5 towers downtown commercial area).
Work
Most jobs for expats in Libya are in the oil and gas industry although there are major plans for development of practically every part of the Libyan infrastructure. This includes rebuilding roads, airports, a new railway system, towers and offices in the commercial district, and tourist projects near Tripoli and the Egyptian border.
Because of the perception that Libya offers very little compared to other Middle Eastern countries (and which is mainly true), and the fact that rates are generally better elsewhere such as Qatar or UAE, very few expats come to Libya and construction and engineering companies are desperate to attract people with experience.
Libya is changing rapidly though and there are already plans for the usual big shopping malls and big brand shops and supermarkets to open in Tripoli. As a note, the government generally owns the land, not individuals, so when the government agencies want to clear a patch of ground in the city and build something, they go right ahead and do it. You might wake up one morning to find a block of houses has been cleared nearby.
Doing business in Libya can be frustrating and there are many false leads. There are many stories of outside companies not being paid the full amount they are due for a project, especially the final invoice. Libyans are generally well educated and many can speak reasonable English. However, they still have a long way to go when it comes to the commercial aspects of business. Beware of the bidding process for example, if you submit you technical bid for a project and which receives the best score, and then have the best price to go with it, don't celebrate just yet. All too often, the client will now ask you again for you to come back again with your "best price". If there is a Libyan company competing against you, they may already have it wrapped up. Libya is embarking on an economic diversification project.

Buy
There are some big brand shops present in Tripoli, Marks and Spencer, Mango, H & M. Prices are similar in comparison to the UK.
Clothes The best clothing shops are generally near Martyrs Square and running up towards the former cathedral. Bargains can be found here including shoes and the usual knitwear which appears to good quality. Also in Gargarish and Benashour area there are many of nice shops there.
Furniture Gargarish Road running towards Hay Andulas is easily the location to go for any furniture or office equipment, and printing supplies.
Electronics The best electronics shops are also on Gargarish Road but for computer equipment head to the Fatah Tower in the downtown commercial district where there a couple of shops, in addition to the computer shops in Aldahrah.

Eat

The quality of food in Tripoli is good and generally inexpensive by western standards. Do not expect a huge variety, the cuisine is mostly Arabic. The chances of getting food poisoning is slim but beware of the fish, if you do feel inclined to sample the fruits of the sea, just take one look at the cleanliness of the harbor and the beaches.

There is an Oriental restaurant in the Corinthea hotel and another one in Gargash. Brush up on your Arabic; waiting staff speak little English and getting one of them to serve you at your table can be a challenge.
There are several cafes and bistros in Tripoli, mostly located in the Gergaresh strip all the way to Seyaheya. A few of the most popular venues are ; 02, W Cafe, Veranda, Caracalla, Cacao, Halaweyat Sharkiya and Caffe Casa.
Most of these cafes are also restaurants and serve a variety of dishes both western and middle eastern. All are popular among the foreigns of the city of Tripoli.

Budget
Mid-range
Splurge
Drink
Alcohol is forbidden in Libya. It is not available in any restaurants or hotels except black market which may be much pricier than you thought. Fines if caught are hefty.

Sleep
Budget
Mid-range
Nouzha Hotel

phone: +218 21 3601237

address: Abu Gfifa St

14 well kept rooms. Its size makes it more of a guest house and it seems to be very popular with longer stay foreign workers who prefer a homely touch.
Splurge
Cope
Embassies
Many foreign missions in Tripoli remain closed or have very limited consular services available due to the civil war hostilities. The Venezuelan embassy was ransacked and looted by rebel forces and others including the UK embassy were also damaged, and the Canadian and US embassies are now closed due to fighting in Tripoli. Many parts of Libya are under the
de facto
administration of the Government of National Accord, other parts of the nation have either no administration or are getting by with individual
ad hoc
arrangements.
If requiring assistance from your nation's consular representatives whilst in Libya, it may be possible to seek them out in a country adjoining Libya or from a partnered nation if a citizen of an EU state.
Some foreign representation may also be available in the city of
Benghazi
.
phone: +218 21 335 1633

address: Tripoli Tower 1, 7th Floor

phone: +218 21 4782044

address: Jasmin St, Hay Andalus Area, 2

Cyprus

phone: +218 21 3600499

address: Shara Al Dhul 60, Ben Ashour district

phone: +218 21 3338563, +218 91 3581227 (emergencies)

address: 18, Jelal Bayar St, Dahra

phone: +218 21 4781041

address: Jamal Al-Din Al-Waeli St, Hay Al-Andalus 1

Philippines

phone: +218 21 4781041

address: KM 7 Gargaresh Road, Abu Nawas

Serbia

phone: +218 21 3335404

address: Sh.Turkiya 14-16

phone: +218 21 335 1084

address: 24th Floor Tripoli Towers (formerly Bourj al Fateh)

phone: +218 91-379-4560

address: Jarraba St, Ben Ashour district

Closed.
Stay safe

Women may choose to dress modestly - long sleeves and long skirts or pants are considered most appropriate when shopping or sightseeing. Libya is not a conservative Muslim country, so head scarves are not necessary.

Go next
Roman Ruins of Sabratha and Leptis Magna are worth visiting. Sabratha is towards west of Tripoli and Leptis is to the east.
Tunisia