Trnava
Trnava
is a town in western
Slovakia
with a population of over 70,000.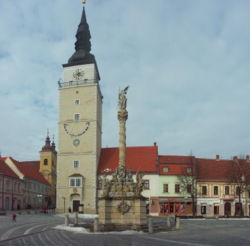 Understand
Trnava has rich history as a medieval city. It was a university town as early as the 17th century. It has also been seat of archbishop and the catholic church has influenced city during its history. There are many churches in city, well preserved baroque city center, it has been nicknamed "little Rome".
Trnava has been industrialized since beginning of 20th century. Recently it emerged as one of centers of Slovak automotive industry with big PSA Peugeot car plant built in 2005 and many smaller car components producers. Nuclear power plant is located close to the city near village Jaslovske Bohunice.

Get in
By train
Trnava lies on major Slovak train route (from Bratislava to Kosice). Therefore there is quite easy railway access from most of major Slovak cities. Train travel from Bratislava takes only about 30 minutes. There are another two railway lines stemming from Trnava: one with westward direction (Smolenice, Kuty) and another leading south-east to town of Sered. Trnava has direct railway connections with these European capitals: Vienna, Warsaw. Kiev.

By bus
Trnava is located on major D1 Slovak freeway and close to its R1 intersection. It has good connection to Slovak capital Bratislava and nearby cities such as Nitra, Piestany, Trencin. Bus station is located is located near Trnava city center next to railway station. There are buses leaving to/arriving from Bratislava at least once in every hour, more frequently in peak hours. Quite many people commute from Trnava to Bratislava and also from nearby villages to Trnava. Bus travel from Bratislava to Trnava takes about 50 minutes. There are direct bus lines to some major European cities such as Prague, Vienna, Munich.

By plane
Bratislava Airport (BTS) is nearest commercial airport located about 40 km southward. Another close airport is Vienna International Airport (VIE). Small airport serving mostly ultra-light aviation is located some 10 km westward near village of Boleraz.

Get around

Most points of interest can be reached from the center by walking. Car or taxi is preferred option to reach city outskirts. Keep in mind that traffic jams are quite common in peak hours. Trnava has public transportation system consisting of 16 bus lines. However, their frequency and comfort are rather insufficient. There are some bicycle paths in the city.

See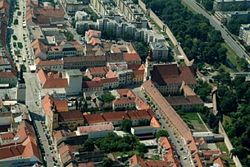 BelfryGo to the top of the tower for the view - tickets from the tourist office on the ground floor.

Cathedral of St. John the BaptistThis is the cathedral of the Archdiocese of Trnava. It was consecrated in 1637.

Basilica of St. Nicolas

SynagogueOriental style synagogue built in 1891.
Do
Watch football at Stadion Antona Malatinskeho, home ground of FC Spartak Trnava. They play in the Super Liga, the top tier of Slovak football, and often qualify for European tournaments. The national team also play their home games here. Rebuilt in 2015 with a capacity of 19,000, the stadium is close to the railway station and city centre.
Learn
Buy
City center (Stefanikova and Hlavna streets, Trinity square) has been traditional shopping area. Oldest shopping center Jednota is located there. Modern shopping centers have opened in recent years. Shopping center Max is about 1 km from city center near bus and railway stations. Major modern shopping cluster has evolved in north part of the city around Arkadia shopping park and Tesco mall.

Eat
Restaurant Na Mlyne, hidden down a tree-lined laneway on the road to Hrnciarovce nad parnou, is definitely one of Trnava's secret treasures.

Budget
Mid-range
Splurge
Drink

The city of Trnava is one of the few in Slovakia with its own distinct brand of beer. The Sessler brewery is located just north of town, on Pri Kalvarii road, and has its own restaurant. There is also a pub in the centre of town, on the main street near Trinity square, look for "Passage Europa" opposite the town hall, which serves only the Sessler brand of beer. Sessler beer comes in three varieties, light, dark and special, and does not disappoint!
North-east of town, on Oresianska, is the Mrva & Stanko winery. This brand of wine was created in 1997 and uses local grape varieties grown in the Little Carpathian mountains. Degustation sessions are available.

Sleep
There are several small hotels and so called "pensions" in the town.
Budget
Mid-range
Hotel DreamIn the centre, Kapitulska 12

phone: +421 33 59 2O 8OO

address: Jána Hajdóczyho 11, 917 01 Trnava

19 room hotel and restaurant, with indoor tennis courts.
Splurge
Connect
There is free wifi zone in city center around Trinity square. Some restaurants, cafes offer wifi for their clients and there are a few internet cafes in the city as well.