Trois-Pistoles
Trois-Pistoles
is a city of 3500 people (2011) in Bas St. Laurent in Quebec. It is mainly known to English-speaking Canadians for its homestay language immersion program, which nearly doubles the population of the town each summer.
Understand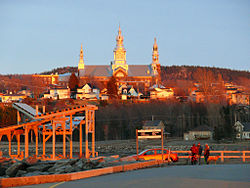 If you are in Trois-Pistoles, and you're not a language student, you are likely here because you are going to take a ferry to Les-Escoumins, or because you have just arrived by ferry. Nevertheless, the town is worth a short stopover and a cup of coffee across from the church.
The town is said to have been named for a silver goblet worth three pistoles, an old French coin, that was lost in the river in the 17th century.
Get in
By train



By bus

address: Petro-Canada, 684, rue Richard at Hwy 138




By boat
See
Maison VLB

phone: +1 418-851-2001

address: 23, rue Pelletier

This house is owned by and celebrates the famous Quebec novelist Victor-Lévy Beaulieu.

phone: +1 418-851-4031

address: 30 Rue Notre Dame Est

During the summer season, guided tours and the "Passion Collection" exhibition of figurines of monks.

phone: +1 481-851-2455

address: 552 Rue Notre Dame Ouest

A collection of antique cars, bicycles, furniture, dishes, toys, old stoves, tools.
Do
La Coop de Kayaks de Mer des Îles

phone: +1 418-851-4637

address: 60, rue du Park

Sea excursions with experienced guides.

National Trail - Basque Coast Section

phone: +1 418-714-2599

The 144-km Bas-Saint-Laurent National Trail stretches from Trois-Pistoles to Degelis crossing 10 municipalities. The course is divided into 12 sections each with between 8 and 15 km. At each point of departure and arrival of a section, a parking lot is set up with an information panel. The Trois-Pistoles part of the trail starts from the Basque Adventure Park in America and ends at the Basque Footbridge. Hikers will move from a seascape to a more forested landscape along the Trois-Pistoles River.
Buy
Basques public market

address: 400-1 Jean-Rioux Street

In the parking lot at the Caveau des Trois-Pistoles microbrewery (rue Pelletier).
Eat
Le Biarritz

phone: +1 418-851-4705

address: 89 Rue Notre-Dame Ouest

Known for its seafood and breakfasts.

phone: +1 418-857-3000

address: 138 Notre Dame Ouest

Osso buco and bib of beef, plate Treasures of the sea, fresh and pickled fish, mussels, fresh pasta, spare ribs, homemade desserts, Sunday brunch, edible flower gardens.

phone: +1 418-851-3337

address: 66 rue Notre-Dame Est

Québécois fast food. Poutines, burgers, etc.

Pétro-Canada Trois-Pistoles

phone: +1 418-851-4347

address: 684 Richard

Decent place for breakfast.
Drink
phone: +1 418-851-4440

address: 21 Rue Pelletier

Brewery and tasting room. Tour the brewery, taste the beer, enjoy the life music some nights. Varied beers ranging from German kellerbier to rye steak, an IPA smoke, abbey-style beers, with the double, triple and quadruple Pistol series.

phone: +1 581-645-8282

address: 1, rue Notre-Dame-Ouest

Coffees, beer on tap, wines by the glass, bar food.
Sleep
address: 330, rue Notre-Dame ouest (hotel) and 64 route 132 ouest (motel)

A 30-room motel on the highway and a 15-room hotel on the main street of the village, under common ownership.

phone: +1 418-851-4178

Non-smoking budget hotel. Free parking and WiFi. Air conditioning, microwave, and refrigerator in room.
Go next