Trois-Rivières
Trois-Rivières
(historically and rarely
Three Rivers
) is the second-oldest city in
Quebec
, founded in 1634. It lies almost half-way between
Montreal
and
Quebec City
and can make a nice stopover on travel between those two cities.
Trois-Rivières is the regional capital of the Mauricie administrative region of Quebec, a vast area of 39,748 km². Located at the junction of two economic regions, Trois-Rivières has a population of 137,000 (2016), and radiates through a pool of almost 475,000 people. It is 130 km from
Montreal
and 120 km from
Quebec City
on ​​the north shore of the Saint Lawrence River.
Understand
The Saint-Maurice River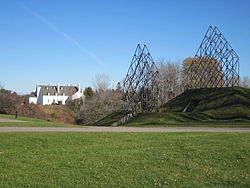 The Saint-Maurice river, with its watershed with a length of 587 km, is the main river of the Mauricie administrative region. The waters of four rivers bathe his magnificent Laurentian plain. St. Anne, Batiscan, Du Loup river and Maskinongé river are also important for economic and recreational tourism development in the region. Lake Saint Pierre has been part, since November 2000, of the World Network of Biosphere Reserves of UNESCO. Lake Saint Pierre is the only example of sustainable development, recognized by the United Nations, have a way of world-class navigation, crossing from one end to the other's territory.
History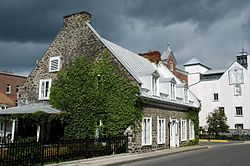 It was founded in 1634, but the city occupies a location known to the French since 1535 when Jacques Cartier, in a trip along the St. Lawrence, stopped to plant a cross on Saint-Quentin island. But the
Three Rivers
name was used for the first time in 1599 by Sieur François Gravé Du Pont, a geographer working with explorer Samuel de Champlain, who confirmed the name in 1603. Sieur Gravé Du Pont as he sailed river towards Montreal, saw little intervals a first tributary of the river, a strip of land, a second tributary, another strip of land, and finally a third tributary it took even to a different river. He did not know then that two large islands divide the course of the Saint-Maurice River in three parts where the latter flows into the St. Lawrence river. The name Trois-Rivières has stayed through the years and the city was incorporated in 1857. Location of a major fur trade during the first 25 years of its existence, Trois-Rivières remained the cradle of many "travellers", explorers and trappers, the most famous of which were Nicolet, Hertel, Godefroy, Radisson, des Groseilliers, Boucher and Lavérendrye.
Get in
By car
Autoroute 40 between Quebec and Montreal passes through Trois-Rivières.
By bus
An
Orléans Express
bus travels to Trois-Rivières about every two hours from the central bus stations in Montreal and Quebec. Cost for students is
$
45.32 for a round trip. Cost for adults is $53.28 for a round trip.
By plane
Get around
See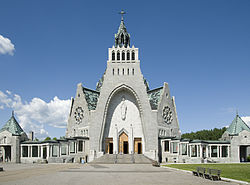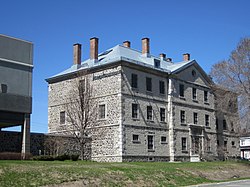 Québec Museum of Popular Culture

phone: +1 819-372-0406

address: 200, rue Laviolette

The museum presents six bold and unusual exhibitions, all in a distinctly Québécois style. Visitors can also look behind the scenes as the museum opens up its storage area to reveal part of its rich ethnological collection - an innovation in Québec.

phone: +1 819-372-0406

address: 200, rue Laviolette

The Old Prison of Trois-Rivières, classified as an historical monument, offer the visit-experience "Go to Jail!", where ex-inmates lead visitors on a tour that provides a real glimpse into prison life. This prison was in operation from 1822 to 1986, and closed its doors due to the unhealthy conditions. The tour of cells and places of solitary confinement is a true eye-opener! You can start the tour with a prison card that includes your photograph and fingerprints. Groups can serve a one-night sentence, upon reservation.

phone: +1 819-372-4531

address: 168, rue Bonaventure

Exhibit shows the different aspects of life in New France: political, social events, manners and customs, to discover the life of the ancestors.

Moulin seigneurial de Tonnancour

phone: +1 819-377-1396

address: 11930, Rue Notre-Dame Ouest

Historical site of the flour mill of the 18th century and the sawmill, both operated by hydraulic force and whose mechanisms are still functional. Art exhibitions are presented in the art gallery of the house of the miller.

Borealis, paper industry's history center

phone: +1 819-372-4633

address: 200, avenue des Draveurs

Museum on the history of the pulp and paper industry in Quebec. Housed in the old filtration plant of a paper.

Musée des Filles de Jésus

Centre d'exposition Raymond-Lasnier

Salle J.-A.-Thompson
Nearby
Centre de la Biodiversité du Québec

address: 1800 avenue des Jasmins, Bécancour

A science museum that educates about and promotes the conservation of Quebec's native species with exhibitions and walking trails.
Do
Grand Prix de Trois-Rivières​​The largest motor racing event to be held on an urban circuit in the Americas. It has served as a springboard for several major Formula 1 drivers. It stands out for its unlimited public access to the enclosures. The first weekend features FIA Rallycross racing, and the second weekend features NASCAR racing.
Buy
Centre commercial Les Rivières

address: 4225 Boulevard des Forges

140 stores.
Eat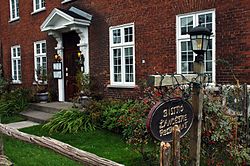 Drink
The main bar strip is located on rue des Forges between the Saint Lawrence River and rue Royale.
Nord-Ouest Café

phone: +1 819-693-1151

address: 1441 rue Notre-Dame

phone: +1 819-519-7888

address: 3965, Rue Bellefeuille

Brews their own beers, live music, food.
Sleep
Hotel Gouverneur Trois-Rivières

address: 975, rue Hart

Rates $95 and up. Downtown near the court house. The hotel offers 127 rooms, 77 in regular class and 50 in business class.
Auberge Godefroy Hotel-Spa-Golf. Becancour. Four-star hotel 10 minutes' drive from downtown Trois-Rivieres. Has a fine restaurant and health center. 17 575 boul. +1-800-361-1620 www.aubergegodefroy.com

address: 3600, boul. Gene-H.-Kruger

All rooms have a satellite TV, coffee maker, fridge, free Wi-Fi. Outdoor swimming pool, a gym, and a bar/lounge.
Go next