Trongsa
Trongsa
is a town in
Bhutan
, often known as the gateway to the east of the country.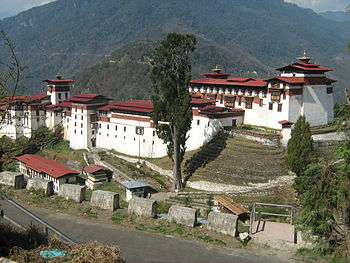 Understand
Trongsa is one of Bhutan's most historic towns, and the first monastery was built here in 1543.
The town's dzong is particularly impressive and is often described as a dragon flying over mountain peaks. Constructed in 1644, it served as the original seat of power of the House of Wangchuck before it became the ruling dynasty of Bhutan in 1907. All kings of Bhutan are first given the title of penlop (governor) of Trongsa, and the first and second kings ruled from the town.
The main bazaar is a smart street of three story white traditional houses. It is a good place to break the journey from Thimphu to Jakar.

Get in
Get around
Trongsa is a small town, and so it easy to cover on foot.
See
Trongsa Dzong. Constructed in 1644 and located on the top of an imposing hill, this dzong creates an impressive sight for miles around.
Thruepang Palace. The palace was built by the second king and was the birth place of the third. It used by reigning monarchs when on official visits to Trongsa. The building is closed to the public and like many of the early palaces is unimposing, but from an architectural and historical point of view it is still worth viewing.

phone: +975 3-521130

An attractive, modern museum in an historic tower.
Do
Trongsa Tsechu (festival) 2-4 Jan 2012. Held in the dzong.
Buy
Handicrafts. Phuntso Wangmo store on the main street (just down from the traffic circle) has a small selection of hand made goods such as woven cloth and wooden bowls.
Eat
Most of the buses heading from Thimphu to Jakar make a stop for lunch here, so there are plenty of places to eat on the main street.
Sleep
Budget
Mid-range
Splurge
Yangkhil Resort

phone: +975 3 521-417

Tashipang. A modern hotel offering unobstructed views over Trongsa Dzong.
Go next
Jakar is a 2- to 3-hour drive from Trongsa.