Tryavna
Tryavna
is a town in the region of
the Balkan
in
Bulgaria
.
Understand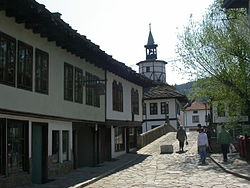 Tryavna (Bulgarian: Трявна) is a town in central Bulgaria in the north slopes of the Balkan range, on the Tryavna river valley, near
Gabrovo
. It is famous for its textile and crafts industry and typical National Revival architecture, featuring 140 cultural monuments, museums and expositions. Tryavna is the birthplace of Bulgarian writer Pencho Slaveykov and revolutionary Angel Kanchev.
The location has been inhabited since Thracian times, or for thousands of years, but the earliest definitive proof of the existence of the modern village dates to the 12th century, in the years around the conquest of the Second Bulgarian Kingdom by the Ottoman Turks. During the period of Bulgarian National Revival, when Bulgarian society redefined itself in the 18th and 19th centuries during the Ottoman occupation, the town became heavily involved in the development of crafts. Houses from this period feature their own architectural design. The ground floors had irregular forms and housed craftsmen and traders. The upper floors featured wooden bow-windows, the roofs were covered with well arranged rocks.
Climate
The city has a continental climate, owing to its position close to the Balkan Mountains and distance from the Black Sea. Tryavna has hot summers and cold, snowy winters — which is good for the popular sky resorts in the nearby Uzana area. This part of Bulgaria has all four seasons, although spring is brief and falls mainly in April. The average high daily temperature in summer is about 27°C and in winter about 4°C.
Get in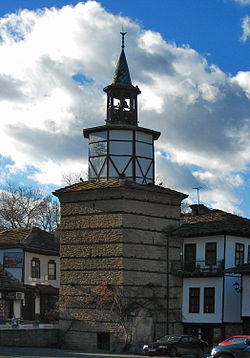 The town is well connected with the whole country thanks to its excellent road network and railway station.
By car
The town is on Route 609 and Route 552, which are the same road when they pass through Tryavna. Highway 55, running north-south, passes the town to the east and Highway 5 passes the village to the west.
By bus
A regular daily bus connect Tryavna with Sofia, though it runs only once a day. A bus runs back and forth from Tryavna to Gabrovo about 10 times a day during the week, and about half as often during the weekend.
By train
Tryavna is on a major north-south railway line and there are several trains from the major transport hub of
Gorna Oryahovitsa
, next to the historic town of
Veliko Turnovo
. From there, changes to trains from
Sofia
can be done. A few trains continues southwards to
Stara Zagora
and
Dimitrovgrad
. In the other direction, there are connections to Tryavna from the
Ruse
, on the border with
Romania
. Aditionally, the once-daily overnight train between
Bucharest
and
Istanbul
also calls here. Tickets and timetables are avalible at stations or at the website of national operator
BDZ
.
Get around

The town has its own small bus system, some taxis and marshrutkas. However, it is a comparatively small community and most of the historical and interesting areas are close enough to each other to be accessed on foot.

See
Do
A historical village and architectural preserve - the old buildings are maintained - Tryavna offers a lot to sight seers, photographers, people who enjoy shopping and similar activities. The town is also home to a number of galleries and museums, which art and artifacts from across the history of Bulgaria.

Buy
Tryavna offers a profusion of shopping opportunities, many of which cater to tourists, including shops selling sojourners, clothings, jewelry, arts and craft items and similar goods.
Eat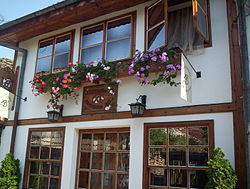 phone: +359 6776 2024

address: No. 45 P. R. Slaveikov Str. (45 ул. П. Р. Славейков)

This restaurant, which serves traditional Bulgarian food, is located in the old part of the town and represents a preserved house from the National Revival Period, dating back from 1830.

phone: +359 677 64501

address: No. 44 P. R. Slaveikov Str. (44 ул. П. Р. Славейков)

Country-style atmosphere, traditional Bulgarian food, summer garden.

phone: +359 677 63727

address: No. 7 Angel Kanchev Str. (7 ул.

This establishment is a meeting place for real beer and cuisine connoisseurs. They make beer from natural Belgian products and traditional Belgian recipes and technologies.
Drink
Drinking establishments are common in Bulgaria and Tryavna. Beer and alcohol are available at almost all coffee shops, restaurants and shops where food and refreshments are available. There are few establishments which serve only alcohol.

Sleep
Art-M Hotel

phone: +359 6776 2492

address: 20 Angel Kanchev St

Home to an art gallery, a cafeteria and a number of comfortable hotel rooms.

Brashlyan Hotel Complex

phone: +359 6776 3019

address: 6 Panorama St

Two-room apartments, one-room apartments, luxurious apartments and one-family houses situated closely to the hotel, amidst a grove of pine trees. The hotel also includes a restaurant, terrace over-looking the town, barbecue, conference hall, night bar and recreation center.

Complex Harmony Hotel

phone: +359 6776 2460

address: 54 Hristo Botev St

Coffee shop and restaurant, wireless Internet connection, a swimming pool and a summer garden.

Hilez Hotel

phone: +359 6776 6920

address: 17 Stara Planina St

24 double rooms, lobby bar and tavern with 100 seats.
Go next
Hiking, biking and camping opportunities are widely available in the nearby
Central Balkan National Park
and in the
Nature Park Bulgarka
, itself home to Ethnographic Complex Etara, Dryanovo Monastery, Sokolski Monastery, Shipka Pass, and the Uzana area. The Bozhentsi Trail (Екопътека Боженци - Дряновски манастир) leads to the village and the Dryanovo Monastery.