Tsaghkadzor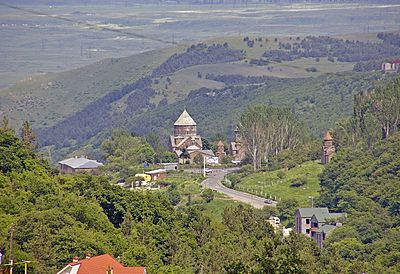 Tsaghkadzor
is a city in
Central Armenia
.
Understand
Tsaghkadzor is known for being a ski resort, with forests and an ancient monastery. In the summer, people go there to get away from the city life of Yerevan, and the heat, for the fresh air in the mountains. In the winter, the town is completely overtaken by skiers and people who just want to relax and enjoy the snow and scenery.

Get in
It can be a little tricky to get into town with public transport, with the usual method forcing you to stop first in Hrazdan town and catch something from there. The tourist information office at 3 Nalbandyan might have information on direct transport, and there are always taxis, which are not too expensive, especially when shared.

Get around
Car, foot, snowmobile, bicycle, relatively cheap taxi.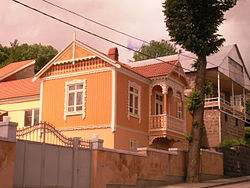 See
Kecharis MonasteryBeautiful monastery that recently underwent restoration work. It is now a working church again, with the smells, sounds and music that goes with it.
Makravank MonasteryThis involves either hiking over the ridge south of town, or driving around back to Hrazdan and over to Makravan Village. Quaint little old village monastery.
Do
SkiOnce used as a training ground for Soviet skiers, the lifts have been completely replaced with western equipment, and new runs have been developed as well. There are basically three levels of lifts. The first one is near the parking lot, where you'll also find a cafe and food. This lift has seats seating 4 people, and takes you to the bigger staging area. From here there are two lifts you can choose, or you can hang out in the cafe/food joint on this level - which can get quite smoky. The first lift you see will take you further up the mountain, and gives you a couple of good run options, or allows you to take a third lift to the very top. Otherwise, you can go a little past the first lift (below it) and take another lift which goes to the newest skiing areas. All seats can be paid for by-the-ride, which is very cheap, or by the day if you plan to do a lot of skiing. Skis can be rented in the parking lot, or at the second level under the cafe/restaurant, but quality varies widely, and the better ones may be gone by mid morning. Getting skis from a hotel may be a better option.
Sleep
phone: +374 223 60409, +374 223 60509, +374 223 60609

address: 15 Orbeli Brothers Str., Tsakhkadzor

Entertainment: Disco club (Friday, Saturday, Sunday), sauna, bowling and billiard, sport equipment rental. Facilities: conference hall (60-100 people), business center, Internet, taxi service.

Alpina Holiday Hotel

phone: +374 223 60770, +374 223 60550, +374 91 900031, +374 93 300031

Cottages for 10 people 30,000 dram; Semiluxe/Luxe for 4 people 35,000 dram (with 2 restrooms, 1 includes Jacuzzi); VIP for 6 people – 45,000 dram; Luxe 30,000 dram (with 1 restroom includes bath cabin); Cottage (4 pax) semiluxe 25,000 dram. Amenities: hot and cold water, balcony, kitchen, bathroom

phone: +374 223 60635, +374 223 60632, +374 223 60633

Entertainment: pool, playground, sauna, restaurant, billiards, bar, cinema. Catering: FB meal – 7,000 dram.

Nairi Guesthouse

phone: +374 223 60456, +374 223 60457, +374 223 52846, +374 10 282891

Amenities: hot, cold water, TV set in all rooms, refrigerator -in Luxe rooms. Entertainment: table tennis, billiard. Discounts for groups are offered. Payment: cash & transfer. Cold water. Hot water in public bathrooms only, TV & video in the lobby.

Tsakhkadzor Sport Base

phone: +374 223 52344, +374 223 52421

Entertainment: tennis, billiard, sauna and swimming pool, tennis court, restaurant (up to 400 pax), wrestling hall, weightlifting hall, boxing hall, athletics hall, indoor games hall, stadiums, playground, parking site, ski track. Discounts: children under 3 -free of charge, children under 10 – 5,000 dram, third person in the room - 10,000 dram. Total number of beds: 300, Other services: sledge rental, ski storage. Free of charge transfer of sportsmen.

phone: +374 223 60445, +374 223 60446, +374 10 281081, +374 10 282101

Quality control is realized according to ISO-9002 system. Food (buffet and restaurant), excursions, transport services.

phone: +374 60272770

address: 9 Isahakyan St

Nur Hotel is a small hotel in Tsaghkadzor that is comfortable, secure and of high quality. The hotel features 10 rooms which include quality 5 standard rooms, 4 suites and 1 family suite. There are also a bar-cafeteria, where breakfast, lunch and dinner are served, a multi-functional hall for entertainment and organization of events, a sauna-Jacuzzi complex, a garage accommodating up to 3 sedans.

phone: +374 10 294141

address: 2, 4/1 Tandzaghbyur St

Best Western Alva Hotel & Spa

address: Tandzaghbyur

phone: +374 223 6-00-51, +374 98 69-00-51, +374 99 69-00-51

address: 25 Tandzaghbyur,Tsaghkadzor,RA

"Tsaghkahovit" hotel is situated in the ski resort area of Tsaghkadzor, just on the slope of the Mountain Teghenis, on the bank of Tandzakhbyur River. The hotel's location gives an opportunity at the same time to visit the centre of Tsaghkadzor and use the ropeway. The distance from the hotel to the ropeway is 0.5 km and to Kecharis monastic complex 0.6 km. The hotel has wonderful territory for out of doors walk. Cars can be parked in the broad yard.
Go next