Tsambagarav National Park
Tsambagarav Uul National Park
is located in
Bayan-Ölgii
and
Hovd
.
Understand
This 110,960-hectare park surrounds the snow-capped, 4193-m (13,737-ft) Tsambagarav Mountain, which is sacred to Mongolians. On the border between Bayan-Ölgii and Hovd provinces, the park has beautiful scenery, rich wildlife, plenty of archeological sites, and native nomadic Kazakh and Uriankhai herders living in the shadow of the holy mountain.
History
Landscape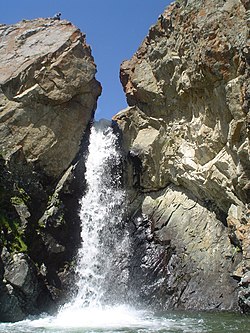 The center of the park is Tsambagarav and the 4165-m (13,645-ft) Tsast Mountain. Both mountains and several others are permanently snow-capped. Below the peaks are many glaciers and glacial lakes. These glaciers have left deep rocky gorges that have many waterfalls including one 7 m (23 ft) one on the north side of the park. During summer, the valleys north of the mountain are very green and full of wildlife, livestock, and flowers.
Flora and fauna
The endangered species; Argali sheep, Ibex, Snow Leopard, Rock Ptarmigan and Altai Snowcock all inhabit the park. Though not all can easily be found, especially the snow leopard. The Altai subspecies of the Argali sheep that is found in the park is the largest wild sheep in the world. The rams of an adult male can weigh over 35 kg (75 lbs).
Culture
A small village of Uriankhai and Kazakhs live near the park during the summer months to support Uriankhai and Kazakh nomadic herders living inside the park. These are very welcoming and hospitable people who welcome people into their gers for a night. Though those living inside the park may expect gifts or money if they have to host many foreign guests over the summer.

Get in
Jeeps can be hired in
Ölgii
for the 3-hour ride to the park or you can use a twice a week shuttle provided by
Blue Wolf Travel
to their ger camp inside the park.
Fees and permits
To enter the park, you need a permit from the Mongolian Park Administration (MANSPAA). The permit costs 3000
₮
and can be picked up at either the main entrance or at the MANSPAA office in
Ölgii
.
See
While Tsambagarav Mountain is the dominate feature of the park and can be seen from miles away, the park also has many interesting things to see like glaciers, waterfalls, beautiful vistas, ancient historical sites, and nomadic families.

Do
The National Park is in very pristine condition and offers many great activities for those that enjoy being in the outdoors. Hiking and horseback or camel riding are the best ways to get across the park. While the most popular activity is staying with one of the nomadic Kazakh or Uriankhai families that live inside the park during the summer months when everything becomes green. A visit to one of the families inside the park will take you back to a lifestyles that haven't changed much in over 1000 years. Some of the Kazakhs eagle hunt and can show you their eagles, though there is only hunting during the winter. If you go with a guide, they can show you petroglyphs and Turkic standing stones. Also, you can go fishing or bird watching if you are there at the right time.
Climb Tsambagarav Mountain and the smaller Tsast Mountain inside the park. Both will require ropes and crampons, though smaller peaks in the park can be hiked.
Cultural experiences
No trip to Mongolia would be complete without at least a meal inside a ger with a real-life nomadic family. The hospitality and tradition of even an unannounced visit will be surprising to most westerns. Though the food variety is limited and not particularly health as it consists mostly of mutton, flour, and oil, the ceremony of cooking and eating large servings of simple cuisine of the steppe is a truly unique experience. Everything is washed down with hot milky tea. The Kazakhs and Uriankhai inside the park have different customs and cooking styles that will become obvious with close observation. After eating, watch the family tend to their animals and go about their daily routine, or even lend a hand. It is recommended to bring a small gift of useful supplies in exchange for hosting you. Many families living inside the park host foreigners throughout the summer and are being very generous in feeding random tourists. So, don't be offended if they ask for 5,000 ₮ or 10,000 ₮ for a meal and a place to sleep.
Summer activities
Trekking
Fishing
Archery Lessons
Mountain Climbing
Winter activities
Tours
There is not a lot of infrastructure in Mongolia in general, and Bayan-Ölgii especially. There are no paved roads or many places to stay or eat or even buy food outside of the city. The parks are completely pristine, often without even borders fences between Russia and China. Therefore most visitors use one of the several tour groups located in Ölgii for transportation, camping equipment, food, and guides. The largest companies offer unguided tour options to the main national parks with only transportation and supplies, but no guide, cook, or other services. While other activities like mountain climbing, whitewater rafting, or going with an eagle hunter on a hunt will require a guide for most people.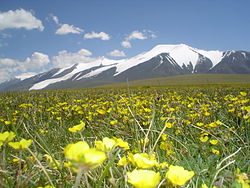 Buy
The nearest store to the park is in the summer location of the small village of Altantsogts, 30 km to the south of the park. The small shops only carry a limited assortment of hard candy, oil, flour, and maybe beer, vodka, soda, and juice. So, it is probably a good idea to stock up on anything you need for the trip in
Ölgii
. You can get most of your food and drinks there. Between the bazaar and supermarkets, many fruits, vegetable, and other staples are available. However, any camping or hiking gear should be brought from Ulaanbaatar or from home, or rented from one of the tour guides in Ölgii.
Eat
You should bring all your food from Ölgii if you can. However, you can stop by a nomadic family living inside the park during summer and eat traditional Kazakh or Mongolian food with them. This mostly consists of mutton, flour, and oil. Kazakh sometimes eat horse-meat, which is delicious. Though they are very hospitable people, gifts are greatly appreciated and recommended.

Sleep
Lodging
There is one small ger camp inside the park during summer. You could also stay with one of the nomadic families living inside the park during the summer months.

Camping
There are not really any designated campsites inside the park, so you can camp anywhere if you bring a tent. However, if you camp near a herder family, it's customary to ask for permission to camp near their ger. They will almost always say yes, and may even invite you inside for milky tea and a meal, or even to sleep inside.
If traveling with a tour company they will (or should) have everything you need for a comfortable camping experience. Take pains to make sure they are reputable and do have what you need. Ask the park information office about good camping areas in the park.
The same rules for camping apply here as anywhere else in the world. If you pack it in, pack it out! This is especially important in and around mountain, where serious high alpine climbing can be had. It is a very fragile area and easily impacted by human use.
As for camping toilet needs. There are no toilets. If you don't know how to "shit in the woods", you'll want to practice a bit before undertaking a Mongolian adventure. Also, there most likely won't be any woods. Don't worry; Mongolians aren't prudes.

Go next
A small temporary village is located just west of the park. The village of Altantsogts (government, schools, clinic, shops, etc.) relocates 30 km south during summer to follow the nomadic herders.