Tsetserleg
Tsetserleg
(also spelt Tsetserlik, Tsetserlig or Cècèrlèg) is the capital of
Arkhangai
province.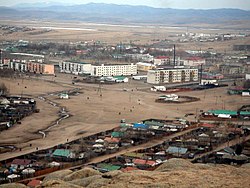 Understand
The town is located in a beautiful forested valley in the Khangay mountains; it has a population of around 20,000, and is generally considered to be the most pleasant of Mongolia's provincial capitals. It is one of the oldest continuously inhabited cities in Mongolia, with monastery built on the current site of the town in 1642. While the monastery was closed in the 1930s by the communist government, the original temple was turned into a museum.

Get in
Due to improved roads to the capital,
Ulaanbaatar
, there is no longer scheduled air transportation. On the bright side, there is daily buses to and from UB on paved road the entire way.
By bus
Buses for Tsetserleg leave from the Dragon bus station in Ulaanbaatar at 8AM on daily. The ride typically lasts at least 10 hours, and tickets must be purchased a day in advance. As of June 2009, bus tickets from Ulaanbaatar to Tsetserleg cost approximately 18,000 ₮, around US$13.
There are also microbuses that run between Ulaanbaatar and Tsetserleg. These are often very cramped (four across a bench seat), as drivers want to fit as many people in as possible to maximize profit. If possible, it is not a bad idea to pay for an extra seat to be left empty.
Get around
Tseterleg isn't very big. The city center and most hotels are in walking distance of the main attractions. If you don't want to walk, stand on the side of the road and stick your hand out. It won't be long before a car stops. Expect to pay between 500 and 2,000 ₮ for rides around town.

See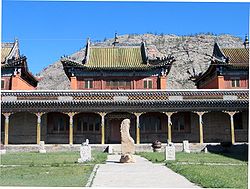 Buyandelgeruulekh Monastery - the town's main monastery
Zayain Khüree Monastery - converted into a museum.
Aimag Museum
Do
Attend an opera performance at the town's theater.
Arrange to stay with a herder family in their ger (yurt). The Fairfield Cafe and Guest House can help with this.
Buy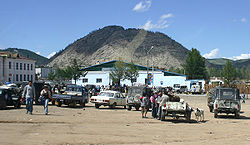 Woolen items made by local people.
There are a few stores near the bakery.
The town has a small art shop selling the work of local artists.
Eat
There are many small restaurants offering typical Mongolian food. This is mainly meat, potatoes, rice and soups. They are cheap and offer a hearty traditional Mongolian meal, though don't expect much fresh vegetables. In hotel restaurant meals may be priced around 8,000 to 10,000 ₮ per dish, but in the many small local restaurants the prices are more like 3,000 to 5,000 ₮ per person.
The town has a fantastic western style cafe and bakery run by an Australian couple - The Fairfield Guesthouse Cafe and Bakery. The standard of food and cleanliness is outstanding. It may be one of the only places in the Mongolian countryside where you can get a real espresso coffee or cappuccino to go with your full English Breakfast! The bread is spectacular! http://www.fairfield.mn/
Drink
The Naran Hotel, situated next to the Fairfield Guesthouse has a large bar with many tables and replica works of art on the walls. Also has karaoke downstairs. Usually busy with both travellers and Mongolians. Also does food.
The Neptune. A club that is open most nights. Might be dangerous though- on one night there was a fight between ten men, the next night it was raided and closed by police. Good place to talk to younger Mongolians.
Many smaller bars offering cheap beers and varied music. Most also offer food.
Sleep
Budget
Hotel Zamchin

phone: +976 1332 22274

A reasonably modern hotel - very popular, though a little far from the center of town
Hotel Tsetserleg

Hotel Naran

phone: +976 1332 9933 2900

Not very clean, but reasonably priced. Has its own bar.
Mid-range
Fairfield Guesthouse. At US$15 a night, this isn't the cheapest option in Tsetserleg, but the hostel is impeccably clean, run by a friendly Australian couple and comes with a large breakfast. There are also only 2 beds per room. http://www.fairfield.mn/
Go next
The Japanese-managed resort of Tsenger Hot Springs is located 30 km away, and would cost approximately US$15 to get there by hired car.
From Tsetserleg, it is possible to hire a car to take you to one of Mongolia's most picturesque lakes, Terkhin Tsaagan Nuur or the Great White Lake. Cars can be hired at Tsetserleg's "black market," located close to the city center, but be prepared to negotiate prices in Russian, as few locals speak English. Alternatively, the English speaking staff at The Fairfield Guesthouse can make the booking for you. The drive to the lake is approximately 170 km, almost all on unpaved roads or dirt paths, and takes approximately 4 hours. A return trip to the lake should cost around US$110, inclusive of petrol, food and accommodation for the driver.