Tsuruga
Tsuruga
(敦賀) is a city in
Fukui prefecture
.
Understand
Tsuruga City has been known as a natural good seaport since a long time ago and it is a seaport town flourished as a sea gateway to foreign cultures. Even now, foreign containerships and high-speed ferries are in services, and people and goods are being carried via Tsuruga port.

Get in
Get around
After arrival useful information on local transportation and sights can be received in the tourist information center located inside Tsuruga JR station, +81 770 21-8686.

See
Kehi ShrineA well-known shrine throughout its history, its gate is renowned as one of the Top 3 torii gates in the nation, and the shrine was visited in 1689 by theh poet Matsuo Basho on his famous trip through northern Japan.
Do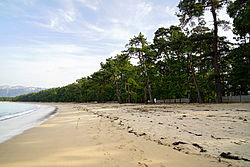 Tsuruga Tunnel Hot Springs

address: Mukaide, 41 Yoshiko, Tsuruga City 914-0024

The hot spring was discovered during a railway tunnel digging. An indoor (and partially outdoor) spa is located on a hill and bathers can enjoy a beautiful view of the town and Tsuruga bay. It can be reached from JR Tsuruga station by a Fukutetsu Bus bound for Tunnel Onsen. Get of at "Tunnel Onsen" stop.

Matsumoto comic characters statuesAbout twenty bronze statues of characters and scenes from the popular anime and manga by Leiji Matsumoto are scattered across the downtown. The statues, each perhaps 1.2-1.5 m (4-5 feet) tall, were erected in 1999.

Kehi no MatsubaraKehi no Matsubara is recreational area along the Tsuruga bay. It combines a large pine grove with a white sand beach, very popular with swimmers in summer season.
Eat
Tsuruga is one of the main fishing ports along the Sea of Japan. Visitors can enjoy freshly caught seafood at local markets, sushi shops and restaurants. Famous seafood delicacies include "Tsuruga blowfish" and "Echizen crab" in winter season.

Go next