Tuapse
Tuapse
is a city in
Krasnodar Krai
.
Understand

An important Russian port at the Black Sea and the closest neighbour town bordering Greater Sochi, Tuapse is mostly industrial and transport hub, attracting fewer number of tourists, than other Russian Black Sea coastal locations. But anyway, Tuapse is good for a single-day visit or an entire month.

Get in

Any elektrichka or long-distance train from Sochi stops in Tuapse, the frequent bus/marshrutka connection is also available. Expect 2 - 2,5 hours for one-way trip from Central Sochi.

Get around
Train
Bus
Taxi
Walk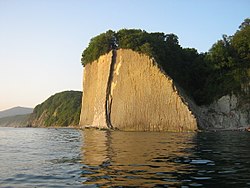 See

There are several very scenic cliffs around, the top of those is Kiselev's Rock, a 46 meter upright cliff breaking down into the sea.
Quite many ancient cultural remains, such as table-stones, are also located around Tuapse.
Dolmen megaliths near Tuapse.
Museums
City Park
Fountain
Orphanage
Platanovaya Alley
Beaches
Lenin statue
Tuapse Embankment

Eat
Pizza with carrots

Sleep
Anastasia Guesthouse

address: Klyuchevaya str..11, Tuapse

Located 300 metres from the sea, this guesthouse offers inexpensive accommodation with sea view and a small open-air swimming pool.