Tucson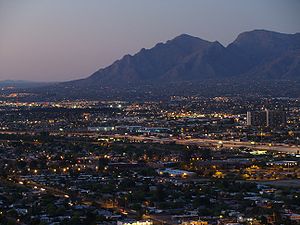 Tucson
(
TOO-sawn
) is the second-largest city in the state of
Arizona
and the county seat of Pima County in the Sonoran Desert. It is at a higher elevation than nearby Phoenix and is correspondingly cooler. Although with half a million residents it is smaller than the capital city, its cultural life is just as vibrant.
Understand
Tucson has always been a crossroads. Water was, until the onset of a severe drought in the late 1990s, relatively plentiful in Tucson, in spite of its location in the middle of a desert. This made it an important travel route, an agricultural center, and a communications nexus.
Tucson's history is ancient, with evidence of human occupation stretching back 10,000 years. Between 200 CE and 1450 ACE, the Hohokam culture dominated the area – the Pima and Tohono O'Odham peoples that still occupy the area are descendants of the Hohokam. In 1699, Father Eusebio Kino, S.J., established the Mission San Xavier del Bac, southwest of present-day Tucson. Over the next 100 years, other missions were established in the area, but European presence was minimal.
It wasn't until 1775 that the Presidio of Tucson was created by Don Hugo O'Connor. At that time, it was the northernmost Spanish outpost in the New World. In 1821, Tucson became part of the new country of Mexico, and in 1853 it became part of the United States as a result of the Gadsden Purchase. In 1863, Arizona became a US territory, and by 1880, its population was around 8,000. In 1912, Arizona became the 48th state to enter the union.
Tucson is still a crossroads, with European, Native American, Mexican, and Asian cultures bumping into one another, in sometimes conflicting and sometimes compatible – but always interesting – ways.
Climate
Visitor information
Get in
By plane
phone: +1 520-573-8100

address: 7250 S Tucson Blvd

Served by a number of airlines. Concourse A: Allegiant, Frontier Airlines, Southwest, Sun Country, United, VIA Air. Concourse B: American Airlines/American Eagle, Alaska Airlines, Delta/Delta Connection. The airport is on the far southern end of the city. A taxi to central Tucson (University of Arizona area) will run about $25-30 and take 25 minutes. Bus services (Rt #11 and 25) to and from the airport is significantly cheaper but will take at least 60 minutes to/from downtown Tucson. Some people fly into Phoenix Sky Harbor and then take a shuttle or rent a car and drive to Tucson (about 2 hours). Free Wi-Fi is available throughout the airport.
By train
Arriving by train to Tucson is possible as the city is served by
Amtrak
via its triweekly
Sunset Limited
train between
New Orleans
and
Los Angeles
. This train also conveys
Texas Eagle
carriages, offering a direct route to and from
Chicago
. Eastbound trains arrive around 7:30AM while westbound ones arrive early evening. Notice however that delays are quite common.
address: 400 N Toole Ave

Located next to downtown, this historic station has both a waiting room and a ticket office.
By car
I-10
(
Interstate 10
) from the north and southeast, and
I-19
(
Interstate 19
) from the south.
By bus
There are multiple long distance bus lines and van shuttles serving Tucson from Los Angeles, Las Vegas, El Paso, Phoenix, Douglas, Yuma & Nogales in the U.S. and from Nogales, Hermosillo, Puerto Peñasco, Agua Prieta and Culiacán in Mexico. Each company has a stop or their own bus station in different parts of town that are far from each other.
phone: +1 520-795-6771

address: 5350 E Speedway Blvd

Offers shuttle service between Sky Harbor and Tucson.

address: (bus stop) Univ of Arizona 6th St Garage at 1119 E 6th St

They also have an additional "north freeway" stop at the AM/PM Mini Market at 802 W Speedway off of I-10 at Exit #257

Greyhound Lines, Autobus Americanos, Cruceros USA

phone: +1 520-792-3475

address: 471 W Congress St

Travels primarily on Interstate 10 (Los Angeles, Phoenix, Mesa, Casa Grande, Tucson, Benson, Wilcox, El Paso) an on I-8/10 (San Diego, Calexico, Yuma, Tucson and El Paso). Passengers transfer to other buses in Phoenix, Los Angeles, San Bernardino and El Paso to get to additional cities in the U.S.

Premier Shuttle

phone: +1 520 460-9010

address: 4207 6th Ave

Connects Phoenix to Nogales via Tucson.

Sahuaro Shuttle

phone: +1 520 573-1399

address: 4202 6th Ave

Connects Tucson to Phoenix in one direction and to Agua Prieta and Hermosillo via Nogales in the other.

Shuttle Sonora

phone: +1 520 294-1210

address: 4201 6th Ave

Phoenix, Tucson, Nogales and Douglas.

phone: +1 520 573-7033

address: (Office) 910 W Irvington Rd, Suite #110

They offer bus service between California, Arizona and Las Vegas in the U.S. and along the Hwy 15 corridor towards Guadalajara through several cities/towns in Sonora, Sinaloa, Nayarit and Jalisco in Mexico. Travels along I-10/19 and Mex Hwy 15 between Phoenix, Tucson, Nogales and Hermosillo.

phone: +1 520-294-3780

address: 5550 S 12th Ave #148

Bus service along I-10/I-19 between Los Angeles, Phoenix, Tucson, Nogales and Hermosillo in Mexico
Get around
By public transportation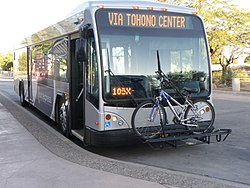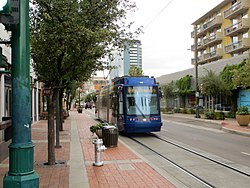 phone: +1 520-628-1565 (customer service)

address: 3920 N Sun Tran Blvd (main office)

An extensive metropolitan bus system, with routes and times listed here. The buses can accommodate up to two bicycles in the front; only folding bikes are permitted inside the bus.

Sun Link StreetcarA streetcar route which extends from the University of Arizona to the downtown area and the Mercado district. It has now been integrated into the Sun Tran public transportation system; the streetcar route map can be downloaded here. It is especially popular in the evenings for making the rounds between University and the night life on 4th Ave.
By car
I-10 and I-19 are the only freeways in Tucson. East-west travel on surface streets above I-10 can be slow during the work day. Tucson has far fewer miles of freeway than other U.S. cities of its size. All east-west travel and all travel on the east side is done via surface streets.
By bicycle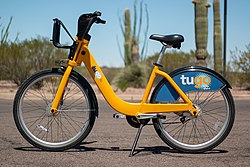 Tucson is a bike-friendly community, and has an extensive system of
bike routes and paths
(but is something you don't want to do in the summer unless you are experienced riding in very hot, dry weather).
In late 2017 the city launched
Tugo Bike Share
, a new public bike-sharing program, with 330 bicycles and 36 rental station scattered around the university district and downtown. Passes are available for one day ($8), one month ($18), or one year ($80), and allow unlimited use of the bikes for 30-minute intervals. Passes can be purchased at docking stations with a credit card, online with a credit or debit card, or with cash at any 7-Eleven, CVS, or Family Dollar stores (requires prior online registration). Bicycle stations with available bikes and docks can be found
online
or via the smartphone Cyclefinder app (iOS and Android).
By taxi
It is notoriously difficult to get around in Tucson by taxi, as you must usually reserve a cab hours in advance and contend with drivers who are often late, if they show up at all. As an alternative, ride-hailing services
Uber
and
Lyft
now both operate in Tucson, and are a decent alternative if you can't get a regular cab within a reasonable time frame.
phone: +1 520-425-1935

address: 2495 N Desert Links Dr

One of the more reputable taxi operators in the Tucson area, with punctual and reliable drivers. Generally it is best to make reservations 1-2 hours in advance. They also offer shuttle service to/from Tucson and Phoenix airports for a flat rate.
See
Historic sights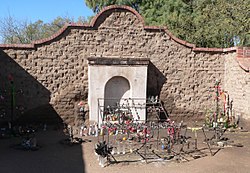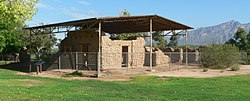 Barrio Viejo

address: Bounded by I-10, W Cushing St , S 6th Ave, and W 18th St

One of Tucson's oldest neighborhoods, much of the barrio was destroyed when the Tucson Convention Center was built. There are many colorful adobe buildings housing shops, galleries, and residences. Best explored on foot.
El Tiradito

address: Just south of the intersection of S Main Ave at W Cushing St

El Tiradito is the only shrine to a sinner in North America. In the 1880s, a young man had an affair with his mother-in-law. When caught in the act, his father-in-law shot him and he stumbled from bed and ran out of the house. He dropped dead on this spot, and because he had not confessed his sins, he could not be buried in the church yard. His family and friends interred him where he fell, but remembered him with candles and flowers. People still burn candles and leave offerings today. Best visited at dusk or after dark.

Sosa-Carrillo-Frémont House Museum

phone: +1 520-628-5774

address: 151 S Granada Ave

A remnant of Tucson's old barrio which survived and is now surrounded by the Tucson Convention Center, this historic adobe house was built in the 1870s.
Museums and galleries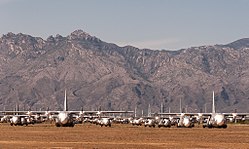 phone: +1 520-574-0462

address: 6000 E Valencia Rd

Features over 300 historic aircraft on an 80-acre site with five hangars, two of them devoted to World War II. Veterans and volunteers are often on hand to answer any questions, and there are daily walking tours of the grounds. There is an onsite restaurant.
phone: +1 520-574-0462

As the grounds are so large, a tour tram is offered for those who do not wish to walk. The guided tour lasts one hour and covers 1½ miles and more than 150 planes. Departure times vary, so it is best to call ahead or inquire at the entrance.

Aerospace Maintenance and Regeneration Center

phone: +1 520-574-0462

A separate, very interesting tour can be booked to see the Aerospace Maintenance and Regeneration Center nearby on Davis-Monthan Air Force Base, where more than 4,200 aircraft are stored. As the facility is an active military base, an ID is required (all nationalities welcome). Visitors are not permitted to leave the bus, and non-essential backpacks and camera bags are not permitted (storage is available at the museum). Reservations are required at least 10 business days in advance, in order to receive security clearance for the base, and can be made up to 90 calendar days in advance.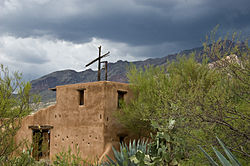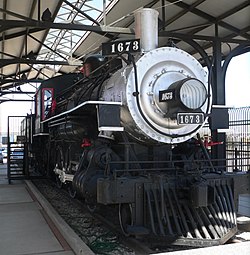 De Grazia Gallery in the Sun Historic District

phone: +1 520-299-9191

address: 6300 N Swan Rd

A collection of buildings on a 10-acre site, designed and built by well-known Arizona painter Ettore 'Ted' DeGrazia (1909-1982); the property is listed on the National Register of Historic Places. A gallery showcases the artist's work in six permanent collections as well as special rotating exhibits, and a gift shop onsite sells good quality reproductions of some of his work. In early December the grounds also host the annual Fiesta de Guadalupe.
The chapel is closed due to fire damage.

Southern Arizona Transportation Museum

phone: +1 520-623-2223

address: 414 N Toole Ave

A small museum devoted to the history of the railroads in southern Arizona, housed in the historic Southern Pacific Railroad Depot. The star attraction is the Southern Pacific Railroad 1673 steam locomotive. Docents and volunteers available to answer questions about the locomotive on Saturdays. For other times, tours can be arranged upon request.

phone: +1 520-792-9985

address: 200 S 6th Ave

phone: +1 520-628-5774

address: 949 E 2nd St

This museum is devoted to the history of Tucson and the surrounding area, with relevant displays.

phone: +1 520-770-1473

address: 140 N Stone Ave

Exhibits detail businesses and homes in early Tucson, including drugstores, police and fire departments, and a barbershop.

Old Pascua Museum and Yaqui Cultural Center

phone: +1 520-884-8527, +1 520-990-5949

address: 856 W Calle Santa Ana

Museum that features more than 4000 artifacts on display from the old Pasqua tribe, displayed in a home built in 1926 and listed in the National Register of Historic Places.

phone: +1 520-722-2706

address: 6541 E Tanque Verde Rd

Has one of the country's largest public collections of items illustrating the history of US calvary from the 18th to 21st centuries.
Parks and wildlife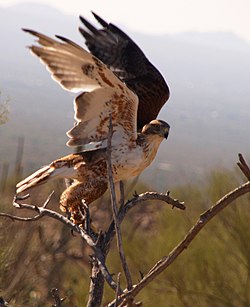 Outside of town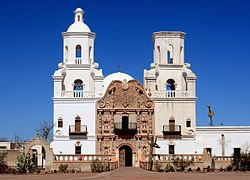 phone: +1 520-294-2624

address: 1950 W San Xavier Rd

The "White Dove of the Desert" is a Tucson mission. Pure white and pristine against a hot desert backdrop, and still heady inside its elaborately colored and muraled interior from centuries of supplication, the Mission San Xavier del Bac was finished in 1797 when Arizona was still New Spain. It has been cleaned and restored by professional art conservators who worked with and trained members of the community.

phone: +1 520-883-0100

address: 201 S Kinney Rd

Ever notice that Hollywood's Old West, the backdrop for the gun-slinging and cryptic comments of Hollywood's Western icons – Wayne, Eastwood, Douglas and Newman – has much in common with the Wild West of today's Tombstone and Geronimo? They've all been filmed at the Old Tucson Studios, which were built in 1939 for the making of the William Holden film Arizona. Still an active film, TV and commercial set, it's also a nostalgia-themed park, with main drag shootouts, corseted can-can dancers, educational shows, pre-Prohibition saloons, restaurants, and gift shops.
Talk
Tucson is a very diverse city. English is the most widely spoken language. Many people in the south side are bilingual in English and Spanish.

Do
Performing arts
Festivals and events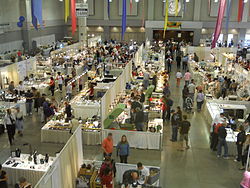 phone: +1 520-322-5773

For two weeks every winter, the world meets in Tucson as it becomes a bustling, international marketplace of buyers and sellers at the Tucson Gem, Mineral & Fossil Showcase. The "Gem Show" is much more than a single event at one location. Rather, there are thousands of participants and attendees at nearly 50 sites around town. Dozens of shows take place at the same time – in giant white tents, at hotels and resorts and at exhibit halls. There's something for everyone at the many open-to-the-public shows – from gold and diamonds to granite bookends and glass beads – and from fine specimens of dinosaur fossils to opals dug from the Australian Outback.

phone: +1 520-741-2233

address: Pima County Rodeo Grounds, 4823 S 6th Ave

An annual week-long rodeo held in mid-February, the highlight of which is the Rodeo Parade. This event marks the start of rodeo season in the US.

phone: +1 520-573-4000

address: 1950 W San Xavier Rd

This annual two-day event showcases traditional dancing from a number of different regional tribes. Booths offer crafts and jewelry for sale, as well as food and beverages.

La Frontera Tucson International Mariachi Conference

phone: +1 520-838-3908

address: 5655 W Valencia Rd

An annual four-day event celebrating mariachi music and folklorico dance. International stars and local students alike give performances.

address: 260 S Church Ave

October. Annual festival celebrating Tucson's legacy of mid-century modern architecture and design, centered around the mid-century modern convention center and its Garrett Eckbo-designed plaza. Events include a vintage market where numerous vendors sell everything mod, from suits and ties to designer furniture to cool retro gadgets; a car show displaying mostly mid-century cars and trailers; various lectures on architecture; and tours of various mid-century modern homes around Tucson. Prices vary by event; the market and car show are free, but most lectures require tickets.

address: Downtown

One of the largest festivals in Tucson and based on the Mexican holiday 'Día de los Muertos' (Day of the Dead), the highlight is a 3-mile parade beginning at dusk. Very colorful, with participants dressing in traditional or creative costumes. Takes place annually on the first Sunday in November.

phone: +1 520-299-9191

address: 6300 N Swan Rd

This annual event celebrates Mexico's patron saint, the Virgin of Guadalupe, and features performances by mariachi bands, folklorico dancers, Yaqui dancers, and Spanish flamenco guitar. Booths sell crafts and souvenirs, as well as southwestern-style food and beverages.

Winterhaven Festival of LightsAn annual event in the Winterhaven subdivision north of Fort Lowell Road displaying a huge Christmas light festival involving several dozen homes in the subdivision. The festival starts in the middle of December, ending a few days before New Year's Day. The event is very popular, and traffic to the event is always very congested.

Summer Car ShowsTucson's dry climate makes it an ideal location for classic car restoration. There are community organized car shows at various locations and times.
Sports and outdoor activities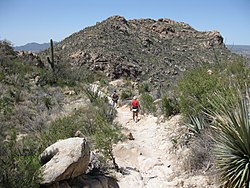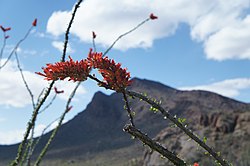 Learn
University of ArizonaFounded in 1885, the University of Arizona is the state's original land-grant university. Today, it hosts nearly 40,000 students, with nationally pre-eminent programs in astronomy, planetary science, optical sciences, pharmacy, business, fine arts, and basketball. One unusual thing is the Tree Walk, a self-guided tour to almost a hundred rare trees on campus.
Buy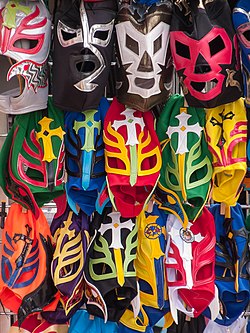 Gifts
phone: +1 520-577-0290

address: 4330 N Campbell Ave #73

Sells regional Native American arts and crafts.

phone: +1 520-881-6888

address: 4320 N Campbell Ave

Specializes in Native American arts and crafts.

phone: +1 520-722-7798

address: 6872 E Sunrise Dr #150

Specializes in western painter Maynard Dixon, but also represents a number of other western and Native American artists.

phone: +1 520-623-6024

address: 201 N Court Ave

Sells Mexican and Arizona crafts, including jewelry and home decor.

San Xavier PlazaA few stalls here sell friendship bowls (beautifully painted ceramic bowls) made by the Tohono O'odham.

phone: +1 520-624-9954

address: 330 N 4th Ave

In business since 1993, the store offers sterling silver jewelry at competitive prices, with interesting little figurines (fantasy, Gothic, Egyptian, skulls) and a variety of gifts. The helpful owner Lizzie can help you find the perfect goodie, including limited supply Stardust and Cake label jewelry.
Books
phone: +1 520-792-3715

address: 411 N 4th Ave

The independent bookstore also sells cards and gifts.

Bookmans Entertainment Exchange East

phone: +1 520-748-9555

address: 6230 E Speedway Blvd

Practically a Tucson institution, the original branch opened on Speedway over 30 years ago. Besides used books, they also have used CDs, DVDs, video games, etc. All branches have free Wi-Fi and electric vehicle charging stations, and permit pets in the store.
Outdoor goods
phone: +1 520-887-1938

address: 160 W Wetmore Rd

This branch of the Seattle-based chain carries a good selection of outdoor gear and clothing. They also offer classes and lectures, most of them free, on a range of topics relating to the region and travel in general.

phone: +1 520-325-1554

address: 5251 E Speedway Blvd

Offers great gear and resources for getting outdoors around Tucson. A very local shop with more than 30 years of experience. Go in and ask questions, these guys will take the time to help you out.
phone: +1 520-888-1000

address: 7745 N Oracle Rd
Other
phone: +1 520 326-0121

address: 3131 E 1st St

Wine and spirits shop, with large international selection. Full-service cheese and deli counter, with wine tastings and in-house bistro.

phone: +1 520-294-4252

address: 4100 S Palo Verde Rd

A great place to find all sorts of oddities.
Shopping centers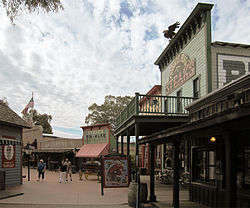 Eat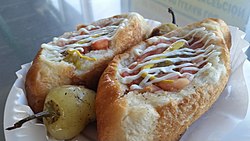 As you can guess, Tucson is a veritable hub of Southwestern and Mexican cuisine. But Tucson is an adventurous town (easily the most liberal metropolitan area in Arizona) and as a result of its diversity, has a vibrant culinary culture.
One noteworthy concoction unique to Tucson,
Phoenix
, and southern Arizona is the
Sonoran hot dog
. First developed in
Hermosillo
, Sonora, it consists of a traditional hot dog wrapped with bacon and then grilled. It is served in a
bolillo
(a Mexican roll) with pinto beans, onions, and tomatoes, and topped with mayonnaise, mustard, and jalapeños. The hot dog is traditionally sold from street carts, but several of the longer-established vendors now have sit-down restaurants, with branches scattered around Tucson.
Budget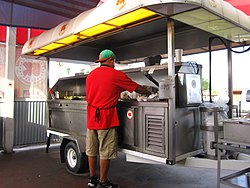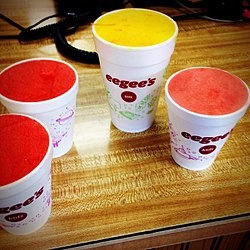 phone: +1 520-322-9965

address: 3026 N Campbell Ave

Amazing sandwiches on fresh-baked bread, made from ingredients that are as fresh as possible. (In addition to baking bread daily, the restaurant also roasts its turkey and beef on site.) They also have an espresso bar and pastries. A nice place for lunch, but watch out – it's very popular, and you may have to wait in line. Alternately, you can pre-order your meal for pickup online. Average sandwich (hot & cold) costs around $6-6.50, chips included.
Beyond Bread Northwest

phone: +1 520-461-1111

address: 421 W Ina Rd

Online orders for this location can be placed here.

Beyond Bread East

phone: +1 520-747-7477

address: 6260 E Speedway Blvd

Online orders for this location can be placed here.
Birrieria Guadalajara

phone: +1 520-624-8020

address: 304 E 22nd St

A hole-in-the-wall Mexican diner frequented by the Hispanic workers and Gringos in the know. All the standard Mexican fare, but an unusual emphasis on caldos or soup. Birria is shredded beef in its own broth – this place makes the best!
phone: +1 520-740-1541

address: 326 N 4th Ave

Features tons of different sammies that are huge and will fill you up. Bread bowl soups are another popular choice at this deli/bar and is a college student's dream of a chill place to hang out and get in on some great drink specials. Thursdays is a great night for hanging out here.
phone: +1 520-295-0105

address: 5118 S 12th Ave

Very popular, specializes in Sonoran hot dogs, tacos, and other classic Mexican dishes.
phone: +1 520-207-2245

address: 2680 N 1st Ave

A second, newer branch of the very popular restaurant.
phone: +1 520-795-1715

address: 5039 E 5th St

It's not always easy to find good Asian restaurants in the desert, but this hole in the wall has to be near the top of anyone's list of favorites. Owned and operated by former residents of Bangkok, the restaurant has a huge selection of tasty curries and noodle dishes. The lunch specials are a great value; takeout available.
phone: +1 520-882-4005

address: 187 N Park Ave

For the best subs on the west coast, go to East Coast. An absolute must-eat for the cheesesteak connoisseur. Just as famous as the dozens of legendary subs is the memorabilia collection. Takeout and delivery are available, and can be ordered online.
phone: +1 520-881-3280

address: 2510 E Speedway Blvd

A Tucson chain of sub shops, you shouldn't leave Tucson without trying this place. Popular for their frozen slushie-snowcone combo (locally referred to simply as Eegees), they have piña colada, strawberry and lemonade flavors year-round and a unique flavor of the month. Eegee's are also known for their fries, which you can order with ranch dressing (ranch fries), marinara sauce (pizza fries) and fries with chili (chili cheese fries). They also offer pretzels, cookies, chips and sub sandwiches. There are a total of 26 branches in the Tucson area.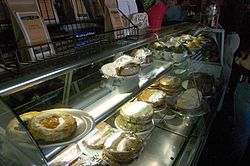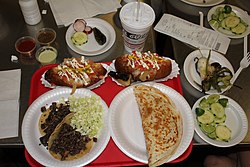 phone: +1 520-624-6844

address: 745 N 4th Ave

An eclectic coffee house with outdoor tables, free Wi-Fi, good organic food, intricately tattooed wait staff, and an independent vibe. Bulletin boards to see what is going on in town. Coffee $1-3; soups, pastries, and sandwiches $3-8.

phone: +1 520-295-9005

address: 5201 S 12th Ave

One of Tucson's most famous restaurants, primarily known for their Sonoran hot dogs. Offers a large selection of Mexican dishes. They have some of the best carne asada in the Southwest! Takeout available at all locations.
El Güero Canelo

phone: +1 520-882-8977

address: 2480 N Oracle Rd

El Güero Canelo

phone: +1 520-790-6000

address: 5802 E 22nd St
Guillermo's Double L Restaurant

phone: +1 520-792-1585

address: 1830 S 4th Ave

Solid Mexican food, with good atmosphere and prices.
phone: +1 520-704-9240

address: 622 N 4th Ave

Wonderful food and ambiance, a real gem. Also offers Native American dishes and many vegetarian options. Delivery and takeout can be ordered online.
phone: +1 520-622-5081

address: 1813 S 4th Ave

Authentic Mexican food with excellent margaritas. Dinner for two with margaritas is about $30.
phone: +1 520-747-9162

address: 5380 W 22nd St

A local favorite with great Mexican food, has been in Tucson for at least 20 years and has great service. Known for their frozen margaritas. Try their beans and carne asada tacos on a soft flour tortilla. Three other branches are on Ina Road, Pantano Road, and Oracle Road.
Pat's Chili Dogs

phone: +1 520-624-0891

address: 1202 W Niagara St

An old time drive-in (carhop service however does not exist – you must walk up to the order window). Lunchtime is packed with Tucsonans ordering chili and cheese dogs in the state. French fries made from fresh potatoes on site, with lots of hot sauce.
Rigo's Tucson Mexican Restaurant

phone: +1 520-887-2132

address: 5851 N Oracle Rd

Mexican food with breakfast, lunch, and dinner buffets, as well as menus. Known for their carne asada and margaritas. Mariachi bands on Friday nights.
Viva Burrito Co

phone: +1 520-623-5211

address: 1372 W St Marys Rd

A local fast food chain known for its large, tasty breakfast burritos, as well as tacos and enchiladas. Has a drive-thru. There are a total of six branches in Tucson.
Yoshimatsu Healthy Japanese Eatery

phone: +1 520-320-1574

address: 2741 N Campbell Ave

Local, homemade Japanese food and a sushi bar in the same building. Great romantic location and a separate vegetarian menu. Takeout available.
Mid-range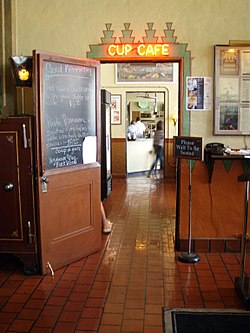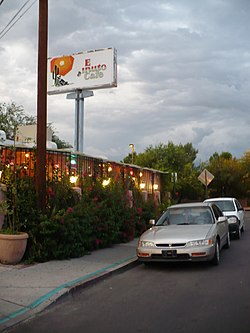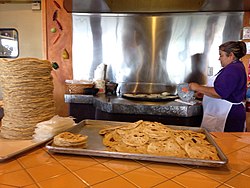 Splurge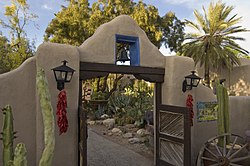 Drink
Tucson has an active wine community, with many retailers, restaurants and wine bars regularly offering scheduled wine tasting events. Cochise County, southeast of Tucson has many wineries, some of which welcome visitors.
The majority of Tucson's nightlife for young and old is in three small areas of the town near the University of Arizona, all within walking distance to each other. The three are:
4th Avenue
,
University
, and
Downtown
. Tucson nightlife tends to start later than nightlife in other areas of Arizona, such as Phoenix or Scottsdale. Expect bars and clubs to be sparsely populated until approx 10-10:30PM on an average weekend night.
4th Avenue stretches from University ave in the north to downtown Tucson in the south (only about ½ mile long). This stretch of 4th Avenue is the main nightlife strip of Tucson and filled with bars and restaurants of all varieties on each side of the street.
The downtown Tucson area just south of 4th Avenue tends caters to a nicer and wealthier crowd and is home to many of Tucson's higher class restaurants and cocktail bars, as well as the famous Club Congress.
The University Ave area of Tucson starts on University/Euclid on the west and runs several blocks until it ends into the school. It is approximately a 10-minute walk along University Avenue from the 4th Avenue area. Like 4th Avenue, University contains a strip of bars, stores, and restaurants that cater to a variety of tastes and ages (not just college kids).
Sleep
Budget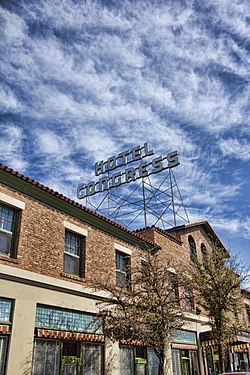 Some motels on West Miracle Mile Road and south of 3000th block of North Oracle Road tend to be cheaper, run-down motels. Good deals can be found, but one probably wouldn't want to take one's family to these. This area is a legacy of the pre-freeway auto courts, 1937 to 1965, called
Miracle Mile
. A number of the old motor lodges remain. If you need a room for $25 this is the place to start looking.
phone: +1 520-622-8848

address: 311 E Congress St

This historic hotel was the site of John Dillinger's arrest . The rooms are small, but have a funky, historic feel.

phone: +1 520-622-6714

address: 1136 N Stone Ave

Pet-friendly hotel near the University of Arizona.

phone: +1 520-940-7280

address: 346 E 12th St

phone: +1 520-622-6446

address: 1248 N Stone Ave

39 comfortable rooms to help you get off of the road and get some rest.
Mid-range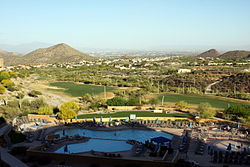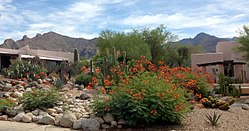 Splurge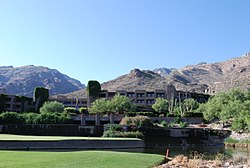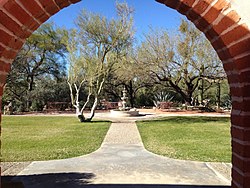 Camping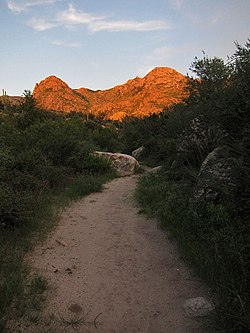 Tucson Mountain Park, Gilbert Ray Campground

address: 8451 W Mccain Loop

Secluded, quiet, county-run RV Park. 30 amp electric only, water and dump station available on the grounds. No reservations taken, honor system payments. Used mostly by out of state snowbirds during the winter, worth looking at to put up adventuresome guests on a budget or those travelers with a desire to see the night sky only a few miles out of Tucson. No showers. Note: rattlesnakes are not uncommon in the park.

phone: +1 520-628-5798 (information), +1 520-586-2283 (reservations)

address: 11570 N Oracle Rd

This campground has 120 campsites, all with water, grills, and picnic tables. Flush toilets and hot showers are available. Reservations are required and must be made at last 24 hours in advance; they can be made online.

phone: +1 520-647-7275

address: 16721 E Old Spanish Trail

Built in the 1930s by the Civilian Conservation Corps (CCC), the campground has 30 individual sites for tents as well as a few for RVs (no hookups). Most sites have picnic tables and grills, and water and toilets are available.
Stay safe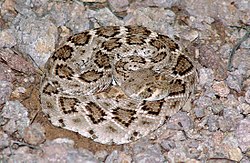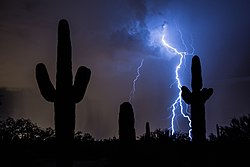 If you go walking in the desert parks, or on your own, learn desert-safety tips. Take water, always let someone know where you are going and when you expect to get back, and if you have a cell phone, take it with you and have it on. It's disturbingly easy to get lost in the desert. Also, watch for snakes and bugs, as a few are dangerous to your health. When hiking, for example, rattlesnakes are easy to come across. When putting your slippers on in the morning, scorpions can be an unpleasant surprise.
Midtown (specifically the section along Alvernon Road between Grant and Ft. Lowell) and the south section of the city (in the general area between I-10, I-19, and Valencia) are not the safest places to be – but there are no real attractions in these areas anyway. Downtown is heavily occupied until 2AM when the bars close. If you are downtown after 2AM, be cautious. While murder rates are fairly low, they are violent and sometimes random. There is gang activity but for the most part it is directed against rival gangs. There are many homeless people downtown. The center city is heavily populated by the "young and restless", so it may seem a spooky to more conservative travelers due to the dirt and noise the youngsters create.
Tucson has one of the highest rates of vehicle theft in the USA, and there are a few locations in the city you're more likely to have your car/truck stolen at than at any other place in the town, such as the on 1650 W Valencia Rd and the .
During the monsoon season (usually in the months of July - September), Tucson does experience flash flooding. Under no circumstances should you attempt to drive across a flooded road that is barricaded. If your vehicle becomes stranded in your attempt to cross the barricaded road: you will be issued a traffic citation by the police under the 1995 "stupid motorist law" (Ariz. Rev. Stat. § 28-910), fined in the amount of $2000, and ordered to pay for all rescue costs (usually $1500 or more – and that doesn't include the towing expense either). Also, if you knowingly drive a vehicle into a flooded road that is barricaded with a child under the age of 16, you may also be charged with a class-1 misdemeanor charge of child endangerment (Ariz. Rev. Stat. § 13-3619 - per each child in the car) in addition to the previously mentioned penalties if your car becomes stranded.
Stay healthy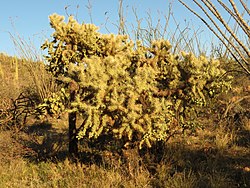 Newcomers to the southwest often hear about a lung infection called Valley Fever (a fungal disease – the proper medical name is coccidioidomycosis). Although it's rare to contract this disease, it should be taken seriously as it is difficult for most doctors to accurately identify it (a blood test called a coccidioidal must be done to accurately diagnose this illness), and it takes weeks for the symptoms to fully develop for an experienced doctor to recognize them. Exposure to very dusty conditions (ATV riding in the desert, construction, getting caught in a sudden dust storm) increases the opportunity to become infected. It is recommended to wear a face mask if you intend to be exposed to dusty conditions, and strongly recommended if you have a lung disease or temporarily suffering from pneumonia. There is no cure for this disease, only long term treatment. For acute symptoms patients may be prescribed an antifungal drug such as fluconazole.
Take precautions for sunburn and heat stroke. This cannot be emphasized enough if you plan to make a trek in the desert mountains. It's easy to sunburn and windburn out in the desert, and the UV rays are very strong. It is recommended to use sunscreen with at least a UV protection rating of 30 or higher. Be mindful of the extreme heat when hiking in the mountains during the summer months to avoid suffering from heat exhaustion or possibly dying from heat stroke.
Mosquitoes can be bad after a monsoon (usually in the months of July - September), so consider wearing mosquito repellent with a high concentration of DEET to reduce the risk of acquiring diseases typically transmitted by these annoying insects.
Care should be taken when you decide to ride a motorcycle or ATV in the desert, so you don't get injured by running into or bushing against the "jumping cholla" cacti. Wearing thick protective clothing, helmets, and gloves while riding are an absolute must. These are very prickly cacti with stems that detach with little or no effort, also the cacti spines are very painful to remove from your skin once contact is made.
Connect
For visitor information about events and activities taking place in Tucson, check out the city of Tucson's on-line
directory
.
There are surprisingly many locations within the city of Tucson that are free Wi-Fi hotspots, so free Internet access shouldn't be viewed as a problem. Most of the hotspots are in coffee shops (such as the
Bruegger's Bagel
locations), the local book store (
Bookman's
), and the local
libraries
(no library membership required) throughout the city.
Cope
For all emergencies you may dial 9-1-1 from any cell (active or inactive cell phone) or land line phone free-of-charge. If using a cell phone be sure to inform the operator of your exact location, as it takes extra time for the operator to attempt to triangulate your location – time is of the essence in emergency situations. When calling 911 for assistance be as calm as possible, and do not panic or use profanity over the phone, as the operator on the phone might consider the call as a prank.
For non-emergencies dial the police department at +1 520-791-4444 between 8AM and 10PM (after 10PM, you may dial 9-1-1 for all issues).
Consulates
Canadian Consulate

phone: +1 520-622-3641

address: 1840 E River Rd, Ste 200

El Salvadoran Consulate General

phone: +1 520-318-0410 or +1 520-318-0411

address: 3127 E 2nd St

phone: +1 520-882-5595, +1-877-632-66-78 (Emergencies)

address: 553 S Stone Ave

Paraguayan Consulate

address: 3909 E Justin Ln

Costa Rican Honorary Consul

phone: +1 520-577-5559 or +1 520-529-7068

address: 3567 E Sunrise Dr, Ste 235

Honorary consulates typically represent the business interests of a nation, and do not provide legal or citizen support (such as passport support) to its citizens.
News
Go next