Tufi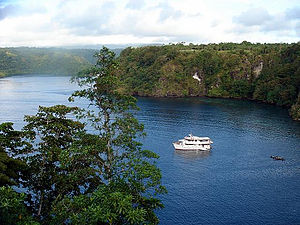 Tufi
is a small town on the northeast coast of
Papua New Guinea
(PNG) in the area known as the Fjordland of PNG, The area has spectacular scenery and is also famous for its production of tapa, a decorated cloth produced from the bark of the paper mulberry tree, which is also found in
Tonga
,
Samoa
and
Fiji
. In the Second World War it provided a temporary base for US PT Boats in the battle against the Japanese. Two boats sunk in March 1943 now provide a popular dive site.
Get in
See
Tapa making.
The scenery, particularly the fjords. These are over 90 metres deep, with sides rising out of the water to over 150 metres. The sides of the fjords are covered with moss and orchids.
The nearby rainforest. Look for the Queen Alexandra Birdwing, the largest butterfly in the world, now sadly very rare.
Do
Dive, particularly Cyclone Reef with abundant marine life, which is 15km southeast of Tufi and the World War 2 dive sites. Seas are best between October and mid-June.
Kayaking can be done on the fjords.
Buy
Tapa. To own a piece of tapa cloth is unusual. To own a piece from Tufi is even more unusual. Production of the mulberry bark cloth is far less than in the main South Pacific producing areas such as Tonga.
Sleep
The Tufi Resort (aka Tufi Dive resort) has 10 deluxe bungalows, 9 standard air-conditioned bungalows and 8 single fanned rooms. It has a very informative web site .
Villages. The Tufi Resort can arrange stays in village guest houses, most of which are just a few kilometres from Tufi.