Tuktoyaktuk
Tuktoyaktuk
(
Tuktuyaaqtuuq
, lit. "it looks like a caribou"), commonly known simply as
Tuk
, is an Inuvialuit village of 900 people (2016) on the Arctic Ocean in the extreme north of
Canada
's
Northwest Territories
. It is the only community in Canada on the Arctic Ocean that is connected to the rest of Canada by road.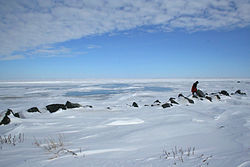 Understand
It used to be known as Port Brabant. It was renamed in 1950 and was the first place in Canada to revert to the traditional Indigenous name.
History
Tuktoyaktuk is the anglicized form of the native Inuvialuit place-name, meaning "resembling a caribou". According to legend, a woman looked on as some caribou, common at the site, waded into the water and turned into stone, or became petrified. Today, reefs resembling these petrified caribou are said to be visible at low tide along the shore of the town.
The settlement has been used by the native Inuvialuit for centuries as a place to harvest caribou and beluga whales. In addition, Tuktoyaktuk's natural harbour was used as a means to transport supplies to other Inuvialuit settlements.
Between 1890 and 1910, a sizeable number of Tuktoyaktuk's native families were wiped out in flu epidemics brought in by American whalers. In subsequent years, the Dene people, as well as residents of Herschel Island, settled here. By 1937, the Hudson's Bay Company had established a trading post.
Radar domes were installed beginning in the 1950s as part of the Distant Early Warning Line, to monitor air traffic and detect possible Soviet intrusions during the Cold War. The settlement's location (and harbour) made Tuk important in resupplying the civilian contractors and Air Force personnel along the DEW Line.
The community of Tuktoyaktuk eventually became a base for the oil and natural gas exploration of the Beaufort Sea. Large industrial buildings remain from the busy period following the Organization of Petroleum Exporting Countries 1973 oil embargo and 1979 summertime fuel shortage. This brought many more outsiders into the region.
The all-weather road between
Inuvik
and Tuktoyaktuk was opened in November 2017.
Climate
Tuktoyaktuk displays a subarctic climate, just short of a polar (tundra) climate, as the July mean temperature is barely above 10 °C (50 °F). Since the Arctic Ocean freezes over for much of the year, the maritime influence is minimized, resulting in really cold winters and a strong seasonal lag in spring. This results in April being much colder than October and May much colder than September. March is also colder than December, and is the only month yet to record a temperature above freezing at any point. Due to the dominance of cold air, Tuktoyaktuk has less precipitation than many desert climates. In spite of this, the cold temperatures render it receiving more than an annual metre of snow on average. Thanks to its landmass link many thousands of kilometres to the south, temperatures way above average can occur in summer in spite of the cold surrounding waters. As of 2018, this is still yet to result in any high above 29.4 °C (84.9 °F).
Get in
Get around

While it is easy to get around on foot in the town, taking a snowmobile to the store or out on the land is very common. The weather is very hard on vehicles so if you decide to drive be prepared to let your vehicle warm up for a long time in the winter months. Sometimes there is a taxi service available. For trips out on the land or to the airport via the ice road, there are people who will drive you out, such as the charter van for Ookpik Tours.

See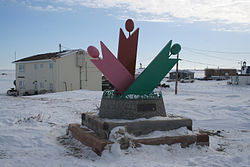 The Ice HouseThis freezer was dug in 1963 in the permafrost underneath the town and has been in use as a permanent fridge ever since. Very eerie but amazing. Used by locals to store meat collected during hunts. There are 19 rooms arranged into three "hallways". Strangely, it is coolest in the ice house during the summer months, but in the winter it warms up and meat is taken out to prevent molding.

The PingosPingos are domes of earth-covered ice found only in the high Arctic. There are over a thousand in and around Tuk. Get to the pingos by snowmobile. Hike to the top and toboggan down! The Pingo National Landmark protects a group of eight Pingos. The landmark includes Canada's highest (the world's second-highest) pingo, at 49 m (161 ft).

DEW LineDuring the Cold War, the American and Canadian governments created a Distant Early Warning (DEW) system in case the Russians attacked via the Arctic. One of the stations is in Tuk. You can't miss it, it looks like a few giant snowballs.

The PointHere you will find the historical roots of Tuk and look out on the Beaufort Sea.

Trans-Canada Route Marker

address: Beaufort Drive

Find this colourful route marker near The Point. Installed in 2000.

Sod HousesThere are a couple of reconstructed sod houses in Tuk that you can step inside. Historical flashback.

Our Lady of the Lourdes

address: Beaufort Drive

Anglican Log Cabin Church

address: Beaufort Drive
Do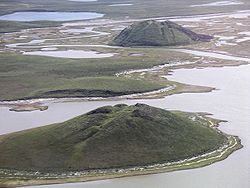 HuntingSign up with a local guide to find caribou, polar bear, beluga whale, fox, wolverine, etc.

SwimmingFor a few weeks in the summer there is a swimming pool open in Tuk. Otherwise, there is another swimming pool in nearby Inuvik.

Build an Igloo

The Beluga JamboreeThis takes place in Tuk around the middle of April. A large cultural festival full of games, food and fun. Jamboree King and Queen competition.

Games nightRegular games night at Kitti Hall. Checkers, chess, and card games with the locals.

Ookpik Tours and AdventuresBuild an igloo, see the pingos, hunt for polar bear, experience Tuk with a local guide.
Buy
Stanton's

address: Intersection of Mangilaluk Drive & Beaufort Drive

Grocery store. Slurpees.

Northern (North Mart)Groceries, post office, tools, clothes, electronics, toys etc.

The Fruit ManEvery once in a while, the fruit man pulls his semitrailer into Tuk. You can purchase fruit, vegetables, among many other foods, often a bit cheaper and fresher than what is sold at Stanton's. He only stays for a little while so act fast.
Eat
phone: +1 867 678-5226

address: 330 Ocean View Road

Local food available: white fish, muskox burgers and muctuk (beluga whale).
Sleep
Tuktu Bed and Breakfast

address: Mangilaluk Drive

Hunter's B&B

phone: +1 867 977-2558

Smitty's Bed and Breakfast

phone: +1 867 977-2777

address: 608 Kitti Road

The End of the Road Inn

phone: +1 867 977-2044

address: 314 Beaufort Drive

Eight rooms with full shared kitchen and bathroom. Laundry services are available on site.
Go next
Drive out or fly to
Inuvik
. This is the closest place to go for restaurants, hotels, etc. Under 3 hours to drive.