Tuktut Nogait National Park
Tuktut Nogait National Park
is a
national park
in the
Northwest Territories
of
Canada
.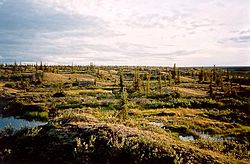 Understand
Tuktut Nogait National Park covers an area of 18,100 km² (7,000 sq mi), which is larger than Kuwait. It is 170 km (110 mi) north of the Arctic Circle in the northeast corner of mainland Northwest Territories.
Tuktut Nogait means "young caribou" in Inuvialuktun: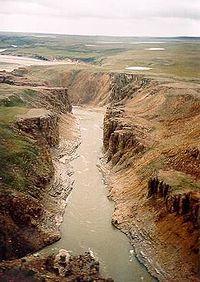 The main rivers that run through the park are the Hornaday River, Brock River and Roscoe River.
Contact the park office +1 867-580-3233 or email: Inuvik.info@pc.gc.ca
History
The park was established in 1998.
Humans have occupied Tuktut Nogait since AD 1000 and surveys have identified over 400 archaeological sites in the park, including remnants of campsites, food caches, graves, and kayak rests. The oldest known archaeological sites are most likely Thule or Copper Inuit ranging from AD 1200 to 1500.
Father Émile Petitot was the first European to reach the area in 1867-68. In 1930, the Hudson's Bay Company established an outpost at Letty Harbour but the post was closed in 1937 due to insufficient trade. In 1935, a Roman Catholic Mission was founded at Paulatuk and operated a small trading post there until 1954. The Inuit who came to Paulatuk and the Darnley Bay area were primarily Mackenzie and Alaskan Inuit from the west. In 1955, most people abandoned the Paulatuk mission and moved to Cape Parry where a Distant Early Warning line site was being built, which meant seasonal construction and permanent wage labour work.
As is outlined in the Inuvialuit Final Agreement and the Tuktut Nogait Agreement, Inuvialuit beneficiaries have the right to pursue subsistence harvesting within the park. This takes place in the north-western part of the park and mostly entails fishing Arctic char, hunting caribou, and some trapping. By national parks legislation, commercial or sport hunting is not permitted.
Landscape
Flora and fauna
The park is home to the calving grounds of the Bluenose-West caribou herd, and to muskoxen, grizzly bears, Arctic chars, red foxes, wolverines, Arctic ground squirrels, collared lemmings, and wolves.
Tuktut Nogait is a major breeding and nesting ground for a wide variety of migratory birds. Raptors such as peregrine falcons, rough-legged hawks, gyr falcons and golden eagles nest along the steep walls of river canyons.
The Dolphin-Union Caribou herd which normally occupies Victoria Island and winters in the Bathurst area of Nunavut, sometimes migrates as far as Tuktut Nogait National Park following the shoreline in search of windswept areas where the snow cover is cleared making it easier for them to graze.
Climate
Tuktut Nogait is rarely visited in the winter. The most suitable time for ski touring or snowshoeing in the park is from late March until early May, when the days are longer and the temperatures are generally warmer than in the early winter. Weather can still be extremely variable with temperatures ranging from above zero with mild, warm and melting conditions to falling well below -30° C with blowing snow and extreme wind.
The sun doesn't set from mid-June to late-July. The wind always seems to blow and the average temperature is about 5 °C in midsummer. By early-September, the hiking season will come to an end because of bad weather.
Get in
Tuktut Nogait National Park is open year-round. July is the most reliable weather month.
Flights are available to Paulatuk from
Inuvik
. Inuvik is the largest community in the region and is served daily by scheduled aircraft from southern Canada.
Paulatuk (Nora Aliqatchialuk Ruben) Airport
phone: +1 867-777-3777

The only scheduled aircraft carrier serving the community of Paulatuk. Scheduled flights (1 hour) between Inuvik and Paulatuk are on Tuesday, Wednesday and Friday. Schedules may be subject to change.
There are no roads or trails leading directly to Tuktut Nogait from Paulatuk. Charter floatplane access from Norman Wells or Inuvik to several lakes in Tuktut Nogait National Park is available by permit. All visitors to Tuktut Nogait National Park must register with the Parks Canada office in Inuvik and attend an orientation session.
Tuktut Nogait National Park is bordered on the north and west by privately-owned Inuvialuit lands. Visitors entering the park overland from the north or the west must cross these lands. Visitors crossing Inuvialuit lands are welcomed by the Inuvialuit, provided that they treat the lands with respect and that they do not interfere with Inuvialuit use and enjoyment of the lands. Visitors planning to fish on Inuvialuit lands must first register with the
Paulatuk Hunters and Trappers Committee
.
The Hornaday River is a scenic and helpful navigation aid for visitors accessing Tuktut Nogait by land. The Hornaday River delta is 15 km by land from Paulatuk. Visitors can follow the west bank of the Hornaday River for approximately 40 km to the boundary of Tuktut Nogait where they can enter the park. Contact the Parks Canada office in Inuvik for assistance with land travel options.
The coastline of Darnley Bay in the Amundsen Gulf is an attractive starting point for many visitors wishing to hike into Tuktut Nogait, particularly the Brock and Hornaday River Deltas. Boat shuttle services are periodically offered by local operators to carry visitors between Paulatuk and the coastal shores to the northwest of the park. Contact the Parks Canada office in Inuvik for assistance with boat shuttle options.
There are no landing-strips; only water-based landings are permitted in Tuktut Nogait. Known water-base landings include Uyarsivik Lake/Cache Lake, Canoe Lake, Long Lake, One Island Lake, Seven Island Lake, Akluk Lake, Brock Headwater Lakes and Hornaday Lake. Charter aircraft may be arranged from Norman Wells and sometimes Inuvik. You must obtain a free Aircraft Landing Permit will be issued when you register with Parks Canada.
In 2015, you could get a chartered flight to the park from
North-Wright Airways
.
Fees and permits
Get around
See
20,000 Bluenose-West caribou travel north to their calving grounds in the park each June.
La Roncière Falls, a 23-metre-high chute along the Hornaday
Do
Paddle the Hornaday River as it flows through Tuktut Nogait National Park to the Arctic Ocean. This 8-12 day excursion transects the tundra and splits red canyon walls 170 m tall.
Backpack the Brock River and Hornaday Canyons: bright green rolling tundra drops dramatically to 170-metre deep amber and red canyons in the Arctic. A multi-day hike.
Fishing: Arctic char and lake trout are the primary species caught. Parks Canada fishing permits are available from the Inuvik Parks Canada office. Government of the Northwest Territories Fishing Licences are not valid in the park.
Buy, eat, and drink
There are no facilities in the park.

Sleep
There is no lodging in the park. If you do backcountry camping, be sure to practise "no-trace" camping.
There are no designated campsites in the park. You may camp on any durable surface (e.g. gravel, rock or sand), except at archaeological sites. Look for rock arrangements such as tent rings and food caches before setting up camp. If you see any of these features leave the site undisturbed and set up camp in an alternate location. Refrain from building markers or cairns (Inuksuit). If using rocks for stabilizing camp please disperse them when breaking camp.
Parks Canada has identified scenic and appropriate camping sites on the Hornaday River. Contact Parks Canada in Inuvik for a copy of the Hornaday River Guide.
Campfires are prohibited.

Stay safe
Grizzlies and black bears are resident in the park: set up a bear-exclusion fence around your camp.