Tulum
Tulum
is on the
Yucatán Peninsula
, in
Mexico
. It is one of the earliest resorts in Mexico, offering a place of worship and solitude for the Mayan kings, clergy and gods in early times. The tropical beach backdrop is the main attraction of this picturesque, much-visited small ruin on the shore of the Caribbean Sea. Shortly after your arrival, you will understand why early Mayans picked this beautiful place to relax.
Be prepared for lots of people and tour groups at the archaeological site. To avoid the crowds, it is best to stay overnight and visit the ruins early in the morning before the buses arrive, or later in the afternoon. Morning is recommended since you can catch spectacular vistas when the sun is rising over the Caribbean.
Understand
There are really
three
different areas referred to as Tulum. There are only minutes away from each other, not close enough though to walk to and from.
Tulum Pueblo
sits split by highway 307 running south-north. "El Pueblo", as referred to by locals, is home to most workers of the tourist industry and where many of the stores, supermarkets, two bus stations, budget inns, hostels and small hotels are found. Although the digs are cheap, you are around 3 km from the beach (which is why you came here isn't it?). This section of town has a definite feel of existing mostly to cater to the Tulum ruins. Tulum pueblo is indeed a destination for shopping, great restaurants, a modest night life, studying the language at Instituto Chac-Mool Spanish School, booking tours, banking, shopping for food, local vegetables, fruits, cafes, and local flavor. Do not miss it.
Tulum Playa
nests along the coastline that leads into the Sian Ka'an Biosphere , the Caribbean white sandy beaches to the east, an impressive mangrove & wetland reserve to the south. Tulum Playa embraces many of the fancier, ecological, boutique and spa hotels, and it has a decent to excellent selection of restaurants and night spots. There are also a number of affordable beach front cabana-type lodging locations. Walk the beach and step in and inquire about accommodations and rates. You will be surprised and delighted.
Most of these establishments are eco-friendly and do not provide electricity past midnight. Toilet paper can not be flushed and it is asked that water and other resources be used sparingly. The hotels in Tulum aim to keep Tulum as it is and stop the ecological problems that have already taken hold in Cancun and Playa Del Carmen.
If you are staying on the beach and trying to save money, it is wise to stock up on food and drinks in the pueblo. There are not too many restaurant options on the beach, and the ones that are operational are comparatively quite expensive.
Taxis have a near monopoly on transport to and from the playa. Buses come from time to time, but hitchhiking can also get you where you need to go.
Tulum Ruinas
is the archaeological site where the Maya ruins of Tulum stand. It is conformed by a-mile-long road leading into the ruins from highway 307. The road is flanked by several restaurants, a commercial area geared to one-day visitors, a huge parking lot, a small bus station that operates part-time and a handful of middle range hotels.
Archaeology
Tulum is mostly known for its ruins, which strike an impressive image next to the sea. They were mainly constructed during the waning period of
Maya culture
, with the site occupied until the Spanish arrived. The site is notable for a small cenote, beautiful beaches below the ruin laden cliffs and some well preserved stellae in one of structure. After visiting other ruins in the area such as Coba, Chichen Itza and Ek Balam, Tulum's main claim is the sea-side setting. Some of the ruins used to be in poor condition and littered, but they are now well maintained (Dec 2018). Unlike many Mayan sites it is not possible to enter or walk on the structures. It is the third most popular archeological site in Mexico, so expect it to be extremely busy. Most of the tour groups from Cancun and Playa del Carmen arrive around 10AM so the site is best visited after it opens at 08:00 or late afternoon.
Get in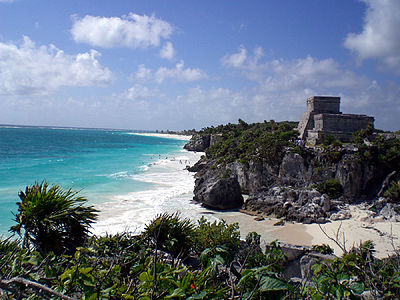 The nearest major airport is
Cancún International Airport
(
CUN
).
You can catch an ADO bus to Tulum directly three times a day: 2:10PM, 7:45PM and 8:45PM. Ticket prices are about US$15. The ride will take about 2 hours.
You can also take the ADO bus to Playa del Carmen with departures nearly every hour for about US$12. Once in Playa del Carmen you transfer to a second bus to Tulum for an additional US$5.
Rental cars are priced reasonably and are the easiest way to get around the Tulum area. Shop around rates upon arrival, and feel free to haggle. Check with your credit card company to see if they automatically insure you, most do so you don't have to pay the additional insurance that the rental agency often tries to insist you purchase. It is a very easy drive to Tulum. To get there you take the only highway south from Cancun Airport straight down past Playa del Carmen, Akumal, etc. About 90 minutes from the airport you will arrive in Tulum.
Many of the hotels in Tulum offer a pick-up service from the airport for an additional US$80-120 depending on the hotel.
You can also take a taxi from the airport from US$145.

By bus

Buses from Cancun run quite regularly. There is also an ADO bus direct from Cancun Airport.
Buses from Playa Del Carmen run hourly or so. Bus station is at southern end of Fifth Avenue near Playacar. ADO Bus stops at Xcaret and Xel-ha en route to Tulum. Mayab bus stops more frequently en route to Tulum from Playa Del Carmen.
To visit the ruins, get off the bus at the first Tulum stop at the intersection with the access road to the ruins. It's an easy one mile or so flat walk to the ruins from the intersection.
An alternative to the buses is to catch a "collectivo" van which runs frequently (every fifteen minutes or so) In Playa Del Carmen you can find these on Calle 2 towards Avenida 20. One-way trip (in Feb 2018) cost M$45 (pesos).

By car

If you drive yourself to the ruins before opening time, it may be a bit confusing as to where to go and what to do. As soon as you park, a man on a bicycle should find you and charge you for parking (M$50). You must go through a sort of half open-air mall (which is empty before 08:00). From there you can either sign up with a tour guide (US$20 per person?), pay for a shuttle ride to the ruins (M$20), or walk a mile along a road to the ruins. The guides are reported to be better story tellers than actual experts on Mayan culture. The walk is on level ground and passes quickly as you admire the jungle and abandoned shops along the way. If you can walk it, do it and save a few bucks! As you approach a stone wall, to the left will be a brown wooden building where you can purchase your ticket into the ruins (M$51, an additional M$35 if they see that you have a video camera). From there, head along a stone path through the jungle and into the ruins.

Get around
By bus
There seems to be a public bus which leaves Tulum Pueblo around 09:00 and 12:00 and goes to the beach and ruins, and returns from there at 12:15P and 17:00. Ticket prices should be around M$5 one way.
Collectivo run infrequently from the pueblo to the beaches (M$20)
By Car
If cenotes and revival ruins are more your thing renting a car is advisable. There are more cenotes here than anywhere else in the world (4,000 are known to be on the Yucatan!) Renting a car makes life easier. Bike riding is fun, but that beach is far from town and that sun is pounding down. Spring for the car rental. Make sure you watch the pesos you give them, and that the screen is set on $0 before they start to fill.
City Car Rental
By taxi
Taxis are an inexpensive way to get around but for the most part, Tulum 'Pueblo' is so small that walking is a simple. Taxis from 'Pueblo' to the coast is M$100-150. It is advisable to either take a taxi or rent a bike when traveling between the 'Pueblo' and the beach, as the walk is rather long. It is highly recommended to have Mexican pesos upon arrival, as taxi drivers may charge you more if you carry dollars only and pay in dollars. You can exchange money in the most banks upon arrival, too.
Taxis from the center of town to Tulum ruins will cost M$100 (Sep 2018).
By bike
Bikes are available for rent from various shops in Pueblo. Iguana Bikes M$150-250 for 24 hours, Kelly M$100 for 24 hours (July 2017). Bikes are a convenient way to get around town and to/from cenotes and the beach. Please be careful when riding a bike on the highway. Bring a headlamp/flashlight if biking at night
By transport services
You can purchase a shuttle service of your choice from Cancun airport and to your destination, which is usually a bit inexpensive.
Tulum transportation
Book +1 888 644 78 03
Tulum shuttle transportation
Book +1 305 529 38 06
See
Tulum Archaeological Site

Muyil archaeological site - is also called Chunyaxche. The ruins can be found at 25 km south of Tulum.
Grand Cenote
Cenote Calaveras
Kantun Chi underground cave River tour is a must, don't just but the tickets to the 4 cenotes, the cave tour is your reason for coming here
Valladolid and while you're here go to the most incredible Cenotes X'kekén y Samula
Dos Ojos Cenote - M$350 as of July 2017 for entrance with your own snorkeling. Set aside around 2 or 3 hours total.
Sian Ka'an Biosphere - The reserve features acres upon acres of pristine mangrove swamp and wetlands. Just past the information center pull into the dirt lot on the left and walk out to the beach. There are a few fishermen that dock here and are willing to take you on a tour that is much cheaper than the organized tours offered in the area. The fishermen will take you on an hour to two hour boat tour of the reserve anyt time of day. Near sunset is a great option. They will often work for hire for M$100-200.
Isla Blanca - a large and vast lagoon with white sand and calm water, which is located at 2-3 hours ride from Tulum.
Coba ruins - Be sure to visit the Coba ruins (entry M$75). They are not in as pristine shape as the Tulum Ruins; however, they feature "El Castillo," the tallest of the Mayan ruins that juts up above the treetops in the jungle. You can still climb El Castillo, and the view from the top overlooking the forest for miles around is impressive. A fun and efficient way of exploring the ruins is renting a bike (M$50); just go to the rental place inside the ruins. You can also rent bikes to get around Coba. Coba is only a 30 minute drive west of Tulum on the main road off 307. Just follow the signs to Coba! ADO buses cost M$90 each way and stop directly outside the park. Departing Tulum 10:10 and returning 13:00 and 15:11 travel time is 50 minutes
Cozumel Reef - one of the most beautiful and largest coral reefs in the world.
Street art - the streets behind the main road in Tulum are filled with street art, with interesting pieces on almost every block.
Do
Tulum Sports FestivalA sports event held annually at Tulum Beach and is open registration. Live music, beach volleyball, paddle boards, kayaks, swimming, kite boarding.

Kitesurf.
Extreme Control - the beaches of Tulum in Playa Paraiso, certified instructors, all levels, full facilities and rentals.
Ocean Pro Kite - kiteboarding school on Tulum beach. It provides kitesurf lessons following professional method of teaching, known as IKO (International Kitesurfing Organisation). From a one-hour lesson to "ready to go" packages.
Snorkel. Guided snorkel tours from the public beach near the ruins.
You can also take your own self-guided tour of the reefs right off the beach from the Hotel Zone. Tulum sits on the second largest barrier reef in the world. Over 30 species of fish and some spectacular coral. If you take a guided tour, the cheapest in the area is located at Zamas Hotel. Zamas is about 10 establishments in from the beginning of the hotel zone.
Hidden Worlds Cenotes ParkHidden Worlds is on the most extensive system of underwater caves and caverns on Earth. The park is home to some of the most incredible cenotes on the Yucatan Peninsula, as featured in the 2001 IMAX movie Journey Into Amazing Caves and the 2007 BBC Planet Earth series.
Maya SpaHolistic spa specializing in Mayan treatments.
Cenotes
In much of the Yucatan, rainwater collects in a system of underground caves and tunnels. Where these tunnels reach the surface is known as a cenote (pronounced seh-NOH-teh). Cenotes usually allow swimming and diving, and rent related equipment. They are fresh water and are often quite cold (24°C).
Casa Cenote, in TanKah III Bay. Here the Cenote goes underground 90 m (100 yards) before the beach, and emerges as an 'underwater' water spring about 18 m (20 yards) of the beach in the ocean. Tanka III Bay is 7 km (5 miles) north of the intersection to the ruins. Take a cab. Great places to eat and stay or scuba too. One of the ways to make sure you also visit and dive is to arrange taking a diving course there and it will take just 3 hours in total.
Cenote Cristal & Cenote Escondido. The two cenotes are about 4 km south of the city center. It is an easy ride by bicycle to get there. Once you reach Cenote Cristal on the right side of the street go there to buy the entrance for both cenotes (M$120 as of July 2017). In Cenote Cristal you have a nice platform to jump into the water. On the opposite side of the road is Cenote Escondido. Also nice for swimming and it has a rope to jump into the water. Maybe not so great for diving and snorkeling but a great spot to cool off and have some fun close to Tulum.
El Gran Cenote. Admission: M$80.

phone: +52 (1) 984 980 0502

address: No. 4 Street Orion Norte Between Av. Tulum and Polar

British-owned dive shop specializing in cenote diving.

phone: +52 984 980 0544

address: Avenida Tulum, manzana 2, Lote 4

Offers various adventures - learning to scuba dive, exploring cenotes, admiring local wildlife, kite surfing and paddle boarding lessons and day trips to Sian Ka'an and Isla Blanca for practice. Ground tours to Punta Laguna and Coba, Sian Ka'an, Muyil and Tulum Ruins are also available upon reservation. The shop has PADI certified Dive Master instructors, senior level 2 (IKO, KISS, PASA, IBO) kitesurfing instructors and local guides speaking English, Spanish and Italian. Diving tours start at 08:00 and 11:00 every day, private kite surfing and paddle boarding trips are with the following duration: 09:00-16:00. All gear, equipment, transportation is provided.
Learn
If staying for more than just a couple of days, you may want to experience taking some Spanish lessons at the beach or at the Spanish school.
Pink Iguana is offering lessons to corporate clients only.
Instituto Chac-Mool Tulum. Also, in Tulum is Instituto Chac-Mool Spanish School offering Spanish immersion classes year round. Classes may be as private lessons or studying with a peer group that the school arranges based on your starting level of Spanish.
Buy

Markets catering mainly to the bus loads of tourists are situated on the road leading to the entrance of the archaeological site.
There are also markets in town on 307 in the main stretch of town. Many cater to tourists however be sure to give them a look anyway. There are a lot of beautiful hand crafted Mexican pottery and fabrics. If you turn off of 307 and vere into town away from the main strip you can discover tons of tiny establishments and get a feel for the truly sleepy town of Tulum.

Eat
Burrito Amor, from M$50 for healthy and clean amazing food
Mezzanine on the cliffs (only 12 m/40 feet high, but nice) overlooking Playa Paraiso. Thai food and great ambiance and a super view. They hows on Friday and Saturday nights.
For the budget minded, try Pollo Bronco in Tulum 'Pueblo'. Pollo Bronco and Pollo Asada offer chicken that is roasted to perfection that can be ordered by the 1/4, 1/2, and whole.
Most of the restaurants in town are infinitely cheaper than those at the resorts. Most places, with the exception of the Italian and Japanese restaurants feature entrees for well under M$100. Don Cafetos features authentic Mexican and is one of the most popular restaurants on the strip. There are countless little cafes and establishments to get a great bite to eat for cheap.
Off the downtown, a few meters ahead on the left of the street entering Villas Tulum is Non Solo Pizza that sell inexpensive pizzas, pies, tarts, breads, cakes, etc. (around M$20). All are freshly baked by the courteous (also English-speaking) lady who sells those over the counter. Very simple, homely, tasty unlike the greasy branded template pizzas!
If you are staying on the beach, it is wise to stock up on food and drinks in the pueblo. There are not too many restaurant options on the beach, and the ones that are operational are quite expensive.
If you want non-perishable items, grab some snacks to supplement your meals at the Super San Francisco Food Mart. You can buy a cooler here which is great for having cold drinks on the beach each day. Just pick up ice in the morning and the cooler will stay cold until night time. This supermarket however is run by locals and hardly anyone speaks English, so if you don't know Spanish, be prepared to shop around to find what you need.

Oscar & Lalo Restaurant, Bar & Grill

phone: +52 984 115-9965

address: Carretera Federal 307

Seafood, Mexican and Yucatecan cuisine.

El Camello"The Camel" has great (and cheap) seafood! Unpretentious but packed with locals and tourists. Take a cab to get there unless you are in the southern part of town.

address: Polar at Orion

The food is somewhat expensive (but well worth the price!), keeping locals away, and few tourists notice this excellent restaurant, since it's not on the main strip. The place is owned by its young chef, Claudia, trained in Mexico City's premier culinary academy.

El Camello JrGreat (and cheap) seafood. This place is often crowded (mainly by locals) (March 2012).
Drink
Also try
a few other cool spots in Tulum that offer fun drink specials with a hip tropical flair:
Curandero offers live music and djs in a trendy atmosphere.
Teetotum offers weekend rooftop movies, a cool lounge and drink specials, try the Razzleberry Daiquiri!
Ak'iin offers weekend parties with live music or DJs, no cover and drink specials on a beautiful stretch of beach.
Batey'sbest live music and mojitos in town
Sleep
The sleeping options have a poor price-performance ratio. In the zona hotelera (at the beach) really simple rundown cabanas with shared bath and without seaview are sold for M$550.
Tip: if you aren't spending the big bucks to stay right in the beach, stay in town to the east of Ado bus stop on the main drag, keep within 2 blocks north or south of that main Street, it gets darker and sketchier the further you venture out at night. Another safer feeling area is anywhere along the main road to the beach, but keep on the south end of the main road, especially if riding a bike, that hwy is a pain to cross
Budget
Cabanas Copal Offers shared rooms with communal bathrooms for US$20 a night. You can also get a room with private bath for US$75 and upwards based on the quality of the room and proximity to oceanfront.

Casa del SolHostel. 3 blocks south of the ADO bus station, off the main avenue. Rustic hostel with huge rooftop terrace and common areas with shared kitchen. Breakfast is provided. Most of the double rooms are in Mayan style palapas. Garden atmosphere. Great for rainy season.

phone: +52 984 80 25 593

address: Avenida Coba Crucero Avenida Tulum, Col. Centro C.P.

Offers 6 air-conditioned rooms with cable television, Internet, and shower with bath. Some of its offered activities include kiteboarding school and rental, car and bike rental, and massage service.
Playa Condesa Offers private cabanas on the waterfront starting at M$200. Located near Diamante K, but considerably cheaper. About 3 km from the ruins.

phone: +52 984 871 2700

Bed and breakfast hostel with deals for groups, shared bathrooms, delicious breakfast, nice bikes, cozy cabins for maximum 4 or 5 people. Nice place with garden and hammocks. Located on the main highway in front the entrance to Tulum Archaeological site.
The Weary Traveler Hostel. 1 block south of the ADO bus station. Relaxed hostel with outdoor communal area and kitchen. Breakfast (DIY), water, cooking facilities, beach shuttle bus and internet provided. A nice place for young people that wants to party. All rooms are facing out to the common area, so lots of noise at night until 23:00. Also not the cleanest place and bed bugs are a common thing. Private rooms in a better state, now situated in a separate building about 200 m from the main one, also quieter since avoiding the loud music from the bar at night. Dorm room single beds: M$150 with fan and M$175 with A/C. Dorm room double beds: M$325. (M$200 deposit for blankets, or give your ID as a deposit). Discounts available for stays longer than one night, up to 20% off a 5 night stay.

Hostel MayaBasic room with fan, Wi-Fi comes and goes, no air conditioning, cockroaches, exceptionally rude management but the price is right.
Mid-range
Zamas HotelThatch roof bungalows right next to the beach. Snorkeling is available in the Zamas cove.

Encanto Cerveceria Rooms located right on beach road, 3 rooms behind a dive shop and beer garden. They can be found on Airbnb or call +52 984 871 2019. Comfortable and safe.
Hemingway Eco Resort has 8 rooms on a secluded section of beach about a mile down the road from EcoTulum Resorts. The beach is pristine and the sea is a bit calmer here offering snorkeling right off the beach. Stop by the restaurant for some good Italian food.

Azulik VillasA series of rustic beachside villas in the wilderness. It has many relaxation alternatives like different types of massages, esthetic treatments (body and facial scrubs), reiki, the temazcal (copal sweat lodge, based on traditional healing methods used by indigenous Mexicans to purify the soul and body) and a flotation tank. It is clothing optional.

The Diamante K features cabañas ranging in quality from 2 up to 5 stars on a private beach front. An interesting feature of the Diamante K is the hanging beds in the cabañas. A restaurant is on site, and you can relax in a hammock and just soak up the tranquility. Electricity is supplied by a generator and hence is switched off after around midnight. Candles are supplied in the cabañas.

Tankah Inn Bead and BreakfastOffers 5 neatly furnished rooms, all with ultra silent A/C and ocean view, a great upstairs airy restaurant and terrace, free breakfast, wireless internet, great ambiance, quiet and quaint. It is on beautiful Tankah III Bay, seven minutes from the ruins and 180 m (200 yards) from Casa Cenote (sink-hole).

Cabanas La LunaEco boutique oceanfront cabañas, hidden away on the beach near Tulum.

Om Tulum Hotel Cabanas & Beach Club

phone: +52 1-984-157-7903

address: Carretera Tulum-Punta Alen Km 9.5

Minimalist in design, the private cabanas are quiet, beach-inspired, and furnished with a deck/balcony that opens up to a garden panorama, a private toilet and bath.

Playa Azul TulumPlaya Azul Tulum Hotel is a group of cabañas between the jungle and the Caribbean.

Teetotum HotelBoutique hotel between Tulum town and the beach, offering king sized beds, A/C, ipod docks, continental breakfast, free bicycle use, free high speed wi-fi and a restaurant open from 08:00-23:00 daily.
Splurge
phone: +1 866-237-3267 (USA number)

Has its own white sand beach, 44-acre gardens and 2 pools near the beach. It is an all-inclusive resort that offers activities including a kids' activity center with a climbing wall and game room, a spa, a PADI dive center and diving and snorkeling excursions.
Connect
phone set your cell to airplane mode, enable calls over Wi-Fi, disable data roaming, many/most restaurants, bars, hotels have Wi-Fi, easy and free to make calls this way.
Click-C@ribe - At the entrance of Tulum. State of the art internet technology at US$14/hour.
Tucan-Kin - Airport Shuttle tucankin@gmail.com +52 984 134 75 35.
Note: You may encounter problems if you try to make
phone calls
from the beach. Payphones are sparse and often broken, and they are all owned by one company. These phones require you to purchase a special proprietary card of at least M$100, and the cards cannot be used at regular payphones. A better alternative is to use a normal payphone in the pueblo, or use a Mexican cellphone (There is reception on the beach, but make sure to recharge in the pueblo beforehand.)
Go next