Tumkur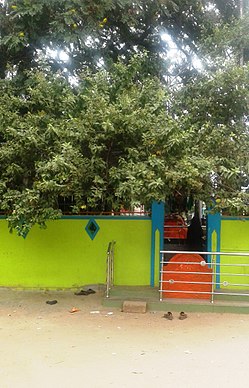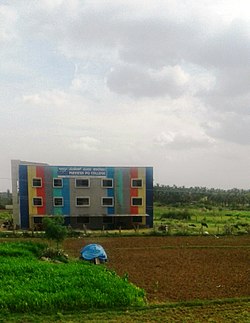 Tumakuru
, formally known as
Tumkur
, is in
Karnataka
state of
India
.
Get in
Tumakuru is well connected by road and rail. There is one bus every 5 minutes from Bangalore as this is on the National Highway - 4 and the Bangalore-Honnavara Road. There are several trains as well, all express trains stop at Tumakuru railway station.

See
Sri Siddaganaga MuttSri Siddaganaga Mutt is a main attraction of Tumkur, where around 8000 students are provided education, boarding and lodging free of cost.
Devaraayana DurgaDevaraayana Durga is a famous hill station and a religious place about 15 km from the City of Tumkur. Naamadachilume on the route to Devaraayana Durga is a protect forest area which has a deer park.
KaidaaLaKaidaaLa has a famous Sri Chenna Keshava Swamy temple which dates back to the hoysalas. The temple was carved by Jakanaachari, who was the chief architect of belur temple. And Kaidala is the birth place of Jakanaachari.
GoravanahalliGoravanahalli is one of the popular pilgrim centres located in the Koratagere taluk of Tumkur district.The temple here is dedicated to goddess Mahalakshmi. It is believed that the idol of Shri Mahalakshmi is self originated.

HebburShri Kamakshi Sharada Temple managed by Shri Kodandashrama Mutt of Hebbur, is situated in Tumkur Taluk, Tumkur district of Karnataka.

Siddara BettaSiddara Betta Sacred Place where 9000 siddaru (holy spiritual men) made meditation and worship of Lord Shiva, They got mooksha (freedom) from this eternal world. It is extraordinary place for trekking. There are many useful ayurvedic herbs found here.

Kunigal Lake TempleTwo beautiful temples with a promenade on the lake.
Do
Hiking in the near by Siddaganga Hills, Ramadevara Betta, Namada Chilume, Devarayana Durga, Siddara Betta, and Basadi Betta.

Eat
Pavithra Idly HotelIdly at Kyatsandra is very famous all over Karnataka. Pavitra Idly Hotel offers delicious idlys as does Ravi Darshan Idly Hotel adjacent to Pavithra Idli Hotel. Both hotels are famous for serving hot tatte idlis throughout the day.

Ashoka Restaurant

address: Opposite Private Bus Station

South Indian vegetarian lunchː ₹70.
Drink
Tender Coconut water as Tumakuru is known as land of Coconuts locally.

Sleep
Ashoka Lodge

address: Opposite Private Bus Station

Vegetarian restaurant is attached.

Woodlands Hotel

Vigneshwara Comforts

Nanjundeshwara Hotel
Connect
By B.S.N.L (Cellone) cellular(mobile) network signal. India Post has post offices at different localities where inland letters, post cards, postal envelopes are available. India post provide courier service to different parts of India and abroad.

Go next