Turin
Turin
(Italian:
Torino,
Piedmontese:
Turin
), a large city of about one million inhabitants, is set in the
Piedmont
region of northwestern
Italy
, a one-hour drive from the French border and slightly more than that from the Mediterranean sea. It's famous for being the home of Italy's royal family. Today, Turin, with its fine, aristocratic atmosphere, old world sophisticated shops, grand boulevards and palaces, leafy parks, and several art galleries, is an increasingly popular tourist resort. The 2006 Winter Olympics, and its status the same year as World Book Capital, have prompted tourists to visit this beautiful and underestimated Italian city, which has a longstanding cultural and artistic history.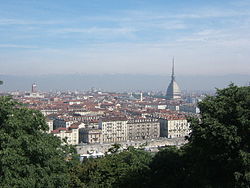 Understand
Turin was the first capital of modern Italy, and was the host of the 2006 Winter Olympic Games. While it's not a famous tourist destination like
Florence
or
Rome
, the setting is pleasant, with the Po River flowing through the city, the genteel hills overlooking the city and scattered with pleasant villas and surrounded by the Italian Alps off in the distance. This is why the famous architect Le Corbusier defined Turin as "the city with the most beautiful natural location in the world".
In the 18th century Savoy, newly proclaimed a kingdom, embarked on an urban design project for its capital Turin. At this time many public squares, grand boulevards and royal palaces were built in order to make the city fit for a capital. After 1801 when Napoleon conquered the city, he created more large avenues in order to allow his troops easier movement, further altering the city's layout.
Turin is an important city of technology and industry, and the FIAT automobile company is based here. (The 'T' in the name stands for Torino; FIAT = Fabbrica Italiana Automobili Torino, which translates as: Italian Automobile Factory Turin.) It was also the birthplace to many important cultural and political movements in Italy.
Turin inhabitants are well known across Italy for their understatement and composure and the city reflects this attitude.
Many people consider Turin to be the European capital of Baroque: many palaces and churches were built in this style during the kingdom of the Savoia. It isn't the typical Italian city, with red and yellow buildings: is a bit more French, so much that is also called "the little Paris"; wide boulevards with white buildings make the city center more similar to Paris. Around the city, a crown of churches and castles, some up on a hilltop, some lost in a park, provide plenty of interesting views. Turin also has an aristocratic atmosphere - the centre is filled with posh 19th century cafes, regal-like arcaded mansions, debonair glittering restaurants, and grand churches.
Turin is home to the famous
Shroud of Turin
. It has become the home of the
Slow Food Movement
.
Get in
By plane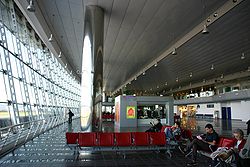 Turin AirportThere are international flights to Turin from Amsterdam, Bacau, Barcelona, Berlin SXF, Birmingham, Bristol, Brussels BRU & CRL, Bucharest, Casablanca, Chisinau, Dublin, Edinburgh, Fez, Frankfurt, Leeds, London LGW, LTN & STN, Madrid, Malta, Manchester, Marrakesh, Moscow DME, Munich, Paris CDG, Seville, Stockholm ARN, Tirana, Valencia & Warsaw. Domestic destinations are Alghero, Bari, Brindisi, Cagliari, Catania, Lamezia Terme, Naples, Palermo and Rome FCO. Some of these are seasonal, and the airport is especially busy in ski season with travellers to the resorts in Valle d'Aosta and the western Italian Alps. Most flights are with budget airlines such as Ryanair and Blue Air, even for domestic flights, or with ski package operators. There's just a single terminal, easy to navigate, with the usual range of shops airside after security: Heinemann run the duty-free franchise. Departure gates 1-13 are domestic / Schengen, gates 14-22 beyond passport control are non-Schengen. There's a back-up passport control point for gates 19-22, to give the airport flexibility in allocation of areas, but it's normally empty and you can stroll through to the toilets by gate 22. But there's otherwise no facilities in the non-Schengen area, so don't go through passport control until an hour before your flight.
To the city:
best is the
Sadem
bus, running every 15-30 mins between airport, Caselle town, and Turin Porta Susa and Porta Nuova railway stations, taking 45-55 mins; some buses extend to Lingotto. If possible buy your ticket from a kiosk or machine in the arrivals area, for €6.50. But these machines are never working so you'll likely have to buy it on the bus for €7.50. If you buy a Turin + Piemonte Card (as in "See"), the ride is only €5.
By train is possible but inconvenient. Walk west from the terminal to Caselle-Aeroporto railway station, which is on the branch line between Lanzo & Germagno in the hills to the north, and Dora station in Turin. Trains run every 30 mins and take 20 mins to Dora, from where you'd need to transfer to a city bus. The train fare is €2.70 but better value is the
Integrato B
at €3, valid for two hours of city transport. Buy it from the travel kiosk in arrivals.
By taxi to city centre is around €40, and a private car transfer €100. There are car hire desks in arrivals: you don't want a car in the city, but would need one to explore the mountains.
Other airports
for reaching Turin are Milan Malpensa MXP, Milan Linate LIN, and Bergamo BGY. Of these, Malpensa has the best range of flights, and best onward transport: the
SADEM
bus runs direct from MXP Terminals 1 & 2 to Turin Porta Susa, hourly 08:00-22:00 and at midnight. The ride lasts 2 hours and costs €22, buy tickets in Malpensa arrival hall or online.
By train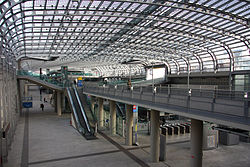 Turin's main railway station is . All international and long-distance trains call here, with direct services to Paris Gare de Lyon (6 hours) via Lyon, to Milan (50 min), Aosta (90 min), Genoa (90 min), Bologna (2 hr), Florence (2 hr 45), Venice (3 hr 30), Rome (4 hr), Naples (6 hr), Bari (8 hr) and by sleeper to Reggio DC (18 hr) for Sicily. For Switzerland, Germany and Austria, change in Milan. The Frecciarossa trains rush between Turin and Milan in 50 mins for a fare of €35, reservations compulsory and they do sell out. If you're not in a hurry, standard Trenitalia trains via Chivasso and Novara take 1 hr 45 and the fare is only €13.
The old Porta Susa station at Piazza XVIII Dicembre is shut and empty, and horse-drawn buses ply there no more. The new station, adjacent south, opened in 2013: it's a long low steel hangar that looks like it wants to be a garden centre. There are ticket offices and machines, toilets, a cafe and a convenience store; there's no left luggage facility. As of early 2019, almost none of the retail units have been let, so the interior concourse is just a long bare corridor. There's limited seating and if you have an extended wait, you might be better in one of the nearby bars and cafes. Find these by exiting west onto Corso Inghilterra or going a little north (past the old station) onto Corso San Martino. Porta Susa station is on the Metro line, with a bus terminus (including for the airport bus) outside east on Corso Bolzano.
station doesn't have international trains but has all the long-distance Italian services, travel times as above. It's a terminus station so through-trains reverse direction. Lots of shops and cafes here, and a left-luggage office open daily 08:00-20:00, charge €6 per bag for five hours. There's even a piano. Porta Nuova is on the Metro line, with lots of buses (including the airport bus) stopping outside.
Turin's other stations include Stura north of the city, and in the south near
Eataly
and the Automobile Museum. All stations are managed by
Trenitalia
, the Italian state railways.
By car
The principal routes, on toll motorways, are:
A4 from Trieste, Venice, Padua, Verona, Milan and Novara.
From Geneva and northern France via the Mont Blanc Tunnel, then A5 down past Courmayeur, Aosta and Ivrea.
A7 from Genoa to Tortona, then A21 past Alessandria and Asti.
From Lyon and Grenoble in France via the Frejus Tunnel then A32.
By bus
Flixbus
have direct buses to Turin from Paris (10 hr), Lyon (5 hr), Geneva (4 hr 30), Zürich (6 hr), Munich (9 hr), Ljubljana (10 hr), Zagreb (12 hr) and Budapest (16 hr). Services within Italy are from Genoa (2 hr 30), Bologna (6 hr), Florence (7 hr), Venice (6 hr 30), Trieste (8 hr), Rome (10 hr), Naples (11 hr) and Catania (22 hr). Buses from Milan are about every hour, taking 2 hours, and advance online fares can be as low as 4 euro. Many other destinations can be reached by a single change of bus.
Marinobus
have a direct bus from Paris (25 hr) via Frankfurt and Stuttgart.
Get around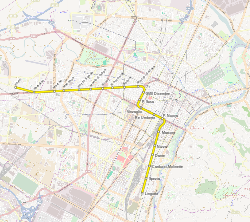 Public transport
Turin has an efficient, integrated system of buses, trams and Metro all operated by
GTT
. These run 06:00-00:30, and out of hours there are night buses fanning out from Piazza Vittorio Veneto. A comprehensive
network map
is available on the GTT website. On
5T website
it's also possible to check real-time running.
You must buy your ticket before you get on and validate it as soon as you board. All
tabaccherie
(tobacconists) sell transport tickets as do some bars and kiosks at stations; machines however are often broken. The standard ticket is the "City + Suburban 100", valid for 100 mins for unlimited bus rides plus one journey on the Metro. In 2019 this costs €1.70; daily, 48-hr and 72-hr tickets are available for €4, €7.50 and €10 respectively. Longer season tickets will need photo ID. The spot fine for travelling with an unvalidated ticket, or without one, is €25.
Bus and tram stops are clearly marked with yellow signs, and display maps of the city routes. There may be electronic indicators at the stop and on board.
The Metro
, opened in 2006, is a single line with driverless trains. The southern terminus is
Lingotto
, near the mainline Lingotto station, Exhibition & Trade Centre,
Eataly
and the Automobile Museum. The line runs north under Via Nizza stopping at Spezia, Carducci, Dante, Fermata 8226 and Marconi to
Porta Nuova
railway station. It there turns west beneath Corso Vittorio Emmanuele II stopping at Re Umberto and Vinzaglio, then north again to
Porta Susa
railway station and Piazza XVIII Dicembre. It then runs west under Corso Francia into the suburbs, stopping at Principi d'Acaja, Bernini, Racconigi, Rivoli, Monte Grappa, Pozzo Strada, Massaua, Marche, and Paradiso to end at
Fermi
. Fares are the same as for buses, eg a 100-min single journey including bus transfers is €1.70, it's automatically validated by passing the platform entrance gates.
Out-of-town:
the GTT network and ticket includes the suburbs, but further out it's mostly the blue buses run by
Sadem
(including to the airport, see "Get in"). Again, try to buy your ticket before boarding, eg at a tobacconist, cafe or news stand. Consider also buying the return if you're going to a quiet spot that may lack facilities. You can probably buy your ticket on the bus, but this will cost maybe an extra euro, and the driver will grind his gums if he has to give change.
By bicycle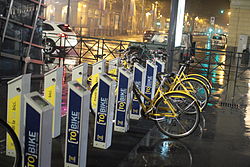 The city has a
network of bicycle paths
, though they're not all in good condition, and pedestrians will try to claim right of way. On the roads, cars and motor scooters will scythe across your path, and as for the trams . . .
A bike-sharing service is operated by
ToBike.
They have some 140 bike stations across the city, and their website shows real-time availability of bikes and docking stations. But first you have to register - easy if you're a resident, and your card is mailed to you within a couple of days. That doesn't work for short visits, so try presenting yourself at the Tobike shop in Via Santa Chiara 26/F, or at Turismo Torino in Piazza Castello. There are other outlets (eg
Eataly
in Lingotto) but they only sell annual cards. There's also an app you can use,
Bicincittà
, then access bikes by your mobile instead of by a card, it's not clear if this gets around the problem of not having a local mailing address.
Choose your Tobike card period: €5 for one day, €8 for one week or €25 for one year. Your first 30 mins on the bike is free, for unlimited trips providing you dock the bike between trips. Thereafter charges apply, up to the maximum permitted use of four hours.
Similar services are run by
oBike
and
Mobike
, use their Android / iPhone apps to register.
By car
You don't need a car in town, and driving here is not for the faint-hearted. You need to beware the many restricted-entry streets, trams, and other motorists who may regard red lights and speed limits as merely advisory.
A good central parking garage is beneath Piazza Vittorio Veneto is
Car rentals:
as well as the airport rental kiosks, there are down-town rental offices, eg Hertz just outside Porta Susa train station.
There are three car sharing services in Turin,
Car2Go
,
Enjoy
and
BlueTorino
(which uses 100% electric cars). An electric scooter sharing service is run by
MiMoto
.
By taxi
Taxis in Torino start the meter the moment your call is received. It is not customary to hail a taxi on the street, but there are taxi ranks at the main railway stations, at the corner of Via Sacchi and Corso Vittorio Emanuele II, and elsewhere. You can also book via the
WeTaxi
app.
See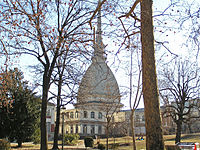 Turin's main attractions include important baroque palaces and churches, a regular and attractive street grid, an extensive network of arcades, famous coffee shops and a number of world-renowned museums. Five palaces in Turin itself and nine more in the region served as residences for the Savoy royalty and are now inscribed on the
UNESCO World Heritage list
.
The
Torino and Piemonte Card
is worth its money if you plan to visit most places in the "See" section. The pass provides free access to all the museums and other attractions of the city listed below. You also can use free the Venaria Reale bus service, which is operated by GTT, to travel to Venaria and see the restored palace. The entry to the palace is also covered by the pass. Also don't miss the opportunity to use the Navebus service and take a boat tour in the river Po. This service is also operated by GGT and is included in your pass. The card entitles you with free travel from Dora Station to Torino International Airport, service operated by GTT. Trip with chain train to Superga is also included with the small fee to reach the top of the church and a guided visit to the tombs of the Savoy Royal family. 1-day card €27, 2 days €36 (€15 under age 18), 3 days €43 (€19 under age 18), 5 days €51 (Oct 2019). You can add free travel on the public transport for 1 day €3, 2 days, €4.50, or 3 days €6.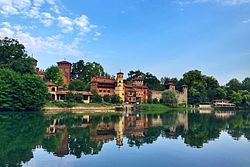 Museums
Palazzo Reale

phone: +39 011 543889

address: Piazza Castello

The Palace is a wacky hybrid of medieval castle, baroque, and bling. The ticket covers five attractions:
- Palace gardens: you enter this area free to reach the ticket office and palace entrance.
- Galleria Sabauda houses the vast art collection of the rulers of Savoy.
- Chapel of the Shroud is accessed this way, and from a gallery looks into the Cathedral.
- The royal apartments: gilt, red flock, chandeliers, vast paintings, and everything else to impress.
- Royal Armoury: dating from 16th century, the 1833 collection of Sardinian king Carlo Alberto.

CAMERA – Italian Centre for Photography

phone: +39 011 0881150

address: Via delle Rosine 18

phone: +39 011 956 5222

address: Piazzale Mafalda di Savoia

In the small town of Rivoli, east of Turin. Houses one of Europe's most important Contemporary Art Museums. The Castle of Rivoli is an unfinished 18th-century castle that stands on top of Rivoli hills. Corso Francia (France Road) is one of the world's longest streets and was built because of the desire of the House of Savoy to connect Royal Palace in the center of Turin with Rivoli Castle. You can reach it by bus or taxi.

phone: +39 011 561 7776

address: Via Accademia delle Scienze, 6

Houses the most important collection of ancient Egyptian artefacts outside Cairo. Founded in 1824 by King Carlo Felice after acquiring archaeologist Drovetti's collection, the museum contains 30,000 exhibits. It documents the history and civilization of Egypt from the palaeolithic to the Coptic era through unique exhibits and collections of objects d'art, articles of daily use and funeral furnishings (including the Altar of Isis, the canvas painted by Gebelein, the intact tombs of Kha and Merit, and the exceptional cliff temple to Ellesjia). It is also intelligently laid out and the exhibits are lovingly preserved; a big renovation took place up to December 2015.

phone: +39 011 562 1147

address: Palazzo Carignano, Via Accademia delle Scienze, 5

Fascinating exposition of the tumultuous birth of modern Italy, set in the very building where many events took place: Carlo Alberto and Vittorio Emanuele II were born here, and the first Italian parliament sat here. Garibaldi's campaign was in the context of revolutions and upheavals all over Europe, the greatest of all being the Industrial Revolution. It was a very literary and graphic age, so events are vividly shown in film, photos, political cartoons and other artefacts.

Foundation Accorsi-Ometto – Decorative Arts Museum

phone: +39 011 837 688 5

address: Via Po 55

Galleria Civica d'Arte Moderna e Contemporanea

phone: +39 011 442 9518

address: Via Magenta 31

Mole Antonelliana / National Cinema Museum

address: Via Montebello, 20

The Mole, Turin's landmark building built in 1888, was intended as a synagogue but the size and cost got out of hand and the Jewish community never used it. The 167.5-meter tower is the highest work of masonry in Europe and you can ride a lift to the cupola at the top. Within it, the National Cinema Museum is a vast exhibition space spiralling up five floors. The themes of the floors are the archaeology of cinema, the video camera, a collection of cinema posters, video installations (with side rooms screening clips), and The Great Temple where you recline in comfy red chairs and watch - or is it worship? - Italian film classics projected on giant screens overhead. Artefacts include magic lanterns, optical illusions, photographs, drawings, models, props and costumes, e.g. the original cape worn by Christopher Reeve in Superman in 1978.

Museo Nazionale dell'Automobile

phone: +39 011 677666

address: Corso Unità d'Italia, 40

The collection houses over 170 vehicles, from 18th-century carriages to Formula 1 racers, and lots of gorgeous red sports cars.

Museum of Criminal Anthropology – Cesare Lombroso

phone: +39 011 6708195

address: Via Pietro Giuria 15

Museo Nazionale della Montagna Duca degli Abruzzi

address: Piazzale Monte dei Capuccini, 7

phone: +39 011 760 4881, +39 011 30 90 115

address: Via Paolo Borsellino 3

phone: +39 011 4436932, +39 011 4436918

address: via San Domenico 11 (Palazzo Mazzonis)

Houses collections from Gandhara, India, Southeast Asia, China and Japan. The third floor is devoted to Buddhist and Tibetan culture. The fourth floor contains the collections coming from Islamic countries and the Arabian Peninsula (mainly bronzes, ceramics, tiles). There are also temporary photography exhibitions and conferences.

phone: +39 011 4365832

address: Via San Domenico 28

The original "Turin Shroud" is in safekeeping in the Cathedral and only occasionally displayed, the last being in 2015. This small museum displays a copy and studies the Shroud. It's a remarkable object whatever it is, a 4.4 x 1.1 m winding sheet charred by fire and appearing to bear the likeness of a man, matching the Gospel description of the crucifixion of Jesus. Multiple tests have produced contradictory results, or at least contradictory interpretations. It's only reliably known to have existed since 1390 when it was denounced as a forgery, and radio-carbon dating matches that. But no deliberate attempt to reproduce it has managed to capture all its qualities, especially the 3D effect of its photo negative, and neither natural nor artificial processes convincingly explain it. So just look and wonder.

phone: +39 011 263 6111, +39 011 20 71 427

address: Via delle Orfane 7

phone: +39 011 546317

address: Via Guicciardini 7a

Learn about the days of the Spanish Succession War when Turin was besieged for four months by the French army in 1706. The town was saved by the so-called "war of mines" which was fought across a vast network of tunnels extending under and beyond the external defence works (fourteen kilometres on the whole). At least 9 km of galleries have been entirely preserved throughout the centuries and can still be visited today.

Pinacoteca Giovanni e Marella Agnelli

phone: +39 011 0062713

address: Via Nizza 230/103
Archaeological sites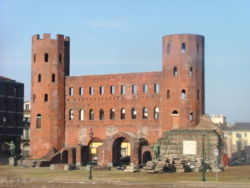 Porta PalatinaRoman-Age city gate dating from the first century BC
Churches
Cathedral of Saint John the Baptist

phone: +39 011 436 1540

address: Piazza San Giovanni

Large elegant cathedral dating from late 15th century, enlarged in the 17th to create the Chapel for the Shroud of Turin. The original shroud is kept safe in a vault and only rarely displayed - visit the nearby Sindone Museum to see a copy. The Chapel was destroyed in a fire in 1997; rebuilding is complete but other restoration continues, eg a new altar is still needed. This Chapel is nowadays accessed as part of a tour of Palazzo Reale and can't be seen from the Cathedral.

phone: +39 011 899 7456

address: Strada Basilica di Superga, 73

On top of the hill near Turin, this cathedral was built in thanksgiving for a victorious battle against French. Today, it houses the tombs of the House of Savoy. In 1949 a plane carrying the entire Turin FC team crashed near the cathedral, killing one of the greatest football teams ever. At the crash site a plate memorializes the dead. The top of the hill offers the best view of Turin, with the magnificent Alps in the background. You can reach the top by car or city bus but also by a little chain-train. Ask for the Trenino per Superga. The train runs once an hour in winter with a return train every half hour. The last train back in winter apart from the christmas season is 15.30 so make sure you don't miss it. Walking up the road is also an option, though the road is very windy and often lacks footpaths so is quite dangerous. It will take about an hour 15 minutes from the Sassi tram stop (bring water in warm weather). Take the staircase inside the church to reach the top (there is a charge to enter).

phone: +39 011 562 7226

address: Via Giuseppe Garibaldi 25

A jewel of architecture and sacred art of the Piedmontese Baroque. Here is located the "calendario perpetuo" (perpetual calendar) made by Giovanni Amedeo Plana, a famous astronomer and mathematician, in 1831. This calendar allows precise calculation over a period of 4000 years from the year zero (also moon phases, tides, days of the week and Christian holy days). It is considered to be the first example of a computer in history.

Santa Maria di Monte dei CappucciniA late-Renaissance-style church on a hill overlooking the River Po near the bridge of Piazza Vittorio Veneto in Turin. It was built for the Capuchin Order; construction began in 1583, and was completed in 1656. The design was by Ascanio Vitozzi, but it was completed by the engineer Giacomo Soldati.

Basilica di Maria Ausiliatrice

phone: +39 011 522 4822

address: Via Maria Ausiliatrice 32

Parrocchia Sacro Cuore di Maria

address: Via Oddino Morgari 11

Madonna del Carmine

phone: +39 011 436 8228

address: Via del Carmine
Piazzas, parks and streets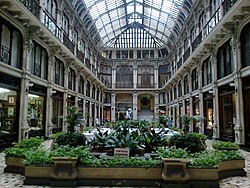 There are many piazzas dotted around the city. Some of the more impressive ones are the Piazza Castello, Piazza Carignano, Piazza Carlo Felice, Piazza Carlo Alberto, Piazza Statuto and the Giardino Aiuola Balbo.
Galleria Subalpina

address: Piazza Castello 27

A pedestrian passage from Piazza Castello and Piazza Carlo Alberto. One of the most elegant places of the city.

River Po ParkThe Piedmontese part of the longest river of Italy is protected as a natural park. Its benches ar full of interesting and unexpected views onwards the town and the hill and are enriched by the Castle of Valentino, Medieval Burgh and Gran Madre church, which mirror on river Po.

Piazza CastelloLarge glamorous public square which has the Royal Palace to the north, the city cathedral to the northwest, the Chiablese palace to the west, the main shopping street Via Roma to the south, the piazza Madama and a fountain display in the centre and the Via Po to the east, leading to the Piazza Vittorio Veneto and the impressive Gran Madre di Cappucino church.

Porta Palazzo marketA 5-minute walk from Piazza Castello, at the very beginning of the multi-cultural quarter, is one of the biggest, cheapest and most diverse markets in Europe. Turin has lots of street markets, all around the city, that serve thousands of people every day. Porta Palazzo is the best, especially for foodstuffs, cheap clothes, housewares, ethnic products, handicrafts, craftsmen, and second-hand stuff. The markets are open every weekday morning and all day long on Saturday. On Sunday Porta Palazzo houses a smaller flea market. Take a walk there, keep track of your wallet and pockets, and explore its multicultural, colored humanity.

Via GaribaldiPedestrian-only shopping zone between Piazza Castello and Piazza Statuto.

Quadrilatero RomanoFull of restaurants, it is the old Roman town, north-west of Piazza Castello.

Valentino Parkthe biggest park in Turin central area. This park is situated along the Po river and in its area you can find the Valentino Castle, and the Medieval Village (Borgo Medievale).

Via RomaVery glamourous shopping street, well lit with very beautiful arcades and shops stretching towards Piazza Carlo Felice.

Ponto Umberto I

address: Ponto Umberto I

The bridge has big statues on both sides of the river Po.
Do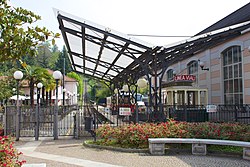 A trip to Superga by chain train from Sassi to see the magnificent view of Turin from there. Sassi is reached by tram 15.
A walk on Via Roma from Porta Nuova Station to Piazza Castello through Piazza San Carlo to see how elegant this city can be.
A walk on Via Po from Piazza Castello to Piazza Vittorio and further to the Gran Madre Church. Stop on the bridge and enjoy the beautiful view of the Po river.
Have a break in one of the historic cafes located around Piazza Castello, such as Mulassano or Baratti & Milano (established in 1873).
Play hit ball, a sport born in Turin in 1986 and today the very specialty of the city. Various associations provide free trials.
Meet new friends in a sporty and funny way by joining Torino Night Run collective workouts troughout the nicest places of the city. Every Tuesday evening at 20:15, Monumental Arch, Parco del Valentino (lat. 45.0584, long. 7.6906)
Watch football ie soccer. Turin has two teams playing in Serie A, the top tier of Italian football. Juventus FC play at the Allianz Stadium, capacity 41,000. There's also a football museum here (M W-Su 10:30-19:00, adult €15 concs €12). It's at the junction of Via Druento and Strada Altessano 5 km northwest of city centre, local trains (on the airport line) stop at Rigola Stadio. Torino FC play at Stadio Olimpico Grande Torino, capacity 28,000. It's on Corso IV Novembre 2 km south of the centre, take bus or tram to Sebastapoli.
Learn
The (Università degli Studi di Torino) main campus is located just off Via Po. Founded in the 16th century and located in Turin, it is a public university with all the major faculties. Also well known is the Politecnico di Torino, the Polytechnic of Engineering and Architecture. This last has multiple campuses, including one in the 'Castello del Valentino' (in the Valentino Park) and two outside the city center, one on Corso Francia while another, dedicated to Automotive Engineering, is located within the 'Lingotto' Complex which used to be the principal Fiat factory.

Buy
Turin is not the best Italian city for shopping for fashion brands, although there are plenty of small and expensive shops selling brand-name items. It's a great spot for buying food and wines.
Bookstores are very popular in Turin, and there are many in the Via Po area. An innovative bookshop is in Via Cesare Battisti, near a lovely square, Piazza Carignano. Together with books you can also sit down and have a cup of coffee, or the famous aperitivo. The Luxemburg International Bookshop is at V. Accademia delle Scienze, 3 (just off Piazza Castello) and it's your best destination for English-language novels, EFL teaching materials and foreign magazines and newspapers.

Via Romafrom Piazza Castello to the main railway station. Here you can find upscale brands like Hermes and Dolce & Gabbana, as well as cheap chains like H&M, United Colours of Benetton and Zara. In Piazza CLN, behind Piazza San Carlo, there's a good branch of La Feltrinelli, a bookstore chain with shops all over the country. On the Via Roma there is also a branch of FNAC, the French book and multimedia chain, and an Apple Store.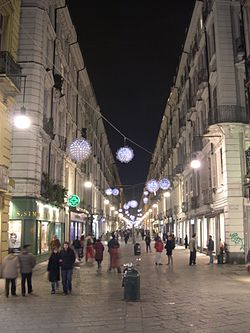 Via GaribaldiPeople in Turin say it's the longest pedestrian shopping street in Europe. There are clothes shops, bars, a Nike store and a new branch of the Japanese store Muji at the beginning of the street near Piazza Castello.

Via Pois more alternative, with record shops and strange clothing stores under the arcades. This street goes from Piazza Castello to the Po River (Piazza Vittorio Veneto).

Via Pietro MiccaAlso houses upscale shops, but also one of the three shops of Frav. This 2-storey shop sells trendy clothes and is very popular in the city.

Via LagrangeA pedestrian street that houses the Lagrange 15 shopping centre, with La Rinascente department store.

Le GruA shopping center in Grugliasco, just outside Turin. Easy access TO the center on the #17 bus. Consider timing your return trip to one of the infrequent #66 buses, or take a taxi back.

The Quadrilatero RomanoA trendy neighborhood north of Piazza Castello. It is the most ancient part of the city, and once was an unsafe area. But now there are many design shops (Marcopolo, via Sant' Agostino) and independent shops like Autopsie Vestimentaire or Born In Berlin in its pedestrian cobbled streets. Lots of cosy restaurants and outdoor trendy cafes and bars. For dog-lovers there is a dog park inside the fenced area around the Roman ruins.

Porta PalazzoIn Piazza della Republica (north of the Quadrilatero), it is the largest open air market in Europe, and a spectacle that is well worth the visit (M-F 06:00-13:00, Sa 06:00-19:00 Saturdays). A new building by the famous architect Massimiliano Fuksas remains unused.

8 Gallery and Eataly8 Gallery is a long corridor with various shops, located in Lingotto area, sharing the same building with Politecnico di Torino Automotive department and Turin University. Renovated by the famous architect Renzo Piano, it can be reached by bus No.1, 35, 18, 17. Or if you are near the Lingotto FS station, you can pass a bridge which directly connect to the 8 Gallery. It is one of the few shopping centers which still open at Sunday. Next to 8 Gallery, Worth visiting for the architecture but the shops are nothing special. Are a few restaurants and fast food outlets too. Across the road, Eataly is the greatest gourmet grocery in Europe: here you can buy, or eat, the best Italian food (guaranteed by Slow movement).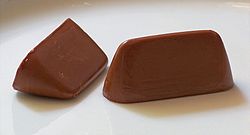 Rich, smooth gianduja chocolate is a local specialty and a popular gift item.
Eat
Turin has good public water, surging out of the nearby mountains. You'll see public drinking fountains everywhere, usually in the shape of a green bull, locally called
Turet
. Restaurants will happily serve you a carafe of tap water and not hassle you to buy bottled.
Budget
phone: +39 011 436 7206

address: Piazza Savoia 4

This bar serves a nightly 'aperitivo' - by buying drinks (about €8) you have unlimited access to a food buffet. It begins at opening time and ends when the food runs out towards 21:00.

Gennaro Esposito

phone: +39 011 535 905

address: Via Giuseppe Luigi Passalacqua 1/g

Offbeat design & combos, excellent Neapolitan pizza.

phone: +39 011 859 900

address: Corso Regio Parco 39

East of centre, this large pizzeria is brightly decorated and popular with large groups. Try for a balcony seat for views down the boulevard.

Exki

phone: +39 011 560 4108

address: Four city locations

The healthiest fast-food you'll find in Turin, Exki serves up fresh salads, soups, quiches and health-minded entrees at low prices. You'll also find a selection of fresh juices, organic beers and organic coffees. Four city outlets: Via XX Settembre 12, Via Carlo Alberto 29, Via Pietro Micca 2 and Via dell'Arcivescovado 2

phone: +39 011 5216027

address: Via Sant'Agostino 25

Nice "Vineria" in the quadrilatero perfect for the aperitivo. Service is good and the ambience is young and relaxed. Here you can eat or just drink. Typical local dishes reinvented.

Sfashion Cafè

phone: +39 011 5160085

address: Via Cesare Battisti 13

The owner and the decorations are the same as Fratelli La Cozza: kitsch and funny. In fact the owner is Piero Chiambretti, an Italian actor. Good pizza and south Italian dishes.

Pizzeria Gonzales

phone: +39 011 779 0348

address: Via Mollieres, 1

Locals' pizzeria, simple but good.
Mid-range
Da Mauro

phone: +39 011 817 0604

address: via Maria Vittoria 21

No bookings, cash only, but very good value for money - come early or you won't get in.

phone: +39 011 5794274

address: Via Morgari 16/a,

The place is large and very beautiful: it still possesses its original character, which deeply impresses anyone entering it for the first time. The lovely ambience and great staff make one feel their enthusiasm about everything on the menu.

phone: +39 011 65 74 57

address: Via Vincenzo Monti 16/a

Gourmet restaurant with wide selection of Italian fare.

Arcadia

phone: +39 011 56 13 898

address: Galleria Subalpina 16

Beautiful place with both Italian and Japanese cuisine.

phone: +39 011 81 74 778

address: Via Santa Giulia 24

Tuscan rather than local, try Cantucci con vinsanto for dessert.

phone: +39 011 8171363

address: Via Principe Amedeo 53

Restaurant with local Piedmontese as well as Tuscan and Sicilian offerings.

Trattoria Imbianchini & Decoratori

phone: +39 011 819 0672

address: via Lanfranchi 28

Piemontese & other north Italian cuisine.

A' Livella

phone: +39 011 86 00 173

address: Corso Belgio 50

Stylish restaurant with moderate prices.

phone: +39 011 701674

address: Strada della Pronda, 15

Traditional Italian food, with Sardinian specialties.

Pizzeria Due Torri

phone: +39 011 722486

address: Corso Peschiera 309

Very good pizza and pasta dishes. Friendly efficient staff.

Il Povero Felice

phone: +39 011 728928

address: Via Fidia, 28

Good Italian local restaurant.
Eataly on Via Nizza by Lingotto metro station: see "Buy" listing
address: Piazza Emanuele Filiberto 4

Specialises in local Piedmont dishes, including bagna cauda.
Splurge
phone: +39 011 546690

address: Piazza Carignano, 2

A very posh cafe and restaurant serving Piemontese delicacies. Was supposedly a favourite of Italian founder-figure Camillio Benso di Cavour.

phone: +39 011 839 4543

address: Via Matteo Pescatore, 16

Excellent southern Italian fish dishes. The starter is a must, just one entry on the menu, you receive a series of small dishes of the day.
Drink
Where before there were boatsheds, you will find many modern bars and nightclubs by the river Po at the Murazzi close to the bridge Ponte Vittorio Emanuele. Closer to the historical center, there are many charming old-world cafes.
Sleep
Budget
Mid-range
Splurge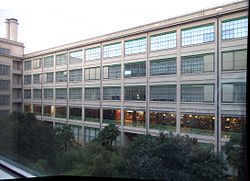 Stay safe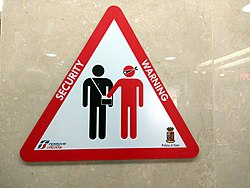 Turin is generally safe. But the top end of Via Nizza, flanking Porta Nuova railway station, can be seedy or even dangerous in the small hours. The nearby San Salvario area (Via Nizza to Parco del Valentino) is lively, going on raucous, but attracts drug peddlers and similar low-life. The areas between Porta Palazzo and the Dora River can be dangerous at night. Beware pickpockets in any busy place, especially if you have luggage or backpacks.
Don't wear a football shirt or other club colours, unless you've come mob-handed with thousands of fellow supporters. Any Italian or major European club colours will be a red rag to the young bulls of either Juventus (black and white) or Torino (brownish red) or both. In particular, avoid wearing the jersey of
Milan
club
Internazionale
, as they have a very heated rivalry with local club Juventus, and violent confrontations have been known to occur between the supporters of both clubs.
Go next
House of Savoy residences and hunting reserves. The city of Turin is surrounded by magnificent XVI, XVII and XVIII residences, like Royal Palace and Carignano Palace (in the centre of the city), Valentino Castle (inside the city, near the Po river, within Valentino Park), Rivoli Castle (10 km west of the city), Stupinigi Hunting Pavilion (between the town of Orbassano and Nichelino, south of the city), the Racconigi Castle (near border with Cuneo province). The two main Savoy's hunting reserves, La Mandria Park and Stupinigi Park, are now natural reserves.
The Alps. Turin is a city that feels its mountain legacy and their proximity is why so many inhabitants have second homes in the thousands of little valley villages. During Summer, if you have a day and want to relax, take a trip to Gran Paradiso National Park, or Orsiera Rocciavrè Park, or Val Varaita Park. During Winter, the Alps offer a wide range of ski resorts, from one of the world's greatest, Via Lattea, to a number of small ski areas which are less crowded and cheaper.
Saint Michael's Abbey (Sacra di San Michele) a fascinating ancient abbey built on top of a rock at the beginning of Susa Valley.
Savigliano features the picturesque Piazza Santarosa and a railway museum for rail fans. It is an easy day trip by train from Turin.