Turpan
Turpan
(Chinese: 吐魯番, Tǔlǔfān; Uyghur: تۇرپان‎, Turpan; Turkish: Turfan) is a city in
Xinjiang
, on the
Silk Road
.
Understand
The area around the city, the Turpan Depression, is the lowest point in China and second lowest on Earth (after the Dead Sea) at 154 meters below sea level. It is very dry and sometimes very hot, well into the forties Celsius. The local people have developed karez, an irrigation system composed of wells connected by underground channels, to counter the heat and drought of the place. No place in China is hotter than Flaming Mountain in Turpan, a mountain made famous by the classic Chinese mythological novel, Journey to the West.
Turpan is famous for their grapes, grown primarily for raisins but also wine. The locals in the area are called Uygurs.

Get in
By train
Turpan train station - located in the town of Daheyan, 50 km NW of the town center
Kashgar - takes about 25 hours
Korla - takes about 8 hours
Lanzhou - takes about 25 hours
Liuyuan - takes about 8-9 hours
Xi'an - takes about 40-45 hours
By bus
Long Distance Bus Station is on Laocheng Road
Kumul - takes about 6-7 hours
Kashgar - takes about 32 hours
Korla - takes about 6-7 hours
Kucha - takes about 13-14 hours
Urumchi - takes about 2.5 hours
By plane
Get around
Public buses, Y1.
Bus 102 - going all along Laocheng lu (老城路), you can take it on crossing Laocheng Eastern street and Qingnian pedestrian street.
Direction to East - the last stop is Su Gong Ta (苏公塔) Sugong pagoda = Emin minaret (额敏塔).
to West - East mosque, North mosque and West mosque. Take off on the last stop and walk (hitchhike) next 5km to Jiaohe Ancient City. Alternatively, from the last stop of the line 102, you can hire a vehicle for around ¥10 to take you the rest of the way to the site.
Taxi
See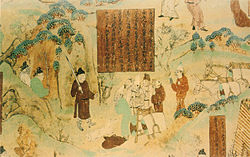 Turpan Grape GullyNicknamed Green Pearl City, an oasis of greenery, made up of more than 200 hectares of grape. The best grapes in China have been grown here for more than 1,000 years.

Emin MinaretEmin Minaret was built in 1777 in honor of the heroic Turpan general, Emin Khoja; it's the tallest minaret in China.

Turpan Idikut Ancient CityRuins of an ancient Silk Road town standing isolated in the Gobi Desert. Built in the 1st century B.C. and called Gaochangbi, it used to be a garrison town.

Yarghol Ancient CityRuins of an ancient Silk Road town. This city was established during the Western Han Dynasty and continued through from the period of Northern Wei Dynasty.

Bezeklik Thousand Buddha CavesStand high on the cliffs of west Mutou Valley under the Flaming Mountain. Of the 83 original caves, 57 caves remain. The murals cover an area over 1,200 square meters in more than 40 caves. Beginning in the Southern and Northern Dynasties, the construction experienced Tang Dynasty, the Five Dynasties, Song and Yuan dynasties. The caves had been the Buddhist center of Gaochang. Near the end of the 13 century, the royal family of Gaochang moved to Yongchang, Gansu. Around this same time, Buddhism in Turpan began to decline in popularity with the introduction of Islam. Subsequently, the religious importance of the Bizalkik Thousand Buddha Caves became less apparent. Many of the caves were destroyed during the ensuing religious clashes. Vandals dug out the eyes of many of the portraits human figures contained in the murals. Later, at the beginning of the 20 century, foreign explorers robbed the caves of much of the treasures. Despite all the destruction, the surviving parts, such as the delicate Buddha seat and the bright color of the murals, give us some idea of its past glory.
Eat
Plenty of delicious dishes can be found in the market, in front of the bus station, or in the pedestrian zone downtown. Cheap (but spicy) food is the norm, with plenty of meat options. Vegetarians better find a Chinese restaurant, many of which are north of the main square ("Grape Girls" square)
艾力热孜快餐店 (ai li re zi kuai can dian) on a parallel alley on the eastern side of the bazaar opposite the long-distance bus station serves excellent laghman (noodles), baked dumplings and barbecue skewers. Try the tandoori lamb or lamb dumplings in black-eyed pea soup for a different taste of Uighur food you won't find in other cities in Xinjiang.
Night Market

address: Guanghui Street, near Bezeklik St

An alternative to the night market outside the bazaar, this option is more for locals than tourists.
Drink
Wusu beer - all around Xinjiang. Probably only 4% Chinese beer.
John's Information Cafe in the back of the Turpan Hotel sells wine, beer and imported spirits. Grab a bottle to enjoy under the grapes on their patio. (The white wine is maybe the best in China),

Sleep
Budget
Turpan Dap Youth Hostel

phone: +86-18699513631, +86-995-6263193

address: 2nd Yard, 8th Lane, Shahezi Road, Donghuan Road(吐鲁番市东环路往沙河子路第八巷第二院子)

Located on the eastern edge of Turpan city, is a typical Uyghur-style house with grape trellises covering the front yard, and jujube trees and other plants in the back yard. Here, guests can spend the day lazing under the grape trellises and enjoying the cool shade with snow meltwaters flowing through the garden. The hostess speaks good English and guests can call for reservations. They have clean and spacious dorm rooms and single bedrooms. Bathrooms are shared with a big clothing area. They also provide services such as organizing tours, car rentals with English-speaking drivers, bike rentals, free tour sites info, laundry facilities and a public fridge. They are open from late Feb to Dec, and closed in winter.

White Camel HostelDecent budget hostel. Intersting common area with lots of seating. Bathrooms a bit run down. Staff spoke English.
Mid-range
Jiaotong Hotel (Transportation Hotel)

phone: +86 995 6258666 or +86 995 6258688

address: 230 laocheng west Rd

Widely regarded as a great value, this hotel is adjacent to the bus station and across the street from the bazaar and one of the night markets.

Oasis Hotel Turpan

phone: +86 995 522491

address: 41 Qingnian Rd

Turpan Hotel

phone: +86 995 522025

address: Qingnian Rd

A solid 3-star choice. They have 3-bed dorms for ¥50 per bed. The staff is not so nice.

Grand Turpan Hotel

phone: +86 10-84831380

address: Gaochang Middle Road 422

A solid hotel, conveniently located.
Splurge
Tuha Petroleum Hotel

phone: +86 995 8666666

address: 230 Wenhua Road (文化路230号; Wénhuàlù 230hào)

Five-star hotel with large rooms with internet access against surcharge and with safes, air-conditioners and mini bars. Business center, currency exchange, gift shop, beauty salon, ticket office, karaoke, night club, billiards, table tennis, fitness, bowling, indoor swimming pool and massage available. Chinese and Western restaurants as well as coffee shop, bar and room service. The food in the Western restaurant is great, but the breakfast could be better.
Stay safe
There are a lot of young locals who can speak some English and will ask to practise their skills with you before offering you "help" with getting around. This usually involves a lot of "friends" and "uncles" who can take you wherever you want to go, "all you need is money for gas." Of course, don't trust them!