Turrialba
Turrialba
is in the
Central Valley
region of
Costa Rica
Understand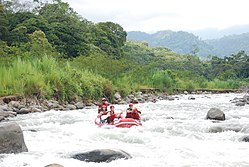 Turrialba owes much of its development to the construction of a railroad, the
Jungle Train,
that was built in the 1880s to connect
San Jose
to the
Caribbean
. The particular route through Turrialba was chosen because the gorge cut by the nearby
Rio Reventazon
made it the ideal place to pass the Cordillera mountain range. With the track completed, it was possible for coffee producers in the area to export beans and the village became prosperous. The town continued to thrive, when the first highway to connect the capital to the coast was built through it and Turrialba became a transport hub.
Today, due to an earthquake in the 1990s that closed the railway line and the completion of a newer, straighter highway (Route 32) to the north, Turrialba is now a quiet mountain village. The local economy is doing okay however with the arrival of the area's second boom, adventure tourism. Turrialba is a mecca for adventure tourism and is home to some of the best whitewater rafting in Central America. If that's not enough, there is also great canyoning, climbing, mountain biking and horse-riding on offer.
For foodies, Turrialba still remains an important agricultural region producing export quality coffee,
Turrialba queso
(cheese) and a variety of fruits and vegetables. Travellers may also be interested in two other sites to the north,
Volcán Turrialba
, an active volcano (closed to visitors due to gas fumes), and
Guayabo,
one of Costa Rica's most important archaeological sites.
Get in
By car
From San José, head east along the Inter American Highway (Route 2) until you reach the turn off for Turrialba and Puerto Limon (Highway 10) at the town of Paraiso. Turrialba is about 35 km (or 1 hour of driving) beyond the turnoff. If you have more time, you may wish to take Highway 230 further to the north which offers more scenery and less traffic.
By bus
Transtusa
buses leave for Turrialba from Turrialba Bus Station (La Cottage) in San José (at Calle 13 and Avenida 6) every hour on the hour until 20:00 (19:00 weekends). 1 hr 35 min, US$4 per person one way (2017).
By train
There are no longer any train services to Turrialba. The 'Jungle Train' that ran from
San José
to
Puerto Limón
via Turrialba closed in the early 1990s due to an earthquake.
Get around
The town is fairly compact and can be navigated on foot. The main attractions nearby however are some way away and will require you do either drive or to take a local bus. Local buses dispersing into the hills all depart from one location near the city centre.

See
Nature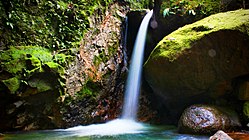 Turrialba is surrounded by beautiful nature.
Aquiares WaterfallLocated 8 km northwest of the main town, this waterfall is about 40 m high and has a small pond that you can swim in. There is also a smaller waterfall on the track before where it is possible to have a 'shower'. To get there from Turrialba, cross the bridge over Rio Turrialba and head northwest along Highway 230 until you reach the turn off for Aquiares at the small town of La Colina. Continue along this road for about a kilometre until you see a giant tree to the left and a dirt road heading down to the river (there are no signs). Take the track to the left (it is fairly steep and rocky so only drive down if you have a 4wd, otherwise it is a pleasant walk). Once you make it down to the river you will reach a T-intersection, turn right and follow the sounds of the waterfalls.

Turrialba VolcanoClosed to visitors due to ongoing gas eruptions. On a clear day it is possible to see the gas column from view points around the area.
Other
Guayabo National MonumentOne of the most important archaeological sites in Central America. Guayabo was chiefdom that includes a still functional running water supply.

Turrialba FCThe city's football team have spent several seasons in the Costa Rican Primera División. They play their home games at the Estadio Rafael Ángel Camacho.
Do
Adventure sports
The area is a mecca for extreme sports. The most famous is of course river rafting on either the Pacuare or Pejibaye Rivers. Climbing and canyoning is also popular in Turrialba as is mountain biking and horse riding. There are a number of tour operators offering all or some of these activities.
phone: +506 2556-1231

Whitewater rafting company based in Turrialba offering 1- and 2-day trips to both the Pacuare or Pejibaye Rivers.

Adrenalina White Water Rafting and Eco Adventure

phone: +506 25564579

Offering 1- and 2-day rafting trips, plus kayaking, mountain biking and horse riding adventures.
Buy
Specialities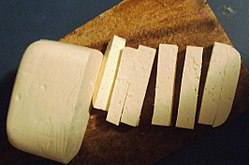 To some, the agriculture products that are produced here are more of a reason to come then the extreme sports.
Coffee - the fertile lands of Turrialba make for growing excellent coffee and the beans are exported around the world. A great way to buy beans is to visit the plantations (either on your own or part of a tour) and buy them from the farmers directly.
Turrialba Cheese - it is possible to buy the fresh queso in the markets or bakeries in town or go for a drive and buy some from the farmers directly.
Fruits and vegetables - there is a farmers' market in town (only open Friday and Saturdays) that sells an excellent variety of produce. It is possible to buy and try many vegetables that you likely have never seen before.
Essentials
For everyday items, there are a few supermarkets in town. The cheapest is
Maxi Pali,
located on the eastern edge of the town.
Eat
Restaurante El Rancho del SapitoOn the scenic road 230 coming from San José, this place offers excellent Costa Rican, South American and Italian food.
Sleep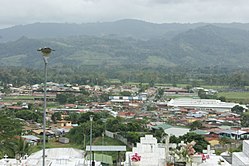 Budget
Spanish by the RiverPerched on a hill overlooking Turrialba and located 5-10 minutes drive from town, Spanish by the River is a beautiful wooden house that offers dorm beds for US$12 a night. For those without a vehicle, there is a local bus stop directly out the front of the hostel that can take you into town, otherwise a 30-minute walk.

phone: +506 2556 4933

address: Costado sur del Bancrédtio, contiguo las oficinas del ICE, Avenida 0

While not offering the spectacular scenery of Spanish by the River, Hostel Casa de Lis offers dorm rooms and basic double rooms in the centre of town and is therefore a good choice this is a good choice for those that want to be close to all the shops and transport options.
Mid-range and splurge
Casa Turire

phone: +506 2531 1111

10 minutes drive away from town and located next to the beautiful Angostura Lake, Casa Turire offers deluxe rooms, year-round pool and restaurant.
Go next
Head east to Limón Province and explore the beaches along the Caribbean coast
Go west and explore the other areas in Catago.
Skip Catago and go directly to the capital, San José via scenic route 230.