Tuvalu
Tuvalu
is a group of low-lying islands and atolls in the
South Pacific
that form the fourth smallest country in the world. If you want to visit the most isolated and remote independent country in the South Pacific, Tuvalu is the place to go.
Islands
Tuvalu derives from the Tuvaluan language meaning "cluster of eight". In fact, there are nine distinct atolls and islands, but one (Niulakita) was uninhabited until the 20th century.
The atoll with half the country's population and the capital
Understand
It is generally believed that the earlier ancestors came mostly from
Samoa
, possibly by way of
Tokelau
, while others came from
Tonga
and
Uvea
(Wallis Island). These settlers were all Polynesians with the exception of Nui where many people are descendants of Micronesians from
Kiribati
. There are three distinct linguistic areas in Tuvalu. The first area contains the islands of Nanumea, Niutao and Nanumaga. The second is the island of Nui where the inhabitants speak a language that is fundamentally derived from I-Kiribati. The third linguistic group comprises the islands of Vaitupu, Nukufetau, Funafuti and Nukulaelae. Today, Tuvaluan and English are both spoken throughout the islands. The first European explorer to make contact with Tuvalu was Alvaro de Mendana y Neyra, a Spanish explorer. He sailed westward across the Pacific in 1567-8 to discover, explore and name a substantial part of the eastern half of the
Solomon Islands
. On January 16, 1568 Mendana, with his ship Capitana, sighted his first island, which turned out to be Nui, and named it the Isle of Jesus.
The islands became part of the British colony of the Gilbert and Ellice Islands. However, ethnic differences within the colony caused the Polynesians of the Ellice Islands to vote for separation from the Micronesians of the
Gilbert Islands
. The Ellice Islands became the separate British colony of Tuvalu, and independence was granted on 01 October 1978. The country has the world's lowest gross national product (GNP), due to its isolation and relatively low population. This should not be confused with GNP
per person,
which is an indicator of poverty.
In 2000, Tuvalu negotiated a contract leasing its Internet domain name ".tv" for $US50 million in royalties over the next 12 years.
Tuvalu uses the Australia/New Zealand electrical plug with 240 volts and 50 Hz.
Climate
The climate is tropical. Easterly trade winds moderate the weather from March to November, while westerly gales bring heavy rain from November to March. Natural phenomena do not occur frequently here, but low level of islands makes them sensitive to changes in sea level. Three cyclones were recorded in 1997.
Get in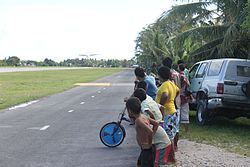 Citizens of Schengen Area countries do not need a visa.
Everyone else is eligible for a one-month
visa on arrival
. This costs A$100, but some nationalities do not have to pay this fee and can get their visa for free. This applies to citizens of
American Samoa
,
Antigua and Barbuda
,
Bahamas
,
Belize
,
Cayman Islands
,
Cook Islands
,
Fiji
,
Gambia
,
Gibraltar
,
Grenada
,
Hong Kong
,
Jamaica
,
Kenya
,
Kiribati
,
Lesotho
,
Malawi
,
Malaysia
,
Maldives
,
Mauritius
,
Montserrat
,
Nauru
,
Niue
,
Samoa
,
Saint Kitts and Nevis
,
Saint Lucia
,
Saint Vincent and the Grenadines
,
South Korea
,
Tanzania
,
Tonga
,
Trinidad and Tobago
,
Uganda
,
United Kingdom
,
Vanuatu
and
Zambia
.
By plane
There is one international airport in Tuvalu, on the island of Funafuti.
Fiji Airways
flies from
Suva
in
Fiji
to Funafuti on Tu and Th. Return trip costs around 948 Fijian Dollars including tax (Aug 2011). (June 2019) Air Kiribati now flies from Tarawa to Funufuti. Price unknown. You have to go to their office in Tarawa to ask for the ticket.
By boat
Get around
There is one main road in Funafuti in addition to the runway, which is used for recreational purposes when landings are not scheduled.
A motorbike is the best way to explore the island some costing roughly $10 per day.
The other islands are only accessible by boat.

Talk
English is the language of government and of most business on Funafuti, but Tuvaluan predominates on the outer islands. Samoan and Kiribati, although not the official languages, are spoken as well.

See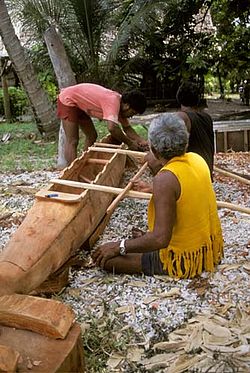 Tuvalu is not a destination for those in search of spectacular sightseeing opportunities. The island nation is not only small, it also lacks any city-like destination or architectural heritage. There are no hills or mountain ranges, no rivers or gorges. And yet, it is a delightful pacific destination, where your time is well spent in the shade of a palm trees on one of the pretty beaches.
Traditional local culture
remains very much alive, making the people of Tuvalu one of the nation's best assets. Traditional dancing is performed on special occasions, and the local "maneapa" (the town hall) is your best chances of experiencing one.
The
Funafuti Conservation Area
on the western side of the
Funafuti
atoll has some of the best natural sights, and includes reefs, the gorgeous lagoon, channel, parts of the ocean and islands habitats. Its diversity in marine life makes it an excellent place for
scuba diving or snorkelling
.
The massive stationing of
US troops in the Second World War
left the island nation with a number of war time remains, including airstrips, bunkers and plane wrecks along the main island of Fongafale and near the village of Nanumea. The tiny island of Motulalo in Nukufetau has an airstrip too, as well as some plane wrecks. If you have any interest in postal stamps, the
Philatelic Bureau
on
Funafuti
is a must-see. The
Tuvalu Women's Handicraft Centre
at the airport is a good place to see and buy local crafts. If you have time however, try catching a boat to one of the outer islands and admire the local people's skills in making ornaments, fans, mats, baskets or woodcarvings there.
Do
The national game is te ano (the ball). Two teams line up facing each other hitting a ball. The objective is to keep the ball in the air as long as possible. It is similar to volleyball.

Buy
Money

The currency of Tuvalu is the Australian dollar (ISO code: AUD), and the currency symbol is $.
Tuvalu has also issued its own coins which are different from the Australian coins and can only be used on Tuvalu. The most common one is the Tuvalu 50 cent coin.
Costs vary, but Tuvalu is fairly cheap.
There is a handicraft centre and a philatelic bureau on Funafuti.

Eat
There are many lodges that have restaurants that serve food and beverages. They serve many types of ethnic cuisines such Chinese, Italian, and Indian. Fish is abundant since the island is surrounded by water.

Drink
Bars serve soft drinks and alcohol during meal times.

Sleep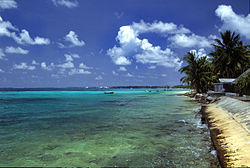 Vaiaku Lagi Hotel

phone: +688 20501

address: Funafuti

State-owned, country's only hotel. It also has significant nightlife. The hotel has a fully licensed bar, a comfortable lounge and a dance floor. Power supply is 240 V/50 Hz. There are 16 rooms in the new complex face the lagoon. Every room is air-conditioned and have a warm shower, with a toilet and refrigerator, plus tea and coffee-making facilities. Internet access is available in all the rooms at a small surcharge. A conference room for up to 50 people is available for conferences, meetings and the like. The hotel has its own vehicle to transfer guests to/from the airport.

Fale Tolu Motel

phone: +688 20545

address: Northern side of the airstrip on Funafuti

Vailuatai Lodge

phone: +688 20664

address: Alapi, Funafuti

Militano Lodge

phone: +688 20497

address: Senala, Funafuti

Mobile phone: +688-91019

Filamona Moonlight Lodge

phone: +688 20833, +688 20983

address: Vaiaku, Funafuti

Contact: Ms. Penieli Metia (Manager)

Hideaway Guest House

phone: +688 20365

address: Lofeagai P.O.Box 59

HOST: Mr. & Ms Koepke
Learn
Funafuti hosts a University of the South Pacific extension centre. Motufoua, the country's only high school, is a coeducational boarding school on Vaitupu island. The Tuvalu Marine School, on an outer islet of Funafuti, trains Tuvaluan mariners for service on foreign ships.

Work
The non-native work force is mostly comprised of contract employees from Britain and other foreign countries.

Stay safe
A siren signals when to leave the runway for an approaching plane.
Violent crime is rare, and usually involves alcohol and family disputes.
Male homosexuality is illegal in Tuvalu; therefore, the country is not safe for sexually active gay men.

Stay healthy
Tap water
quality is inconsistent at best; it's often collected from rooftops. Don't drink it without boiling or treating.
Connect

The international dialing code is: +688
Local numbers in Tuvalu have 5 digits, with the first 2 representing the islands as follows:
Funafuti: 20, 21
Nanumaga: 27
Nanumea: 26
Niulakita: 22
Niutao: 28
Nui: 23
Nukufetau: 24
Nukulaelae: 25
Vaitupu: 29
There is available a GSM network in 900 MHz, provided by Tuvalu Telecom, with ID: 553-01. (Please review the roaming agreement with your company)