Twin Cities
The
Twin Cities
area of
Minnesota
is the political, cultural, and economic capital of the Upper Midwest, and along with the
Chicago
and
Detroit
metropolitan areas, forms the core of the
North Coast
region of the
United States
.
The name "Twin Cities" comes from the region's two core cities,
Minneapolis
and
Saint Paul
, which border each other, share many of the same political, educational, and cultural institutions - and are thus considered to be "twins".
There are multiple "tiers" or "rings" of suburbs extending out from these core cities, some reaching as far as
Wisconsin
.
Cities
Central cities
, county seat of Hennepin County and Minnesota's largest city.
, county seat of Ramsey County, Minnesota's second city, and state capital.
Suburbs and outlying towns
Hennepin County
Ramsey County
Anoka County
Washington County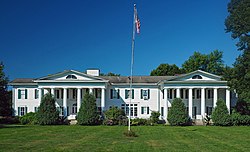 Dakota County
Scott County
Carver County
Chisago County
Wright County
Understand
The Twin Cities grew in the 1800s from its location at the intersection of two major rivers, the Minnesota and the Mississippi, and rail lines. For a period the point furthest downstream that the Mississippi could be bridged was located in the area, if only due to the fortuitous island placement. Contributing to its growth was St. Anthony Falls, a natural waterfall which provided energy to working grain mills located on the
Mississippi River
. Due to rapid erosion of its limestone underlayment, St Anthony Falls moved upstream until it was set in concrete by the Army Corps of Engineers.
Get in
By car
Two Interstate Highways, I-94 and I-35, travel through the Twin Cities travelling east/west and north/south respectively. I-35 splits as it passes through the Twin Cities, with I-35W coming through Minneapolis, and I-35E making an eastward bow through Saint Paul. Several other national and state highways also travel through the area.
By plane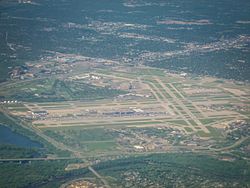 Most travelers will arrive in Terminal 1-Lindbergh. Terminal 2-Humphrey serves primarily charter and low-cost carriers. The Lindbergh terminal (Charles Lindbergh was a Minnesotan, and one of his trans-Atlantic planes is suspended above the ticketing area) receives the bulk of renovation fees, however, and it is an attractive, modern, convenient, and well-designed terminal. The Humphrey terminal is also quite attractive; the terminals share the same runways, have long- and short-term parking set between them, and are equally convenient for transportation. Savvy travelers might check the terminal of their arrival or departure to communicate their location to friends, relatives, or other transport.
The
Metro Blue Line
light rail serves both terminals as it runs between downtown Minneapolis and the Mall of America. Travel between the two terminals is free. The fare for traveling outside the airport is $2.25 during peak hours (M-F 6AM-9AM and 3PM-6:30PM, excluding certain holidays) and $1.75 at all other times. The trains are fast and clean.
By train
Amtrak
. Trains arrive at Union Depot in downtown Saint Paul. Daily service via the
Empire Builder
, trains 8/28 and 7/27, terminating at
Chicago
and
Seattle
or
Portland
.
By bus
Greyhound
and
Jefferson Lines
buses arrive at the
Hawthorne Transportation Center
, 950 Hawthorne Ave (at 10th St, one block west of Hennepin), in downtown Minneapolis. It's a few minutes taxi ride away from most of the downtown hotels. It's 4-5 blocks away from a few major bus routes and the light rail. The depot is near a homeless shelter, so it's not uncommon to see a few homeless people hanging out nearby. The area is well-patrolled and quite safe. Greyhound and Jefferson Lines also offer limited service to
Union Depot
in downtown Saint Paul. Some routes make additional stops.
By boat
Mississippi River
. The river runs through both downtowns, but passenger boats don't serve the area. Huck Finn fantasies aside, arrival via the Mississippi is not recommended. (Besides, Huck floated
down
river.)
Get around
Public transit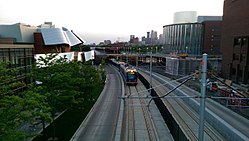 Minneapolis, Saint Paul, and some of the inner suburbs are all served by public transit run by
Metro Transit
. There are also other transit authorities serving the outlying suburbs. Regular adult fares are $2.50 during peak periods (M-F 6AM-9AM and 3PM-6:30PM) and $2 during off-peak periods. These fares come with free transfers lasting 2½ hours. Be sure to ask your driver for one as you pay if you're using cash.
Unlimited ride passes are available in 1-day, 7-day, and 31-day formats. Stored value passes (pay-per-ride) are also available. Day passes are $6 and can be purchased
online
, at a Metro Transit Store, from a bus driver, or a ticket machine at any light rail station. 7-day ($24) and 31-day ($65-120) passes must be loaded on a
Go-To card
, which can be purchased online, at a Metro Transit Store, or participating Metro Transit sales outlets. Stored value passes can be loaded on a Go-To card in increments of $10 (up to $400). Once you have a Go-To card, reloading it with new unlimited ride passes is easy and can be done online, at Metro Transit stores and outlets, or at light rail ticket machines.
Light rail
The
Metro
is the light rail system in the Twin Cities. It has two lines. The
Blue Line
serves Downtown Minneapolis, the airport, the Mall of America, and all points in between, while the
Green Line
serves Downtown Minneapolis, the University of Minnesota, Downtown Saint Paul, and points in between. Although automobile transport is most useful for exploring beyond the two downtown areas of the Twin Cities (e.g corporate visitors, or people visiting any of the suburbs), tourists may find light rail the easiest, fastest, and safest transport between the aforementioned places. Crosstown bus lines also intersect the light rail system at most points, so it is possible that visitors could use public transport exclusively to explore the cities of Minneapolis and Saint Paul.
Bus
The Twin Cities have an adequate bus system, hobbled by confusing connections to suburban lines, and poor service during non-rush hours (and no service after 1AM except on a few select routes with "night owl" service). The Metro Transit site (linked above) allows you to search for the best routes between your current location and your desired location, and is as good as most such systems in providing good routes and connections. Bus stops are very nearly everywhere throughout the city, but some are served only very infrequently, and most are not labeled as to which routes serve them at which times, so take care, especially in sub-zero weather, as to which routes you choose. Buses on Hennepin Avenue, Nicollet Avenue, Central Avenue, Lake Street, Snelling Avenue, and West 7th Street are most consistent and provide transport to the greatest numbers. Express buses operate between the two downtowns regularly during rush hours, and buses to suburbs, or connecting to light rail are limited, and best used during high traffic times.
Skyways and tunnels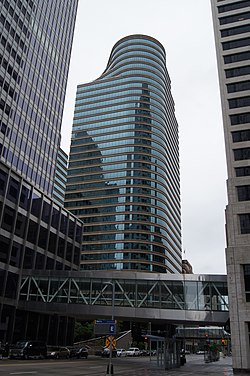 Minneapolis and Saint Paul have extensive second-floor ("Première étage") "skyways" that connect central city buildings with each other. Although Minneapolis is larger, the Saint Paul system, to this point, has more connections and is more extensive than Minneapolis' system. But you could walk from the Convention Center in Minneapolis to Washington Avenue (a block before the Mississippi) without going outside, and without stopping at a pedestrian traffic light. Highway 394 feeds into heated parking garages, so that a Wayzatan suburbanite could enter her Lexus, drive the length of 394 to the heated lot, go to work, shop at Target or Macy's, see a movie, have dinner, and return home - all without having to wear a coat or change clothes, even in weather.
Even in good weather, mid-day romps in Minneapolis or Saint Paul at street level will miss most of the citizen activity, despite the appearance of crowds and farmers' markets, as many folks will choose to get their lattes, sandwiches, takeout, or copy keys, copy documents, or visit their banks, on the second level, a floor above the apparent activity.
As if to confuse you, there is an extensive network of tunnels connecting several buildings on the University of Minnesota's Twin Cities campus. Good idea, only different.
Bike
The Twin Cities, despite unfriendly weather for bikes from about November to April, provides many resources for both recreational and commuting bicyclers. Most major, and primary one-way, and two-way, streets have ample bike lanes which are marked and visible during fair weather months. In addition, all Minneapolis in-city lakes have bike paths that are separated from pedestrian traffic (and from motorized vehicles), and offer one-way transit around the entire Chain of Lakes, extending to Minnehaha Parkway and into Saint Paul. As if that were not adequate, former rail line paths sustain two-way bike lanes following east-west routes just south of Highway 394 and into downtown Minneapolis, known as the Cedar Lake trail; and just north of Lake Street, following a path known as the Midtown Greenway; and are connected via a spur alongside an active freight railway just east of Cedar Lake and north of Bde Maka Ska (Lake Calhoun). It is possible to connect, via either east-west line, to bike trails that connect far into the Western suburbs and beyond, and recreational bicyclers can travel along historic rail lines for uncounted miles West.
Buses and light-rail trains are equipped with bike racks. It is not uncommon, though still shocking, to see bicyclers in sub-zero weather, and in deep snow. Visitors may find late March to late November as the best period to travel on bicycles, if cold and snow don't arrive or persist.
Nice Ride
is a public bike-sharing program that locals and visitors can rent from. It serves both downtowns and limited areas between and outside the central business districts.
See
Museums
Minneapolis
is home to the
Minneapolis Institute of Arts
,
Walker Art Center
,
Mill City Museum
,
Weisman Art Museum
,
The Museum of Russian Art
and more.
Saint Paul
is home to the
Science Museum of Minnesota
,
Minnesota History Center
,
Minnesota Children's Museums
, and others.
address: 725 Vineland Place

The sculpture garden is an outdoor exhibition of sculptures from many different artists, including the famous Spoonbridge and Cherry. The sculpture garden is adjacent to the Walker Art Center and is a popular picnic place in the summer.
Do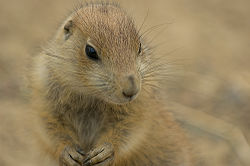 Being in the Land of 10,000 Lakes, the Twin Cities offers many aquatic activities. Many lakes offer swimming beaches with on-duty lifeguards.
Fishing
and ice fishing are popular activities, but be sure to purchase a fishing license first. Licenses are $8.50 for 24 hours and $28.50 for 7 days if you live outside the state. They can be purchased at most sporting goods stores, bait shops, and even some gas stations.
Como Park

address: 1294 Lexington Parkway N

Saint Paul. A 100-acre park with a huge glass-domed Conservatory built in 1913, a lake with paddle boats, small but world-class free zoo, an amusement park with rides, and the beloved Cafesjian's Carousel.

Minnesota ZooIn Apple Valley, about 10 miles (16 km) south of the Mall of America, is Minnesota's large world-class zoo. Open every day but Thanksgiving and Christmas, from 9AM - 4PM or 6PM seasonally, $7-12 admission (plus $5 for IMAX theatre); parking $5 (cars) - 15 (motorcoaches).

ValleyFair amusement parkMost common amusement park fare is available, including thrill rides, kiddie rides, and a waterpark. The roller coster called "Wild Thing" is the most exciting and thrilling ride in this amusement park. Also, there is a place where you can dress up in old-fashioned clothes and take neat pictures, which is very fun and not so expensive.

Guthrie TheaterDesigned by renowned French architect Jean Nouvel after Ralph Rapson's was torn down, this theater offers views overlooking Saint Anthony Falls, as well as critically acclaimed plays (http://www.guthrietheater.org/). While here, head next door to the Mill City Museum, once the largest flour mill in the world, now a museum.

Orpheum TheatreMany Broadway plays have debuted here, including The Lion King, Victor/Victoria, and 101 Dalmatians, and many of the biggest plays that are on Broadway have short runs at this historic theater.

William O'Brien State ParkIn Marine on the St. Croix, approximately 50 miles (80 km) east of the Twin Cities. The outer trail system is about 7½ mi (12 km) and a popular place for hiking, cross-country skiing, and jogging. Visitors can also swim, canoe, and camp in the park. A state park vehicle pass is required for entry.

Grand Rounds Scenic BywayCircles Minneapolis, offering walks along several of the state's 10,000 lakes and the Mississippi River.

Gateway TrailSpans from rural Marine on the St. Croix to the Capitol building in St. Paul.
Buy
Mall of America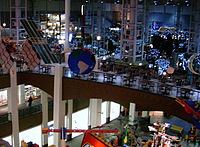 Mall of America, 60 East Broadway,
Bloomington
, 952 883-8800. Largest indoor shopping complex in the
United States
. A dizzying shopping experience. It has hundreds of stores, a LEGO play area, an indoor theme park, and a large aquarium. There is an IKEA next door. You can get there by light rail or bus.
Smaller shopping centers
The Twin Cities has many shopping centers, the list gently spoofed by radio humorist Garrison Keillor in his list of imaginary malls ending in "-dale":
Rosedale, Roseville.
Ridgedale, Minnetonka.
Southdale, Edina. (Considered the first modern shopping mall, is the first fully-enclosed shopping mall)
Shopping districts
Nicollet Mall pedestrian street, downtown Minneapolis
Uptown area, centered on Hennepin Avenue and Lake Street, south of Downtown Minneapolis and extending east to the Lake/Lyndale avant-garde theatre district.

Grand AvenueWest of downtown Saint Paul between two of the liberal arts colleges that sprinkle the region. Parking on Grand can be difficult during peak times; try Summit Avenue, one block north.
Clothes
Minnesota is one of the few US states where clothing is tax-free. The Mall of America and other malls listed above offer a wide selection of clothes. Other places to check out clothes include:
BlackBlueLocal treasure BlackBlue can be classified as Hipster, which meets their clientele, such as Bon Iver and other Midwest artists. Check their site for hours.

RagstockA local chain of used clothing stores.
Eat
Also see
Minneapolis
and
Saint Paul
.
Eating vegetarian
The Twin Cities is extremely vegetarian-friendly, with a large concentration of vegetarian and vegan-friendly restaurants. There are also a number of natural food coops. For example in Minneapolis alone, one can choose to shop at Linden Hills, Eastside, Wedge, or Seward Coops. There are also worker-owned collective cafes, including the Hard Times Cafe and Seward Cafe, that serve mostly organic, vegan food.
Drink
address: 426 Saint Peter St

Downtown Saint Paul. Ten beers (some rotate) brewed on site. Good variety and overall quality.

Green Mill Brewery57 South Hamline (at Grand Avenue), Saint Paul. Fair but fresh beers.
Connect
Telephones
The Twin Cities region is covered by four area codes. 612 covers Minneapolis, Richfield, St. Anthony, the airport, and the entire University of Minnesota-Twin Cities campus (including the Saint Paul campus); 651 covers Saint Paul and the east suburbs; 763 covers the northwest suburbs; 952 covers the southwest suburbs. Dialing a 1 before the area code is not necessary if just making a call from one Twin Cities area code to another.

Cope
Stay safe

The Twin Cities are like most major American cities when it comes to crime issues, and all standard common-sense precautions should be taken.