Twin Falls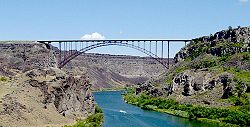 Twin Falls
is the largest city in
South Central Idaho
as well as the seventh-largest city in the state. The youngest of Idaho's major cities at barely 100 years old, Twin Falls has become a regional cultural and economic center for both South Central Idaho and northeastern
Nevada
.
Understand
Once in the heart of a stretch on the
Oregon Trail
best known for its inhospitable environment, Twin Falls was founded in 1904 as a planned community after irrigation projects on the Snake River made large-scale agriculture in the area practical for the first time. Twin Falls is the principal city of the Magic Valley region of Idaho, so named because said irrigation projects "magically" transformed the harsh landscape into productive farmland. While agriculture remains one of the city's primary industries, its proximity to outdoor activities as well as to casino gaming in nearby
Nevada
give it a regional tourist flair. Twin Falls is home to over 40,000 residents, making it one of Idaho's principal cities outside the
Boise
metro area.
Talk
Although English is the primary language in Twin Falls, a significant Hispanic community as well as refugees brought in by the local community college give the city an added multicultural element. It is not at all unusual to hear
Spanish
,
Bosnian
and
Russian
- among other languages - spoken in the city. That said, don't expect too much linguistic diversity; as in the rest of Idaho, English is still by far your best bet with Spanish a distant second.
Get in
By plane
By car
Twin Falls can be accessed by car via US Highway 93. Interstate 84 runs approximately 5 miles (8 km) north of the city in Jerome County and intersects US-93. Unless you are coming from Nevada, you will cross the bridge over the Snake River Canyon.
By train
Due to both geographical and political realities, passenger rail service is utterly non-existent in the area. The closest Amtrak stop is in Elko, Nevada, some away. In short, driving or flying are the only practical methods to get here.
By bus
Greyhound Bus provides service between Boise and Twin Falls. The trip takes about two hours and fifteen minutes.
Get around
Although Twin Falls is served by an extremely modest mass transit system, having your own car is effectively a requirement to see anything more than walking distance from your hotel. Cars can be rented at Magic Valley Regional Airport from many companies including Alamo, Avis, Budget, Hertz and National.
Rudimentary taxi service is available in the city if needed, but it's no Manhattan. Don't expect to hail a cab even on busy streets. You'll most likely have to call a service to get a ride, even if at the airport. Check the Yellow Pages.

See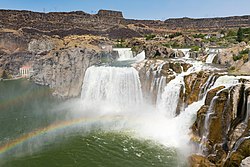 Buy
phone: +1 208 733-3000

address: 1485 Pole Line Rd E

Located a stone's throw from the Snake River Canyon and Perrine Bridge, the Magic Valley Mall features pretty much everything one would expect from a smaller American mall. Anchor stores include JC Penney, Barnes & Noble, and Hobby Lobby.

Downtown Twin FallsLocated in the heart of the original 1904 townsite, Downtown Twin Falls features a plethora of eclectic businesses, including several antique stores.

phone: +1 208 736-6728

address: 1236 Blue Lakes Blvd N

Toy store.
Do
Most other diversions in the Twin Falls area revolve around outdoor activities such as camping, hunting and fishing. Other activities include:
phone: +1 208 326-4396

Held the week before Labor Day in nearby Filer, the Twin Falls County Fair is one of the largest in the state.

address: 4155 Shoshone Falls Grade

An oxbow lake near Shoshone Falls, Dierkes Lake is a well-known summer recreation destination among locals.

Beckmon's Gaming Paradise

phone: +1 208 733-3901

address: 1037 Blue Lakes Blvd N

phone: +1 208 733-0369

address: 220 Eastland Drive
Eat
Twin Falls isn't exactly a destination for foodies. Apart from the expected assortment of chain restaurants (i.e. Chili's, Outback, the usual complement of fast-food joints, et al.) the fare is a bit lacking. That said, Twin Falls does feature several Thai restaurants and family-oriented establishments.
Mexican cuisine is your best bet in the city. Try:
phone: +1 208 736-7408

address: 645 Filer Ave

phone: +1 208 734-0685

address: 1288 Blue Lakes Blvd N
Approximately 45 minutes away in Hagerman, the
Snake River Grill
comes highly recommended by the locals, who often say it's worth the drive. Be sure to try the alligator. Phone: (208) 837-6227
Drink

Bars in Twin Falls close at 1AM sharp, no excuses. Liquor by the drink on Sundays is a relatively recent innovation as well.

Sleep
Twin Falls has experienced something of a hotel building boom. Many of the hotels along Blue Lakes Boulevard and Pole Line Road were constructed after 2007, so there are plenty of new and comfortable rooms to choose from.
Connect
Cell phone service is consistent and reliable in Twin Falls proper as well as in the surrounding communities. However, if you travel further south than Jackpot, Nevada, on US Highway 93, expect to have an intermittent signal at best until you approach
Wells
or
Ely
.
Public WiFi access is available at most larger hotels, as well as at some coffee shops.
Stay safe

Given that much of the city's commercial and tourist infrastructure is concentrated around the intersection of Blue Lakes Boulevard and Poleline Road, as well as the fact nearby Perrine Bridge is effectively the only way in and out of Twin Falls from the north, traffic in the immediate area can be as heavy as anywhere in a much larger population center such as Boise. Stay alert if driving or walking through here.

Go next
Twin Falls is approximately halfway between Boise and Pocatello, about a two-hour drive from each. Salt Lake City is approximately three hours away by car, or a 45 minutes by air.
Jackpot - Located approximately 45 miles (75 km) south of Twin Falls just over the Nevada border, the small town of Jackpot offers casino gaming and routinely draws crowds from all over the area. Collectively the Jackpot casinos employ more people from Twin Falls than any employer in Twin Falls itself.
Sun Valley - As in most of Idaho, the first day of ski season in November is eagerly anticipated in the Magic Valley. If the highbrow atmosphere (and corresponding prices) of Sun Valley aren't for you, try the more wallet-friendly Pomerelle resort south of Declo. Both locations are approximately an hour's drive from Twin Falls.