Tyre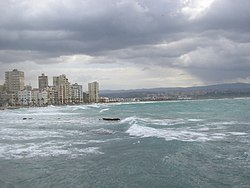 Tyre
(Arabic: Sour صُوْر) is the fourth-largest city in
Lebanon
. It is particularly noteworthy for its stunning and clean beaches (unlike those at
Sidon
) as well as some of the finest examples of Roman architecture in the world. Situated on a peninsula, it is the largest city in the south of the country after Sidon.
Tyre is the base of the UNIFIL headquarters which operates in the south of the country, and monitors the border region between
Lebanon
,
Israel
and the occupied territories and
Syria
. Don't be surprised to see UN troops out and about in this town, which is generally very safe for visitors.
Get in
By bus
The cheapest way of getting into Tyre is by private bus. Large, air-conditioned buses go from Cola Junction,
Beirut
, throughout the day for approximately $4 and take about 2.5hrs.
By minibus
Privately run minibuses also go frequesntly throughout the day and late into the evening from Cola Junction,
Beirut
and from the bus station in
Sidon
. They take a variety of routes and will often stop and start throughout the journey to let passengers on and off.
Minibuses that go via the coastal roads are much slower (Beirut to Tyre can take 3-4hrs), but some minibuses will take the motorway route (2.5hrs from Beirut, about 1hr from Sidon). Prices are usually 2-3,000 Lebanese Lira (approximately $1.50-2) from Beirut.
Do check when you get on board how much the price is as tourists will often be charged more than locals. If you're not sure how much the fare should be, try speaking to someone on the bus - many people speak English and you will very likely find someone to help you out.
By private taxi
There are two ways to get to Tyre via taxi - the first is a simple
private hire
($80-90 from Beirut, per car), or the
'service'
option where you can share with other people who are travelling in a similar direction ($10 would be reasonable from Beirut to Tyre). The journey will take approximately 2.5hrs from Beirut, depending on any stops that have to be made.
Checkpoint information
A number of military checkpoints operate on the roads between Beirut, Sidon and Tyre. There are also occasionally other checkpoints which are run by Hezbollah soldiers. If you bus or taxi is asked to stop, make sure you have your passport to hand, and take off any sunglasses or hats to ensure proper identification. Generally you will be waved through without any further problems. Do not be alarmed if you are asked why you are travelling.
Get around

Without a doubt the best way to get around Tyre is on foot. The beachfront and main roads are all within 5-10mins walk from each other. The Al Bass Archaeological site is slightly further away and a taxi may be the easiest option to get there.
Taxis are pretty cheap and some are even comfortable to travel in. Some are the registered yellow taxis that operate throughout the country, but many are private cars, often in varying states of repaire (from virtually new to over 40 years old in some cases). A rough rule of thumb is that a short ride in a 'service' - or shared taxi - will cost approximately 2,000LL (around $1.50), with longer journeys costing up to 5,000LL (around $3.50). Always check the price before entering the taxi, and check whether it is a taxi (and therefore private and more expensive) or a service (which will stop to pick up other passengers on the way, and is much cheaper).
Traffic is typical Lebanese - if you want to go, you must go regardless of the 'western' way of thinking in the traffic. This means that drivers frequently won't give way unless they absolutely have to, and lanes and road signage are frequently ignored. Of course, do ask your driver to slow down if you don't feel safe.

See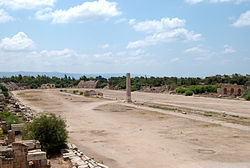 Although frequently eclipsed by the grandeur of Beirut and the bustling souq of
Sidon
, Tyre is a beautiful and enjoyable city in its own right. Its small size and distinctive position in the deep south of the country mean that most tourists never get this far. Yet its beautiful beaches, astonishing
world heritage list
Roman ruins and fantastic local cuisine make it a worthwhile place to visit.
Al Bass Archaeological Site is by far the most famous attraction, boasting the largest and best-preserved example of a Roman Hippodrome. The impressive site is huge and also encapsulates a large Necropolis (with several hundred well-preserved sarcophagi), an intact Roman road and aqueduct, and a monumental arch. Situated next to the Al Bass Palestinian Refugee Camp, it is a 10min car ride from the beach.
The Hot Spring Ruins situated in the Christian district, is another impressive feat of Roman architecture which escaped destruction during recent Israeli bombing campaigns.
The lighthouse, situated on the north-western tip of the peninsula is a beautiful and quiet spot, perfect for watching the sun go down.

Al GamalThis is a rocky beach at the southwestern tip of the peninsula where the ruins of an old Phoenician port can be seen. There is a number of hut restaurants on the rocks where you can enjoy the sun and food. Swimming is delightful in the clear water and there is a spot that seems like an ancient swimming pool carved in rock, 1 meter deep and some 30 x 20 meters in size.
Do
The souq situated next to the Christian district, is a lively and atmospheric marketplace. Although it does not have the splendour of the large and tourist-driven souq in Sidon, some excellent deals can be had for everything from souvenirs to fresh fish caught that morning.
The beach is known throughout Lebanon as being the cleanest and most beautiful in Lebanon, with families from around the country flocking there in the summer. During the summer months (May-September) there are a large number of beach cafes which operate from the huts. Prices can be expensive, but it is a perfect spot for sunbathing and enjoying the impressive waves. During the summer, the sea is warm enough to swim in at night, making it a special place. Moreover you can't rent a fishing boat (FLOkA) and take a tour around the seaside of Tyre or you can navigate to the rocky islands (ZEERRE) where you can find amazing spots for diving. Also renting a jetski got be fun, you can find dealers everywhere around the see.
The Christian district at the Western tip of the peninsula is a higgledy-piggledy area with thin roads and lovely hidden shops. Its certainly worth spending some time walking around this nice little enclave, though do remember that these are peoples' homes and that you shouldn't enter any open doors unless invited.

Eat
Le Phenicien: Fish and Sea Food, excellent cuisine, beer, wine liquors
Skandars: Lebanese and international cuisine, beer, wine liquors
Al Nabeel's Cake Shop: famous Lebanese speciality cake shop, wonderful and kind staff and some of the most amazing cakes you will ever eat
The Resthouse: Lebanese and international cuisine, beer, wine liquors
Al Fanar: Lebanese and international cuisine, beer, wine liquors
Tyros: Fish,, Lebanese and international cuisine, beer, wine liquors
Baquettos: Fast food

Rest Cafe

phone: +961 70177725

address: port area,al mina

Appetisers ,Fresh Fish and Sea Food, super cuisine, beer, wine liquors
Drink

Next to the port you can find several minimarkets who could sell all kind of alcohols.
In summer you can experience one of the best sensations by taking a beer and a narghile on the beach at AL Jamal sea side or at the sandy side next to rest house hotel where you can find several hut restaurants
in addition to the amazing bar in the rest house beach.
At night you can take a drink at ALbadawe cafe,Nocean,Fanar,Skandar,Tyros and several restaurant found on the corniche side.

Sleep
Perhaps the best-known place for visitors to stay is the Resthouse hotel on the beach. The beach and the pool is exclusively only to the hotel's guests although others can use them too by paying a small fee - this fee is mostly to keep 'unwanted people' off the premises. At the beach you can order drinks, narghile, rent a sun chair or perhaps attend a diving course.
phone: +961 7 742 000

phone: +961 7 741 111

Renovated recently and is a good place to stay in.

address: Rue Senegal

Second floor bed and breakfast and is popular with locals and visitors alike. The reasonable rates and air conditioned rooms, combined with beautiful views onto the Mediterranean, make it one of the best value places to stay in the city.
Go next
The main pickup point for minibuses to
Sidon
and
Beirut
is the bustling
Al Bass roundabout
, just outside the Al Bass Palestinian Refugee Camp. A number of touts operate in this area and will try to get you on their minibus before you go on another. Be assertive with them - ask their destination and the price in advance. Keep a hold of your luggage - a common trick is for them to grab your luggage and stow it on the minibus before you get a chance to complain. However, don't worry too much - the negotiation is all part of the fun.